Good evening Affect3D fans! I'm Inari Aono, a new writer here to bring you the scoop on the latest hentai series.
Today, I'll be discussing one of my favorite fetishes of the hentai world: harems. Yes, harems. A fleeting dream lived vicariously through works of fiction. Why stop at one girl when you can have them all? As a fan of the harem genre myself, I've come across a multitude of manga specifically dedicated to this fantasy. If you're looking for a great series to read or just recently discovered the genre and want a place to start, I've compiled a list of my top five recommendations.
5. Two Dimensions Girlfriend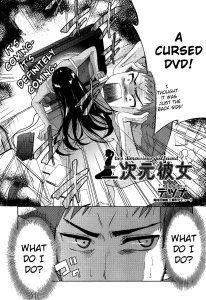 Remember The Grudge? Now imagine that scary ass ghost girl Sadako as an adorably moe ghost waifu! Kinda hard to imagine it right? Prepare to enjoy Tetsuna's spin on turning a classic horror movie character into best girl material. The story begins with our NEET of a protagonist Ban Eiyuu who longs for a 2D girlfriend in the real world. He comes across a cursed copy of The Grudge which brings the ghost girl Sadami to life! With the logic of a typical teenage otaku in fear of being possessed, our hero decides to "exorcise" the ghost…with his penis. Although their first sexual encounter was forced, Sadami and Ban's relationship improve as a couple at the end of the chapter.
The next chapters include humorous encounters with two new ghost waifus competing for the number one spot as Ban's favorite girl. Tetsuna incorporates just the right amount of the horror element to Sadami's "Grudge" face when she's overcome with jealousy at the affectionate gestures bestowed upon her "husband." I also enjoy the art style of how he portrays characters that are notoriously known as nightmare fuel into fappable material. It really brings out the imagination he put into this story. If you're a fan of ghost girls and harems, this is the story for you.
4. The Unjust Elder Sister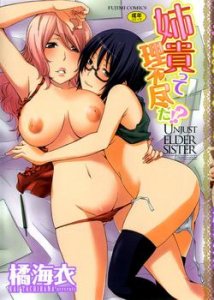 Now this a personal favorite of mine. Minamoto Hiroki is a 22 year old freeter crashing at his sister Kyoko's apartment. The condition for his living arrangement is that he has to take care of her and her manga assistants. Although the beginning starts off as his fantasy, the story wastes no time to service its readers. Starting off with the busty assistant Sanae who uses fellatio as a method to brush her teeth, while the quiet and petite Makoto uses his seed as a cream for her coffee. In his dreams he achieves the harem route (his sister included) and uses it as an idea to help Kyoko overcome writer's block which is hilariously denied. And that's just the first chapter! Tachibana Kai creates a story that contains a multitude of fetishes that are highly enjoyable, but if you dislike stories containing incest, this isn't the one for you.
If you're curious to see how the masochistic Hiroki endeavors to achieve his harem route, this series won't disappoint you. There's also a bonus love story at the end for you vanilla fans out there!
3. Ikinari! Harem Life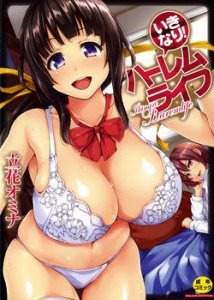 Tachibana Omina creates a rather intriguing take on the role of a harem protagonist in this story. Take a painfully socially awkward character, make him a loser and you get Mochizuki Satoshi, the hero of this tale. He's a quiet guy in a new school who just wants to get through the year with as little human interaction as possible, that is, until he crossed paths with Katagiri Rin, a clingy classmate attracted to his scent. It starts off as one of those "boy meets girl" moments, but instead following the cliché route, Omina delivers the kind of reaction expected for a character who avoids human contact. After having an alarming first time with Rin, Satoshi encounters other perverted girls with their own unique fetishes.
It's really hard for me to choose a best girl in this series, but I'm still leaning towards Satoshi's M teacher. You'll have a good time watching Mochizuki develop into an accidental harem protagonist, I guarantee it.
2. Boy Meets Harem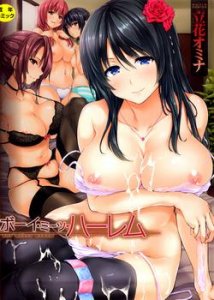 Another one of Tachibana Omina's works! If any harem series was close to being the best, this manga is definitely it. I honestly believe Omina outdid himself with this story, despite it being a predecessor of Ikinari Harem Life. Shindo Naoki is probably a close runner up to being a harem king and if you read this story, you'll find out why! He's normally a shy boy with a crush on his teacher, but he's a man in the sack. When he and his classmates crash on a plane ride for a school trip, he's the only male among his fellow students and teacher. It was only a matter of time before Naoki indulged in the pleasure of becoming one with the bevy of babes flocking to him.
His crusade doesn't stop there; Naoki even ends up banging two MILFs and a girl his age in a cabin when they found themselves stranded in a snowstorm. Sharing body heat through sex is quite a convenient way to stay warm if you ask me. Omina tends to explore different fetishes in his works. He does it in a way to arouse your attention so that each girl you come across is a new encounter. If you aren't a fan of his works yet, you probably will be after you read this fantastic story.
1. Renai Celebration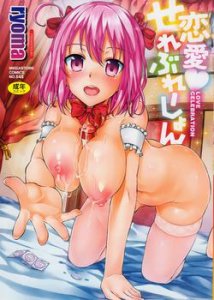 Last, but certainly not least, we have ryoma's harem title, Renai Celebration! You're in for a real treat. If you ask me who the king of the harem is, I'd say it's the hero of this doujin, Tanaka Hikaru. Hikaru starts off as your run-of-the-mill main character, an average guy swept up in circumstances beyond his control.  With newfound knowledge that he's the legitimate heir to a wealthy conglomerate, Hikaru is transferred to an academy for students of the finest pedigree. On top of that, the current heir expects him to impregnate one of three wealthiest girls in Japan and the one who bears his child is to be his bride! Of course things don't always go according to plan. What starts out as Hikaru getting acquainted with each of the girls escalates into a steamy encounter that is both unexpected and welcomed.
What I enjoy about ryoma's title is how he employs a fair balance of genres to appeal to his readers. My personal favorites are the "ojou-sama" types and yanderes which both appear in this story.  Not only that, but ryoma is also an advocate for vanilla hentai. You'll see what I mean when Hikaru punches NTR in the face. The best part in my opinion is how each girl's scenario is an enticing experience. The author really shakes it up with fancy rich girls with high sex drives, exhibitionist idols, and little sister roleplay. I guarantee once you start reading, you'll not only be enthralled by this fantasy, but you'll understand why I currently named Tanaka Hikaru as hentai harem king.
Those are my recommendations for the harem genre guys; I hope you'll enjoy them as much as I do. They've got a lot of long-term value. Thanks for reading!