In Japan there is a saying that goes, "If you say a wish, it will become a goal." As a society, we have written our wishes into the pages of our science fiction and we are looming ever closer to their reality. We already have Captain Picard's tablet and I'm completely sure that you could set Data's junk to vibrate.
It's an interesting phenomenon that our technology is following the patterns we've set for it, exactly as that saying suggests. Is it because we're not creative? Or are we just goal oriented as a society? Whatever it is, the path to progress leaves many concerned in its wake. They're concerned that one day, robot love will replace human affection and contact; or that we won't be able to tell the difference. However, I'd like to take a moment here to explain what the Uncanny Valley actually is and why you don't need to be afraid of that future.
What Is This Place?
The Uncanny Valley is not a place or a concept. It is the hypothesis that we all have a spidey-sense that tells us that thing we're looking at is not human. It is the idea that we know our kind and that human-like things, be they lizards in a human skin suit or a very life-like Cortana, our brain will warn us. It is not a term for robots who look sort of human, like Cortana or EDI from Mass Effect and kinda creep us out because the future is dark and full of terrors. This is the concept that we have survival instincts that protect us and help us recognize our own species.
A great example of this comes to us from one of the main future factories, Star Wars. In the newest one, Rogue One, we get a visit from Peter Cushing. While he's on screen, you think, hey wait a second, hasn't he been dead for years? You're right! They made a CGI replica of his face and superimposed it over an actor of similar build. Thus you're kind of creeped out about it. That unsettling feeling while watching him onscreen is the Uncanny Valley.
But what's interesting about the Uncanny Valley is that it's not rational. Instincts, though many believe we should listen to them, are not always the most rational things. Our reasoning skills as humans should be able to outweigh an instinctual fear. Who knows, if we discover supernatural creatures who resemble humans, like vampires or elves, we may get the same feelings. I know at that point, that feeling will not stop many of you from trying to become vampire sex slaves. So what is stopping us from putting those feelings on hold and moving into a realm filled with possibility?
Jumping Into the Void
Here at Affect3D, we very commonly hear that artists don't want to move into the medium. It's because they don't feel like they are capturing art, instead creating things that are too life-like for being artwork. They are afraid of simply adding to the void that is the valley and distancing us from people, rather than bringing us closer through art. But 3DX is an amazing and growing field. We do not have to follow that futuristic checklist. Innovative and imaginative artists have the ability to change the game. More detailed characters, more of a demand for better and more nuanced programming, the possibilities are really endless.
Many people feel like 3D is an unapproachable medium for just that reason. But I think that we need to think about it in a different way. When you sign on to play a modern, high graphic video game, you often customize yourself. Many people, like myself, have spent hours perfecting cheekbones to get that perfect look. We do this to feel closer to the situation, to step outside our reality.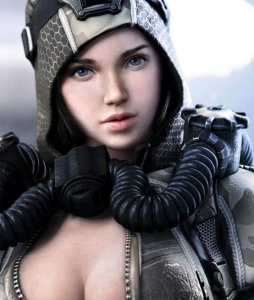 So why don't we view 3DX as a way to make virtual versions of ourselves and go above and beyond reality? What is it about it that repels people? 3DX is a great way, much like our advancements in virtual technology, to create a scenario that looks vaguely realistic and completely unbelievable. Your 3DX character can do things and flex into positions that go above and beyond the normal. I would argue that this repugnance comes back to that fear of replacement. That by moving into the world of 3D and 3DX more firmly, we will turn away from what's "normal", we will stop being interested in real life.
If you watch a CGI-animated film from a big name studio like Dreamworks or Disney, all the people look cartoonish and fake. Those companies are making it clear that they're making "cartoons", not realistic CGI movies. Some awesome artists take the time to "fix" some of the way these characters look. For some reason we're shying away from this possibility even though originally cartoon movies were a new way to make movies. If you look at some of the amazing animation work Blizzard has done for their cut scenes, the potential to reach for impossible things to display in real movies is there. If someone with access to the kind of sheer beauty Blizzard is capable of rendering and made a whole movie with it, with or without porn, I'd do just about anything to see it.
With the understanding that the Uncanny Valley is an instinctual feeling that we can move past or come to an understanding with, I think it means we have to change our minds when it comes to the way we think about the future. If more people are invested in the way we handle something and are determined to handle it responsibly, I think we can make a better future with 3D and 3DX becoming a major focus.
[Image Sources: Lucasfilm/Walt Disney Pictures, 3dbabes]