There are undeniable trends in our sexual preferences and fetishes. These trends are in part dependent on societal values and freedoms. In today's western society and in many eastern cultures as well, it is possible in theory at least, to explore any sexual fantasy and act it out as long as said fantasy doesn't harm or denigrate an individual/group. In practice, of course, we remain a highly prudish society and to different degrees depending on the region you live in.
Naturally, factors such as age, religion and social status all help guide and frame the limits of what we're openly ready to admit to and explore. And furthermore, there are different spheres, platforms, and environments we'll use to satisfy, discuss, and explore our urges. For example, my attraction to Dickgirl porn, whilst it doesn't break any laws, isn't something I'd discuss at the architecture practice I work at. Nor would I choose to broach the subject with most of my social circle. (I did bring up my involvement with A3D as a writer once at a party full of seriously boring people just to provoke a reaction. The shock/fascination of those I talked to was definitely worth it.)
This article aims at taking a look at how different societies throughout history have viewed "divergent " sexual behaviors, expression and orientations. And in some cases, what factors bring about these differences. It will also draw comparisons to our own times and new genres such as 3DX, more specifically how these have integrated/modified our mores and sexual freedoms. Is our contemporary view of sexuality and sexual expression/freedom a lasting phenomenon and to what extent can it be compared to past views and beliefs?
I've always told my girlfriends and close friends about the articles I write here, but I wouldn't bring the subject up with my more casual friend circle. This isn't out of shame, but rather because I don't want to offend or rub off the wrong way. But nor is it something I never speak about. In fact, as I mentioned previously, it can be a fun subject to broach. Fifty years ago, however, had I admitted to taking an interest in pornography that depicted amazing babes fucking other babes with huge cocks, I'm pretty sure the reaction would be far less indulgent, even with people I trusted. Or maybe it wouldn't have, depending on the party. (I probably could've said whatever I wanted at Woodstock without anyone giving a shit. I guess LSD does that. Some would even say that we've regressed culturally and spiritually since 1969, but that's way too vast a subject to dig into.)
Considering that, it seems apparent that the advent of sexual freedom is by no means a steady, exponential curve in history. Rather, it's so dependent on the context that it appears to develop in phases and pockets.
Let's take an example – the much loved ancient Greeks. And more specifically the Spartans. The film 300 has definitely drawn its fair share of homoerotic jokes (remember that scene where Xerxes gives a shoulder rub to Leonidas?). But these aren't actually too far from the truth. Sparta's society was basically divided into two important groups (I mean in reality a few more) – full citizens on one side (Spartiates) and a bunch of lower classes that essentially did all the farming and menial work. There were also traders and another class called the mothakes – basically, the bastard children of spartiates but these were of unequal status compared to the ruling spartiates. The male citizens were trained from childhood in the Agoge – the city state's military academy. And from what I remember from my ancient history classes in school, this was one of, if not the toughest military environment in existence (at least in the western world). The young males were given an older tutor/mentor (or erastes in Greek). This mentor, however, didn't just help with his apprentice's military education but also allegedly was a sexual partner. In fact, the practice is reported to have been such an integral part of training and life that when Spartans married, the first night the bride dressed up as a man and cut her hair short, so the groom wouldn't be too… disoriented. (She was also kidnapped and sequestered – I guess the Greeks liked bondage).
My summary of Spartan life is a rough one but it illustrates my point – sexual proclivities and preferences depend on context and mores. If you want to know more – specifically regarding marital rituals, there are quite a few sources. As a sidenote, relating to Spartans' attraction to men, it's also important to note that the concept of homosexuality as an entirely separate sexual orientation, is a recent one. Indeed, it emerged in the late 19th century. Whereas philosophers like Foucault theorized that homosexuality goes beyond sex and can form its own culture, historically, to societies like Sparta, pederasty and same-sex sexual relationships existed to bolster and reinforce a warrior class and training system. Sparta's entire function and goal were to maintain a strong militaristic system. This is a very brief summary, however, and if you have anything to add, please feel free to do so in the comments.
In a way, the previous example doesn't really point to sexual freedom you might say. Spartan men and boys were expected to have homoerotic relationships with each other as a part of their training. It helped unite and bond them, in the hope of creating an even stronger army. I mean the dudes did hold off (according to a few biased sources) a million Persians – there had to be some value to it. This is Sparta after all…
Not too far away, in a culture that in part overlapped with that of the Greek hegemony, the Romans (at least before the advent of Christianity) built a freer society. Homoerotic behavior and relationships, outside of any military scope, were seen as normal. Well, to an extent at least. Dominant/submissive relationships between a Roman of a higher class and a slave, for example, have been well documented. Pederasty was also a fairly normal practice. The importance was placed on penetrated vs penetrator. Homosexual relationships between women, however, seem to be a bit of a mystery as far as Rome goes due to a lack of documentation.
Naturally, an approach that takes the dominant/submissive route as one of the only acceptable homoerotic rapports, isn't entirely based on sexual freedom. The series Spartacus set in the Roman republic, depicts a society based around constant orgies and endless violence. There is definitely some truth to this. After all, when it comes to violence, the phrase are you not entertained? Sums up a lot. Similarly, the notion of "bread and circuses" (or games) was central in Rome's policies of appeasement. No doubt these games were accompanied by lavish feasts and less-than-respectable after-parties, however, these were not the norm. Sex, and more specifically same sex, was enshrined in a set of rules and norms. In other words, there was a time and a place.
Another notion – that of a third gender – is an old one in history. Indeed, the native Americans, for example, have the notion of "two-spirited", describing a third gender between male and female. Similarly, the idea of the "female husbands" in several African nations (such as Kenya) – wherein a woman (generally of higher status) marries another woman and assumes the male role, wasn't such a rare occurrence. Indeed, "These influential women were usually viewed as men, due to the fluidity of gender in the pre-colonial Igbo context, by marrying women their status was elevated mostly due to female husbands paying bride-price", according to this article. Again, however, it would seem that this particular case was linked to societal traditions and status rather than sexual freedom.
In contrast, futas and dickgirls invoke something else entirely. They are a result of an absence of guided sexuality and societal pressure. As this article has so far shown, in ancient times, homoerotic behavior was seemingly bound by sets of strict rules. It could only occur under certain circumstances, in a specific context and served a particular role.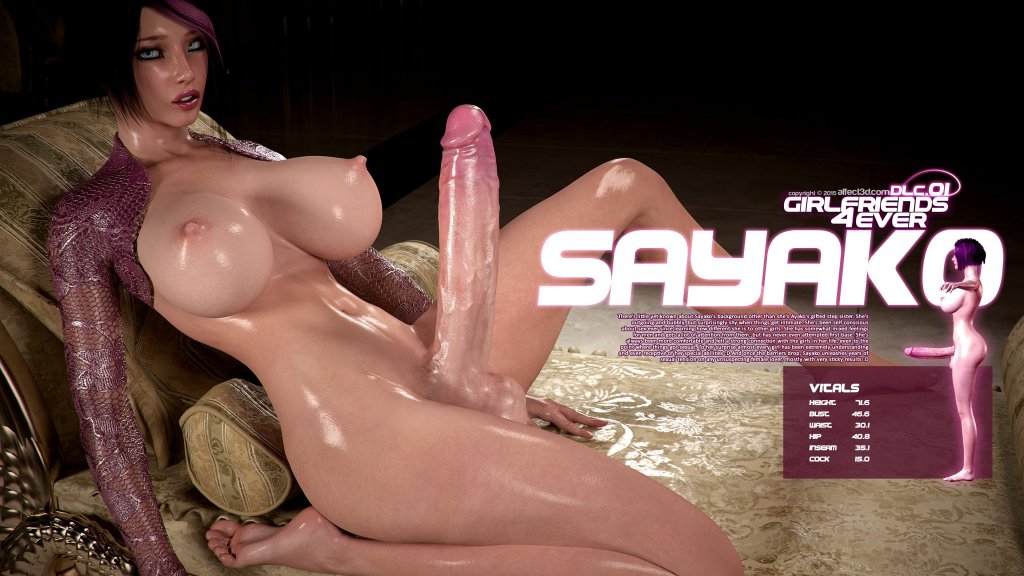 I'm using the example of the dickgirl and futa figure here as to me it exemplifies the creative freedom 3DX allows its artists. These are creatures that have come into existence specifically because of the advent of sexual freedom and an entire sexual culture (exemplified by the LGBTQ community). What I mean here, is that it is a culture that exists almost independently from any other aspect of society. It doesn't serve a purpose or reinforce a particular cast. A beautiful woman, ideally proportioned and proudly sporting a massive cock, capable of wooing any woman, to me at least, represents a figurehead, an ideal and a symbol of this unique culture – a first in history.
Again, this article takes a broad look at examples of sexual "deviancies" throughout history and how these have appeared and played a role in various cultures. Part two will focus more on today's context and the wider freedoms we enjoy – perhaps in great part due to freedom of expression and the evolution of various new means of representation.
Please feel free to comment or add any examples you know of throughout history!