3dgspot is one of the top 3DX studios out there. Their high-quality animations garnered them an immediate fan base and with their unique sexy characters and cartoony style, they provide the crazy, zany action that you can't help but love. With a 3dgspot animation, you know you're in for quality and a good dose of humor to compliment. That's why we had the chance to talk with the guys behind the studio and get their story. And on top of that we're thrilled to announce that 3DGspot will soon be featuring their works in our very own Affect3D Store. But let's get the guys of 3dgspot to speak for themselves.
Where are you located at? Where did the name 3dgspot come from? Give us a brief introduction of the people involved.
We have been doing CG in Santa Monica, California for years but we're about to move again.  We've drained all the creative juices from this office.  Time to move to another but more inland. "3dgspot" came from simply mixing "3d" and "G-spot".
There are 4 members in our crew as of now, all have over 15 years of experience in the CG industry for film, TV, and games.  The main originators are Shao and Tentacle Boy but we also have Pillow Fist and Squirrel.  They create the characters, scripts, CG, audio, cooking, and dish washing.
How did you get started in 3DX? Why of all thing did you decide to go the route of animated porn? What is it about 3DX that stands out for you, made you see the light?
3dgspot was originally was a website where you could buy 3d models and other CG assets, much like turbosquid.com.  That was ok for a year or two but it wasn't fun at all.  While that was happening we work on mainstream CG projects and it was fun at times when the client was great but some of them needed to be dominated by our girl Andrea in Doppelganger.  The janitor in Doppelganger represents our clients when we created that animation.  Shao and Tentacle Boy has loved erotic art ever since puberty and never held back on "sensuality" in everything.  So while working on mainstream projects, we started making 3DX and found that we loved it more and slowly started doing things our way.  No clients, no annoying project managers, no untrained directors, etc, etc.
In contrast to the more common realistic approach when it comes to 3DX you've deliberately cartoonified your characters in favor of fluid animation. Is the design of your characters influenced in any way by those of contemporary Hollywood 3d animation studios like Pixar or Dreamworks? Or are there others who inspired your works?
At first, we were trying to create a western style that could rival Japanese hentai, which is basically anime with sex. We wanted to depict sexy "western" style animation where sex is fun, that women love sex too and should express it where men who get sex frequently from many different women are "heroes" to other men. We are also part of that Hollywood "machine".  We have worked in many mainstream CG projects.  "Hollywood" is great outlet for creativity and ingenuity but the "vision" always comes from a single source and so creatively emotional people strain to work together but sometimes they clash badly. If you're animation team is good, "Hollywood" will never spit you out but will forever chew on you.  It's only our love for what we create is what kept us going.
Our style of animations are mixed with realistic and toon, actually.  Our biggest influence is anime.  Some of us didn't grow up in the US so we were exposed to Mazinger Z, Voltes V, Daimos as a child instead of Scooby Doo and all the normal US toons.  Also being classically trained in animation, we definitely studied Disney and Warner Brothers characters and animation techniques which we transferred to 3d animation around the early 1990s.  We had to learn everything ourselves in 3d. No schools taught that stuff then.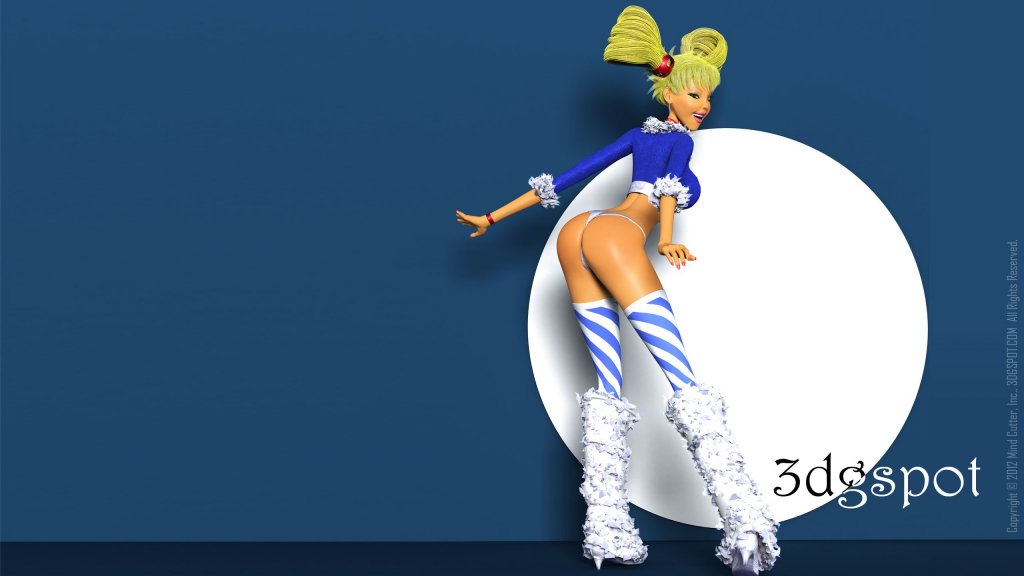 The second element that makes your clips unique is the heavy dose of college type of humor. Titles like Bonetown and the old Leisure Suit Larry series, come to mind that have gone a similar direction. Have these been an influence? What is it about the tongue in cheek approach that you like and do so well?
Most of our influence are from mainstream media then mutate it. Our humor originates from different sources from Monthy Python to Mel Brooks to South Park. Tongue and cheek humor is the quickest way to set up and casually get to the "sex" part.  We tend to stay within comedy, sci fi, action/adventure, horror/thriller, and mystery.  These genres tend to be sexy. New characters are being created and we are now focusing on "Male" or "hero" characters which give us more avenues for interesting scenarios.
Both the cartoony style and tongue in cheek approach work really well for you but have you ever considered taking a more realistic and/ or serious approach or have you found your niche and are sticking with it?
We actually have a library full of realistic characters but many 3d artists out there create these wonderfully realistic 3DX characters so we don't feel the need that we have to provide for that. Maybe someday we will create something with a realistic style but at the moment we have a stack full of projects that doesn't even get close to that style. Everything from hentai art style to mobile game apps are already in the works in 3dgspot.
Where do you see yourself positioned in the 3dx marketplace, who (if anybody) is your target customer?
We are artists, first and foremost, so we just want to create, create, and create. Continue our "character" based stories which are attracting so many fans… we love you, you cool ass bastards! We target anyone that craves something different and excites their imaginations as well as their loins.
As it stands a lot of artists see 3DX as a hobby. Considering you've got your own web site and the quality and amount of output it seems you're more invested than that. Is 3dgspot a full time gig for you and/ or are you planning to make a 3DX a long-term career? If so what do you see as some of the roadblocks/ advantages of pursuing this path?
It started as a hobby that we did in the wee hours of the night but recently we have been doing 3dgspot as a full time gig. We seriously want to do this 'til the day we die. We have full creative control and we don't even have time to think about wanting to do something for the mainstream media.
Road blocks for our videos are always distribution and piracy. Luckily our members are cool and tell us when someone is encroaching on our copyrights. How we counter this is to diversify what we create. Creating "real time" interactive games, adult mobile games, apps, partnering with strong teams and most of all, don't stop making 3DX movies.
Each of the female stars of 3dgspot seems to have unique characteristics, not just in design but also in personality. What role does this play in terms what activities they get up to? Also give us a brief introduction of your main characters.
We try to give each of our characters a certain quirk to give them those loveable characteristics. These characteristics make our viewers literally fall in love with them. Most of us fell in love with cartoon characters first then as we grew up with real people. The first set, Andrea, Mrs Doe(our Mickey Mouse), Portentia were very simple characters and we have received thousands of fan letters for them. The 2nd season has a different style to way they are made, Fannie, Cassandra, Zhu zhu, etc have less extreme characteristics but still interesting enough to push animated boundaries. The 3rd season will be mostly "men" in the starring role. We are making more fantasy, horror/thriller and sci fi next year.
Which 3 characters seem to be the most popular with your fans and could each of you list your personal favorite and why?
Portentia is the most talked and written about since she has the most personality of all of our first characters. Mrs Doe appeals to many since she's hot, sex friendly and doesn't talk. We introduced her little sister Charlotte this year and have gotten great feedback about her. Andrea from Doppelganger is one of the top favorites due to her wild sexual scenarios she creates as well as completely dominating her "victim".
Will we see more of Portentia's dance moves in the future? 🙂
Yes, but this time it will include 5 other characters. We are creating an episode where Portentia's cheerleading team goes against Cram skul's cheerleading team, Keena, Ariel and Lara. The episode is called "Get It Off". It's will be one big stupid and sexy movie with dancing, cheering, sex and fighting Nazi's from another dimension. But before that we will be airing an episode with Charlotte and Sable being introduced by Portentia.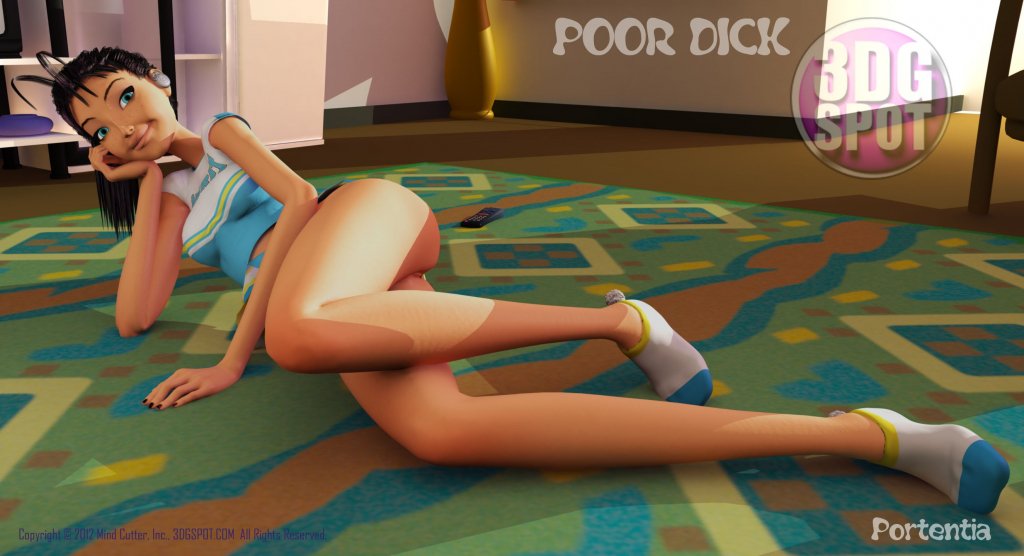 What's the story behind the Asian guy who features as a cameo in a lot of the clips?
Mr. Gai Fun was really a fluke. We placed him wherever we needed a background character. That was when we barely planned our clips. Lately he started getting a fan base so we decided to make him a host and in the interactive movie, "Latte Revolver", he will have a major role as the Kung Fu master of the leading man.