My personal fav is Doppelganger the story about an Android girl who services a lucky human subject on first contact. Even though he was discarded shortly thereafter I'm sure his last moments were those of great joy 🙂 Where did the idea for the story come from and the equally impressive sex moves performed by the Android? When can we expect to see a follow-up and how will the story continue?
We are so glad that so many people love Doppelganger Zero. It was our first serious production of 3DX that needed a script, planning, customized characters, and shock value to get us known in the web. Andrea in Doppelganger or we just call her "Dop" was created in our first batch of character designs. The story will progress as to what she is, who created her, and her journey to becoming a life form that is dependent on other organic beings. Sci Fi at it's sexiest. Doppelganger Episode One will be available around February of 2014. The scenes are almost done and have been slowly being rendered. Thousands of frames each rendering at 35 to 50 minutes each takes a very long time to finish.
On to some of the stylistic and technical aspects. Do you use keyframing or motion capture and why?
Animating by hand or motion capture is the easiest stage for us. We could create animations very quickly. Many of our projects are a mix of animation techniques, the motor motions are motion captured while other motions are hand keyed.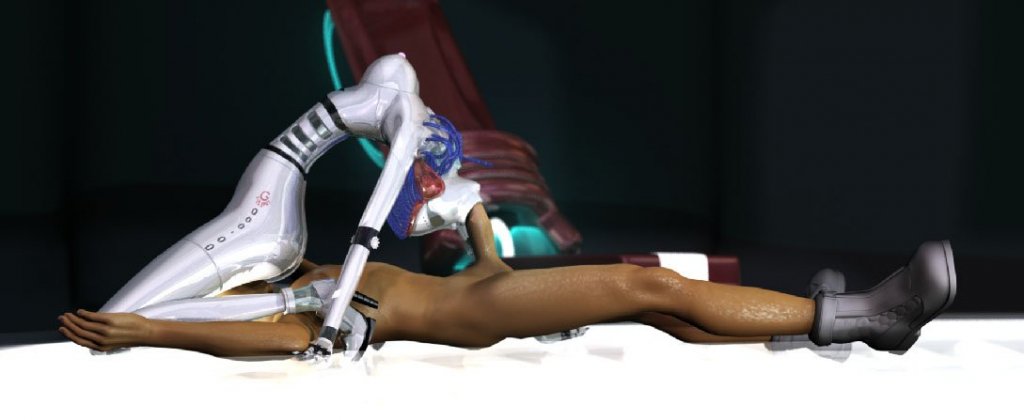 There's clearly a very high level of technical skill on display in your work. Are you directly applying skills from your day job to your work on 3dgspot.com? How do you infuse your characters with so much "life", varied facial expressions?
Our day jobs were the key that honed our story telling, art and skill. Since most projects are grueling and unforgiving, we learned many software and techniques that gives us an advantage to many 3DX artists out there. We're not any more talented than any other 3DX artists out there, we were just tortured more in the CG industry in Los Angeles to make our skills competitive with other studios.
"Life" is created when the viewer forget that the character they are watching is other than real. The way they stare, the way they talk, the way they move their hands and many more. They act out what they are saying through expression, body, and hands. Directing real voice actors help tremendously. None of them are in the adult industry and only does mainstream projects. Anyone can moan and groan on the mic but if they can act the animators really "feel" the character come alive and inspire us to animate better. Granted some of the voices are us messing around but that's because we didn't have time or couldn't get the right actor we wanted.
Everything starts from an idea before its made. Tell us how you take an idea in your mind and turn it into reality. What programs do you use to create your art?
Well Shao is our idea guy. He runs in and tells us something completely twisted and we twist it even more. He writes the script then the production machine begins; modeling, particles, cloth, spring bodies, textures, voice actors, and cinematography. Then Tentacle Boy begins the scene and shot creation, animation, lighting, rendering, post, audio, sfx, music and finally delivery to our viewers.
How important is it to have a storyline framing the action in your videos, would you be equally happy to make videos without them? Or is it part of your artistic vision to produce more "complete" works?
Story line is crucial if you want to build a more solid fan base for your characters. Even small clips need some sort of imaginary story line for us. Those hints can be derived from some unusual backgrounds within a tomb, or an Asian village or what clothes they wear. Quick clips give our portfolio more muscle but a storyline is what makes people fall in love or lust and follow our characters.
Do you have any advice you'd like to give to any aspiring artists, specifically those who'd like to get into animation?
Learn to physically move your body. Take an acting class and practice, practice and practice. Learn to dance, martial arts or any fast action sport so you will gain valuable experience on "weighting".
Your character is your actor and you have to move that character so a good amount of acting is needed to bring your character to life. Stand up and film yourself acting things out.
Push yourself by practicing, practicing, practicing.
Create your own character and animate it. Don't copy Disney or Warner Brother characters. That doesn't show any kind of creativity.
Have you ever thought of or planning on doing a full-length film?
We have full length scripts, but it would literally take millions of dollars to make. So it's mainly the cost that stops it for us, but we have options. We are taking feature film scripts and turning them into real time interactive movies. Our kung fu epic "Latte Revolver" and another is called "Rocket Roll" for next year. We are creating a full feature but in steps for "Ra".
The exciting news is of course that you'll be featuring some of your amazing works in our very own Affect3D store. How do you feel about venturing out releasing individual clips?
We think it's time and feel ourselves very fortunate that we partnering up with Affect3d for this venture. Very exciting to us!
Which animation clips will be making available for sale? And can you briefly introduce them.
Doppelganger Zero, Mrs. Doe at the Depot, and a Cram Skul bundle of "Keena in Gloriously Holy Moly" and "Extra Credit". A bundle of Tomb, Mrs Doe and Poor Dick is next in the works.
We've obviously done this in a collaborative effort to get your works more well deserved exposure both at our store and your pay site. How will fans on either platform benefit?
So what's next for 3DGspot? Any future projects you can tell us about?
Many of our members always want to own the videos so Affect3d is a great portal for that to legally happen. Members still get the newest videos as well as games, shots, etc. It will offer more interactive movies, mobile games and new characters only 3dgspot can introduce.
Where can we find you online at?
Any last words for our dear Affect3D readers?
There's a revolution in art and you are part of it. Stay cool.