The only limit in 3DX is your imagination. The people over at Digital Seductions know this very well. The team of Tokage and Astaroth have been perfecting their craft at 3DX, creating various works ranging from the classic vanilla genre to the more extreme BDSM stuff. Their paysite network Digital Seductions showcases their various creation, allowing you to see gorgeous and eye-popping action that 3DX offers. That's why we wanted to take the time to speak with them about their collective site and how they got to where they are.
There are two of you involved with Digital Seductions. Tell us about yourself. Where did the name Digital Seductions come from? Where are you located at?
Tokage: Somewhere in Europe, in an undisclosed colony of Vatican.
Astaroth: I'll just add it's eastern Europe, so you shouldn't have trouble guessing where that is :). As for the name – the idea behind it was quite simple. We were looking for something that would sound sexy and at the same time underline the computer-generated nature of our content. The deciding factor was, however, the availability of the domain name, so I'd lie if I said "Digital Seductions" was our first choice.
Societies vary dramatically in their acceptance of porn? How are things situated in your country and how do you feel about the situation?
Tokage: We do live in catholic country, so it's easy to figure out the rest.
Astaroth: Yeah, porn is still a social taboo here, although I wouldn't say it's less popular among people our age than anywhere else in Europe. You just rather keep quiet about it. Obviously, I think there's nothing wrong in celebrating human sexuality, but it'll take some time for this change to happen on a larger scale.
How did you two get started in 3DX? What was your journey to becoming an artist in the genre?
Tokage: Coming from lower-middle class, my parents weren't able to support both their children in college, so I needed a full time job that wouldn't collide with my daily studies. It just so happened that, at that time, the biggest porn company in our country was located in a city where I was studying and they were looking for a DTP specialist. I applied, despite having almost no experience other than knowing Paint Shop Pro and Corel Draw a little (thank you free CD attached to a computer mag!) and vast knowledge about hottest pornstars (thank you 90s video rentals!). Surprisingly, I was accepted. As I later learned, I was not chosen for my skills, but because of the attitude I displayed during the practical test. As it was a long, long time ago, when no one even heard about the term "economic crisis", they had both time and money to teach me a lot of stuff (not "that" stuff, but Photoshop, InDesign, Quark, PageMaker and so on) – it definitely comes in handy now.
For 4 years I did layouting for printed mags, photo retouching, porn DVD authoring, overseeing photo sessions and so on. I eventually quit, but a mark of "that porn dude" stuck to me for good, so I was being approached by other companies doing or willing to start doing something in the field of porn. Around seven, eight years ago Leonizer, a good friend of mine, sent me a link to "Ganguro Girl" – a flash dating game. We both liked it, so one weekend we made "our version of it" – the original "Lesson of Passion". I moved on, but Leonizer was digging it. Eventually, around five years ago, he invited me to try doing some renders for his new flash games. I was hesitant at the beginning, as I remember my failed attempts to understand Poser (seriously, is there any other program around with such convoluted interface?), but he pointed me towards Daz Studio (much easier to grasp for a beginner in 3d). I was learning Daz while producing renders and eventually I ended where am I now.
As for an artist thing – I certainly don't feel like one. I do porn, not art and I personally wouldn't call 3dX "art", which doesn't mean I don't respect it. It's just scary how postmodernism raped our culture and how words lost their meaning.
Astaroth: I was actually introduced to 3DX by Tokage (we've been friends since University). He had been working in 3DX for some time (as he described above) and eventually pitched the idea to me and suggested we could start our own site. I had virtually no experience with 3d prior to that (I mostly did 2d illustration and graphic design), but I jumped at the opportunity and don't regret doing that.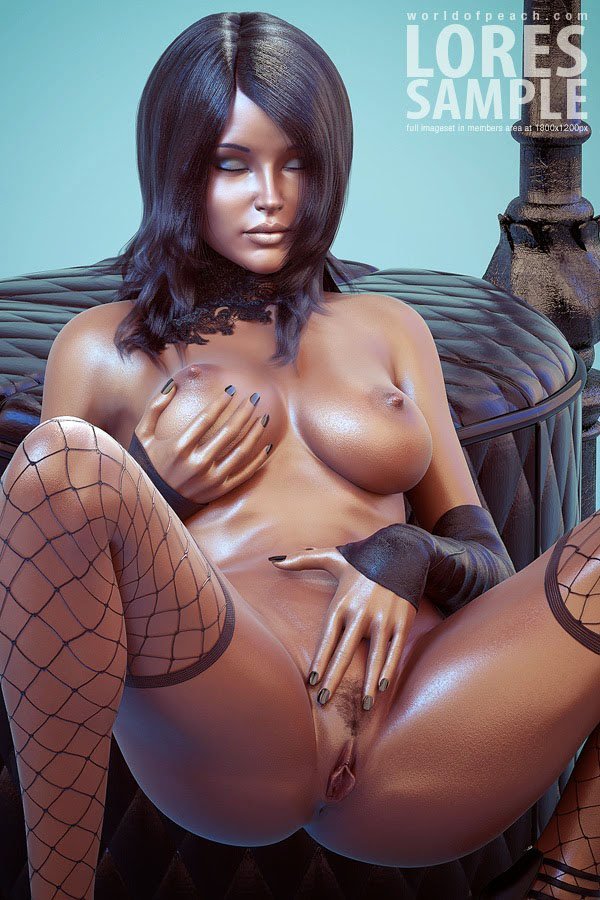 Apparently you've got experience in the realm of 3DX pay sites. Tell us about your previous endeavours.
Astaroth: I must admit I was a kind of 3DX virgin (pun intended) and with Digital Seductions I lost my virginity. I hadn't done any commercial 3DX before. I had experience creating 2d digital art, including erotic art, so switching to 3d went rather smoothly and allowed me to achieve better efficiency compared to 2d. Obviously, I had to spend some time learning new software, but I was surprised myself how quickly I got into it.
Tokage: I did gfx for almost all old LoP games (Rob The Unfaithful, Bitcher, Abyss, 7 day quest, Cherubim, Outcast Academy, the upcoming Dignity One – and others, too much to list them all here) and both gfx and writing for some of their other titles (Tori 500 and all expansions, Thorn-E, Pussylight, Lesbian Passion). That's it.
So, you actually run a network of sites, each catering to different niches and tastes. Tell us what are the sites, who of you two is responsible for them and what is the concept behind each one of them?
Astaroth: Currently, we've got three sites: World of Peach, Sodom Sluts and Tales of Pleasure. The first one features the most mainstream content, so it should appeal to the most people. Both me and Tokage create content for that site. Sodom Sluts (for which Tokage is responsible), with its over-the-top aesthetics (everything is huge here!), is centered around cultural and social fetishes. Tales of Pleasure, which I create the content for, is mostly bdsm-oriented with fantasy elements (otherworldly characters, nightmarish scenarios). We hope everyone finds something they like on our sites and who knows, maybe they even discover they're drawn to a certain fetish they never thought they would be. In the future, as we expand, we hope to add more niche-oriented sites and add to the diversity.
What caught my eye is the unique characters, scenarios and presentation. But how do you feel your content is different to what's out there? What are you bringing to the table that's new?
Tokage: I don't think it's really anything new in terms of content. It's more like adding a certain aesthetic to the available pool. One that may be attractive to certain viewers (many, I hope), but ultimately it's up to them to decide whether they like it or not. In terms of presentation I guess our comics' are quite unique and I think we owe it to our previous experience in DTP and graphic design.
Astaroth: I agree. We can't claim to have invented anything new, really. We build on what's been out there both in porn and popular culture and present our take on it. One thing we obsessively care about is the quality of our content. We never cut corners in that regard and I hope it shows in our work.
I can see some cyber goth influences, dick girls, bdsm, femdom but also sexy babes with world of peaches, which makes for interesting mix ranging from the vanilla to the edgy and extreme. Who or what do you draw your inspirations from? What are your stylistic influences?
Astaroth: As I said, we're inspired by popular culture and genres such as sci-fi, dark fantasy, steampunk, exploitation movies. As for the girls, we simply try to make our own fantasies come true. I think the key is creating content you would be interested in yourself if somebody else created it.
Tokage: As for Sodom Sluts – I guess hentai mangas and old German porn movies (think end of 80s and early 90s) are a big inspiration.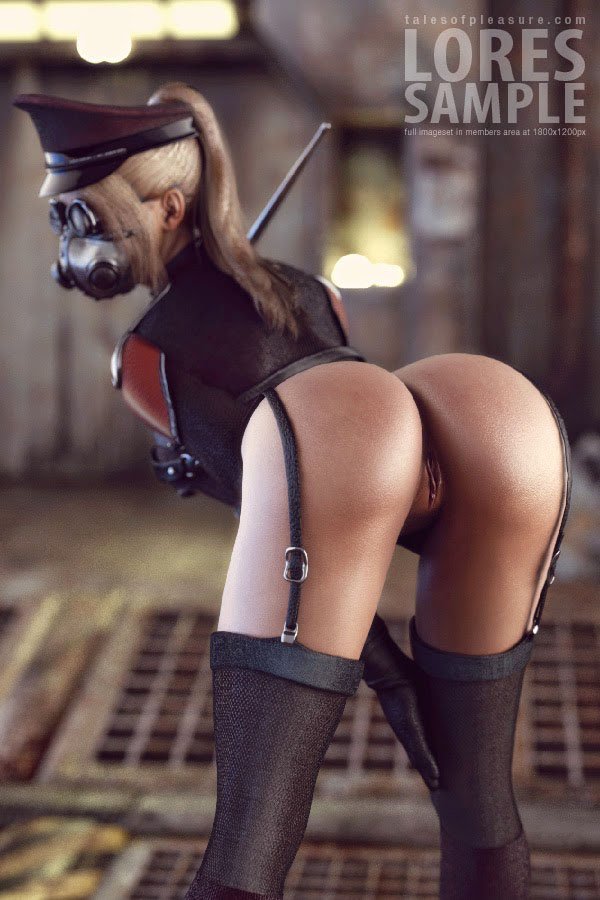 For someone interested in buying a membership what kind of content would they expect to see and how many sets are currently available? What's planned for the future in terms of content?
Astaroth: We've currently got more than 20 image sets (including pin-ups) and several full comics filled with hardcore action. We update the sites regularly so you get your fair value if you are a recurring member. The direction we're going is not set in stone. We constantly listen to our customers' feedback and act based on what's the most desired. Obviously, we intend to stick to the general themes of our sites, which have already been well received and see where it takes us.
Speaking of making a living? Do you intend to make a career out of your membership sites and how would you feel about being able to do this for a living?
Astaroth: That's the plan. We wouldn't have started it if we didn't believe in it to succeed. We definitely intend to grow and expand.
Tokage: For me it's another step on road I chose a long ago.
Some of your stuff (especially Tales of Pleasure and Sodom Sluts) tend to feature scenarios that are near impossible to do in real life. Do you feel that because you're using 3DX to create your work, you're able to forego that restriction? What is it about 3DX that stands out for you?
Tokage: For me that's the main point of 3dx – to do stuff that would be either impossible or too dangerous in real life. Using 3dx for anything else (like for "realistic" stuff) is imo a huge misunderstanding. Live girls will always be more cute and diverse than 3dx characters. And unlike them, they don't cause uncanny valley effect (well, OK, some of real life girls actually cause an uncanny valley effect – google "German pornstar with Z breasts").
Astaroth: I somewhat agree and disagree with Tokage. I also think the best use of 3DX is to create things you couldn't find in real life (futanari, succubi, cyber-girls, etc.), but at the same time I try to make them look real. It's what turns me on, really. For me the fact we differ on aesthetics is a huge advantage, because this way we're able to create content that's even more diverse.
How do you think 3DX will develop in the future?
Astaroth: I guess it's heading towards more interactivity. The advantage of 3DX over real porn is that it's generated in a 3D environment so nothing's stopping you from being placed directly in the center of the action. Of course this would require budgets that are not available in 3DX at the moment.
Tokage: I'm a transhumanist and singularity prophet but in all honesty, there are things I'm more excited about in the future than 3DX. Wait for morphological freedom to enter our homes. Real porn after 2050 will be something amazing.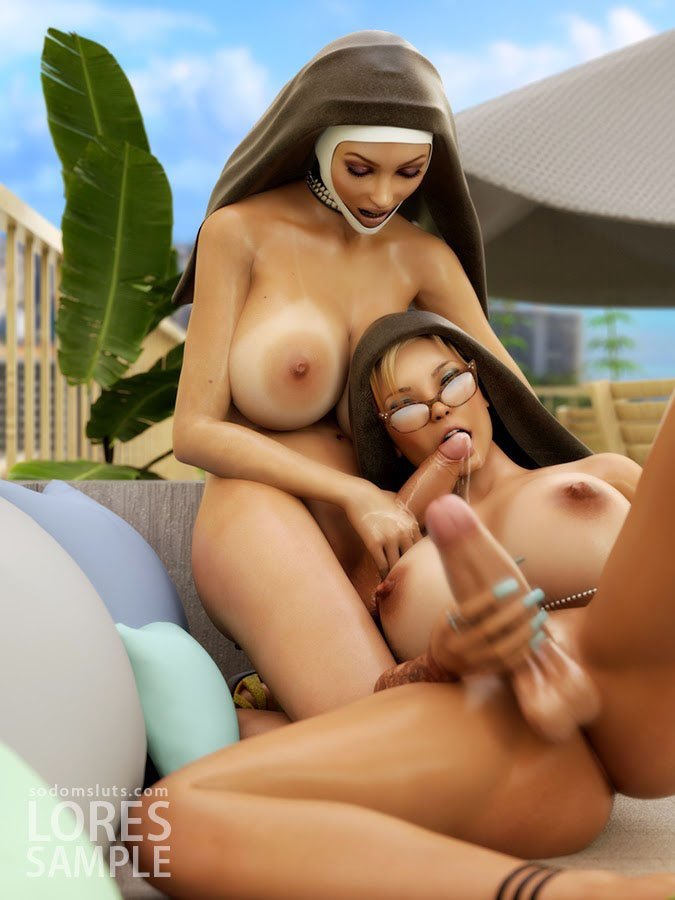 Are there any fetishes/scenarios you've strongly considered doing in the future? And what are some of the genres you wouldn't touch?
Astaroth: I'm open to ideas. To be honest I'd like to see what's best received by our customers and build on that. The idea behind Digital Seductions was to fulfill as many sexual fantasies as possible. However, I wouldn't probably be able to do gay porn, not because I have something against it, but simply because, being a straight guy, it's not something that turns me on and I think the lack of enthusiasm would show in my work.
Tokage: I have no taboos. I'm working on some gore and scat scenarios right now (although unfortunately they WON'T be available on our sites, as our billing service disallows such stuff). I wouldn't mind doing some 3dx bestiality, but it's pointless since there is no way of selling it. 3dx loli porn is out of question and the only genre I won't touch.
You've also got several strong characters featured in various series. Who is your favorite character/ series for each of you and why? Tell us a bit about their background.
Tokage: My characters are disposable and I hate to revisit old characters. There are two exceptions however – Candi, created as a minor character for Tori 500. Yes, that one IS heavily inspired by a certain real-life porn actress. The second one is Blue. I'm reworking her now (more customized figure, texture and so on) and want to feature her in an ongoing series with rather risky but imo interesting aesthetics.
Astaroth: I get bored of characters as well, although I wouldn't mind revisiting some of them if they turn out to be exceptionally popular. I've got one character I consider a Tales of Pleasure mascot – Evelyn, a red-haired succubus that can currently be seen in many ToP promo graphics and a free set I did for our blog. She will soon feature more prominently in my sets and comics.
Tell us about the process that goes into your works of art. What are your tools of the trade?
Tokage: Daz3d, Octane, Blender, Carrara, Photoshop, Wacom tablet recently.
Astaroth: Same here, although unlike Tokage, I've owned my Wacom for ten years and I can't imagine working without one, especially since I do extensive post-production in my works. Outside of 3DX I also use Painter and Illustrator (which I also occasionally use for creating logos for Digital Seductions titles). As for the creative process – I don't think I'm going to say anything new. First there's an idea (followed by very rough storyboards when I work on a comic), then there's adding content and setting in up in DAZ, rendering and finally – post-production in Photoshop.
Do you prefer V4, V5, V6 Poser or Daz3D?
Tokage: V4 (or to be precise – Lali's Bits). V5 (and whole G1 line) is über crap for me. V6 looks nice, but I got so used to V4 (and spent countless hours to customize it to my liking) that I see no point of abandoning it. Daz3D at the moment, although for various reasons (one of them being development speed of the Octane plugin) I'm considering a switch to Poser.
Astaroth: I actually made the switch from V4 to Genesis 2, which I find more suited for my needs and better rigged. I also work in DAZ, although I seriously consider trying out Poser for its more advanced features.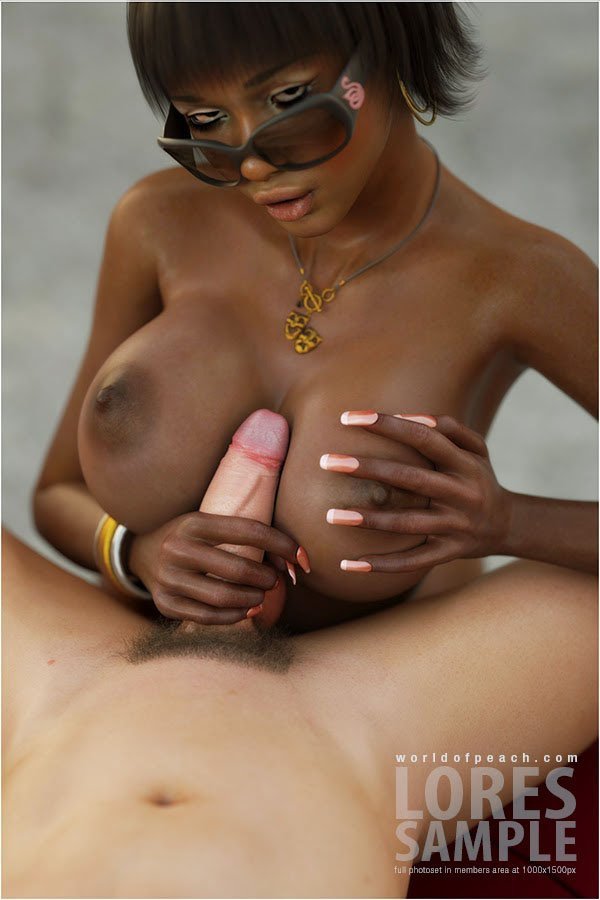 What genital props do you work with/ recommend for both males/ females?
Tokage: Satanica's male gens were probably the ones most abused by me. Back then in LoP era I was using pleasure box a lot, along with Darkseal's ass play.
Astaroth: I currently use 3feetwolf New Genitals for my Genesis 2 ladies and OMGDK2 for the gents.
Do you have any advice you'd like to give to any aspiring artists?
Astaroth: Go out there and give it a shot. You can actually start out with 3D without spending any money (DAZ Studio with basic figures is free, Blender is open-source). Provided you own a computer, there's nothing standing in your way.
What do you have coming up in the near future?
Tokage: Lots of comics, and since we finally got a pro copywriter some of them will finally have decent scenarios. Mostly one shots, but I'm also working on two ongoing series (limited "Faith War" – sacrilege in a techno-fantasy setting and an unlimited "Something 'bout Blue" where I want to experiment a little with aesthetics). Two comics are also in the works, with scenarios and themes suggested by our members.
Astaroth: In the early 2015 we'll probably add a bonus site with real porn (with fetishes that fall under SS and ToP themes) and one more 3dx site with 3D hentai/cartoons.
Any last words for our dear Affect3D readers?
Astaroth: There's nothing weird in being turned on by an albino chick with a huge dick, hooves and ram-like horns 🙂
Where can we find you online at?
Astaroth: Digitalseductions.com in the place to go and see what's currently going on with our sites. I plan to set-up a DeviantArt account as well, but couldn't find time to do that yet.