Hitman_X3Z is no stranger to the world of 3DX. He's made quite a mark with his sexy elven girls over the years, sometimes putting them in precarious but fun situations. After a two-year absence, he's back with a new set, "Elven Desires," to be on sale at the Affect3D Store this Saturday.  We spoke with him recently on his work, especially why he likes those elves.
Tell us a little bit about yourself. Where did the name Hitman_x3z come from? Where are you located these days?
Not much I can say about myself. Well, my name is Dmitry, I'm from Moscow, Russia, and I'm a guy who's addicted to 3DX. For a long time I worked as a system administrator in one small company. Then I found my place in sports, and now I think that bodybuilding is my life. So I'm working as a personal trainer these days.
As for the name: When I was 16 years old, I was impressed by this newly released game called "Hitman: Codename 47." X3Z was a completely random choice when I was creating a soldier for the game Battlefield 2142. But nowadays I prefer to sign simply as X3Z.
What inspired you to make erotic art in the first place?
First idea that comes to my mind is that it's a love for the female body.
How did you get started in 3DX?
Probably the first time was back in 2007 with The Elder Scrolls: Oblivion and Blender. I made new poses, modified some clothing to make it more skimpy, etc. Years later I decided to try Poser 8 and off we go.
What makes 3DX appealing to you?
You can start working really fast. You have accessibility, the opportunity to experiment, and the ability to learn on the fly. This is even if, like me, you don't have any special creative education.
You were inactive for a couple years until recently. Is there a reason for your absence that you're willing to discuss? What brought you back?
It's real life, no more no less, just the facts. And if only I could have some choice… By the way, all the negatives in life still have some positive sides to them. These past two years were a very important experience for me. It made me see things more clearly, so now I feel more refreshed and free than ever before. But if you want some drama, here we go: First, I lost my dad, then my mom was hospitalized. Two weeks later our cat died. Later on, I got in a car accident, hurt my back in the gym, and was treated in the hospital for 3 months or so.
Tell us a little bit about Syndori and your new character, the Castle Guardian. What brought them about? What makes each of them them appealing to you specifically?
I cannot give a definite answer to this question, as it is beyond my understanding. It's like when you see a girl who isn't your type, but you still like her, all without a trace. When I try to create a character, the first thing I try to think about his inner world, soul, and over what motivates them.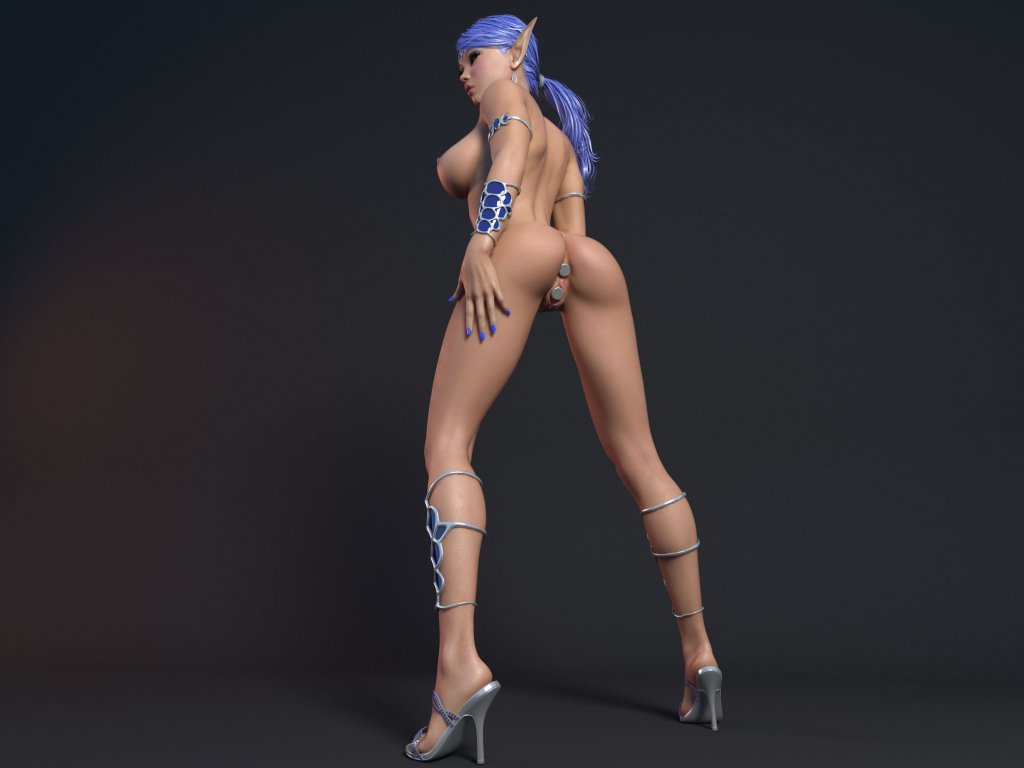 What draws you to elf characters or even fantasy in general?
The Middle Ages seem closer to me than the present, and a lot of European fantasy comes from here in Russia. As for Elven girls, they seem more feminine to me, and not spoiled. They don't care about any of the anxieties of life or wealth.
Can you tell us a little bit of what caused this new set to happen?
I'm too lazy to even answer this question! But it has been a good incentive, an opportunity to put myself on a specific deadline. Otherwise, I'm afraid it would not have happened at all.
What was your goal with this?
To release the second part with better content. I'd like to buy a new PC, render more characters simultaneously in a scene, and make them even better.
You seem to avoid male characters, at least from your initial images. Any particular reason why?
I have worked on the female characters to the fullest, and they were not ready yet, I could not show what I wanted and how I wanted, there was always a lot of work, much corny as it was impossible for my own fault, and the fault of the software. Now, I like that it turns out, so that is still to come. I have a lot of unrealized ideas.
Who or what are your inspirations?
I cannot remember, I cannot say. I've seen too many things from the media industry in my life. Tons of references from movies, photos, hentai. It's just a mess coming out of my head. Improvisation, logical chains. I never plan my work, it turns itself and from itself.
Are there any 3DX artists out there that you like?
There are a lot of good 3D artists, many of them have directly or indirectly contributed to my work. And I do not want anyone to forget or hurt any of them. But I want to express my gratitude to these people, for all that we do we anyhow do together! Thank you!
What kind of software and hardware do you use to make your art?
My current set was done on an Intel Core i7 3770K at 4.4Ghz and 16 GB of RAM with the help of an Intel Core 2 Quad Q9550 at 3.4 Ghz and 8gb of ram using VRay Distributed Rendering and Cinema 4D with DAZ Studio, Photoshop, on Windows 8.1. I think using Windows with the latest up-to-date kernel is the most important component for a smooth workflow.
Anything in particular about the software that you like?
In my opinion, you do not need to spend a lot of time learning how to use DAZ Studio or Cinema 4D, as they have very user friendly, intuitive and easy-to-understand interfaces. Also, you can sculpt or model a scene or character(s) directly in C4D without needing ZBrush or something similar, then transfer changes directly in DAZ without any problems or third party scripts. It is purely creative process, and this is a very important thing for me. VRay is an awesome render engine, but you need to understand how it works. Without learning it, you will always end up doing the render wrong. Otherwise it's very adaptive, fast and easy to setup your scenes and render your toons.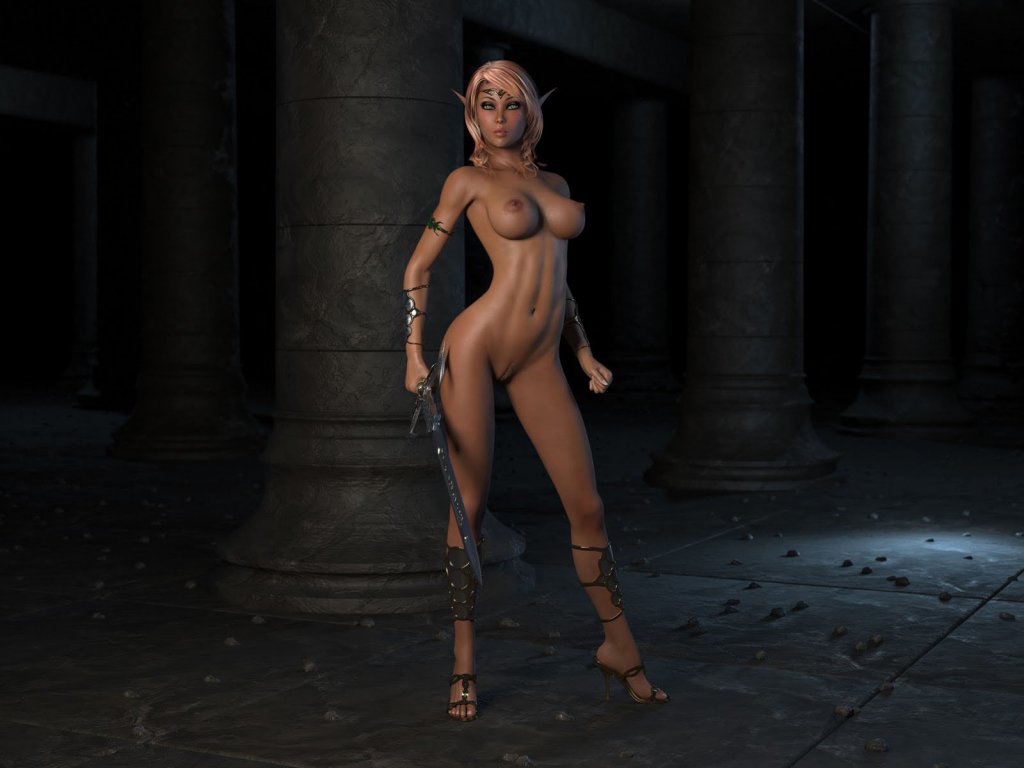 What has held you back in terms of making 3DX art, at least from a technical standpoint?
I had tons of problems with VRay in the past. I'd transfer finished morphs to V4, like 12+ hours of work and in the end I'd lose everything. That killed some series in the bud, such as Rapefield Zero or TTFT.
What other projects do you have coming up in the near future?
I plan to work on the second part and make a full-scale sequel to "And Here We Are!"
Do you have any advice you'd like to give to aspiring artists?
I don't know. Maybe "Choose your tools wisely!" It's all much too complicated.
Where can we find you online?
At my blog or DeviantArt page.
Any last words for our readers?
I wish you all to be happy and healthy, thank you!