As we approach closer and closer to Saturday's release of Secret of Beauty 1&2, we wanted to know behind the artist who has created this fantastic series. Jared999D has wowed us at the Affect3D crew with his gorgeous artwork combined with his stunning animations. That's why we wanted to get past the surface and know about how Jared is able to captivate us with his works and how he's able to do so.
(And be to check out Secret of Beauty this Saturday. You also still have time to enter the contest!)
Tell us about yourself. Why the name Jarred999?
My English name is Jared. I am not native English. I am from South Korea. So I can choice good English name.
Jared is simple but cool name I think 🙂 999D means infinite dimension. I play with 3D tool. My ultimate goal is to express amazing 3D above 3D. :)I work for a IT company. My main job is design to contents and analysis user data. Honestly 3DX is too far from my main job. But I really like 3DX and hope to continue this.
How did you get started in 3DX? What was your journey to becoming an artist in the genre?
4.5 years ago, hen I met Poser in September 2009. That is just mistyping in Google. But When I knew what Poser was, I really was happy for that was my dream, amateur 3d. I already knew 3d tools like 3dmax, Cinema 4D and etc. That is too hard to learn and make a really good character. Especially I did not have enough time to learn these tools. But Poser has many contents and resource and easy to learn. I can focus to making scenes I want.
Honestly, my primary goal of learn Poser was to make great sex scene. I needed really sexy girl for my scene. So I spend a very long time to make characters. I saw Genesis in Daz3D. in the meanwhile, I was using Victoria 4 in Poser. After I knew Genesis. I decided to move my tool to Daz studio. I already have another job, So I don't have enough time to have a pleasure to learn new tools. That was big deal.
As a result that decision is cool choice I think.
What do you enjoy the most about working with 3DX?
My favorite working is making character. Almost case, I use ready-to-use characters. But all character in the scene need details like hair, accessory, costumes and background story. I like that process.
Lets talk about your works, Naked Gym to begin with. How did the idea come about? As I understand it was created sometime ago? Tell us about your main characters especially the girl. And also the story in your own words.
I hoped to learn and make good and sexy animations. Workout is a repetitive task and make woman's breast movement. That is good material. Honestly Naked Gym is from making good loop animation. And that is my final Poser work.
After that, I moved my tool from Poser to Daz Studio 4.
Another topic. She is my first Poser character. After making her, she is upgraded many time including textures and shapes. I think about after Naked Gym. That is good subject for sexy movement. I will start to make a Naked Gym part 2 sometime or other.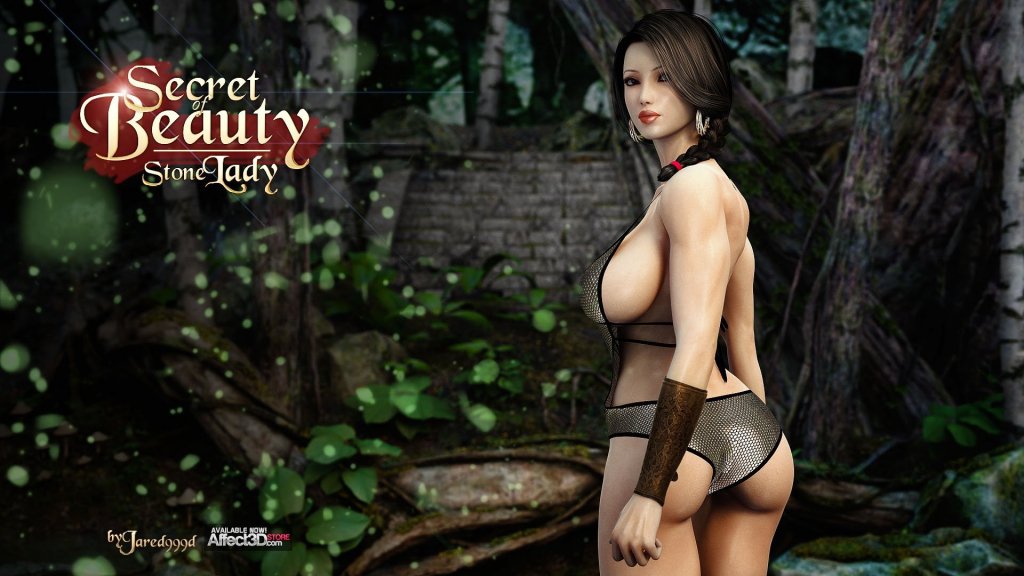 I assume this was your first foray into animation? What prompted you to try it? Was it a difficult process? What were some of the things you learned about animation, specifically animating sexy girls 🙂
Naked Gym is not my first trial for animation. My private work contained very simple animation and I tried to make more complicated animations. First time, I just made still images. But that was not good enough. I want to watch alive character. So I tried to make a simple animation. Just forward and backward movement. But I never forgot first impression to watching my character's sexy movement. Difficult process is rendering.
As you know, natural movement require many images for just one seconds(almost 24~30 images). Always, long render time is big problem.
One thing that was sorely missed with Naked Gym was the lack of sex scenes. What was the reason behind it? Will you be making a part 2 to remedy the scores of blue balls left in the wake of part 1?
My first idea of Naked Gym includes sex scenes. But workout scene was very sexy i felt. So I increased her workout animation. After making that, I prepared to make a second part of Naked Gym. Unfortunately, I changed my main tool. And that work was stopped. But I will make Naked Gym part 2 and 3. Of course part 2, 3 and etc have really great sex scenes and workout. Or I think about remake Naked Gym part 1.
Tell us about the 'Secret of Beauty' your next adventure into 3DX. This will come in two parts. What is the story behind part 1 and 2 and who are the main characters involved?
You can see stone lady in the first scene in the 'Secret of Beauty part 1'. Maybe, you can not understand why she turn to stone and why she is left in the forest. Another part 3, 4 or next episode of 'Secret of Beauty' can explain that. Please wait 🙂 Anyway she requires male's semen. Because that is good source for magics in 'Secret of Beauty' world. So, She efforts to get great and fresh semen in her.
Maybe, in next part of 'Secret of Beauty' you can see how to use that semen.
Tell us about the sex scenes. Which positions will we have the pleasure of viewing and which are you personal favorites and why?
I don't know exact name of position. I like ride position. That is very good for watching breast movement.
The new visuals look stunning, what were some of the improvements you've made in terms of quality of the visuals and animations? As I understand you actually use Daz Studio's default render? Tell us the process that goes into your works of art. What are your tools of the trade?
Yeah. I use only Daz studio 4.6. That has a very fast and powerful renderer, 3delight, and is very stable. When I used Poser. I met many crush and freeze of Poser when i was making animations. Unfortunately I always used latest Poser version. But Poser' animation tool is very strong. I really like Poser's animation tools. Sometimes I missed Poser's animation process.
Daz Studio has 2 options for making animation. One is Animate2 and another one is Keymate for keyframe animation and Graphmate for animation graph edit. Animate 2 is very strong but require some learning curve. I am familiar with keyframe animation. So, I used KeyMate and GraphMate by Gofigure. My process is as below.
First, making a good still image. But I keep in mind animation. For animating each character's pose should not be extreme bending. Second, making basic movements like in and out. Male's movement is basement of female's movement. So that is very important male's animation. Third, I add breast movement and glutes movement. I focus to express weight of breast and glutes. Finally, I add details of animation like hair, earrings, breathing, and trembling. After i get a final image, I send that to Photoshop.
All images need post-work. Honestly my work's secret is post-work. This process give vividness to my image. You can search many post-work process in websites. Now, try that 🙂 Another tip is light color is very important part to express scene's atmosphere. 'Secret of Beauty part 2' has 2 main light color. One is blue and another one is orange color. Blue color is for background which is dark and cold. Orange color is from candle lights for express vivid character and hot mood.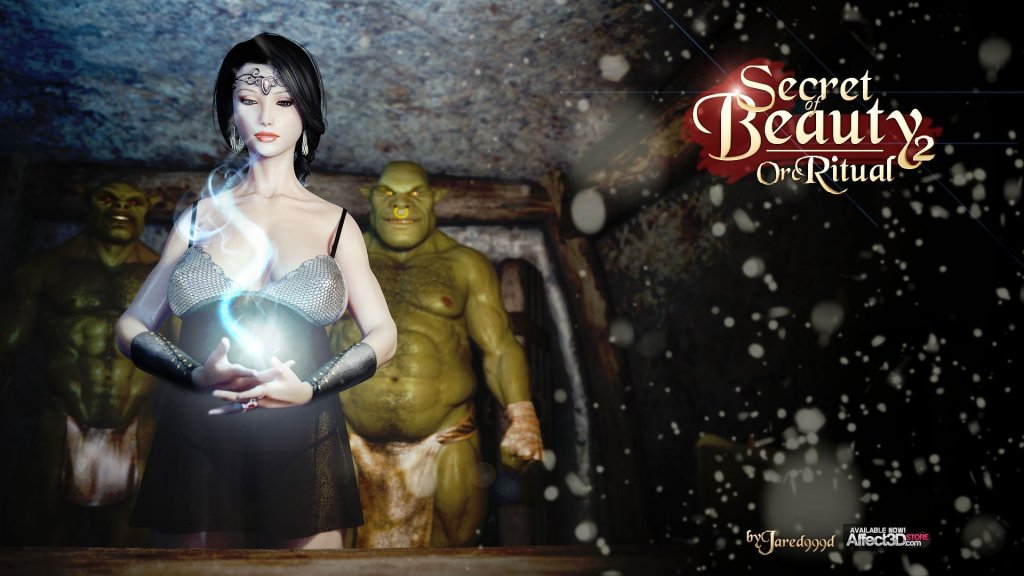 What are your biggest inspirations?
For quality, I often check Daz Studio Gallery of Daz3d and Renderosity. I don't care other renderer or tools. Because I hope to meet a maximum quality of a tool i am using now. If i change tool like 3Dmax or Cinema or replace renderer like Octane or Lux, I will focus only that tool i will be using. Especially, I really love Hellboy's artworks. I think he is the best Daz Studio artist.
For animation, your work 'Girl Friend 4ever' is my great reference.
Do you have any advice you'd like to give to any aspiring artists?
Never decide your limit yourself and check another artist's work. If you stun some image or art, that is your limit. So keep going to work and make like that.
And make a really lovely character. That is very valuable to spend your time to make a great character you really love. Because she or he can make you keep going to work for very long time.
Do you prefer V4 or V5, Poser or Daz3D, Max, Maya, Blender or Cinema4D?
I like Genesis, I don't use V5 shape. Aiko5 and Hitomi shape has better JCM than V5. And I use Daz Studio mainly. Poser is great tool I think. But Genesis support in Poser is not good. I am preparing to move my main figure from Genesis to Genesis2. This time, Genesis 2 doesn't have enough pools. But Genesis 2 will be better like Genesis 1.
What do you have coming up in the near future?
I don't have an idea. Naked Gym part 2, Secret of Beauty part 3  or something new. What do you want to see? 🙂
Where can we find you online at?
I upload my x-rated images on Pixiv, but you can see my works on my Daz3D gallery.
Any last words for our dear Affect3D readers?
I really appreciate everyone like my works. I am always doing my best for my work and I hope you have pleasure in my works.