Hello 3Dx fans! Today, rather than the usual Media of the Day post, we've decided to try out a new article format: artist featurettes! Our first featurette is dedicated to Ramza3D, an artist who recently made their Affect3D debut with The Wish. We've picked four very hot images for your pleasure with characters some of you may recognize from the Halloween charity bundle, Tales from the Sex Crypt! Enjoy!
Emma on her knees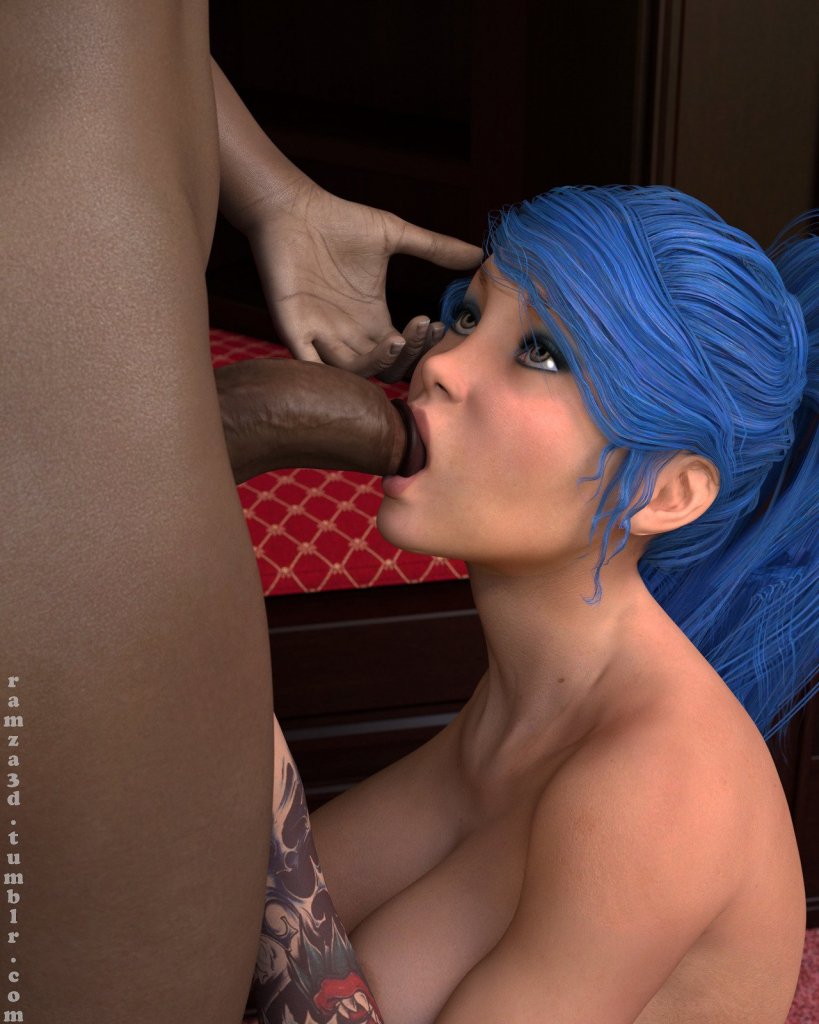 Our first feature image sets the tone with the luscious Emma, lovingly sucking away at her lover's cock. So, I'm sure many guys out there will agree, there's something particularly hot about a girl looking you right in the eyes whilst she goes down on you.
No doubt, there's quite a few layers to this. Personally, I'd say it's a few things. Firstly, ok gotta say it, the fact that she's being submissive and is on her knees is pretty damn hot. Not too into S&M but a touch of role play can't hurt.
But then again, in reality, she's the one in control. After all, she has got the most sensitive part of my body in between her teeth and I'm trusting her utterly. Another factor is the look she has on her face. It could be suggestive or, like Emma here, almost innocent – as if to ask "are you enjoying this? Am I doing it right?" And in a sense, that's even hotter.
As such Emma, I'm sure Luna appreciates your efforts!
Luna solo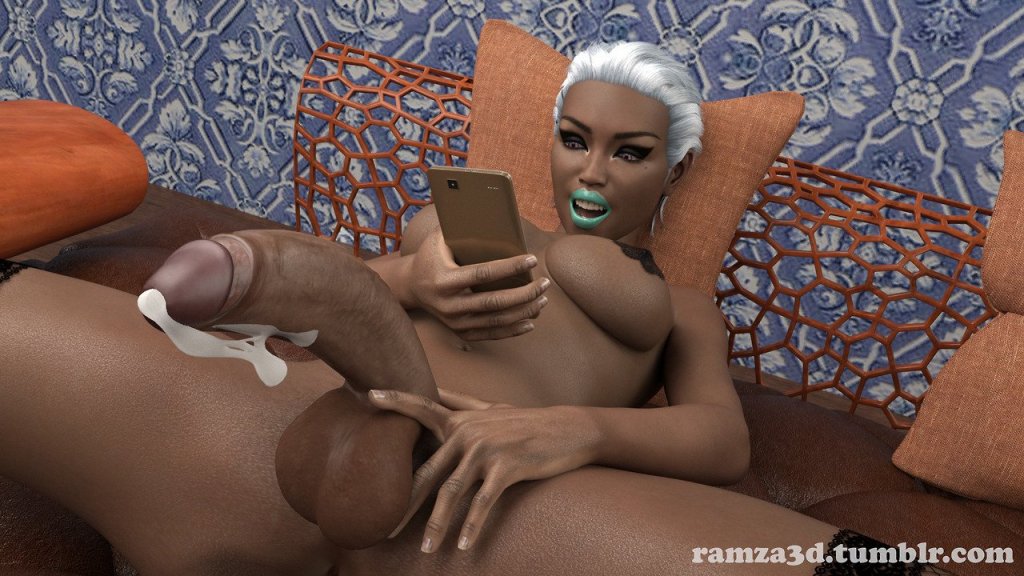 The second image in today's set catches the beautiful Luna in a situation I'm sure we're all familiar with. And that is to say, checking out some cheeky porn on our phones.
Who knows, perhaps she's looking at a cute pic of her lover Emma? A girl once sent me the hottest sext I've ever received coupled with a steamy snap of her in the mirror. We all know that moment – you're minding your own business, perhaps even at work and then the phone buzzes. You unlock it and your jaw drops. Maybe you even swear, I certainly have. Not only that, but got an immediate erection. And, just like the hot Luna here, you can't help but take full advantage of that rock hard cock (or dripping pussy, of course). I mean, it would be an insult not to gratify such a message with the attention it deserves right?
So Luna, by all means, enjoy that "stimulating" text or image. We'll leave you to it.
Emma and Luna threesome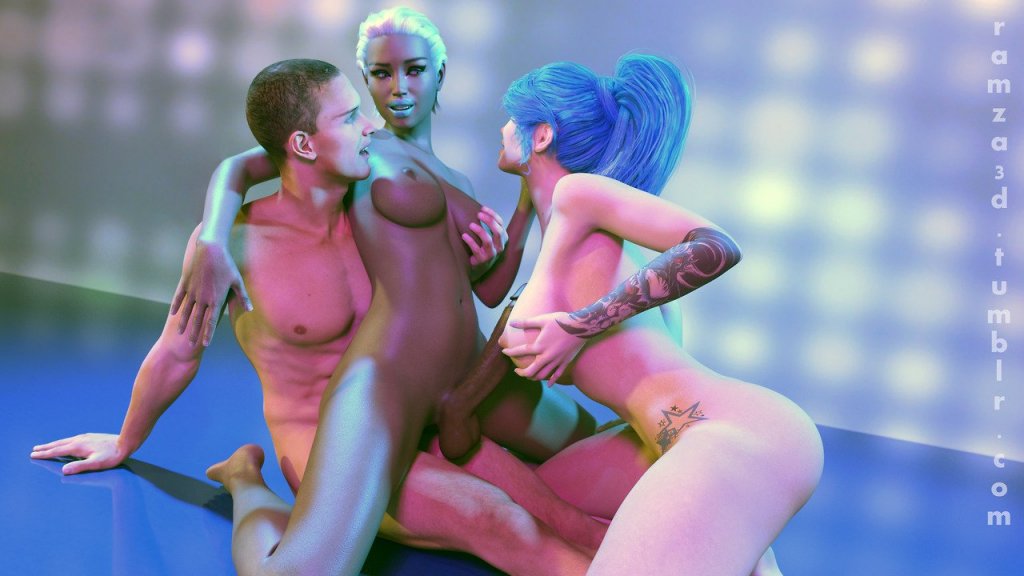 We selected another image from the set Ramza has created surrounding these two voluptuous characters. This particular shot shows that the girls have a generous side. Indeed, Luna and Emma have invited a lucky friend over to share in their lovemaking. And man, would I love to be that guy.
I love the complicity between the two girls as Luna sits on the guy's cock. It's as though Luna is saying "see, I told you this would be fun." And I bet Emma agrees. She's eagerly pressing her lovely breasts against her lover's phallus. Not only this, but the three bodies work really well together. There's a real sense of movement, created by the exchange between Luna and Emma and the way in which the guy pushes himself slightly off the floor. The cool tones, contrasting with Luna's dark skin in the centre serve to frame the image and anchor it, as well as setting the mood.
There are so many layers to this image, it gets better the more you look at it.
Another Whiskey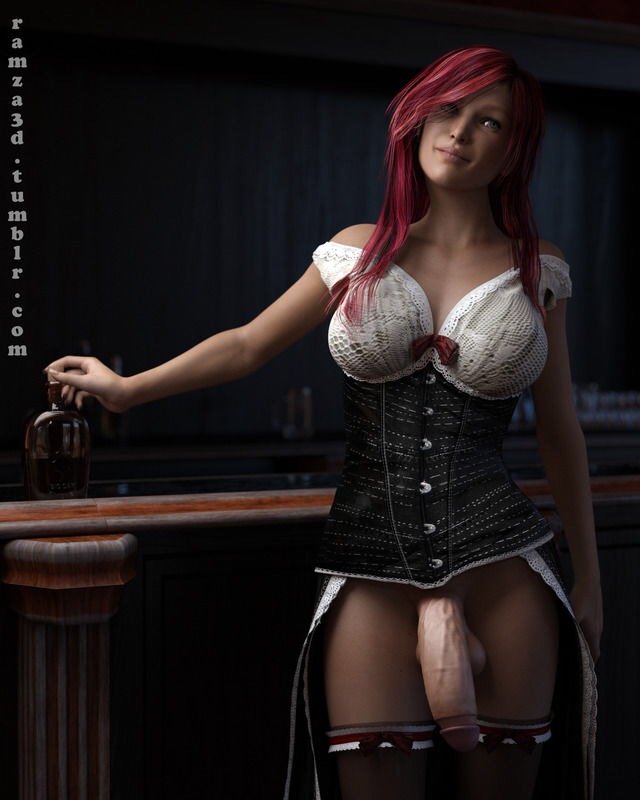 I've always liked the secondary characters in westerns. You know the silent barmaid or wise brothel madame. And so I gotta say, I particularly love the look of this young lady. What I especially enjoy is her natural pose and demeanour. Indeed, it looks like we've caught her out in the middle of something. She's got a cheeky little smile on that perfect face of hers. Maybe someone tricked her into a game of strip poker? After all, in those cold desert nights, you've got to keep yourself entertained. Perhaps whoever she was playing with didn't expect her to pull out a massive throbbing cock though. And now she smiles as she reveals her secret.
And so things just got more interesting. I can imagine the soft call of a coyote in the distant night and the creaks of beds occupied by lovers upstairs.
In any case, this barmaid has definitely revealed her 'hand', now the question is what to do with it? Saddle up or back down? Think I know my choice.
We hope you've enjoyed this feature! If you did, be sure to check out Ramza3D's work and comment below!