We hope you've enjoyed this week of artist celebration, here on Affect3D! Our Artist of the Month 3DZen has 19 image sets available at our Store, with more to come. His talents stretch across genres, covering Futa girls, Monsters, and everything in between! Recently, we asked this hardworking artist some questions and got inside the mind of the artist responsible for Erin and Vikki's universe, Gabby the Witch, the ladies of Dun'ragon, and more.
In your Patreon, you mention that you became a fan of some of the time's top 3DX artists before learning how to create 3DX art yourself. Who were those artists? What about their art motivated you?
I was a World of Warcraft junkie for a long time and the 3D content out there with Orcs and Elves caught my eye and a few of the still active 3DX artists out there were on the top of my list.
Hitman/X3Z and MongoBongo with two very different styles had me doing Internet searches on where to find their images. They both brought to life (albeit in still images) these fantasy characters in almost realistic images. Then I found Epoch and his Freehope set based on more traditional modern day setting and the wheels were turning.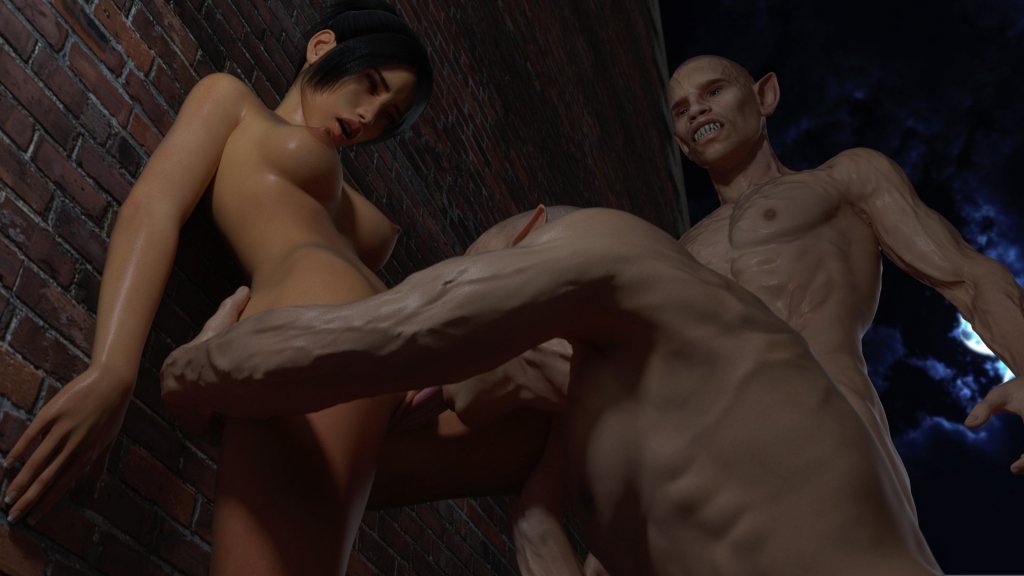 The artist that I don't see as much as I used to but I know he still does stuff is Darkway. His stuff was my favorite, the monsters were creepy/scary but good looking and his girls were just perfect. I always wanted more of his stuff and could not find enough of it and that was another reason. I just wanted more of the good stuff that was out there.
After consuming 3DX content for a bit I started to wonder how they made these images. The realism 3D images presented really caught my eye (I am a really bad 2D artist) and I started to poke around in exactly what was needed to create these images and bring to life some ideas I had in the perverted section of my brain.
The comic selection you have on the Affect3D Store is so varied! But let's focus on two of the more popular ones for now: The Chronicles of Dun'ragon & The Erin and Vikki Universe. Which one of these is more interesting to you? Which one have you worked on for longer?
Dun'ragon I have worked on longer in terms of when I started it and there are plans to do more, it is a collaborative effort with me and a fan named iberios who I lost contact with for a long time. But we have had some communications in the past month and we plan to reboot our efforts. This was my first Affect 3D Store release and has a special place in my heart to continue the story.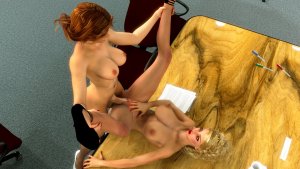 Erin and Vikki, where to begin. I started this 3DX journey thinking monsters, Orcs, Warewolfs, Vampires and at the time I could not spell Futa (and sometimes still can't: bad speller here!) and then about 2 years ago I had a fan ask me to do a commission and they asked if I would do Futa content. Truth be told, I had to google Futa. So, I looked this over and honestly wasn't sure. But then I did more research and found you know who, Miro and his girls. Then I spoke to Supro and he suggested I give it a try. I still owe that fan the original set and he is a Patreon!
I have a thing for the University setting and had an idea: a shy but hot girl who has a secret (she's a futa) and she has this burning crush on another hot girl in school. With that Erin and Vikki were in full production with Erin trying, but unsuccessfully, controlling her futa urges. I liked the story and the girls so it just keeps going and going… I get requests for more E+V often enough to continue and I plan to, as this one has so many story lines and directions and now characters that are involved.
I've seen a few of your short animated clips. Are you interested in doing more animated work in the future? Any plans for animating an Erin and Vikki romp?
I actually took the Animation Mentor Class 1.5 years back. It was my first real crack at animation and I came out of it knowing enough about animation and Maya to be dangerous. The challenge I had then and now is I am not technical enough with rigging, weight maps and getting assets into Maya, so as time went on I got further and further away from Maya and started to just use Poser and Daz to do some simple short animations.
I am not sure where to turn with animations. Looked at SFM (Source Film Maker) but the mesh quality is so bad, I could not stomach that. I also looked at iClone and may do something there with importing form DAZ to iClone and then into C4D, perhaps, but the workflow seems like a train wreck waiting to happen. So at the moment I am in 3DX Animation limbo not sure what way to go mostly because the tool I am moving to is C4D and Vray. That I actually enjoy working with more than any tool I have tried but it really is weak for animations compared to Maya.
You have a very broad fantasy scope. Which supernatural creatures are your favorite? Personally and to create, if they're different.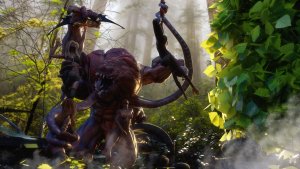 I love scary movies and demons are the best! I mean they just own other monsters in terms of what they can do. They are the complete opposite end of the good guy side and they can really be any shape or form so making one is easy. From a 3DX side of the house, the Demon Doll House set is my favorite and the lead monster is a demon vampire who needs sex as much as blood 😱  (Oh, I started DDH 2 this week! I know, weak plug there) So yeah, demons for the win.
How much of your time goes into creating commissioned work from your Patreon and how much of that is focused on your sets and other projects?
If I am honest here, I may lose Patreon patrons 😋.  I am over-extended on commissions. Pretty much all the commissions are 1 month behind. I reduced the number across the board last month and spent all of July catching up on or trying to catch up on them. So really the answer is not enough time on Patreon to meet my self-inflicted work load.
Fortunately I have several commission Patreons who have been around my blog and DA for 2-3 years now and are very understanding.
This past year going back to August 2015 (after a major system malfunction and losing half of a Erin and Vikki set) I have been pretty much working on 2 sets in parallel. Using two systems that can render in decent times (all fully redundant now, with backups daily). I head into August with a plan to get going on that pace again so I can release a few sets in September.
Patreons do have access to content they can only get there including stuff I can't sell on any 3DX site, like this 60 image set I just did "Farm Hand" with some Pig Monsters and some pigs get involved, too 😮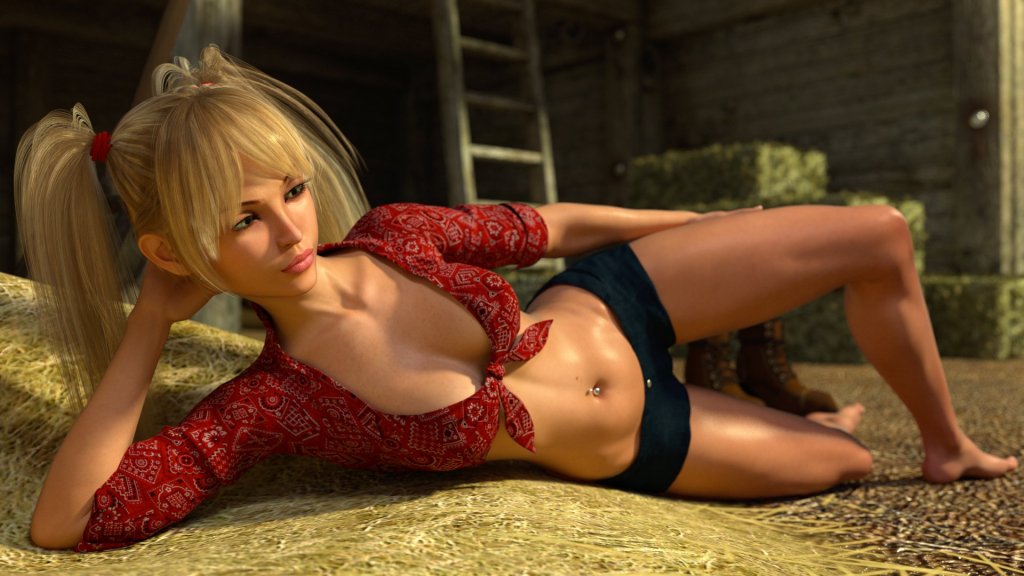 What programs are you favoring right now?
I have been nonstop tutorial mode in C4D and Vray for 6 months, started some early renders in Vray and I am close to attempting a full set (maybe Demon Doll House 2). A shout out to Morfium and HZR for answers my 100 questions a day on Skype about C4D and Vray. They have saved me many months in the learning curve!
Gabby the Witch and her Demon pet is personally my favorite of your works. Are we going to see any more of her and your other currently single set characters? Or are you trying to stick to Dun'ragon and Erin and Vikki lore?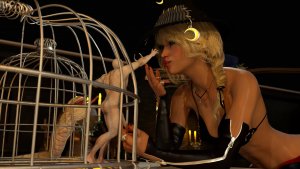 Awesome! I love Gabby! Yes, we will do another set with her as she tries to learn the ropes and no doubt will make a mistake 😉
The plan right now is to do Demon Doll House 2, a futa set for Patreon Commission, a Carina Nightmare set and an Erin and Vikki set – all by Jan 1st. One can dream, right? As my real job has to be fit in there someplace.
What significance does your name have for you?
I had no idea it would stick and I had no idea if I would do this stuff for 1 month, 1 year or like now going more than 3. So when I had to set up a blog, e-mail, DA and a handle I did not think about it all that much so I put a 3D in front of my childhood nickname that's it and the e-mail of [email protected] was taken so I just added Zen in front of 3dzen, so that's it. Although over time, it fit doing 3D content and the Art of Zen thingy seemed to work.
Do you have any advice for aspiring artists?
When I started this I had never used a single 3D tool and very little knowledge of any post working tools, I am also a very bad 2D "artist" unless we are talking stick figures. If you're not intimidated by learning new stuff you can learn this and create very nice renders. That said it takes time, I am at 3 years 6 months and still have a mountain of learning to do. The point there is it takes time a lot of time but if you stay focused and watch tutorials, ask others questions and just experiment you will start to produce good images.
Any last words for your fans here on Affect3D?
First a thank you to Miro: Without this wonderful 3DX site and his staff's support over the past 3 years I would not be doing this as much as I do now.
To all of you that support me, it's really appreciated. I know that's the standard answer from us creators to yo, the customers, but it's true. Without your generosity many very good 3DX content creators would not do as much or at all. Several do this full time and that's my ultimate goal. Also, please contact me with any feedback good or bad it helps!
You can support 3DZen on his Patreon here! Stop by his Tumblr or Twitter and see what's new. His latest set WFUTA is available in our Store now!
Like what you saw this week? Download our free media set featuring all of this week's Media of the Day and some animation bonuses, today!