This Saturday we will be releasing The Taste Of X, the very first X-rated title from Looks-Can-Kill, exclusively at the Affect3D Store. Containing 40 images, The Taste Of X will give a hint of what's to come in the LCK world. This title also features the lovely Exotica in hardcore action for the first time! For any LCK fan, this will be the set to pick up! But before Saturday arrives, we thought it would be great to speak with Exotica, the star of The Taste Of X and the forthcoming LCKX, about her recent journey to the raunchier side of 3DX.
It's been a while since we last saw you. And it looks like you got a few changes. Can you tell us why you decided to do those?
Well, you know what they say: Change is good, right?
You know what happened truthfully? I tried this new hairdo one day and it was suddenly like, "Holy hell! That is bad-ass hot looking!" I asked the guys at LCK, "Can we make me even MORE hot looking?" 'cos, you know, I'm frankly a little tired of Madison hogging the spotlight. So we experimented with a couple of new body markings to go along with the sassy new hair. The sleeves (which you are going to see in the first few LCKX sets) were a test. They didn't really pass (lots of negative fan reaction to them). But I kinda dig body art, always have. I think it says a lot about someone who has tattoos. I'm keeping 50% of them in the end, and I think they totally rock 🙂
Oh. I was actually referring to your increased bustline.
Haha! Why didn't you say that at the beginning!? Oh, ok…The boobs. They've always been big. I guess you could say their current size just came along for the ride with the rest of my "upgrades". 🙂
But tell us what you think your best feature is and why.
I know everyone's gonna go "BOOBS!" But me? I'm a huge fan of my butt. I work seriously hard on that thing, man! And my eyes. You know when I throw out my classic killer stare, there's just no competing with that!
Going x-rated is taking things to a new level. What prompted you to go the extra mile and get into adult entertainment?
Well, a few reasons. #1 is fan demand. You know I've got a lot of fans who really originated from right here at Affect3D, so they're always saying "we'd love to see more from you!" And the "liquid love" set @LCK is hugely popular. When that little series of shots came out, everyone loved the idea of stuff like that being on the site. They were all like, "We think Exotica is perfect for it!"
In the end, it was just hard to keep saying no. It's like anything in life, I guess. Things change and evolve. I think we all @LCK decided we wanted to dabble in something a little dangerous. Me especially. 😉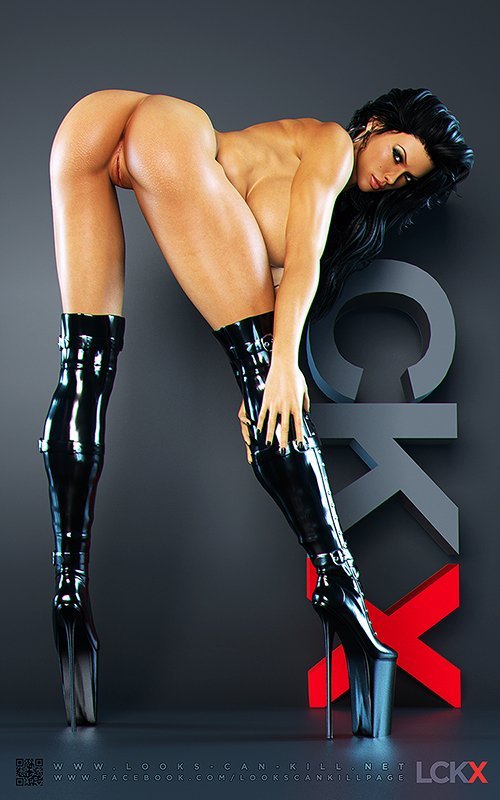 Did you have to overcome inhibitions or was it a natural move for you? How was shooting sex scenes vs pinups? What did you enjoy the most about having sex on camera?
So like i said, we did the "liquid love" experiment, and I've already done a few more sexual shots for members @LCK. So i'd say this was a pretty natural move for me.
I'm a very sexual creature by nature too and was always envisaged as the "bad girl" of the LCK bunch. I mean, seriously! Have you seen this body? It wasn't meant to be clothed! So i guess I'm finally living up to my reputation. 😉
As far as shooting sex scenes vs pinups? It's not a whole lot different. Just more work…if you get my drift 😉 And what do I enjoy the most about having sex on camera? That's easy! I'm having sex! On camera! 🙂
Your first scenes look stunning. You seem to have hit the right balance between tasteful yet very explicit. Is that the long term direction? What sort of fetishes do you see yourself getting into?
Thank you! Yes, that's something we're striving toward for sure. It's new territory for us, so it might take some time to find our feet and settle on the ultimate balance tastefulness and hardcore. But yeah, we're not looking to do straight-up explicit stuff all the time. There's gonna be lots boobs and dicks, for sure. Don't get me wrong. But I also think you're going to enjoy interesting settings and maybe even a story or two.
Hmmm…fetishes. Well, I know I just finished a set where someone's chained up. And not who you think! 😉
Do you have a boyfriend and if so how does he cope? And if you don't, what do you look for in a guy? 😀
Hah! No, no boyfriend here. Why limit myself to just one guy?
I look for a strong personality, for sure. I like a guy to be confident. I want you to want to take charge of me. I'm feisty enough as it is, so you gotta be man enough to be able to tame this girl. I'm also partial to big muscles…if you know what i mean 😉
Tell us a bit more about new x-rated venture LCKX. For those who are not initiated, what is LCKX? What do you hope to bring to the 3DX spectrum?
LCKX is basically going to be a 3DX member-only section of LCK. Right now, you have two membership options: You can join free and access a whole bunch of cool and tasteful pin-ups. Or you can sign up for LCK+ and get your hands on lots of nude shots of the LCK girls.
LCKX is going to be a third membership option on top of those two. If you want to see more sexually oriented pics done in the awesome LCK style, then for a little bit more, you can. New members will pay full price. Existing members will be asked to upgrade for less.
I actually like what they're doing, because they realize not everyone wants to see everything, especially hardcore action. So the user is basically being given the choice to opt in to whatever style of stuff takes their fancy. No-one's being forced to see what they don't want to see. We feel like that's somewhat unique to 3DX, especially since you only ever pay one time to see all this stuff. And as far as what we hope to bring to the 3DX world goes…Well, just hopefully really high quality erotic work. Oh, and lots and lots more of me! 🙂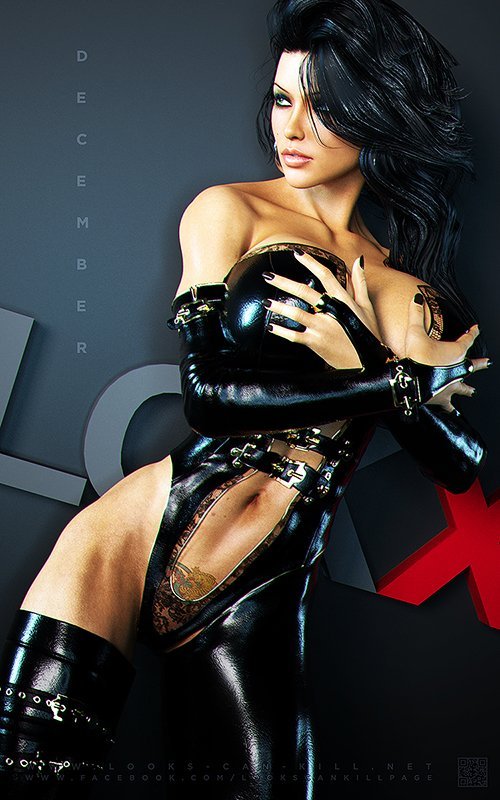 Madison and Eden are not involved in this project, but you've found a few others to help out. Can you tell us who will be joining you on LCKX and give us a little background on them?
So there's me, Jenny, and the two new girls, Zoe and Kim. We actually just put up short bios of all the girls here. And I honestly know nothing about the guys — Not even their names!
This Saturday at the Affect3D Store, we'll be launching your very first X-rated title The Taste Of X. What can fans expect from this?
Well — it's our first go at it, so actually we really want to hear everyone's feedback. And we actually couldn't be more happy about releasing it first at the store, so thank you so much!
I'm a little nervous about what the reception's going to be like, to be honest, 'cos so many fans are happy with where things are at @LCK and the kind of pics you see there. But we'll see how this goes. In the store set, you're going to see me, naked, having sex. Foreplay, blowjob, anal (actually my favorite position, even though the look on my face doesn't really show it, haha!). You get the works, actually. And you're also going to get a couple of bonus shots from LCKX, just to whet your appetites (and wet other bits). 😉
Any last words to your fans over at Affect3D?
Just thanks so much for all the support, not just from fans but also you guys at Affect3D, too! Your site, your media of the days, the exposure you give all the amazing 3DX artists out there is really cool. And for the fans — well…I hope you'll come and join me in this new adventure. I promise you won't be disappointed! 🙂
Check out The Taste Of X, coming this Saturday to the Affect3D Store!