Many artists and writers focus on one or two things that they are particularly good at. Sure they dabble in other things, but they are not truly masters of more than a few. Our June Artist of the Month has not only mastered the craft, but has mastered things like fantasy clothing, close-up headshots, and other notable things that make RGUS' art a staple in the 3DX community. We asked him some questions about his passion, this week, and hopefully inspired a few things!
Why don't we start in the typical way, how did you get into 3DX? What continues to inspire you to stay in it?
It all happened quite by accident. I was working as an architectural draftsman doing perspective renderings of projects. They were ok, but lacked the human connection without people in the renderings. I stumbled across an early version of Poser and thought this was the answer to providing the human element to my renderings. Needless to say, Poser hooked me and since then, 12 and half years ago, I've never stop using it.
There is something about the ability to manipulate and create using the versatile human figure that keeps me interested and excited to experiment and continue to improve.
In your DeviantArt gallery, your images seem split between heavy sci-fi/fantasy inspirations and images of regular girls. Which ones do you prefer to do? Do you lean more towards one or the other?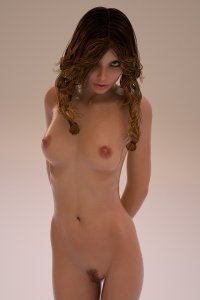 I don't naturally have a preference; the images are created from a mixing and matching of poses, costumes and props. From beginning to end, I never really know what theme I'm following although I do prefer to just render the pretty girls.
It's more common in your art that the images have titles and not the girls. Do some of your more common girls have names or are you more concerned with the image on the whole?
All of the girls have names, either the name given to them by the merchant or a name that springs to mind while rendering multiple camera angles.
The image is paramount.
I can quite easily and quickly change the name of the image and the girl while photo shopping the border or watermarks. Nothing is final until the image is posted to the gallery.
In your Patreon, it says you mostly work with Octane fueled Poser and DAZ Studio. Do you make all the fantasy outfits you use in Poser? How long does it take you to make those?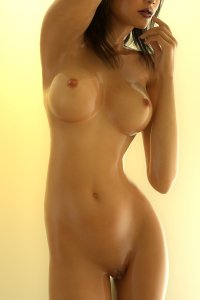 I don't make any of the costumes except to mix and match what I can from stock packages to create something different that stimulates a theme. I render quite a few promotional images for merchants that send me their packs. It's a joint advantage for both of us.
Every one of your images is its own miniature story. But have you (or are you) considered doing a full story set or rendering images to go along with a story for your fantasy characters?
I would so love to create a graphical story. The idea excites me, the time availability does not. Any image whether it be one of mine or somebody else's can spark a story line. There are thousands of untold stories just waiting to burst out of an image.
You do a few male characters here and there, have you considered doing more of them? Sexy ones?
I have no problem at all rendering men either naked men or not. Unfortunately the viewer market is mainly men and they shy away from male images. This will change however in the near future.
There's a touch of fanart in some of your work, I think the Daleks and BB8 would agree. Is that for your viewers or do you love the nerd life? I myself would love to see you do some sexy Hogwarts outfits!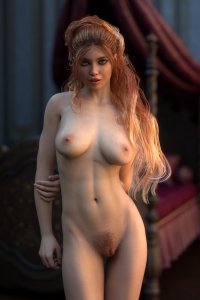 Oh, now you are filling my head with all sorts of ideas. I like the Harry Potter idea.
I just render things occasionally that have no bearing on what I normally do. It would not be uncommon to post an image of a shiny chrome motorcycle without the naked babe draped all over it just because I liked the image.
Who are your favorite artists?
There are far too many to mention. After all this time in the medium, I've seen great artists come and go, some have stayed to become really good friends and some just hate the snot out of me for still being there are all this time.
Excepting a rare image or two, you don't usually render full sex scenes. Is there a specific reason for that?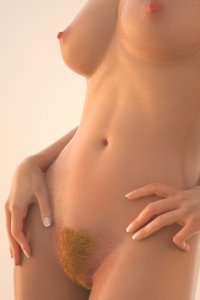 Yeah, there is. I just don't feel confident enough to pull this off successfully. Like everything, it takes time to get the illusion right. There are also limited galleries that accept images of this type, so the market is a little reduced.
I love to do more but I think I'm better at innuendo rather than in your face sex images.
What's your favorite image? It doesn't have to be your best, but I'm interested to know which you like best or are proudest of.
The Sweet Taste of Revenge would have to be one of my best. It certainly has been one of the most thieved images I've done having been used for book covers and photo shop promotional advertising without my permission. It's a sort of compliment I suppose that people want to steal your images, it makes you realize that perhaps you are good enough.
Back on the diversity note, your women don't really have a type. It's something I love about your art. What is your favorite style? Something different every time or is there a classic look you favor?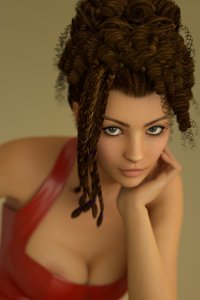 So long as they are pretty girls. They can be supersized or skinny, it doesn't matter, all girls can be made to look fabulous with the right makeup, pose, lighting and rendering.
I love seeing your girls on their thrones and a lot of them are powerful, warriors, or even readers. What inspires you to fulfill all my dreams of a world where women are in these positions as a full time gig?
Women in power are what most people, male and female, dream of, especially if they have the opportunity to be alone with one of these warrior women. Thrones, power, dominance are all ingredients to creating that illusion that pushes the viewer to dream a little.
Any advice for those starting out?
Be patient, find your passion, stick with it and be tolerant not only of yourself but others that will challenge your skills and credibility.
Listen to everyone and only remember what makes you a better artist.