Road trips are an iconic sub-genre in film – and they seem like an obvious sub-genre for porn! But we hardly see them anywhere. Where's the road head? The back seat fuck at 100mph while racing away from cops? The full-car orgy? Doesn't everyone want to cum at high speeds? (hint hint)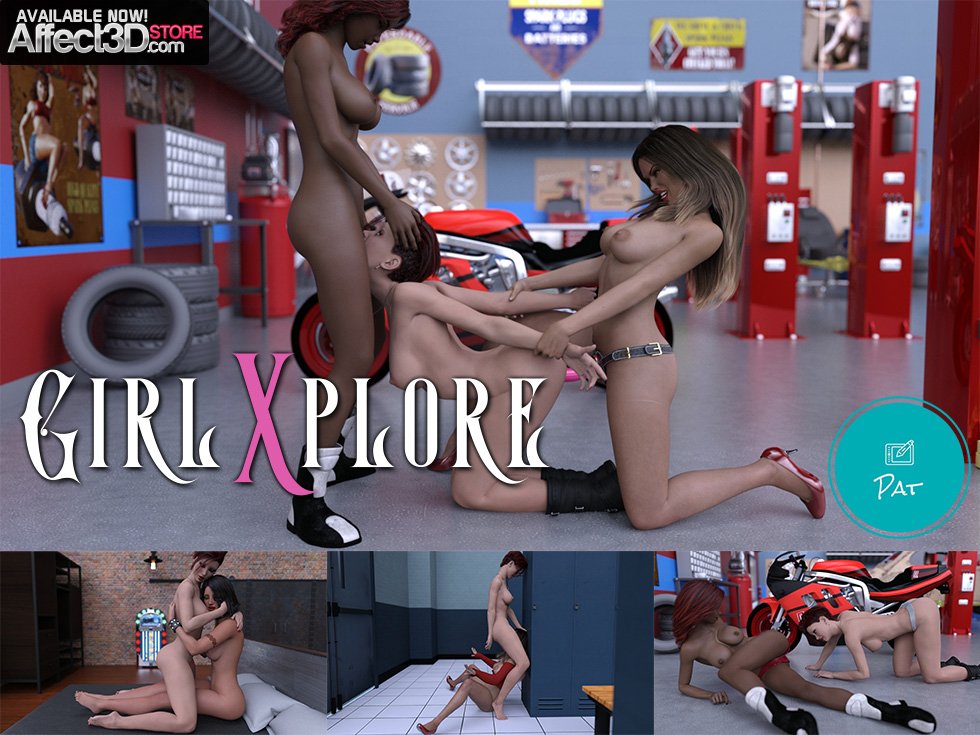 Pat's got us on the trip part of that with their new series, GirlXplore Ep 1. A lesbian couple, Hope and Christina, head off on a very memorable adventure as Hope moves to a new garage job. And, by the looks of it, this job switch will change quite a bit more in her life.
Despite having been together for 2 years already, Hope and Christina show no signs of slowing down in their enjoyment of each other. Starting off the set with some back-alley fun, it's easy to see why they're so happy with each other.
After a nice night back home, they get ready for their trip and hop on their bikes. While not animated, I do enjoy the travel scenes; they just make it more real for me. And that takes us to their first surprise on the road: a slender blonde in tight leather shorts and cowboy boots. That's a recipe for a yummy meal, so Hope and Christina decide to take their lunch there… and entice the gal to join them. Her shyness quickly gives way to excitement.
I'm a little envious of how much fun these two are getting on their trip.
When they stop for the night at a motel, the wine-haired clerk is wearing little more than a long shirt – the perfect recipe for working up an appetite that leads to some lovely entanglement. I have to say I really enjoy the hair style of the clerk. That side-shave pattern is just gorgeous.
You can enjoy the 98-image set, in full HD, for $10.00 from the store. While you wait for Ep. 2, pick up Pat's GirlXplore Ep. 1 now!