Watch Girlfriends 4 Ever DLC 01 and 02
Get all of Girlfriends 4 Ever with the Affect3D 2018 Collection for $39.95!
What's included
The Original Girlfriends 4 Ever + DLC.01 & DLC.02
Bloodlust: Cerene and Bloodlust: Cerene – Royal Descent
Tara's First Assignment
Tara's Second Assignment
Ayako: Sex Addiction
Plus bonus content including WIP content, animations, and Miro's first-ever release Ayako The Blowjob!

---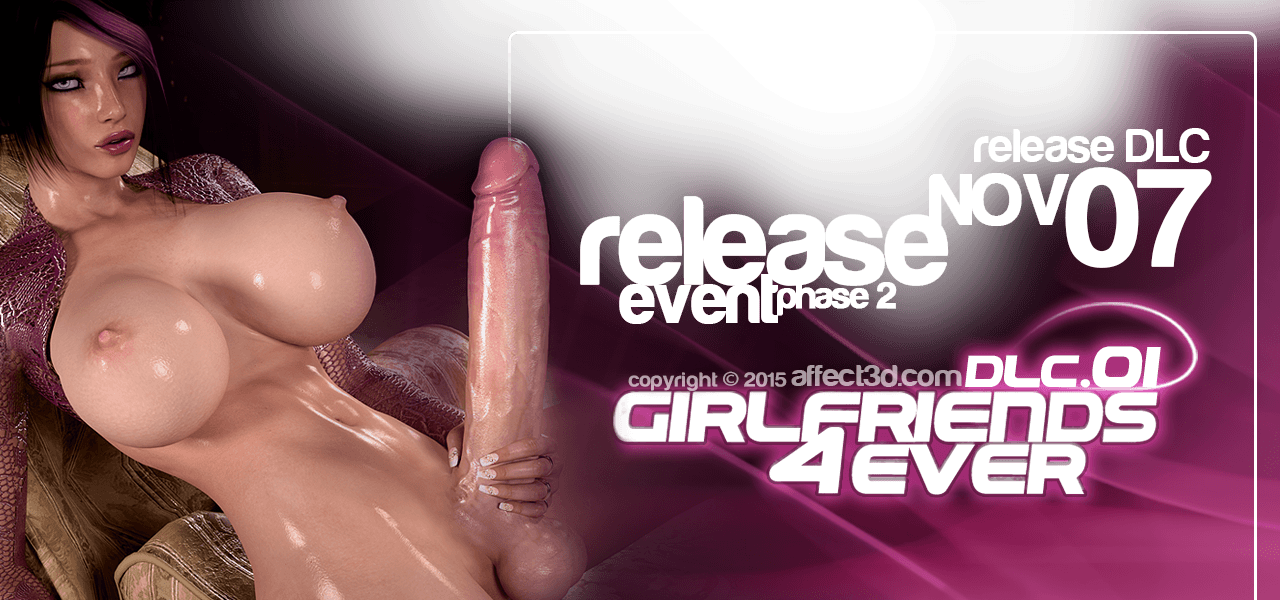 Girlfriends 4 Ever – DLC1+2 – Release Event!
G4E DLCs Released in…
Get notified via Newsletter
G4E DLCs Event Schedule
24-Oct
sat
G4E DLC1 trailer release!
25-Oct
sun
Event Overview
26-Oct
mon
G4E DLC1 wall paper 7 (explicit)
27-Oct
tue
Making Tara & Sayako (talk)
28-Oct
wed
Final Contest
29-Oct
thu
DLC1 Content Preview
30-Oct
fri
Sayako wants Sex – rendering (final)
31-Oct
sat
G4E DLC2 trailer release!
1-Nov
sun
How to speed up creating 3DX!?
2-Nov
mon
Sayako & Tara Profiles (updated)
3-Nov
tue
G4E DLC2 wall paper 8 (explicit)
4-Nov
wed
How to get the free DLC1/ buy DLC2
5-Nov
thu
DLC2 content Preview
6-Nov
fri
DLC Content/ Contest winners!
7-Nov
sat
DLC1 + 2 Release!
8-Nov
sun
Future Projects/ Final Words
New WIP Forum thread – Check out what I'm currently working on.
BUY Girlfriends 4 Ever DLCs
$24.95 $19.95 (first week only) BUY NOW>>
(DLC1 FREE for owners of G4E)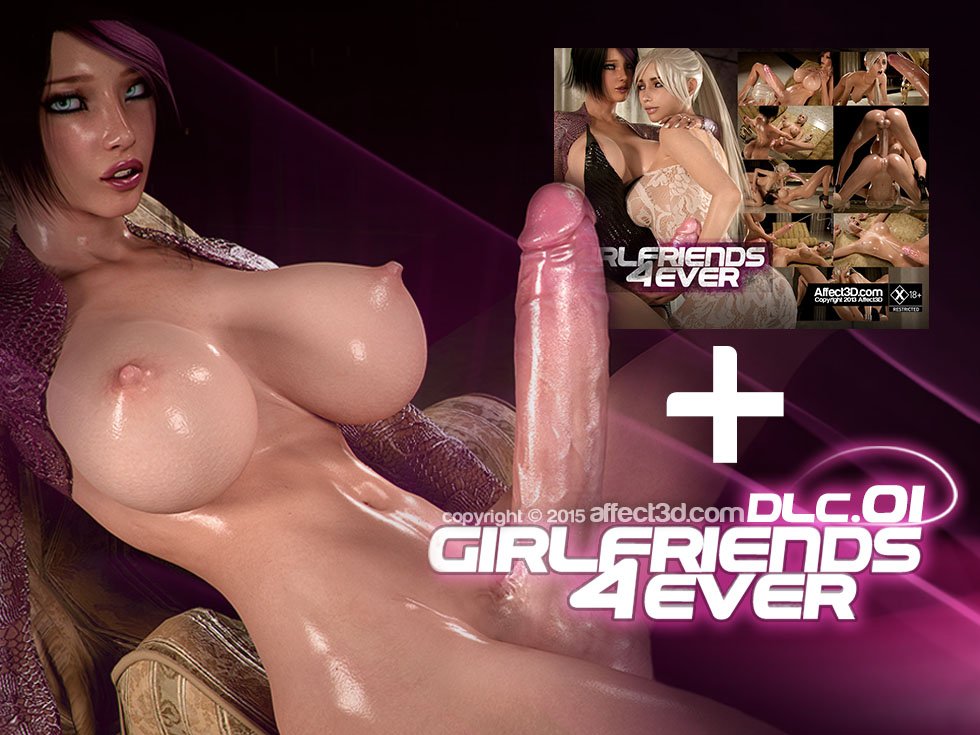 $16.95 $12.95 (first week only) BUY NOW>>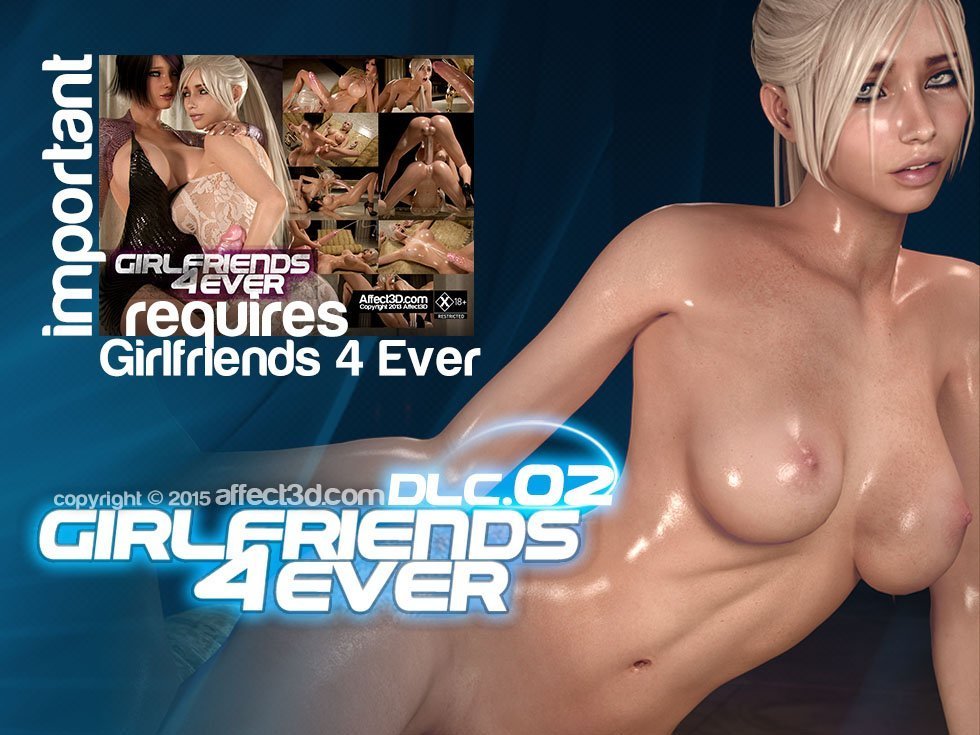 $39.95 $24.95 (first week only) BUY NOW>>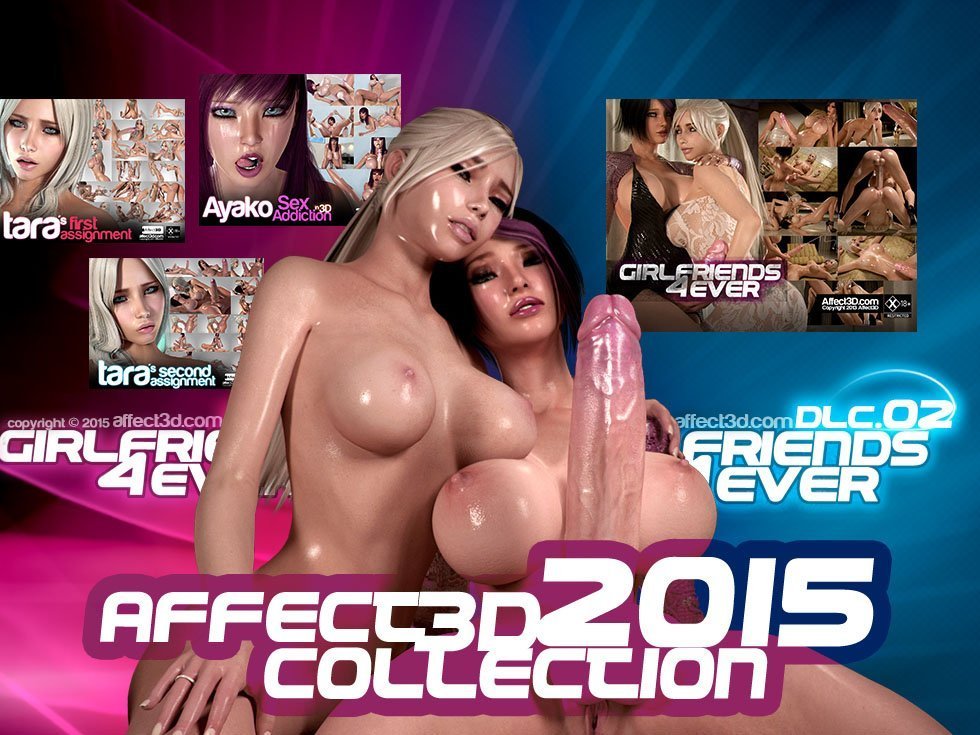 —
DEC 27th Girlfriends 4 Ever DLC Mac Installers now available
MAC installers also now updated to patched version v1-8. Download the free patch update via your 'my downladable products' area at the Affect3d store.
DEC 26th Girlfriends 4 Ever DLCs Patch & MP4 Releases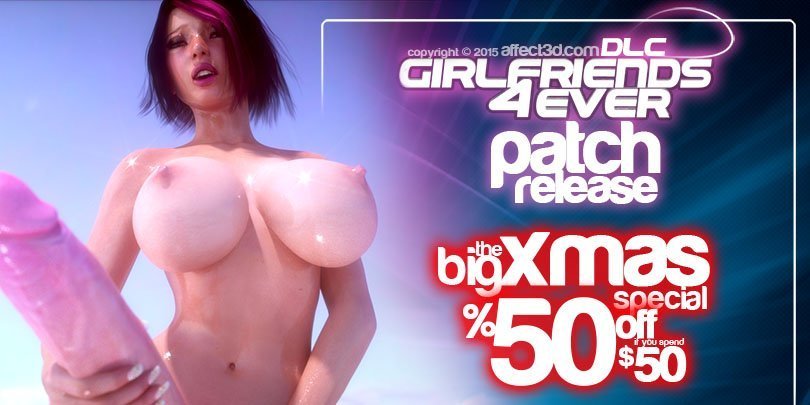 Merry Xmas!! Well, what better time to release the free G4E patch, which fixes several issues with the content and software and adds missing scenes to the DLC1 and DLC2. The good news is, if you haven't already purchased the G4E DLC, now's the time as we're running our annual Xmas special at 50% off, if you buy $50 worth or more.
Here's a preview of the the additional scenes: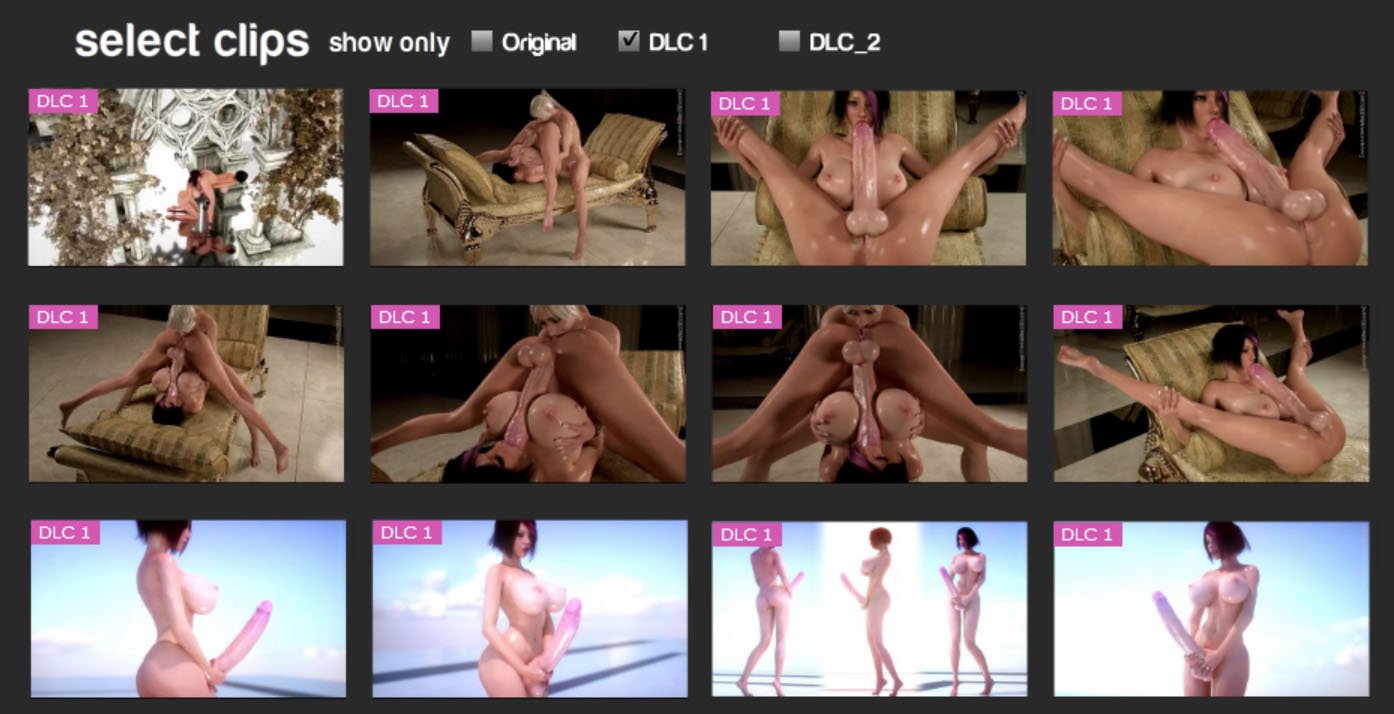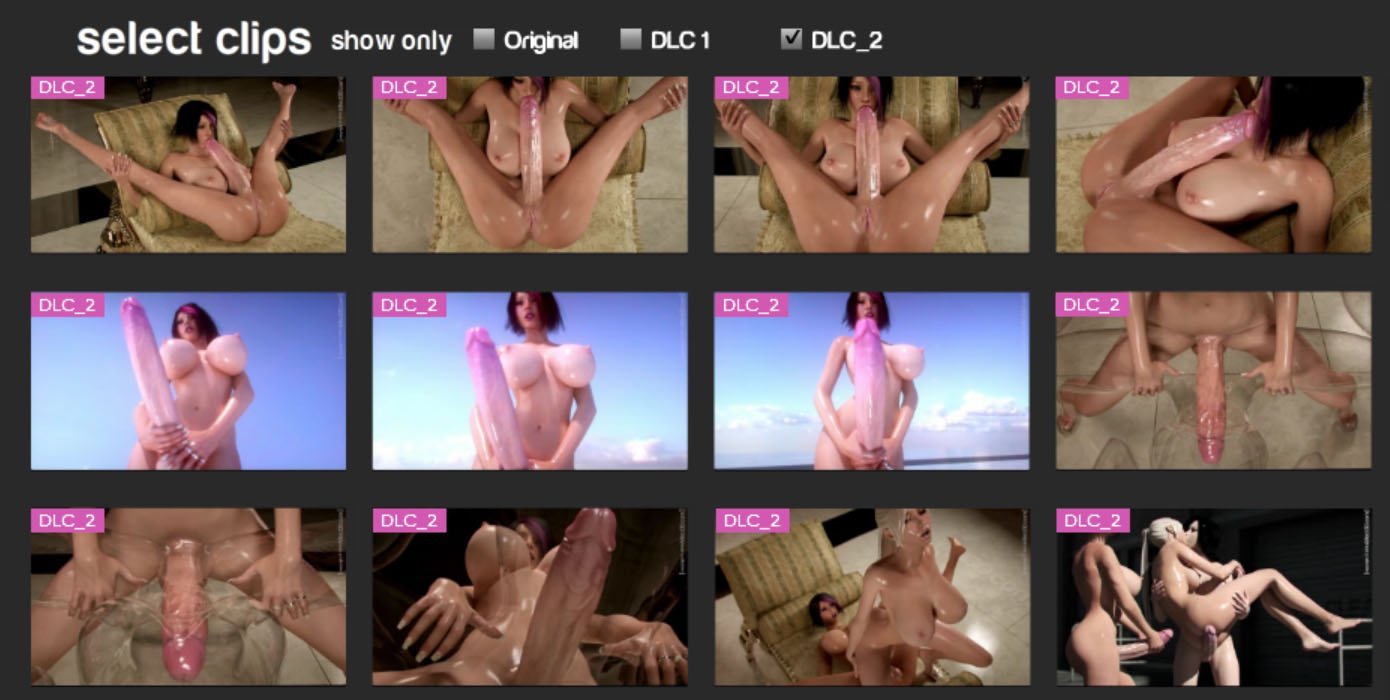 The full list of fixes/ changes/ improvements reads as follows:
G4E, G4E DLC1, G4E DLC2 v1.8 patch notes
G4E
fixed issue with 'Sayako Self Love' scene not looping properly
fixed issue with extras scene not playing correct length for movie maker
moved new DLC1 and DLC2 sex scene angles to their corresponding 'fun stuff' sections, so playing the DLCs start with their intros
fixed sequencing issue of amazon and anal scenes
fixed issue with cum shot scene not playing in 'movie maker'
G4E DLC1
video edit DLC1 cum shot scene
minor video and sound edit to all transitions
adjusted audio levels for intro and cum shot scenes
changed POV cum shot scenes to enable tracking and correct audio sequencing
changed voice over for autofellatio grind and autofellatio grind fast scenes
added rimming/ double hand job scene
added auto felatio piledriver scene
added sayako solo auto felatio scene
added sayako huge cock scene
added credits
added mp4 version
G4E DLC2
video edit DLC2 cum shot scene
minor video edit and voice over amendments to all transitions
fixed 'Tara sitting BJ' scene
fixed some DLC2 sex scenes not looping properly
adjusted audio levels for intro and cum shot scenes
removed 'DLC choice' screen from DLC2 play mode
removed 'DLC choice' screen from 'movie maker'
added sayako solo auto felatio no balls scene
added more angles sayako huge cock scene
added credits
added mp4 version
How Do I install the patch?
The patches are free for existing G4E DLC owners. Because of the size of the patched files, we've provided new installers. Simply access your customer area and download the new (marked as v1-8) installers, uninstall the old version of G4E and reinstall the new.
NOTE MAC users: Currently only windows installers are available. Mac installers are to follow in the next days. Mac users are encouraged to check out the mp4 versions in the meantime, which will play just fine on a mac, iphone or ipad.
If you experience any issues with the installation contact [email protected] for help.
———————
Nov 10th Girlfriends 4 Ever Future Projects/ Final Words
Wow! What an eventful last few days this has been! As always a crazy ride with that little bit of controversy 🙂 We almost managed to keep our site up this time round. We commenced our move to cloud hosting almost 4 weeks prior but apparently our estimates on how long such an operation would take were off, so our big (approx 4 times bigger than last G4E release) monolithic server had to be taken through it's paces all by it's lonesome. After the initial beat down on release day (see story below), our trusty old server did manage to stay alive barely from then on with periods of severe sluggishness, but overall it survived.
Because of that and other hold ups we had to cancel all external marketing this time round so as not to potentially stress our server any further. So to that end it was a great surprise the sales for the G4E DLC went beyond even G4E by a substantial factor. This is a huge boost in driving us to produce better titles (hopefully sooner!) .
So what is the next project and when is it coming?
NOT… TELLING! Sorry, it was a rhetorical question 🙂 We're sticking to our new formula: As far as you and I are concerned there is no new project. And if out of pure speculation there happened to be one, it would in theory be announced when it's ready for release. But as I said, officially speaking, no… new… project.
Upcoming Patch and MP4 version
Quick fix DLC2 installer problem
We managed to test the installers on most win and mac systems, however it appears that some are still experiencing issues. On windows ensure to try the following, right click on the 'G4E_DLC2.exe' icon and select 'run as Adminstrator'. Then simply click on the 'Install' button. If this doesn't help, as a quick fix on Windows: copy the entire DLC 2 directory found in 'G4E_DLC2.app' to your G4E dlc directory (example: 'C:\Program Files (x86)\G4E\assets\dlc'). on Mac: copy the 'dlc2' directory found in 'G4E_DLC2.app\contents\resources' to your 'G4E\assets\dlc' directory. Rightclick on the 'G4E' app and choose "Show Package Contents" to see it's contents.
Help resolve other issues/ glitches
There are two scenes confirmed missing/ misplaced. The piledriver autofellatio scene was falsely placed into the DLC2 folder (instead of the DLC1 folder) and the 'Rim job Ayako/ Sayako scene' is missing from the DLC2. These will be added in the upcoming patch. We are aware of a glitch that apparently makes some DLC2 sex scenes not loop properly. The sex scenes of course are designed to loop seamlessly, so we're tracking down the issue to have this resolved. If you are experiencing other serious issues, that we may not be aware of please use this form to report them for consideration in the upcoming patch.
Release of the patch
The patch will be distributed for free to your store account in an updated version but likely also as a small patch for faster download. The release date will depend on the extent of the items to be fixed, but no later than December 2015.
MP4 version of G4E + DLC1 + DLC2
Also we're planning on releasing the MP4 versions this December 2015. Again this is a free add-on for the DLCs and Affect3D 2015 Collection owners and will be added to your account, once it's available.
We will keep this page up for updates on the release of the patches and mp4 versions!
Finally a big thank you!!
… to all who helped out in the development of G4E DLC1 and DLC2 including: My GF, Supro, Morfium, Marie, Pip, Dee Gee, Andi, Tiaz, Alex, FredFred5150, Flash Guy, Alpensepp. Pleasure to work with you and my gratitude in making G4E DLC1 and DLC2 a reality. And of course a big thank you to the Affect3D.com community, without you this wouldn't be possible! Big sloppy kisses 😀 Till next time!
—
Nov 8th Girlfriends 4 Ever DLC1 + 2 out now!
Well another rough start, but we're finally up and running. And so here's the post that was due to be posted 🙂
———————
The day is upon us! Tara and Sayako are back and frisky as ever 😀 There is no happier an ending than the two girls wrestling over play time with Sayako's cock and erupting in explosive orgasms as a result.
For you the Affect3D regular we've worked out a very reasonable way of getting to the goodies. As always I hope you enjoy these as much I've enjoyed making them 🙂
$24.95 $19.95 (first week only) BUY NOW>>
(DLC1 FREE for owners of G4E)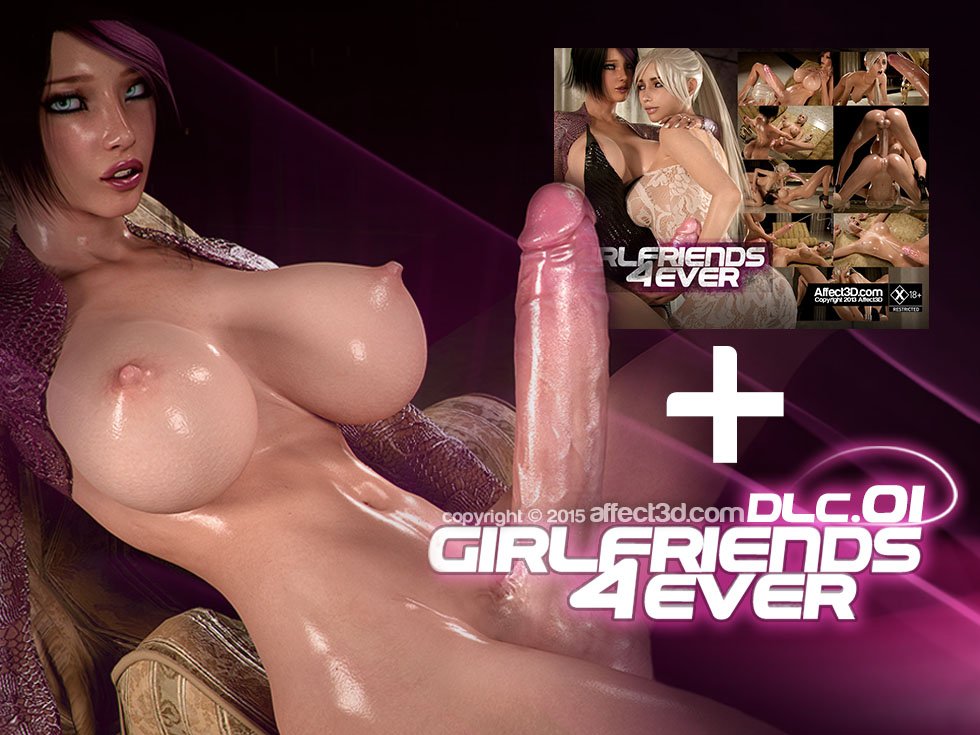 Girlfriends 4 Ever now includes the free DLC1. If you've previously purchased G4E, simply login to your store account and download the new files and of course enjoy 🙂 If you intend to buy G4E, get the Affect3D 2015 Collection instead, which includes G4E and a lot more at the same price of G4E (first week only).
The Girlfriends 4 Ever story continues where the original Girlfriends 4 Ever left off. Sayako faces one of the difficult choices in life, whether to blow her own cock or leave Tara with the honors. Spoiler alert: In this DLC Sayako gives in to temptation and face fucks herself, but Tara won't stand idly by and makes this a team effort 🙂 If you want to see the flip side purchase Girlfriends 4 Ever DLC2.
The Girlfriends 4 Ever DLC1 is a free content pack for the original Girlfriends 4 Ever.
$16.95 $12.95 (first week only) BUY NOW>>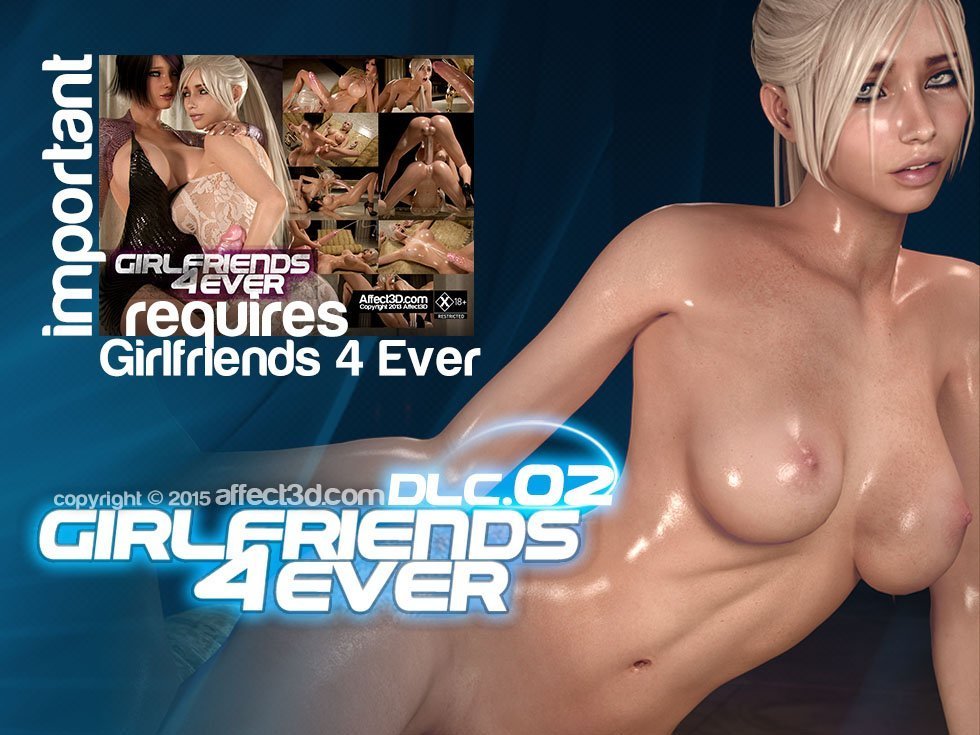 Note. This is NOT a standalone title, you must own Girlfriends 4 Ever to install and view G4E DLC2. The Girlfriends 4 Ever story continues where the original Girlfriends 4 Ever left off. Sayako faces one of the difficult choices in life, whether to blow her own cock or leave Tara with the honors. Spoiler alert: In this DLC Sayako rejects Tara's suggestion to blow herself, but not all is lost when Tara decides to take matters into her own mouth! If you want to see the flip side check out Girlfriends 4 Ever incl. DLC1.
$39.95 $24.95 (first week only) BUY NOW>>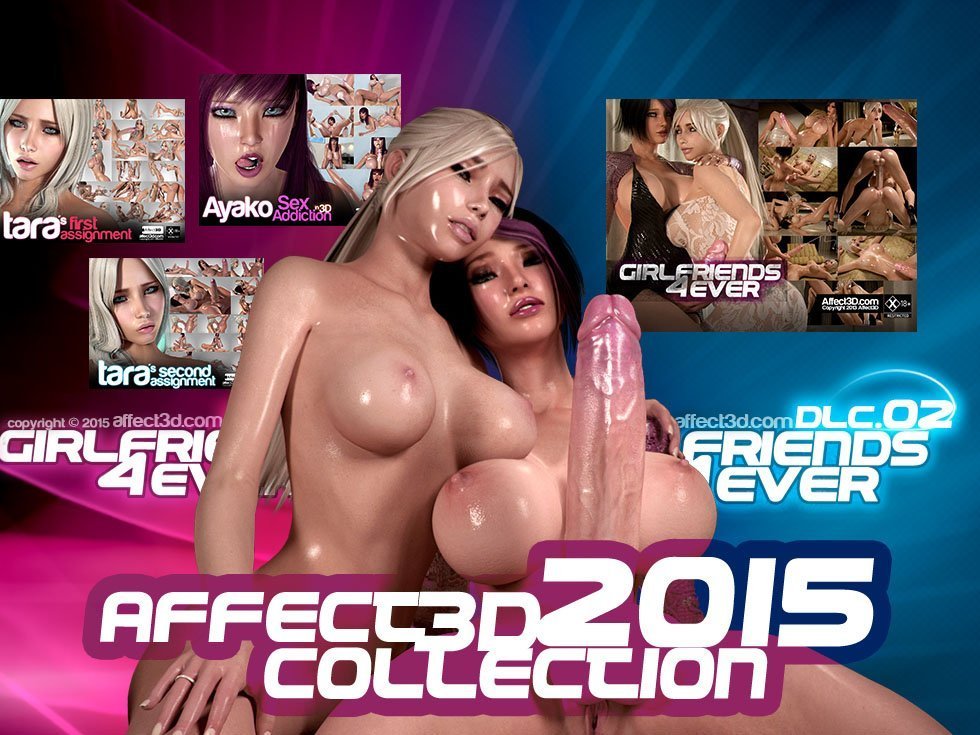 The big collection of all my work to date including the Girlfriends 4 Ever original and DLC1 and DLC2 in one convenient install. In addition we've collated some of the WIP material you may have missed during the DLC release event.
Tomorrow my final post and recap of the Girlfriends 4 Ever DLC release and things to come!
Nov 7-8th Girlfriends 4 Ever DLC1 + 2 out now soon!
Well, this is awkward. I have a release post prepared, but it will have to wait. Sorry about the delay, but we should have the issues resolved soon! As it stands we're still at least 24 hours away from the release! The servers have eased up enough for us to release, but our sys admin who is also responsible for switching the links (G4E to G4E + DLC1) had to go sleep a few hours ago after staying up till the early morning hours trying to get our server up and running again. In any case this should be useful reading for some of you while we wait.
So what happened? Grab some pop corn 🙂 Well, a problem from where I least expected it: the software. It was completed in August with the new movie maker feature and was running great through various dev cycles. Then early October I needed to add what I assumed was a minor but still essential feature, the switch screen between deciding to go with either the path of the DLC1 or 2 and installers. The time frames given by developer were reasonable and I'd considered it done to focus on more pressing issues. Forward a couple of weeks as you may have guessed it wasn't done and some issue with the installers caused further unexpected delays. It just didn't occur to me there could be a problem because of how stable it had been and reliable the dev was. But with a week out it finally dawned on me that we may in fact have a serious problem and we started daily skype chats, calls and eventually screen shares of testing and fixing. Some final testing by other staff couldn't be concluded as I didn't have the darn software. Finally after a couple of (close to) all nighters we had it running(!) with only one(!) day out only to be greeted with yet another issue: the installers wouldn't compile! And then on the day of release we finally figured out the issue: DLC1's cum shot scene was too large a file for Flash to handle! Wow! But we did it, compiled the various versions and after shifting dozens of GBs across the Inernet we were finally ready to publish… or so we thought. Our sys admin had been doing a fine job of keeping the site running smooth all day until the very time of release literally at the 11th hour, we had another issue images wouldn't upload… no problem… nothing a quick reboot wouldn't handle (clear temp folder)! If anything a reboot had always alleviated traffic issues at least temporarily, not so this time around, the server decided to literally crumble, deteriorate and die on us at the worst possible time 🙁 
Not to worry though. Sayako and Tara will be gracing your screens soon enough whether you like it or really like it. I feel a proper release post coming up!
And I'm turning comment to approved only before I sleep, the comments are getting too far out of hand guys…. jeez, seriously!?
—
—
Nov 6th DLC Content/ Contest Winners
With the release just around the corner I'm sure you're as excited as I am to find out exactly whether you're on the winner's list!
But first a quick detour.
Regarding tomorrow's release
Please be patient! The countdown clock is a guide and not a hard indicator of when the DLC will be released. It will be removed soon. There is no specific time as that will just cause traffic to spike. Please do NOT use the Refresh button like a machine gun!!! Return every few hours if you must or ideally just come the following day. The DLCs aren't going anywhere and will be waiting for your close inspection on Sunday or even the next day. We've optimized the site as much as we're able, but it's a web site and web sites are fickle little pickles, so please be patient, because any downtime will obviously cause delays!
With that in mind lets see what awaits…
What's included in the Girlfriends 4 Ever DLC1
adds the following content:
Main scenes:

2, intro and cum shot scene, approx

12:08 mins
Sex scenes:

5 x sex scenes @ 5-6 short looped angles, 26 angles shots in total

Main story play length

excl. main scenes approx.

12:20 mins
Positions

include: autofellatio and blow job

Fun Stuff Sex:

21 clips mostly new angles of original G4E positions

Fun stuff play length

approx.

5:40 mins
Positions/ fetishes

include: POV, xray, nude walk and Sayako "small" tits.

Total Additional Content

: play time at default settings, approx

30:00 mins
Sex Player

new features include improved movie maker with up to 5 playlists, DLC filtering, Jap language for original G4E scenes only
What's included in the Girlfriends 4 Ever DLC2
adds the following content to 'Girlfriends 4 Ever incl. DLC1':
Main scenes:

2, intro and cum shot scene, approx

6:36 mins
Sex scenes:

5 x sex scenes @ 5-6 short looped angles, 32 angles shots in total

Main story play length

excl. main scenes approx.

15:20 mins
Positions

include: blow job, 69er, pussy licking

Fun Stuff Sex:

 11 clips mostly new angles of original G4E positions

Fun stuff play length

approx.

2:40 mins
Positions/ fetishes

include: xray, monster shlong, Tara with "big" tits, Sayako walking, standing and letting her dick twitch

Total Additional Content

: play time at default settings, approx

24:30 mins
Sex Player

new features include improved movie maker with up to 5 playlists, DLC filtering, Jap language for original G4E scenes only
Hope what you see really triggers your imagination. But thankfully in just a short many few hours you won't need your imagination to picture exactly what cock to mouth resuscitation looks like Saya/ Tara style 😀
And now…
The Girlfriends 4 Ever DLC Event Winner announcement
Winners
Affect3D 2015 Collection
takumin8
DLC Thread

maxus

DLC Thread

dennisjw

DLC Thread

KeiMontague

DLC Thread

Meduzko

DLC Thread
Eviolite
Sayako wants Sex
 el samurai
Contest – Video
duralex
Contest – Animation

Lind

Contest – Writer

Wijg42

Contest – DG Story (final)
Girlfriends 4 Ever – DLC2

SamStone

DLC Thread

Maxtor

DLC Thread

Kingsizednuts

DLC Thread

IBT

DLC Thread

kattnbleu

DLC Thread

L666

Contest – Video

T. Falk

Contest – Animation

Ashley

Contest – Writer
John
Contest – Subtitles (final)
Congrats on the winners!!! Some amazing entries, creativity and lewdness. Nicely done!
How to receive your prize:
If you don't already have one, register a free Affect3D store account: https://affect3dstore.com/customer/account/create/
After release of the DLCs email

[email protected]

 with the prize you won, your name/ nick and you must use the email used to submit your entry.
Affect3D Service will allocate the prize to your account.
And if you wanted a little more in depth info on how the writer's were picked. Here's Andi's explanation:
Hello again, it's andi guinness! I hope you are all eagerly awaiting for Saturday.  I come back because some of you are about to receive a little present!  That's right, it's time to announce not one, not two, but three contest winners!  Our winners will receive copies of the Affect3D 2015 bundle shortly.
Let's get some of the more recent contests out of the way first.  There were dozens of entries for the Final DLC Contest #1: The Subtitles.  Many of them were funny, some of them were great, others a little off the mark.  After much weeding through and some hemming and hawing, we came upon one that stood out above the rest. John's two subtitles provided just the right amount of snappy humor and playful attitude that represents the DLCs quite well.  Here are his winning entries:
DLC 1: Selfish Sayako
DLC 2: Sharing is Caring
Next up is Final DLC Contest #2: The New (Futa)Girl.  We asked entrants to come up with a new futa character, including a bit of background, a name, and a plausible way for them to enter the picture.  There were some really good ones out there, and I was impressed with the thought of some of these.  But in the end, we had to choose one.  Wijg42's Anastacia stuck out to us by playing to Sayako's unique nature, and how being different makes you alone sometimes, even with the right people around you.  You sometimes wish for someone who can get you because they're like you.  Wijg42 projected this very well, and is our winner.
Now, you may be wondering, "But andi, you said there were three!" And there are!  As you may recall, during Phase 1 earlier this year, we had a Writing Contest to write out what we thought was the most interesting script to either follow-up Girlfriends 4 Ever or be a completely new boy-girl story.  There were dozens upon dozens of pitches, enough to cover an entire movie screenplay or two!  But we had to settle on one for all these.  Lind's tale of dimension hopping and shapeshifting showed the most promise out of all of these, especially the unique introduction that mixed sex with magical curses.  For that, we present them as our winner!
However, if you didn't win the Writing Contest, don't fret!  While Lind's won the contest, it doesn't mean it will be picked as miro's next story.  That is still under discussion, with a final decision to be determined.  We will review all the entries more thoroughly after the DLC releases, and if one entry gets greenlighted, we will notify the author and present them their rewards.
Anyway, that's all for now.  Thanks to everyone for participating, and take care!
—
Nov 5th DLC2 content preview
Do you believe it!?!? The second last post before the release of the DLCs!
It's short and doesn't show too much, but I'm sure you'll forgive me considering we're soooo close 🙂 Make sure to check out tomorrow's post!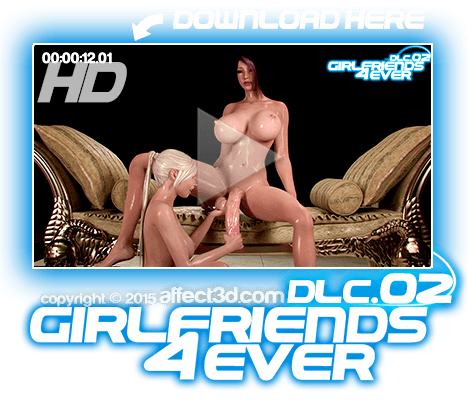 —
Nov 4th How to get the free DLC1/ buy DLC2
Let's go over each scenario separately for clarity.
Girlfriends 4 Ever – DLC1
Eligibility Free G4E DLC1:
The only requirement to be eligible to receive the G4E DLC1 for free is to have purchased the original G4E from either our store or an external store.
How to get the free G4E DLC1 if you're eligible?
If you have a store account. Check that you have access to your store account and can see your existing G4E order including download links for G4E. These download links will be replaced by a new set of links to the updated version of G4E including DLC1, after release of the DLCs. There's nothing you need to do, just wait till the new download links appear and enjoy 🙂
If you do NOT have a store account. You must register an account with our store (no way around this). This includes BMT store customers.
register a store account: https://affect3dstore.com/customer/account/create/
email

[email protected]

to verify your G4E purchase (see below)

Affect3D Service will allocate G4E to your account
Verify your G4E purchase (including BMT store customers)
Email [email protected] with your proof of purchase including:
name, date, email, item purchased (G4E or one of the bundles), site purchased from

ALSO include: order confirmation email OR screenshot of site's order page OR screenshot of your payment

it is recommend you submit as soon as possible to avoid a waiting period
Once you have your copy of G4E the same applies as outlined above 'If you have a store account'.
Purchase G4E DLC1
:
If you have not purchased the original G4E but still want the DLC1 you must purchase the original G4E or the G4E incl DLC1 after release of the DLC1. And if you want to purchase the DLC2 also it's best to simply buy the new Affect3D 2015 bundle.
If you buy G4E before the release of DCL1 it will be automatically upgraded after release. So this is one the quickest ways to get the DLC1.
Girlfriends 4 Ever – DLC2
How to buy G4E DLC2
The first thing to note is that the DLC2 is NOT a standalone product. To run G4E DLC2 you will need the updated version of G4E (incl. DLC1)
There are two general ways to buy and play G4E DLC2
you already own G4E, in this case

download the new version of G4E made available after the release of the DLCs

buy and install G4E DLC2, which is then added as a playable DLC to the G4E core

you do NOT own G4E yet, in this case

it's highly recommended you buy the Affect3D 2015 Bundle as this will include G4E and both the DLCs in one easy installer as well as additional WIP content
Girlfriends 4 Ever Discount on DLC2 & Affect3D 2015 Bundle
And of course as an Affect3D regular and if you're on the Affect3D mailing list (sign-up top right above schedule), be sure to check this space for a further announcement on how to get a special discount on your purchase 🙂
Any questions? Ask them in the comments below or email [email protected] !
—
Nov 3rd G4E DLC2 wall paper 8 [4K HD]
For us the journey is almost over, for Tara apparently it's just beginning!!! 😛 😀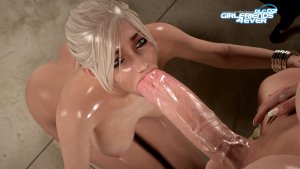 —
Nov 2nd Sayako & Tara Profiles (updated)
Mainly cosmetic changes, hope you like 🙂
—
Nov 1st How to speed up creating 3DX!?
Wow, Less than a week away till the DLCs get released, can you believe it?!?!?!? 🙂
So let's address the question that's on many people's minds: How to speed up creating 3DX? I'm not claiming to be an expert until I've actually delivered a few titles quickly, so consider this more a collection of ideas that could help us get there. I'm addressing animation here, other types of 3DX come with different challenges.
G4E DLCs lengthy production cycle explored
In my opinion the lengthy production cycle was not actually the main issue and there weren't any official hard deadlines missed. I think the problem was that what seemed like a smaller production than the original was hampered by a) a lacking ability to predict time frames on my part, b) it took twice as long and c) and, this actually turned out to be the biggest issue, it was announced too early. In announcing a title you kick off the wait and well… 3DX fans get soooooooo impatient 😛
Especially if you have a hard time controlling that adventurous artistic spirit, heh… you need to either give the wip process well defined smaller say monthly goals or simply make no mention of it at all until you hit the last leg of the production cycle, the hype phase.
Why make 3DX faster?
From a fan's perspective and I'm a fan as much as a maker, what we want is: More quality wank material in less time 😀
Now that the dick (or klit) has spoken… Let's assume that quality is the most important thing here, than time would definitely be second, because as good as 3DX can be, too much drought will dry out the drizzle of saliva.
But there's also the artist's perspective. As much as I can understand not wanting dollars signs to cloud your artistic vision I personally think that the best way to make a living is to do what you love… and if that happens to be 3DX then that's what you should do 🙂 You're going to exchange your precious time for dollars in some way, might as well be something that brings a big smile to your face 🙂
So if you take the plunge and sell your work, then obviously more releases equals more money (given consistent quality). This not only helps put food on the table, which is the first stage, it also serves to help you grow artistically. You're able to buy the equipment/ education you need to improve your workflow and really focus on your technique and skill, that's the second level. In producing faster you are able to evolve your skill more quickly and believe me where 3DX is concerned, the learning curve never ends. You are the creator of fictional worlds here, there are no limitations on where you can go 🙂 Now to the third level…
How do we make 3DX faster?
Team work. My personal dream is 3DX at mainstream quality. And quality at that level requires a dedicated team with people specializing in their respective fields, just like a movie or game studio. This might seem like a huge challenge, but nobody said anything about making a $100m feature film, start with small project like Lord Kvento's Twin Sisters, where you mix stills with some animations, then collaborate on say the writing and hire voice actors, or form a duo of animators, get help with building a rig in maya, etc. Just start working together with people where you're lacking and progress things from there. For my next project I'm sacking myself as the jack of all trades in favor of a team. If you are a pro in the 3D field and looking for highly stimulating work, get in touch 🙂
Technology. Leverage software/ hardware to your advantage. Only recently did low cost unbiased GPU renderers bring production quality into the home. Body and facial mocap technology previously attainable only by the big studios is now sophisticated and affordable enough for the home user. And personally I think the next breakthrough is going to be gaming engines and VR. Gaming engines for example are starting to rival production renderers in quality, but in real time(!), which not only opens the door to faster production animation but obviously games themselves.
Structured workflow. The bigger the production the more important this becomes. When I said artistic expression can't be tamed, what I meant to say is that it doesn't want to be tamed, but it must be in order to achieve predictable results. The worst thing you can do is have Tara and Sayako sit down on that golden sofa and say "How would they get each other off in the most sexually gratifying way!" Well, actually it is good to go through that exercise but only after you've set the ground rules, for example: 1min total length, 15 secs dialogue, 2 sex loops with 16 secs variations each, covers the following actions…, involves the following simulations…, consider the following challenges…, etc, etc. If you don't do that you'll end up with a 5min animation and bag full of headaches because of issues you hadn't thought about. Not a trivial error considering that a minute of animation takes 1-2 months to create 🙂 This structure needs to be applied to every aspect of the pipeline/ workflow. Ideally you want a dedicated production manager.
Manage expectations. Going full circle this is a key aspect. My choice for now is going to be not to announce future projects until we get to the final stage. There are other ways of showcasing your work in the meantime.
These are my initial thoughts on how to make 3DX faster. As I said I'm certainly not an expert in the area yet, but I am hoping to try out some of these techniques and learn more over time 🙂
Oct 31st DLC2 trailer release!
I give you the Girlfriends 4 Ever DLC2 Trailer! Yayyyyyy!!! Again I'll note that this trailer has the same structure as the DLC1 trailer, since it's the flip side to the events of DLC1, but filled to the brink with all the new DLC2 goodness. As always your feedback is appreciated and will be considered when making a final more public version of this trailer. Also let me know whether you prefer the DLC1 or DLC2 trailer and why. In any case hope you like it 🙂 Enjoy 😀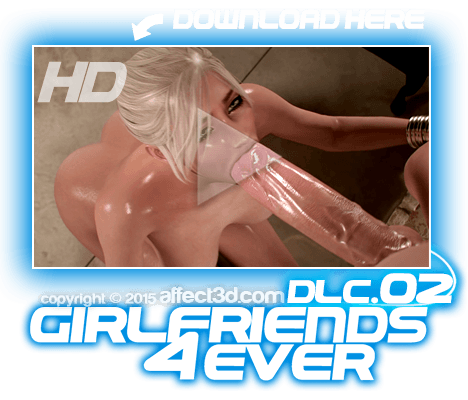 —
Oct 30th Sayako wants Sex – rendering & other stuff
First of all the DLC2 trailer is dropping tomorrow! For those of you, who have furiously tried to click on that greyed out DLC2 trailer icon, will now finally see some results 😛 So, in this alternate story arch Sayako may have barely managed to cock block herself, but can she also reject Tara's advances? Um…  imagine the twist 😛 Don't bother trying to solve this exceedingly difficult riddle, just watch the trailer, dammit! 😀
To reiterate the trailer has the same structure as the DLC1 trailer, since it's the flip side to the events of DLC1, but of course you'll finally get to poke your willy at the totally new DCL2 sex scenes. Don't you dare miss the DLC2 trailer or the Internet will tea bag yo ass!! It will be released a little late in the day as there's an article going up earlier.
Secondly, great news for all you dick girl fans, 2 sweet new release this week. The Dude has graced us with another cum inducing episode of Sin Sisters aptly named Sin Sister 2: No rest for the wicked and 3DZen's succulent Erin & Vikki 5: After School. And to sweeten the deal our Trick or Treat Special is on also with a 31% off on everything in our store. Do yourself all sorts of favors and check out our new releases here: //affect3d.com/category/affect3d-store/ .
And finally, in the first part of this event I posted a series of WIPs of my work flow, well here's the last part, where I import the animation we selected into 3DS Max for final rendering. Hope you like it.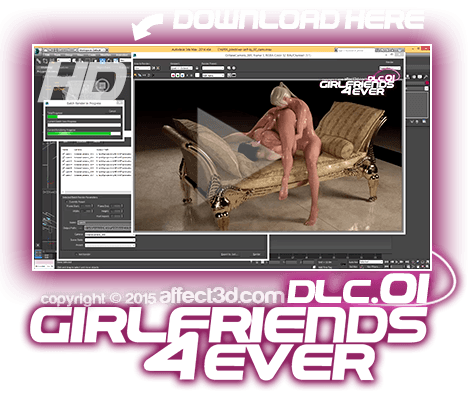 —
Oct 29th DLC1 Content Preview
Obviously I have to keep the preview short (20secs), since there isn't a whole lot to go around and I'd get told off for giving away too much 🙂 So this is a small excerpt from the beginning of the DLC1 cum shot scene, the longest and most elaborate scene I've done. The girls have had their fair share of fun and Sayako's gone semi soft, but Tara's apparently got magical hands, because everything grows rapidly at her touch 😀 And being the tight girlfriends they are, they make it a joint effort to bring each other to climax in ways that can't be described, but thankfully witnessed… in the DLCs, ha! 😛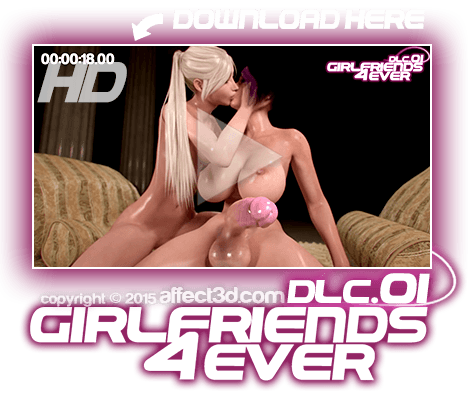 —
Oct 28th Final Contest
We came up with 2 fun ideas so let's do both 🙂 Given this is the final contest I wanted to keep it simple in order to give everyone a chance to win a FREE copy of the G4E DLC 2 and  Affect3D 2015 Bundle (this one's a little more special than the last one 'cause it includes some wips that have never been released even in the forums (but more on that later). Let's just say, if you're a serious G4E fan you'll want one of these beauties).
So here are the two ways to win:
Let's start with the super easy one: Come up with fun/ creative/ sexy sub titles for both DLCs. DLC1 features auto fellatio, DLC2 features Tara blowing Sayako. I've included the original DLC poster as inspiration, which sparked the idea for the DLCs. (prize: G4E DLC2)

The second one's a little tricky: Hypothetically speaking, say we introduced a 2nd dick girl (specifically a dick girl) to the G4E universe, how would you do it? Provide a name, very brief background, describe the relationship with either Tara or Sayako and here's the important part: how would she be introduced? Let's assume G4E plays out in current times, that would make Sayako a very special girl 😀 Given how unique a character she is, it would be even more incredible to have two dick girls of Sayako's caliber (who are not blood related) meet. So the question is: what would be the most plausible/ believable way of introducing a 2nd dick girl without resorting to magic/ dreaming/ etc? (prize: Affect3D 2015 bundle)
Good luck. Have fun 🙂
Check out the table below for guidelines on how to participate. Must use #G4EDLCfinalcontest with your entry in the comments below.

Deadline
Nov 4 
Winner criteria

fun/ creative/ sexy sub titles for both DLCs AND/ OR

describe name, background, relationship to either Tara or Sayako and a believable way of introducing her to the story

Winner selection
miro with the help from Affect3D staff
Winner announcement
last week of the event
How to submit

must post a comment below with the hashtag

#G4EDLCfinalcontest or email it to [email protected]

by submitting you agree to it's presentation in any form that Affect3D.com sees fit

by submitting and winning a prize you automatically transfer all copyright to said idea to Affect3D.com, for promotional or other use as Affect3D.com sees fit

Prizes
2 winners:
Best sub titles: 1x G4E DLC2Best dick girl char idea: 1x Affect3D 2015 Collectionsonly one prize per person
Oct 27th Making Tara & Sayako (talk)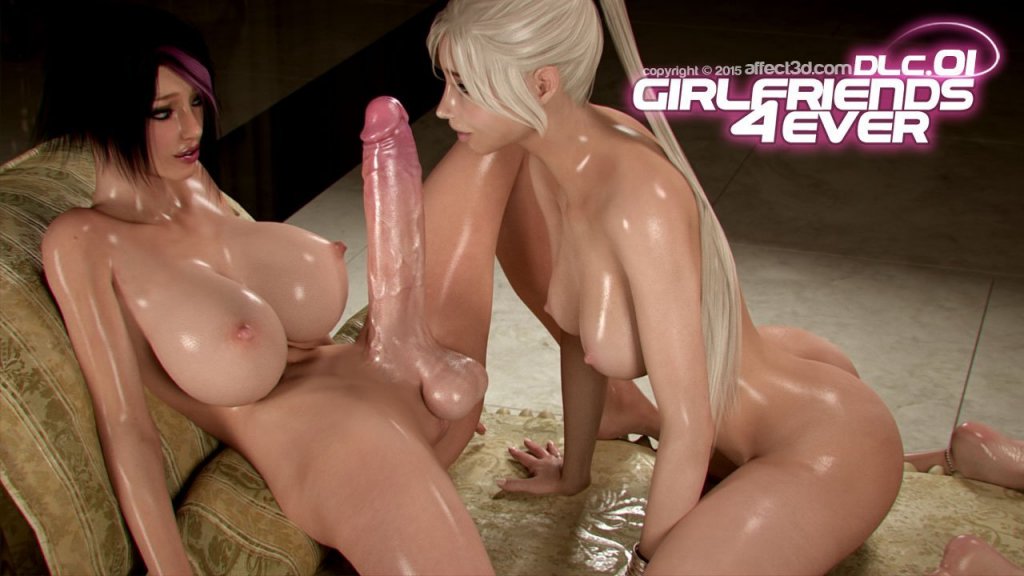 Hello!  My name is andi guinness.  And I'm an erotica writer.  More importantly, though, I am the script writer for the Girlfriends4Ever DLC.  Let's talk about that a little bit, shall we?
Making Tara and Sayako talk was quite a bit of work, despite what you may think or hear in the final product.  It was the effort of approximately three weeks with weeknights filled with writing, passing along to miro, tweaking, making adjustments, discussion (a lot of discussion), editing, writing and adding comments.  Considering I also work a full-time job that also involves a significant amount of writing, I can say with utter certainty that it was a rather intense few weeks.  But I wouldn't want it any other way, because it was also fun.
The script matters, and for good reason: The animation is the story.  There's no background narration or lore to rely on to catch you up.  It's not unlike a film: You have to rely on what the characters say to know what's going on.  What you will see in this DLC is not just sex, but a continuation of the story and further development of the characters.
It's Not Just Porn, Really
People will think it's silly to spend a lot of time writing an erotica script.  "It's just porn!" They say.  "Why does it matter what Tara thinks about Sayako's cock? Let her suck it off!"
But that's just wrong, really.  In a live-action gonzo setting, a script will be pointless, certainly.  But in fictional 3D erotica?  It means a whole lot more, especially if you intend to do more than one story with your characters.  The dialogue is the foundation of the story, coupled with action.  Why do Tara and Sayako keep going?  What's in this for them?  Where do they go?
Making Characters Whole
[mp3j title="Play: Tara "cum over our bodies"" track="https://cdn-pub.affect3d.com/site/uploads/2015/02/S14-night-had-changed-us.mp3″ fontsize="33px" flip="y"]
The dialogue is not only the vessel of story, but it also makes the characters far more human.  When we hear Tara and Sayako's words, they reveal to us the girls' thoughts, insecurities, desires, and turn-ons.  We start seeing them as more than just sex doll goddesses, but actual people.  In turn, it actually makes the sex more compelling.  They stop being extensions of our own desires, and become whole.  They have limits that they stick to, play with, or even break.  They can test themselves or stay safe.  They show us how the things they do affect them.  They can change in so many ways, and that brings out new directions for them to go and for us to follow.
Of course, with the limited amount of conversation they have, we need another source of spoken word to understand what's going on.  This happened in the original Girlsfriends4Ever by having Tara speak her mind in narration, and that's something we continue here in the DLC. While it would have been nice to hear Sayako's thoughts, I think what makes Tara's role as narrator and confessor so powerful here is that it actually allows her futanari partner to shine more just by being there.  To counteract with that, what Sayako does to Tara (and herself, of course) allows them to develop as character, enough to transform their lives within the narrative.  While Tara is the speaker, Sayako is the actor, as it were.  The balancing act between the two makes what they do more powerful.
Creating A New World
The DLC will conclude the story of Girlfriends4Ever.  But it is not the end of Tara and Sayako.  The goal miro and I set out was to create a conclusion that allows their story to continue in fun, interesting, and sexy directions.  Listen carefully to Tara's final thoughts.
There is a lot ahead of us.  I have many ideas for what we can do with Tara and Sayako, and many of you thought the same with your contributions to the Writing Contest in Phase 1 (What? You thought Miro'd forget that?) (Confession: I also submitted. I hope I win!).  Still, it's going be a fun time, and I look forward to continuing the story of this sexy couple.
If you want to hear more of my take, check out my post-mortem here at my Tumblr blog, An Erotica Writer's Desk. Take care.
-andi
Oct 26th G4E DLC1 wall paper 7 (4k)
It was inevitable!! 😀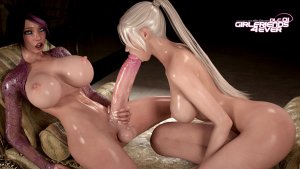 Oct 25th Event Overview
Holy mother of everything that's sexy and sacred, we've made it! When I kicked off this event, nobody thought it would take sweet… darn I can't even count the months it took to complete it. So another thing to take away from this invaluable experience is that you can't put a leash on creativity, it has a mind of it's own 🙂 But, I'll go into detail how I think we can turn this into positive lesson as discussed in my 'How to speed up creating 3DX' article next week. Interesting for both 3DX fans and artists. But all that matters now, is that we're here: the final stretch, yaaaayyyy!! 😀
Really appreciate all the positive feedback regarding the trailer, love you guys 😀 … and I can't wait for you to see the final result. I'm anxiously, hysterically excited, lol. So in that same vein, we're going to keep you inspired with more sexual innuendoes over the coming days, that's what we're here for :D. Sayako playing hide and seek with her fine meat cannon, that kind of thing. Btw, if you have more constructive criticism on the trailer, now is the time cause we're going to make one more public version of it, so if there's anything we missed or would make it better, speak up in the comments below.
The next big highlight is the DLC2 Trailer to be released on Oct 31st. It has the same structure as the DLC1 trailer, since it's essentially the flip side to DLC1, but of course with an exclusive first look at the totally new DLC2 content 🙂 And check out the schedule in the right column for what's coming up and visit daily for updates, right up until release on Nov 7th 2015. Tomorrow one of my favorite pinups (with sex, kind of)!!
Oct 24th G4E Release Event Phase 2 begins!!
Yay! It's finally here. The Girlfriends 4 Ever DLC1 trailer! Hope you like it 🙂 And if you do read these lines, feedback would be greatly appreciated in the comments below 😀 Tomorrow our brief journey to the G4E DLC1 + 2 release on Nov 7th 2015 begins! Let's have that fun, that's eluded us for so long!
Server access may still be slow for some visitors. We've implemented first changes to our hosting environment (largest servers with our new host) and should have completed upgrades to a load balanced system before the release of the DLC2 trailer, at which point everyone should have fast access.
—