Just one more day until the #3DX Discord L.E.W.D. Charity set is released! Here's another taste of what's to come with commentary by Shad. Be sure to pick up the charity set this weekend to give to a good cause!
Bubble Butt Babe Kicking Ass
3DX doesn't just have to mindless sex. (Although, we'd love to see that too.) Hentype is able to showcase their beautiful babes in strong leading roles. Taking charge and kicking ass, and no I'm not talking about a kinky dominatrix scene! By using all the tools available to them, every now and then 3DX artists create some pretty interesting works of art.
Take this piece above for example. Hentype pulls out all the stops with the particle effects and textures. The bad guys truly look villainous and maybe it's just a precursor to a rough BDSM threesome, who knows? For now, one thing's for sure and that's that this babe can kick ass! But speaking of asses, Hentype juxtaposes the rough, otherworldly skin of the aliens with the smooth glow of this hottie's posterior. We've got a nice view of that ass as well as that figure hugging latex costume that's conveniently shaping her boobs so perfectly.
I think this piece is a testament to how the veteran 3DX creators still have that artistic bone in them. Without simply pandering to our typical fetishes, Hentype gives us some backstory and context. For now the rest is left to our imagination. We can only imagine the torture she'll put these monsters through. All they'll want to do is cum over her massive tits, but you can bet she'll have them by the balls. And once it's all said and done, maybe she'll even reward herself with multiple loads of alien cum to gulp down. After all, an ass kicking girl needs her protein.
Her Turn On The Hot Seat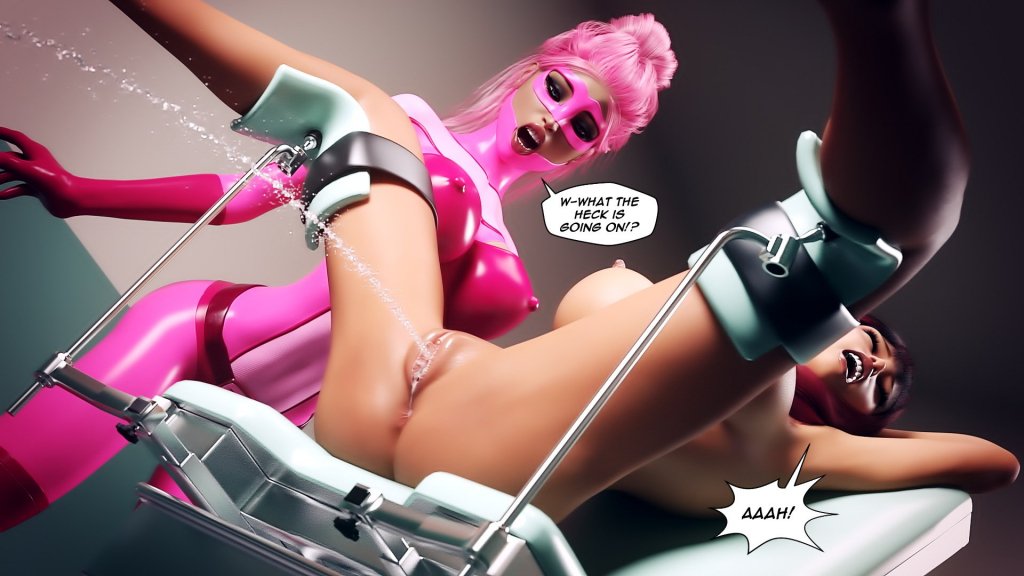 Miki3DX makes stuff that's popping! Whether they be cherries, bright eye-catching colors, or just some really weird situations. In true tongue-in-cheek fashion, Miki3DX's own creations seem to share our bewilderment as we try to decipher this sexy little piece!
There's a few things drawing our attention in this one. Leaving the obvious for last, I want to admire those perky tits first. Miss Superhero is clearly turned on, as evidenced by those steel nipples piercing through her latex costume. What's more, those massive firm boobs are nothing to scoff at either. What wouldn't I give to have her use her powers on me. Whatever those powers may be, it seems it can't solve the mystery of the squirting slut.
The babe on the makeshift operating chair is in absolute euphoria! Squirting like no tomorrow and just as horny as her awestruck, costumed friend. WIth this single preview image alone we have no context but half the fun of Media of the Day is propping up an imaginative story around a single scene. Sort of like righting captions for memes. Here,  however, there's a kinky spin to it. Of course, a large part of the appeal is how attractive even the most absurd situations can be made to look. Miki3DX does an outstanding job with the camera angles and lighting. We get to see everyone's expressions but also get to witness the scene unfold from an ideal vantage point that emphasizes every asset.
Speaking of assets, while I'm too busy ogling that wet pussy, feel free to share your clever witticisms in the comments to describe what this piece makes you think of.
My Hero's Full of Surprises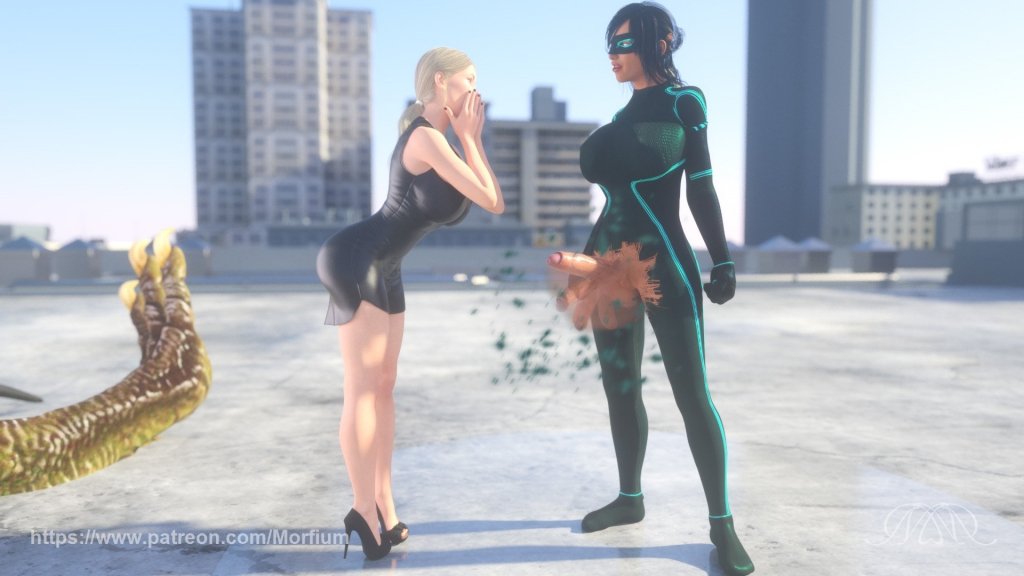 Keeping with the theme of superheroes. Here's a scene by Morfium. This futa babe sure has the goods and the lady she saved looks ready to return the favor!
We are able to focus on the reaction entirely, while a reptilian foot lies presumably dead out of the corner of our eyes. Saving citizens is a hard day's work, but Morfium's superhero babe proves it's not the only thing that's hard! With her erect dick flailing in the urban wind like some kinky replacement for a cape, the superhero stands proudly on the site of her victory. Now of course, it's time for celebration.
I think that lady in the hot stilettos will have a hard time resisting that juicy futa cock. Right out there on the rooftop of the city's skyscrapers, this babe better oblige with some good old fashioned blowjob. Of course, it must be nerve wracking to have to suck off your hero. I bet all she can think of is whether she's using enough tongue. Or at least that's what's on her mind when she's not fantasizing about the hot cum about to go gushing down her throat.
Here's hoping that it's just the start of the day's work for our superhero. Saving people can be hard work, and it's important to take advantage of the perks when one can. Kicking ass and picking up chicks seems like a typical day for this babe though. Hats off to Morfium for capturing this fun scene.
Catfight Imminent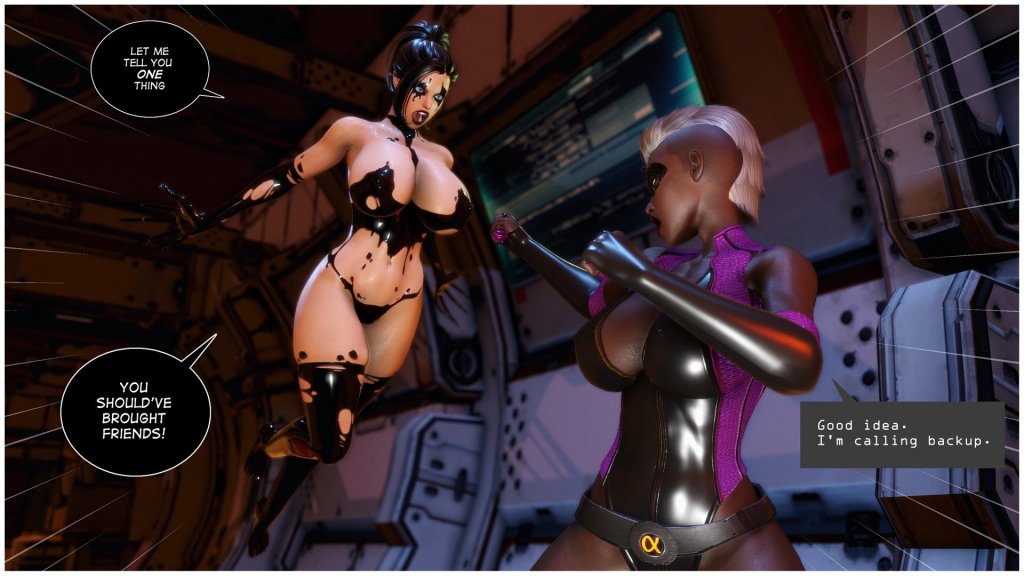 There seems to be a distinct lack of catfights in 3DX. Despite all the girl on girl action we get to see, we don't usually get treated to a real catfight. However here's a scene by Shassai that seems like the start of some pretty epic stuff!
While I'm sure one of these babes is the superhero, they both seem to exude villainous baddasery to me. Just an anticipation of a wild superpowered catfight has me excited. And if the flying girl's costume is any indication, those clothes aren't going to be staying on for too long! Shassai's comic book format is a perfect fit for this scene but thankfully the images are just as 3D and high res as we've come to expect from today's top 3DX artists.
Now when these busty babes get down and dirty, I hope their superhero friends come around to join in the fun too. If there's one thing that's better than a catfight, its an orgy. And furious, wild sex is bound to be all kinds of rough and kinky. Just think about all the fun! In fact, chances are, these fights will be crucial bonding exercises resulting in eventual harmony. Of course, I wouldn't want to advocate for world peace too soon, there's much too many catfights to be watched before that comes about.
Shassai shows off the diversity of their talent in this piece. I think the costume designs are absolutely genius, and so are the makeups and hairdos. Can't wait to see more scenes that hopefully follow up on this scene.
A Massive Tease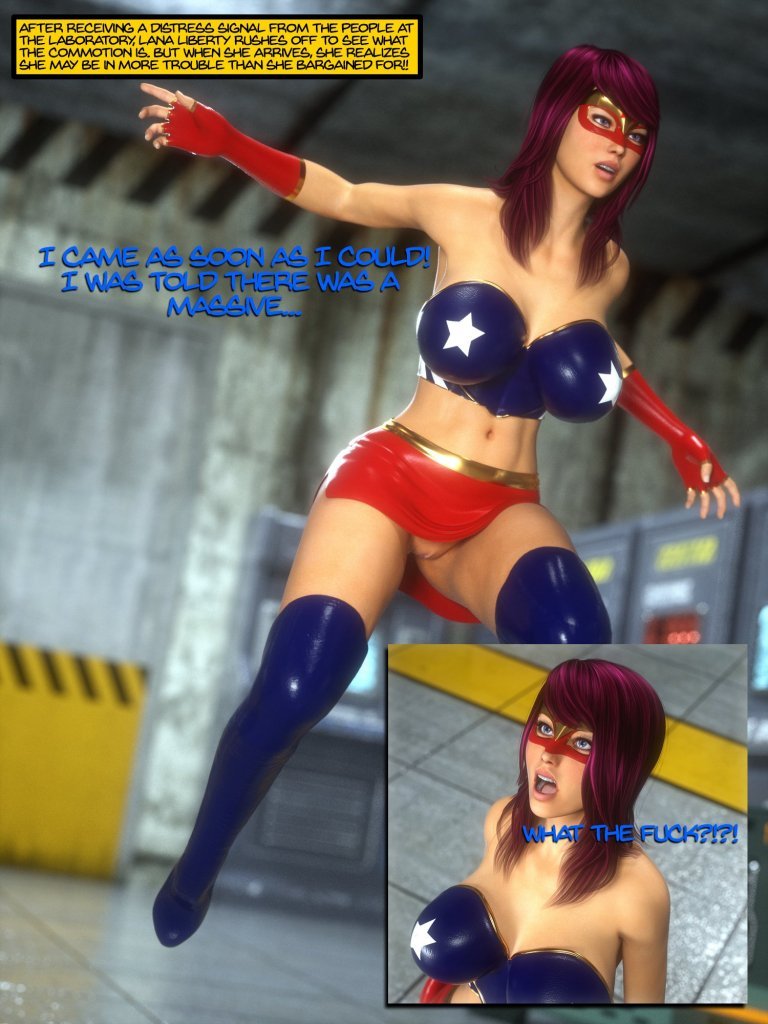 Supro really does it again. With Lana Liberty rushing to the scene, we are thrust into a crisis like raw dick into a tight pussy! The crisis being our anticipation and the never ending suspense of course! We quickly scroll down to the end of the page, spending only a moment to admire Lana's bountiful breasts. But alas, the massive monstrosity is not revealed. A one shot cliffhanger is what this is. A teaser poster!
Say what you will, we have to admit that Supro knows how to catch your attention. After that short-lived disappointment, we are now able to go back and examine the scene further. There's a sexy upskirt shot for our viewing pleasure. Lana Liberty is clearly too busy rushing to save the day to even put on panties. Not that we are complaining of course. Furthermore, taking inspiration from the mesmerizing Wonder Woman, Lana Liberty's costume design is superbly done.
Supro's design and camera angles really accentuate the curves and contours of Lana's heroine physique. Furthermore, its the expressions and body language that really sells the scene. What has our heroine so stunned? Is it a massive tentacle monster? Maybe it's a giant robotic dildo? Or perhaps it's an army of sex starved futa valkyrie? I've got to know! But now, I find myself armed with three perfectly good fantasies to start with.
What are your guesses? Let me know in the comments and maybe some 3DX artists will be inspired enough to make it into their new release!
All these images come from the #3DX Discord L.E.W.D Charity Set, which will be released tomorrow on Affect3D! Be back tomorrow to get it!