Not Just A Dickgirl, A goddess in The Dude's A Special Lady Part 2!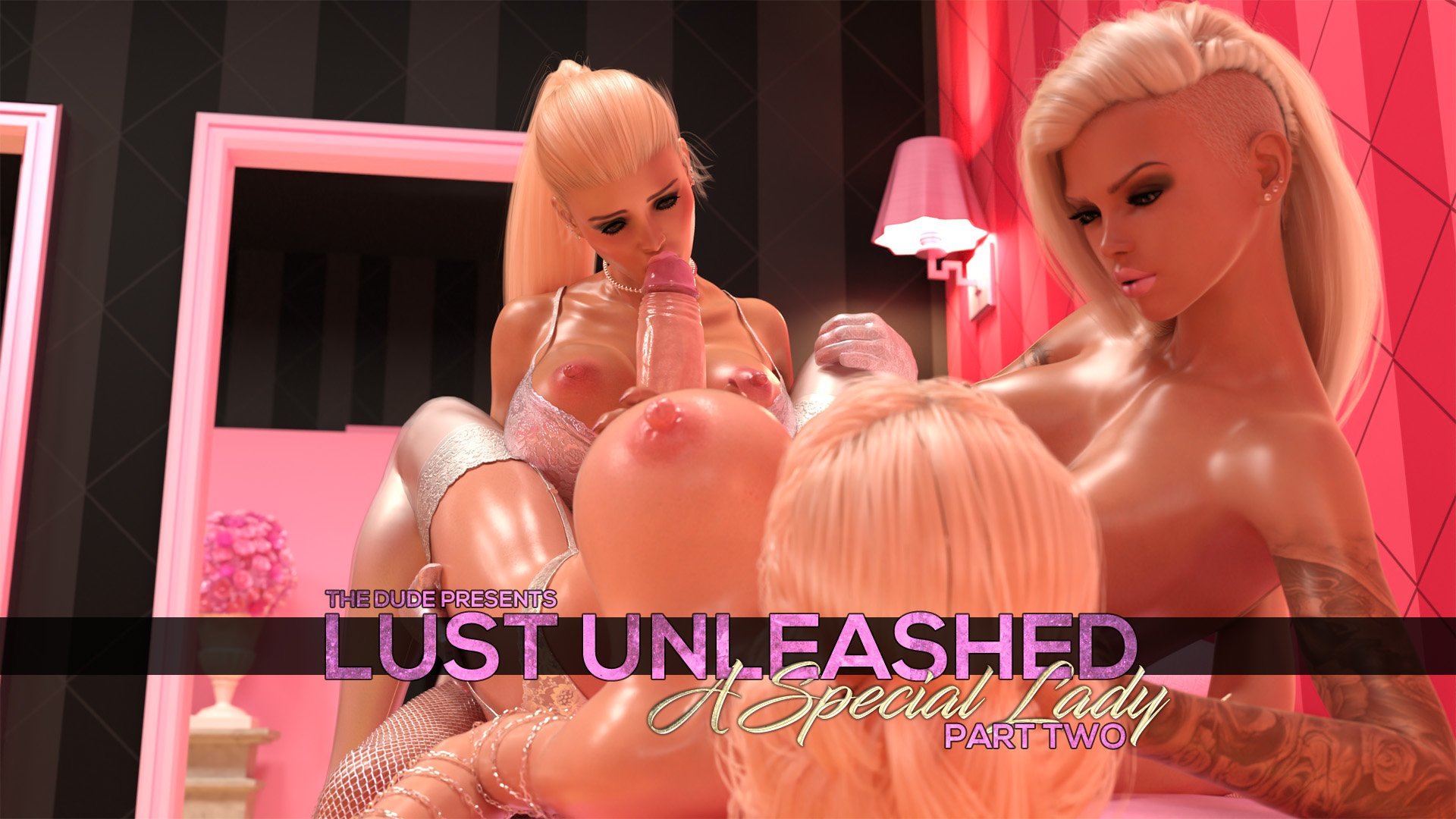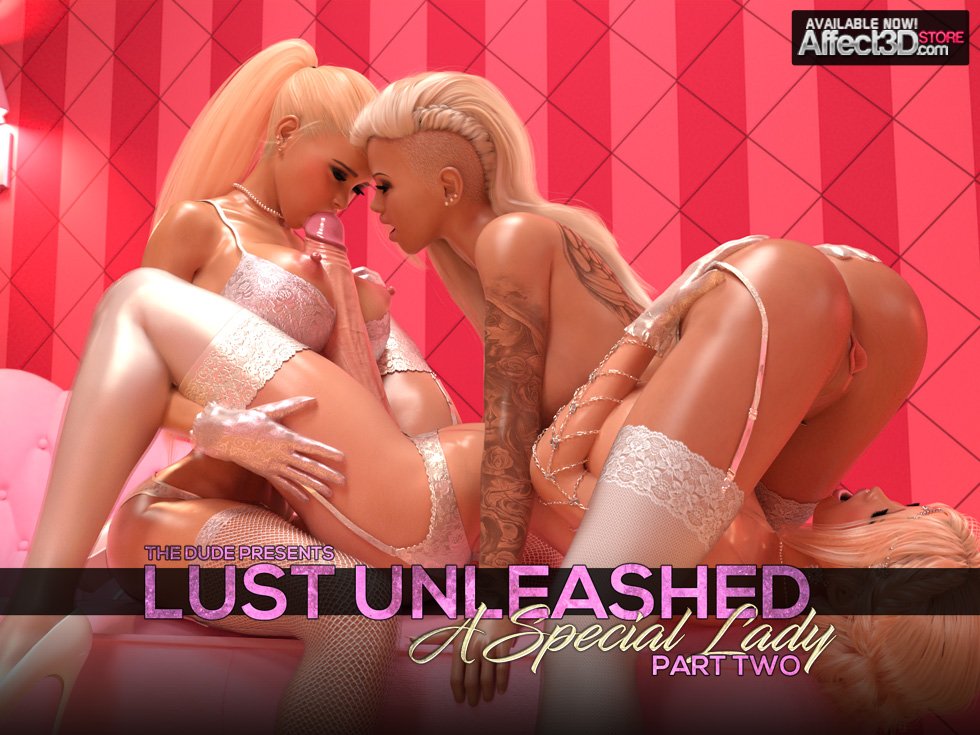 Today's very special release from The Dude, the long-awaited A Special Lady Part 2, is here! Set in the Lust Unleashed universe, part 2 follows on from where Part 1 left us, and similarly to The Dude's other recent releases, comes in two versions: Renders Only and Comic Only. Both versions continue to explore the rather unique life of one of Kayla Carter's creations – Mari – and are available now in the Affect3D Store!
We pick up where Part 1 left us, with Bree and her submissive dickgirl girlfriend Mari bumping into one of Bree's old fuckbuddies Taylor. All three are down to their alluring lingerie and Taylor just can't wait to get her hands and mouth on Mari. After all, who wouldn't?
As Breanna watches on, Taylor cozies up to the stunning Dickgirl. She starts by running her hands over her incredible body, discovering every curve. Naturally, Taylor then gets to her knees and lets her mouth do the exploring. Mari, to please herself and her audience, throat fucks Taylor, who just can't believe what's happening. Of course, it's not long before Bree has had enough of just watching. She joins her friend at Mari's feet and they both pleasure this goddess. One takes care of her ass, the other her massive cock. The pair both then take said cock between their lips, their lust and hunger unleashed.
It's not long before Bree's greed takes over and she gets her girlfriend's cock all to herself as Taylor plays with her pussy. This then leads to Taylor sitting on Mari's face as Bree continues to pleasure that awesome member. The two blondes then decide to make Mari cum as one gives her a tit job and the other sucks. Understandably, Mari doesn't take long to cum all over Bree's face and tits.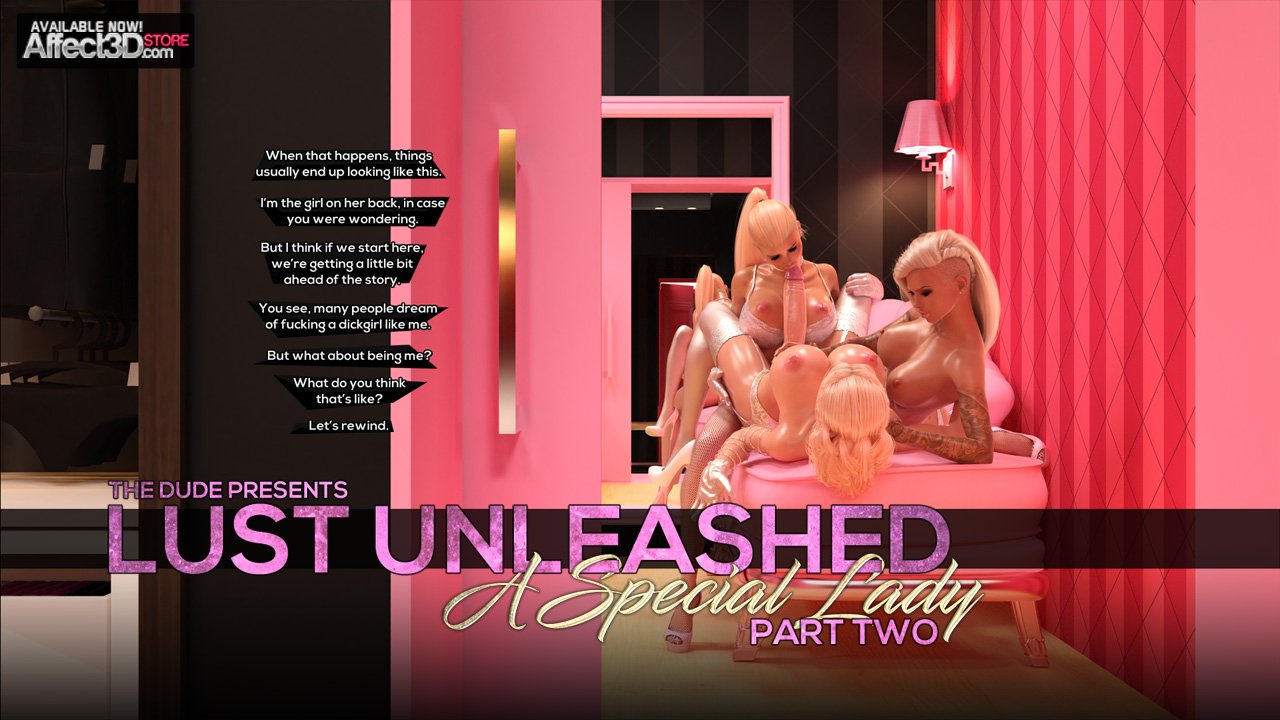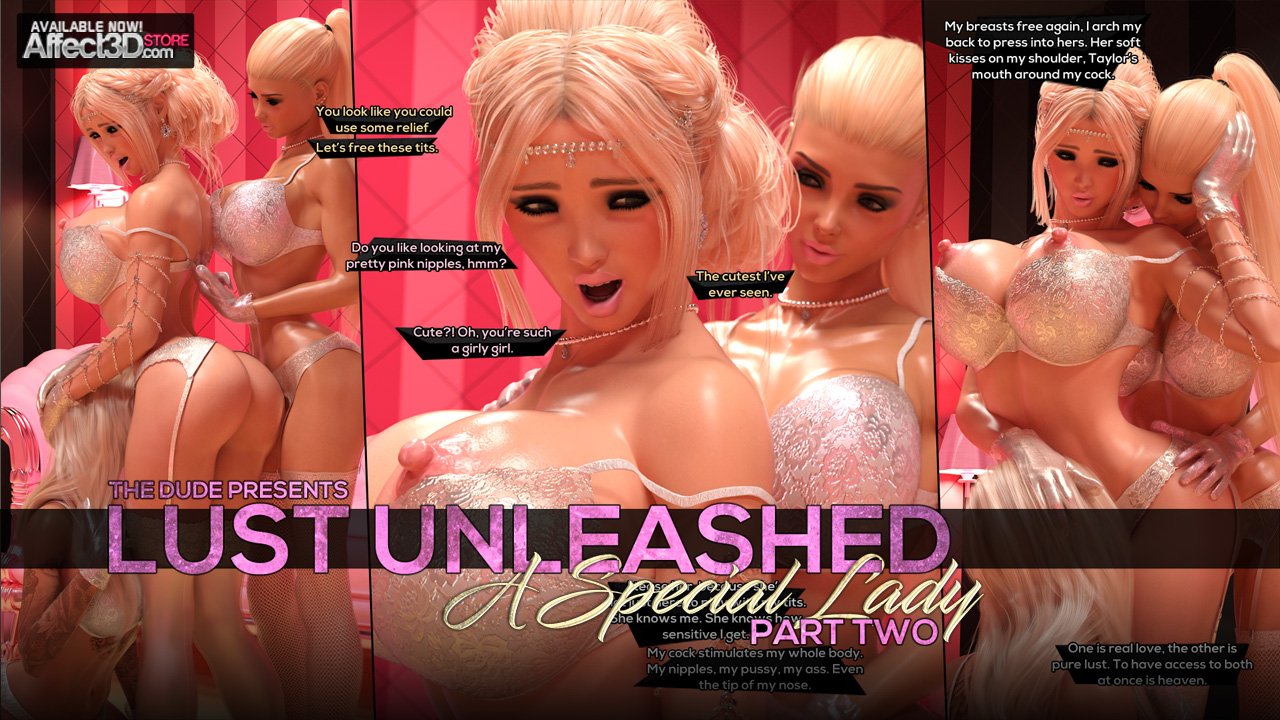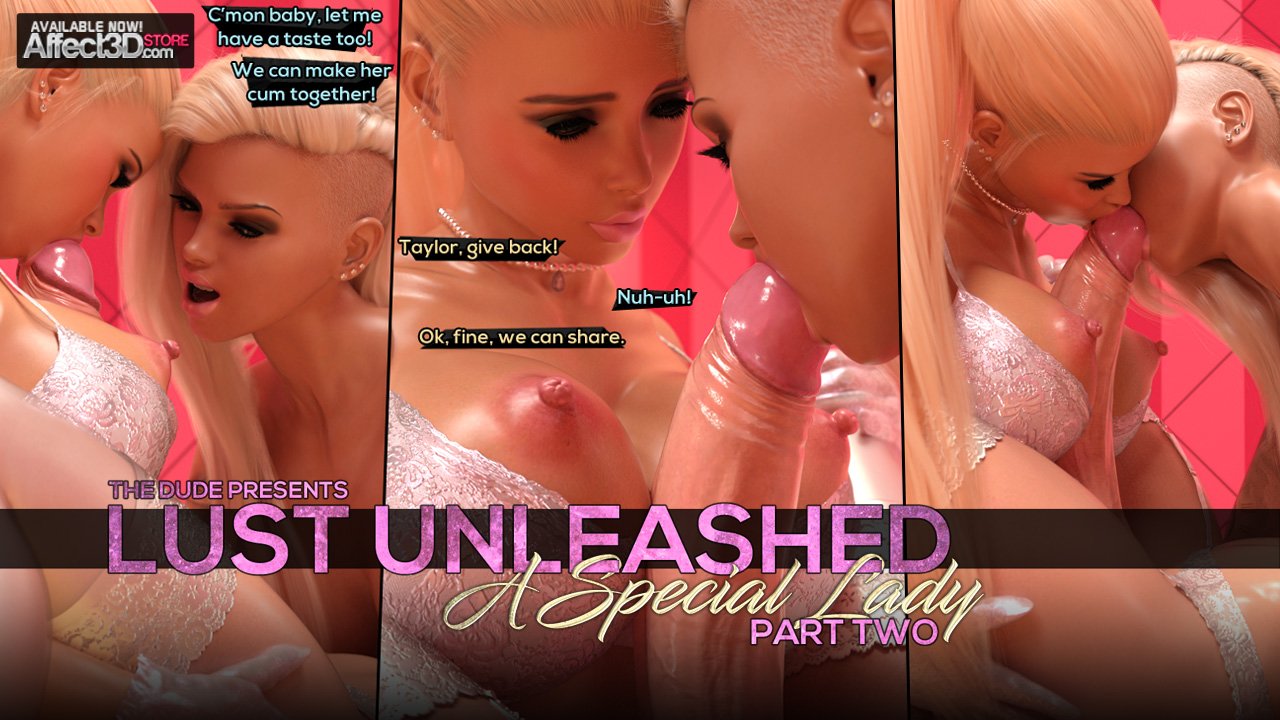 What I love in The Dude's recent comic work (besides the epically hot bimbos) is the inner dialogue and search for self. We really get a sense of Mari's character and desires. It's more than just sex in this series, it's about identity and the unique nature of these goddesses with cocks.
A Special Lady Part 2 – Renders Only contains 56 images rendered in 4k and is available for $9.95. The Comic Only version takes the same 56 images from the render version, assembles them into a 20-page comic with dialogue, and is available for the same price. You can grab either or both in the Affect3D Store now!
22 March 2020 Update: The Dude has added a discount for users wishing to purchase both the renders and comic together. You will now receive a $5 discount if you purchase both items together in the same transaction. If you purchased both of these products on 21st or 22nd of March you may email [email protected] with your transaction number to receive a $5 store credit.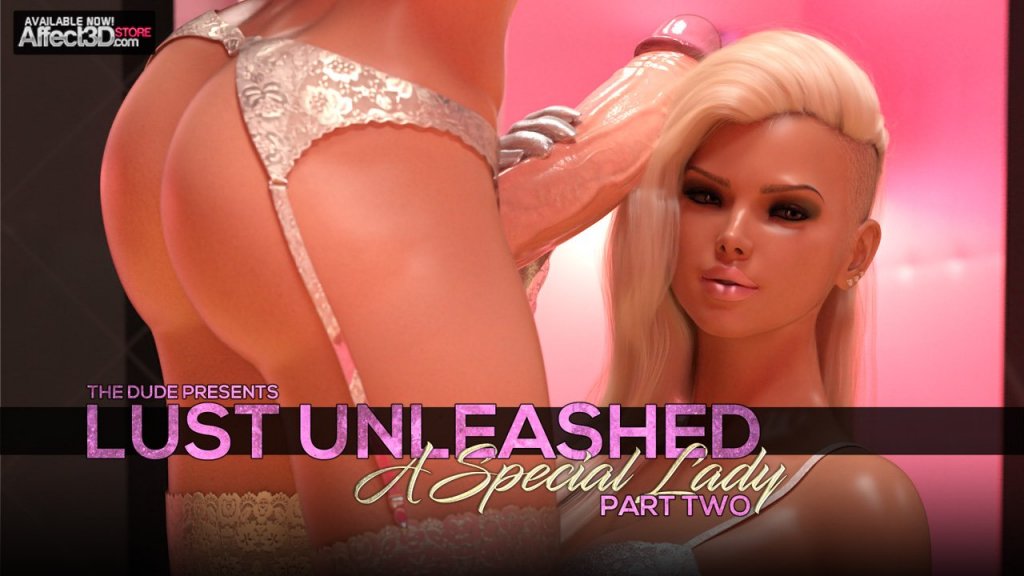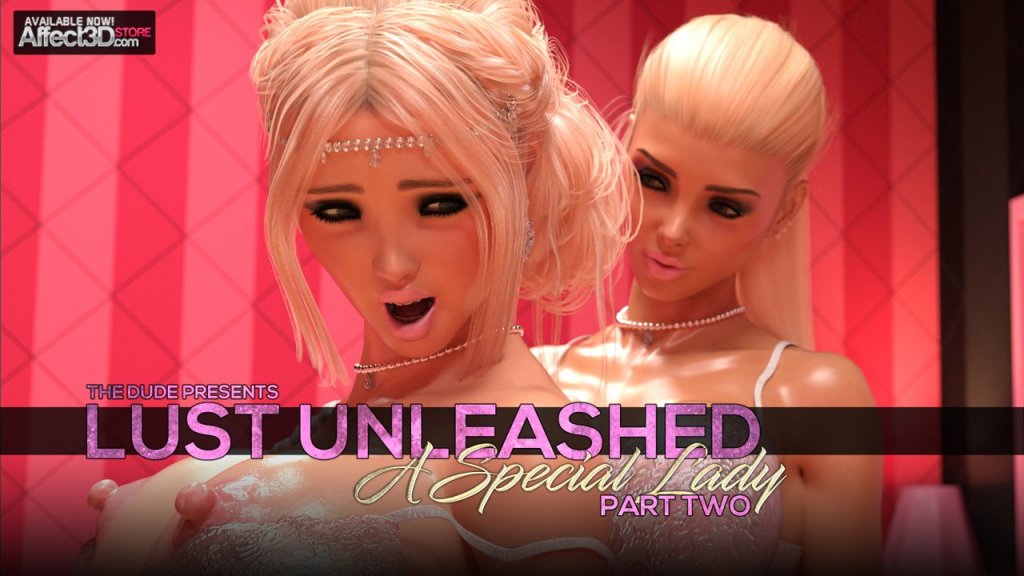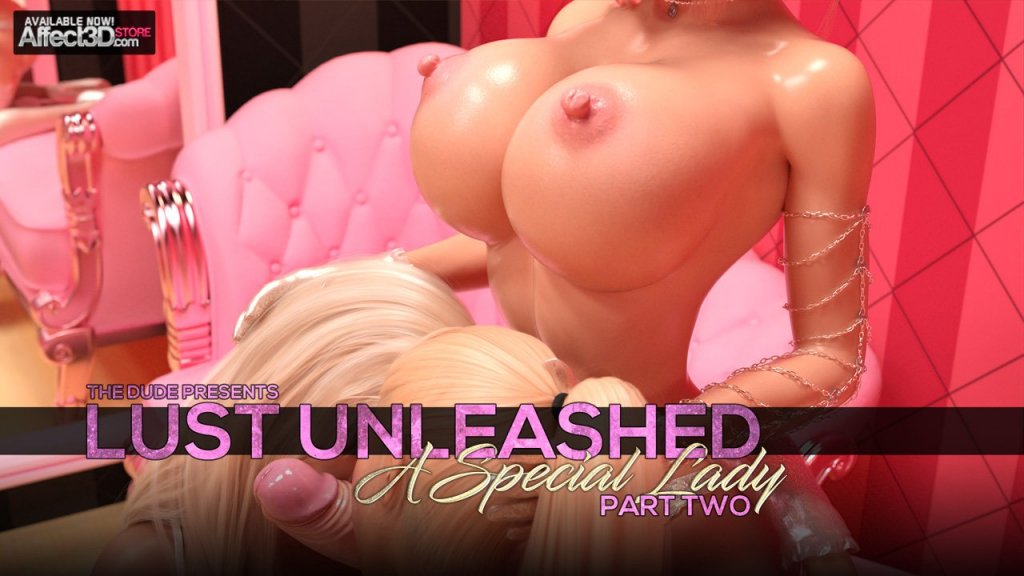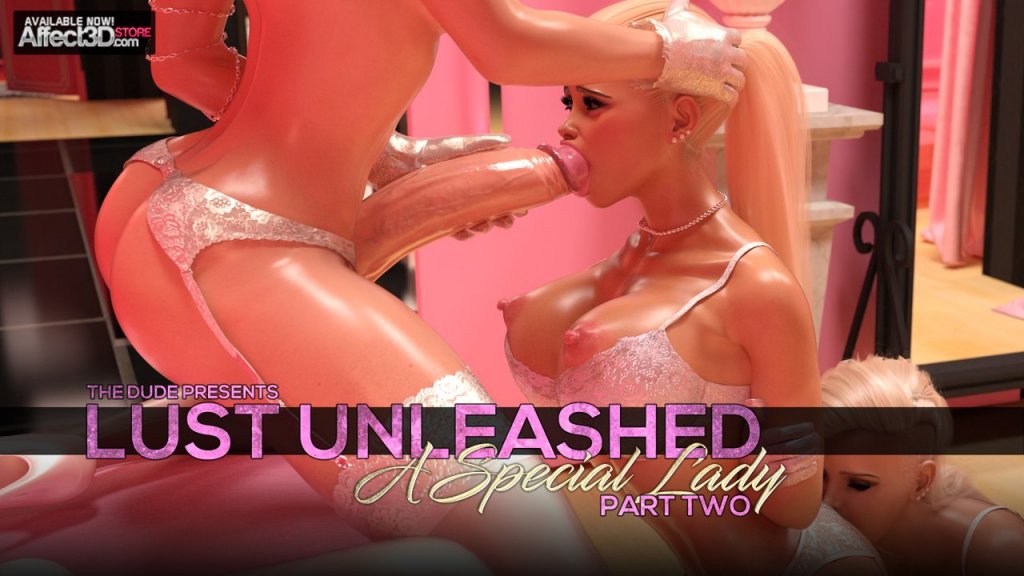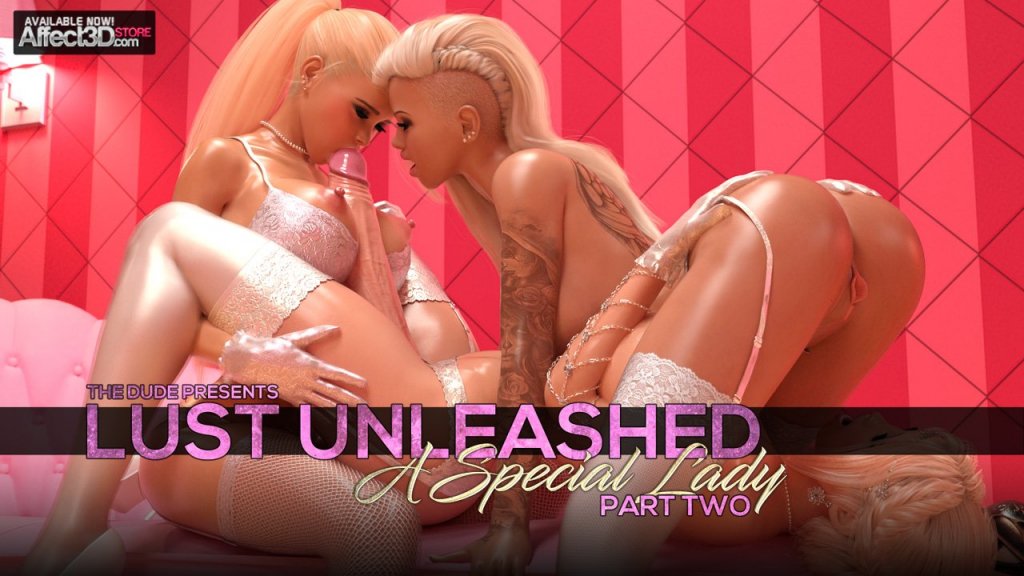 Preview from The Dude: A Special Lady Pt. 2 and more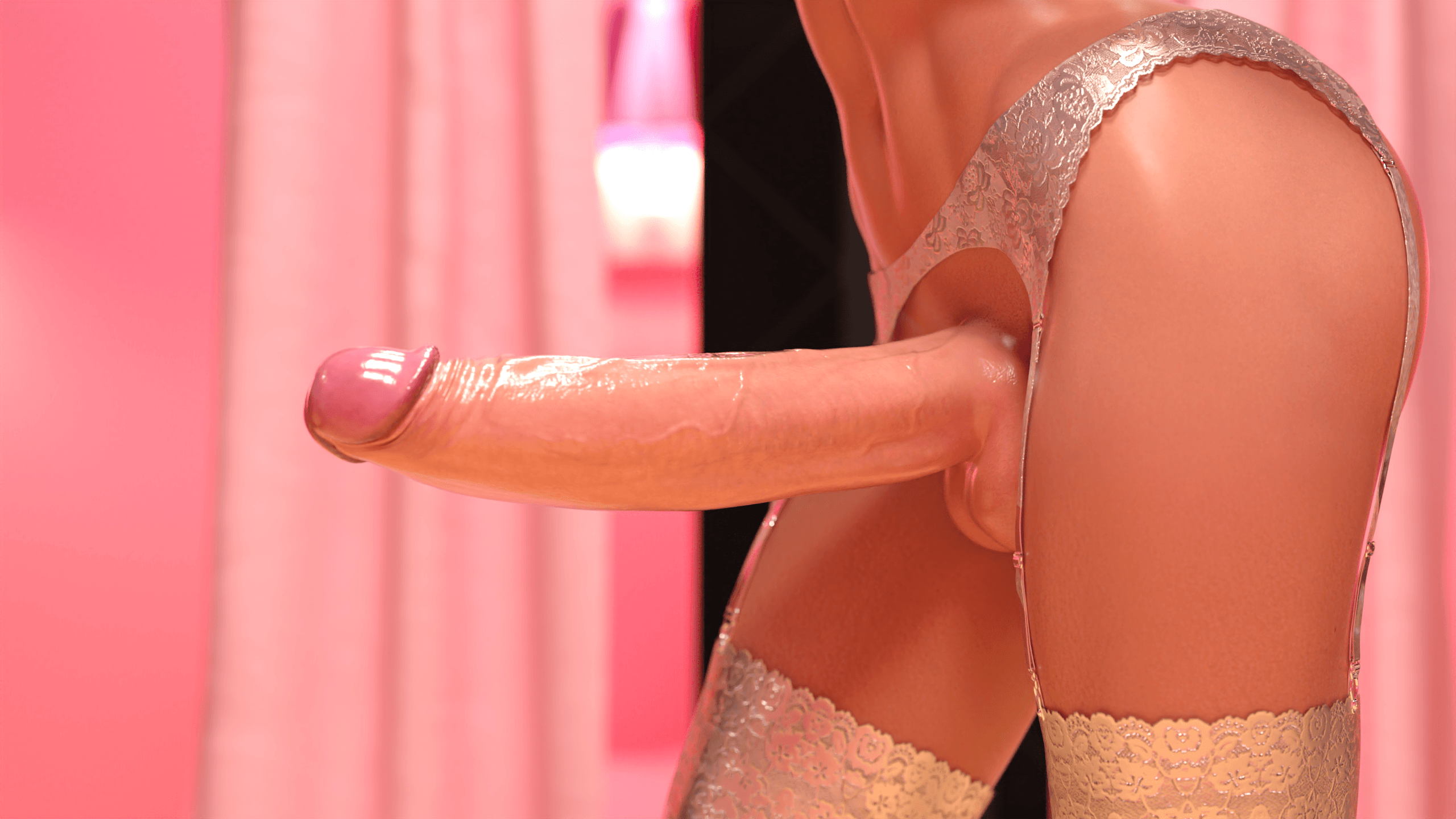 It's been a while since we've received an update from The Dude, so we decided to check in and see what's on the rendering board. Perfect timing too, as A Special Lady Part 2 will be released at the end of March. That's just a few weeks away, and we've got a few teaser images to share now. The Dude also wanted to share Legacy, currently available on Patreon.
The Dude: "The Legacy comic is a set I've been working on across the period of a year. It's a story set that includes a comic numbering 60 pages, and a render set of 200 images that I created the comic from. On Patreon, if you want just the comic you can get it now in the Desire tier worth $5, and if you also want the 200 renders, you can get that from the Craving tier and up, that starts at $10.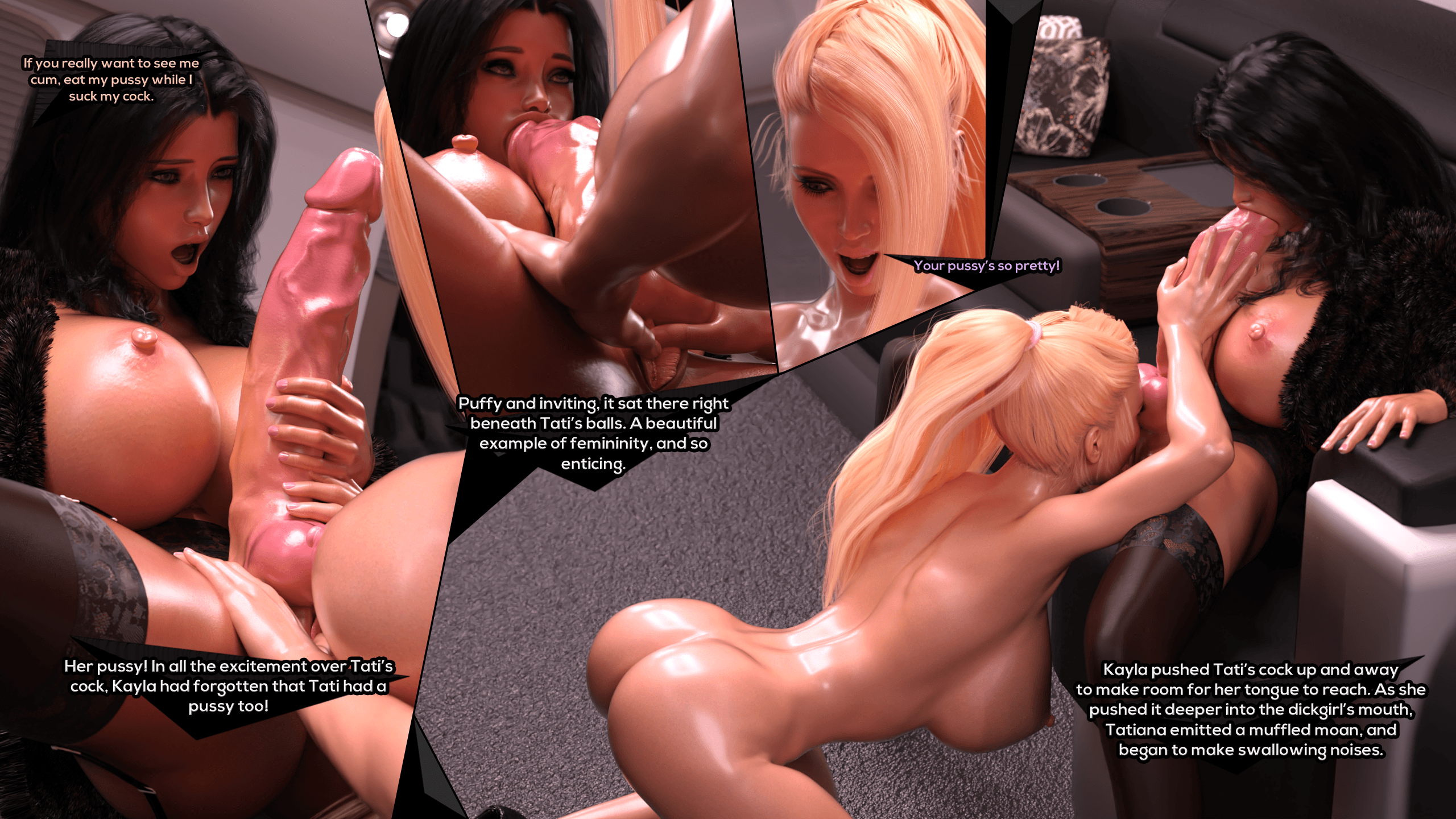 "The story follows Kayla's first time meeting Tatiana, and with that meeting a dickgirl for the first time in her life. Kayla is the CEO of a biotech company and Tatiana has a special request to make. In order to convince her, Tatiana invites her on her own private jet for a one-on-one. It's a big piece of the Lust Unleashed story and lays the foundation for how and why dickgirls exist in this world."
Sounds like a great reason to check out The Dude's Patreon. Just like fantasy and magic, the how and why of dickgirls is always a major point of curiosity. The jet-setting sex is obviously worth a peek too.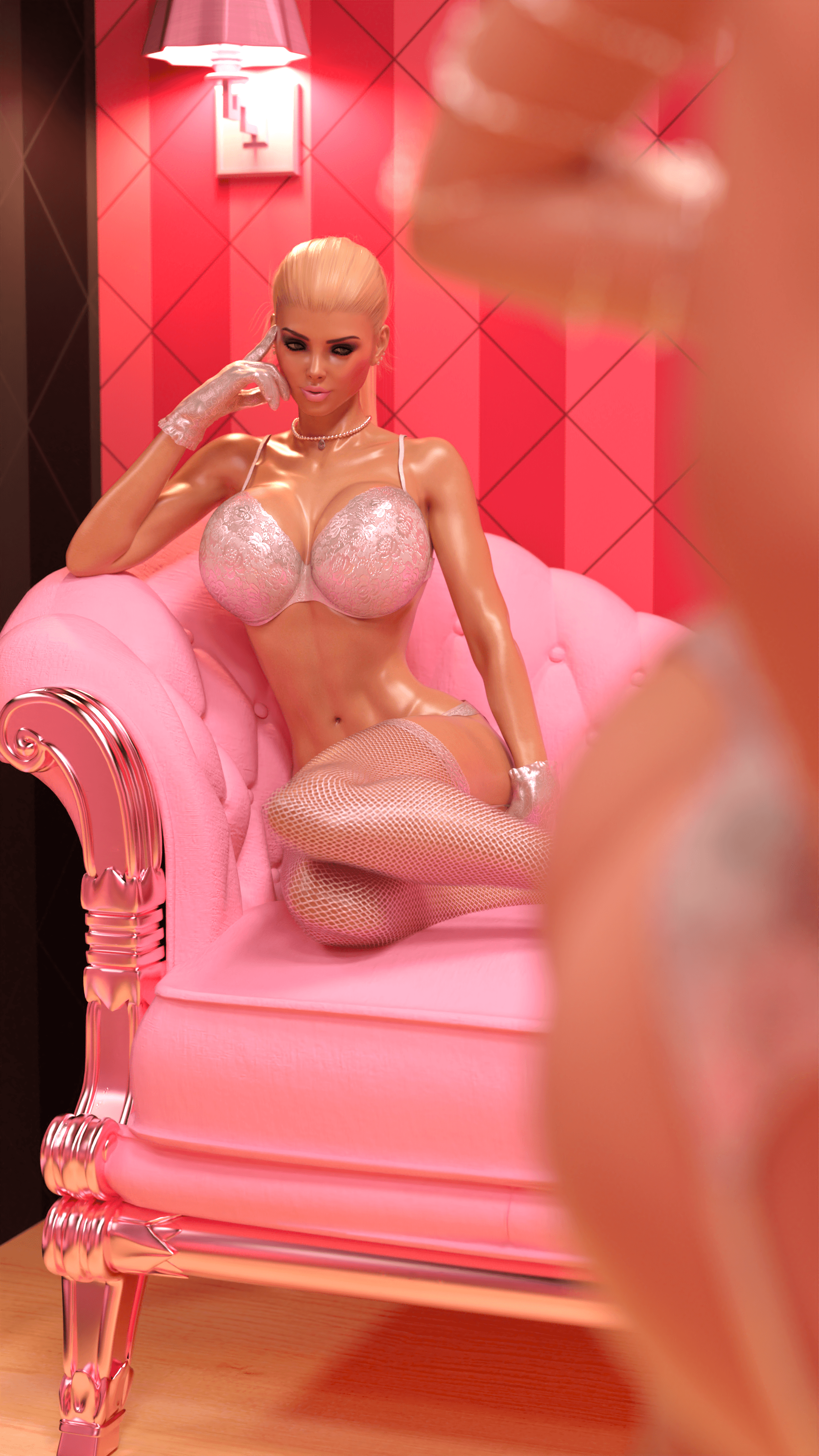 The Dude: "As for A Special Lady, that takes place at a far later point in the LU timeline. I'm not telling the story in sequence because I want people to puzzle things together themselves a bit. In this case, Mari is a dickgirl created by Kayla, out shopping with her girlfriend Breanna. Upon entering a lingerie store in part 1, Breanna discovers that Taylor, an old girlfriend of hers works there. At first Mari is a bit jealous, but once she is introduced to Taylor sparks fly quick and the girls start having fun together. Part 2 picks up where Part 1 leaves off, namely with the girls deciding to try out bridal lingerie. After all, Breanna and Mari do have wedding plans and what better chance to doll themselves up in a practice run for their honeymoon? With Taylor putting their outfits together, this is going to be a very lingerie-focused, super girly set."
Lingerie shopping with your dickgirl fiancé is sure to get hot in a hurry, as we can see here. More importantly, though, that gives us a whole lot more to look forward to. Bachelorette party, wedding, honeymoon… so much excitement coming soon.
For more, be sure to follow The Dude on Slushe, or support him on Patreon for the most up to date news directly from him.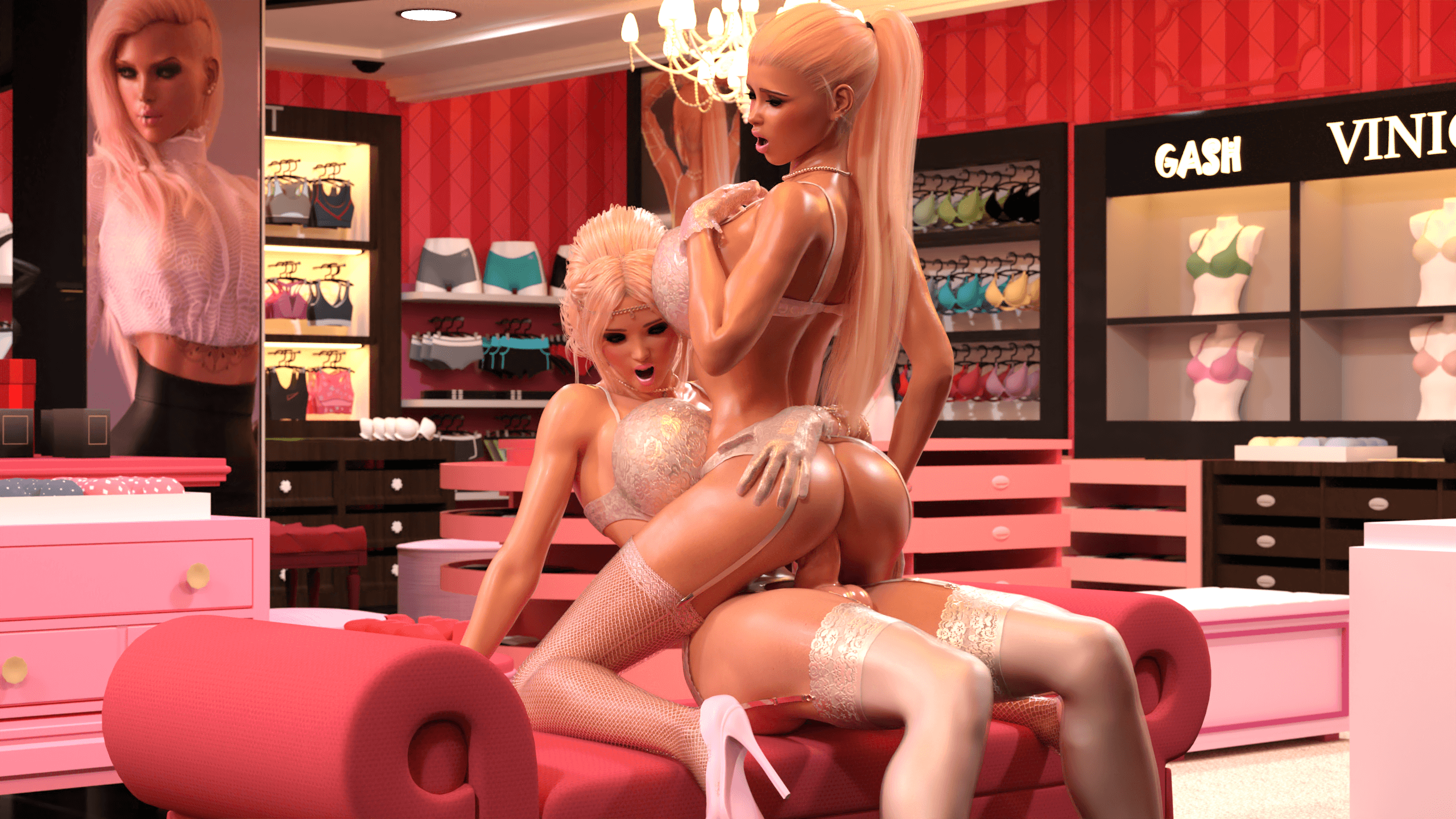 Who are the girls of Lust Unleashed? – Meet Taylor!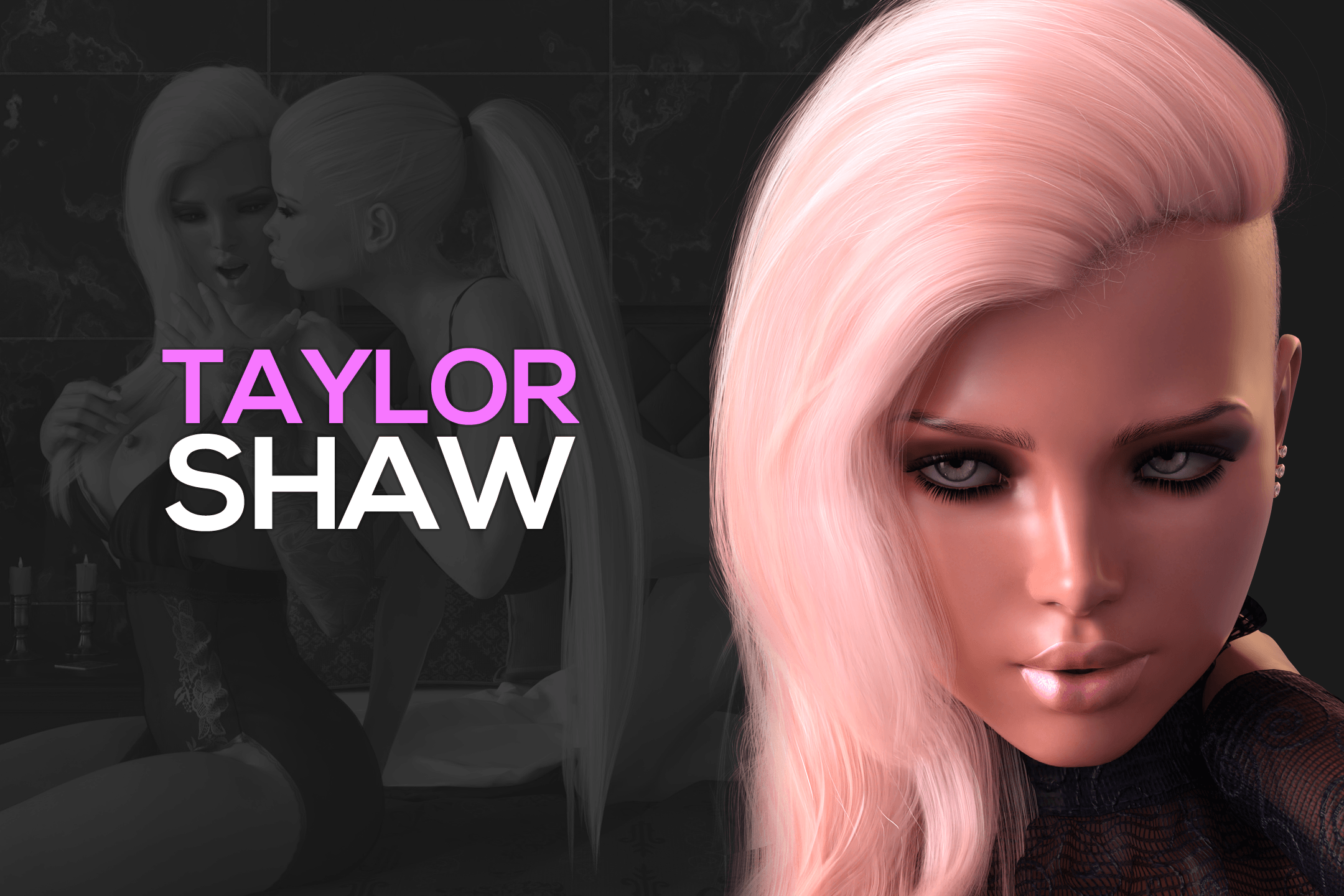 Hey everyone, The Dude here! If you've been around on Affect3D for a while, you've seen this Lust Unleashed page and you might've wondered just what Lust Unleashed actually is beyond the name that I give to my releases as an artist. Some light will probably have been shed on it by the interviews that were posted previously, as well as the more recent posts that Anael put here. Those, and the Lust Unleashed Ascension comics as well as the most recent release of the Kayla Meets Marcella comic. Which I think was rather fun!
Across all those interviews, posts, and full set releases, you might've seen a running theme: human alteration. Or rather, human perfection. Whether it were Yelena and Tatiana in Ascension, or Kayla and Marcella in their respective comic, clearly the ladies of the LU universe are in pursuit of a certain kind of perfection. Some of them have become dickgirls, others simply seek to steer the urges of society and create a world in which human lust is the motivating force. A world where lust is rewarded, celebrated, and unleashed.
Today, we're going to shed a little bit of led on the company owned by Kayla Carter, and the program she offers to young women looking to enhance their appearance: Zenith. As we discovered in the Kayla Meets Marcella comic, Carter Aesthetics eventually ends up creating dickgirls. But before Kayla managed to get her hands on the ability to do that, she was already in the business of enhancing girls' looks. Taylor Shaw is an example of one such happy client. Some of the content you will see here is going to be Patreon exclusive, but the main transformation brochure that I will tease here is going to be part of my upcoming release on October 16th as well!
Meet Taylor!
The girl you see to the right here is the end result of Zenith's careful tweaking. In the Lust Unleashed universe, plastic surgery is a thing of the past, and everything is done through genetic alteration. Taylor had been feeling insecure about her old body all her life, so when Carter Aesthetics gave her the opportunity of a lifetime, there were no second thoughts at all.
Taylor's always been a bit of an alt girl, leaning on the punk side of girly girl. Friends with Breanna Marshall since childhood, the two girls have maintained an intimate relationship ever since their late teens. Not quite girlfriends, not quite friends with benefits, they are somewhere in between, but Taylor felt a little bit left behind when Breanna's inherited wealth allowed her to get all the tweaks and upgrades she desired from Kayla Carter.
In a world where beauty is accessible to everyone with the money to pay for it, the contrast between hyper-attractive and regular becomes stark in a hurry. It was then that Kayla Carter saw an opportunity; a way to create someone indebted to the company, someone who would be the best spokesperson for Carter Aesthetics and Zenith possible.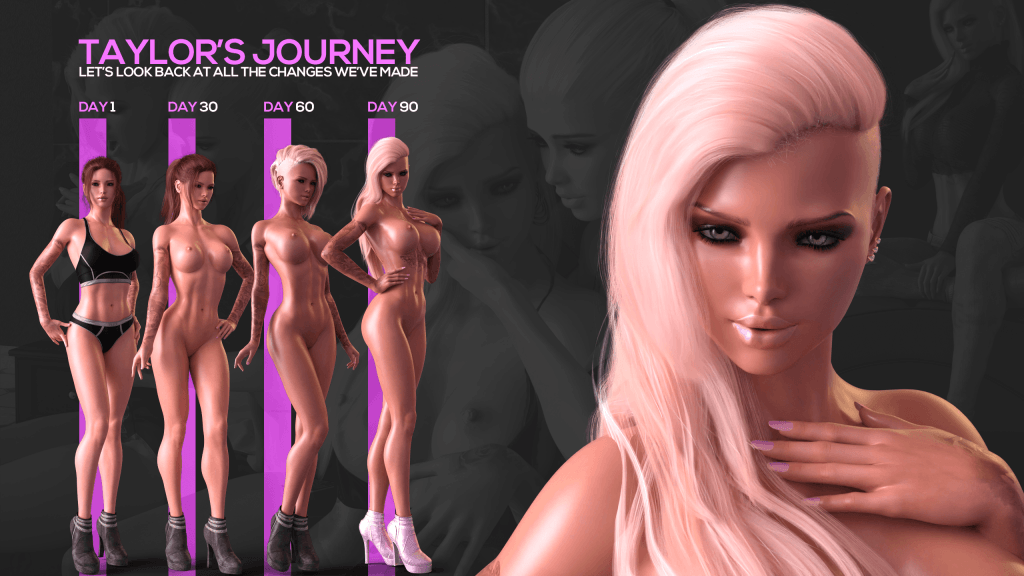 Taylor's body went through a rapid, but focused change. This is laid out in detail in the brochure I'll be adding to my October 16 release! In essence, it's a bimbofication timeline with added layers. It covers everything from detailed looks at chest and waistline alterations, to facial changes, to wardrobe. The above slide is actually just one page out of seven, tucked in toward the end as a summary. The full brochure takes you on a journey from the old version of Taylor you see on the left, to the bombshell she became on the right. Though I have to point out, in the actual brochure her lips have a pink shade. WordPress file compression gave her this skin-colored tint.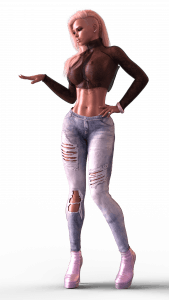 To Kayla Carter, Taylor Shaw is an unmitigated success. And Ms. Shaw herself agrees! Now employed as Kayla's new secretary, she's the perfect PR face of the company, and through her friendship with Breanna Marshall allows Carter Aesthetics to keep a close tab on the goings-on of the upper echelons of society. And soon Taylor will be shouldered with a new responsibility: evaluating the performance of the most succesful ladies to come out of Carter's dickgirl creation program, like Marcella Santiago and Mari Benson. Can she remain professional in a world where sexual desire tempts her at every corner? Or will her unbridled lust only allow her to be better at her new job?
All that and more will be revealed in future comics. For now, if you want to learn just who this Marcella is that Taylor's going to have to work with, check out the Kayla Meets Marcella comic! And if you love world-building content like this, there's a lot more of it on my Patreon! Patrons will have exclusive access to a lot of the content that I use to create these interviews, biographies, and brochures with, as well as to special minisets and of course new comics!
Of course you can always just wait until I release my official Affect3D-exclusive sets as well, which have plenty of nice goodies of their own to offer! Next time we're going to cover a new girl, as well as look forward towards some future sets. See you then!