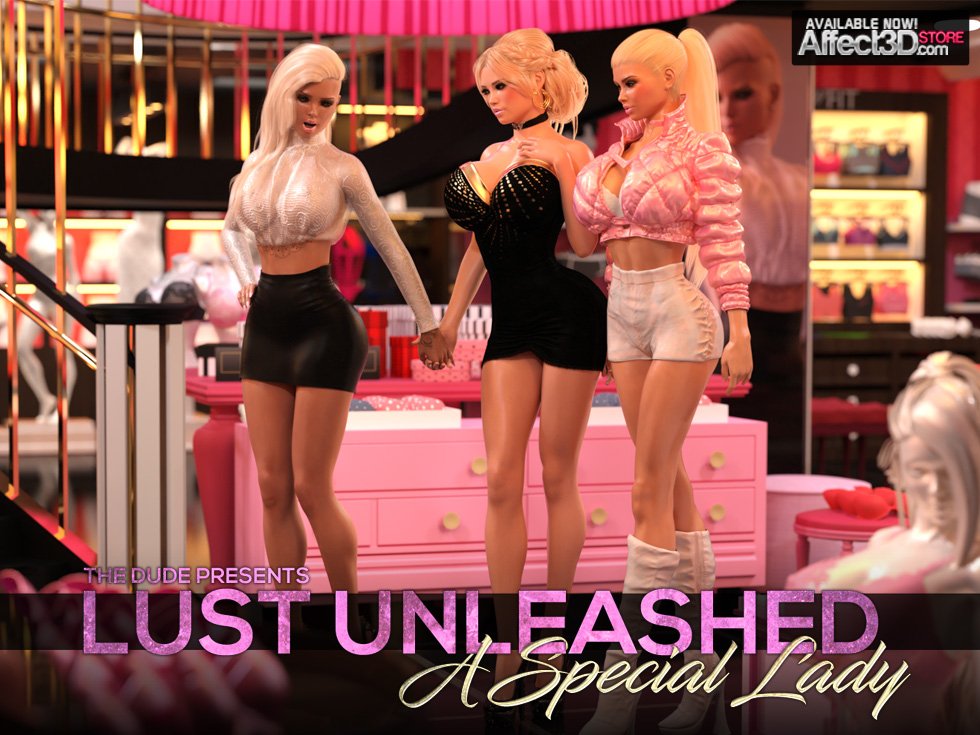 The Dude is here, just in time for the holidays, with another futanari marvel. Blonde bimbos with big tits and insatiable sexual appetites are once again front, center, and spread in an image set and comic from the Lust Unleashed universe. This time we're tagging along with Breanna and Mari as they meet Taylor, an old lover of Bre's, in Lust Unleashed: A Special Lady.
On a night out with her girlfriend Mari, Breanna decides to stop by a Carter lingerie store just before closing. Inside, Breanna runs into her past fuckbuddy Taylor. Can Breanna maintain a balance between past lust and current love, and might Taylor be enticed into trying out Mari's dickgirl perks?
What's included
65 Images from main set, in 1440p .png
27 Additional Comic Pages with dialogue (comprised of main set renders)
8 Bonus Lingerie Images
The Dude seems to be exploring the art of the bitch death stare in this one. When the girls wander into the store there's a fair bit of tension and jealousy right off. We also get a bit more story from Taylor's perspective. Leaves you wondering if Breanna planned this little run-in. There's not much time to ponder, however, because in the Lust Unleashed universe things descend into wild debauchery pretty quickly. By the time Breanna slips Mari's hard futanari cock out from under her dress, any ill will between the girls is on the way out.
Taylor admits she's more into pussy than cock, but after her and Breanna take turns letting Mari slip and slide her cock into and around their wet holes, she might soon be singing a different tune. By the end you're wanting a lot more, but The Dude is going to make us wait with the tease of a glamorous lingerie fuck fest to come.
You can grab The Dude's latest in the Affect3D Store now. Lust Unleashed: A Special Lady is just $9.95 for 65 images, 8 pin-ups, plus the 27 page comic version. Get your holiday shopping for yourself sorted now!