Today's featured picture is: "Mei Mei on the prowl" by Supersolidusnake. True to its title we see a beautiful Asian lady, who looks like she has her prey in sight. Before talking some more about Mei Mei herself, I would first like to mention how beautiful the surroundings look! It's all in the details and it really breathes atmosphere. Just look at that wall screen in the back. [Editor's Note: For a reminder on how important environments are, check out yesterday's column by The Dude, or Bianca Rose's column on the matter.]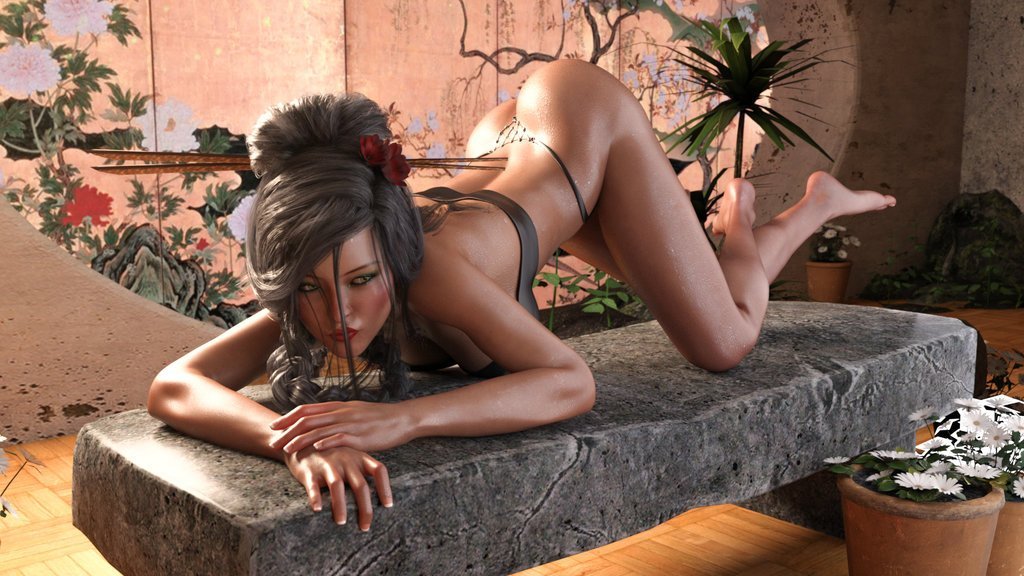 Now on to the main attraction; I absolutely love her pose! Now prowling can have several meanings (as far as I'm aware). It can be about animals that are moving quietly around an area, especially when on a hunt. But it also slightly has the annotation of someone looking for a romantic or sexual partner. And I think both can fit this image really well, since she has a bit of a cat like pose, while also showing of her body in a very sensual way.
Her expression is also very interesting as she has a little bit of a pouting face. Which, on closer inspection, looks a little teasing as well. And let's not forget her great hairdo!
Another thing to notice is the use of lighting. It looks really natural and creates a nice contrast of light and shadow on Mei Mei's body. You can also spot some tiny droplets on her skin.
All in all a very detailed and lovely picture if you ask me!
If you would like to see more of Supersolidusnake's work, please take a look at his Deviantart page!