It's my first time looking at a work by DemoDemon and I really didn't know what to expect. Erobitch Yui, it turns out, is a play on the word aerobics. The samples teased the presence of two cyclops and the well-toned figure of a gym girl. How could I not be intrigued?
15 minutes later, I still had no idea what this was all about, but boy did I enjoy it!
The Story and its Characters
Honestly, there is none. In fact, the only way we know the protagonist is through her name in the title. This surprised me but I soon realized that the story really didn't matter for some reason. The first scene began with Yui bent over backwards on a couch as the one eyed orc's pushed their enormous cocks into her mouth and pussy. Why they were doing this mattered very little to me at the moment.
Yui is shown to be a shy type of girl, seemingly hesitant about being penetrated from both ends of her. But there is an unwritten change in her attitude soon after. DemoDemon are really good at showing how their characters mature simply through the course of a few sexual encounters.
Sex and its Animation
It came as no surprise to me that DemoDemon clearly knew what they were doing. The most common sin among 3DX developers is usually their repetitive scenes. Any animator can come up with sex positions and scenes, but not many are able to promote it from feeling like a glorified GIF. Erobitch is one of the exceptions. The animation is literally alive. Yui isn't stuck in a single pose as she gets fucked. She is constantly readjusting her body to feel comfortable or moving her arms to get a better grip around the bodies of her partners. This sort of behavior however is lacking in the cyclopean orcs.
Nevertheless, the insight that went into realistically animating the scenes really impressed me. The variety in positions and moves would be sufficient in satisfying the most skeptical of critics. From blowjobs to fisting and all the while double penetrated gives an all-around wholesome experience. There's even an ecchi bonus scenes for the softcore lovers, a demographic often under-represented in 3DX.
In addition, texture quality and their distinction between the soft skinned human girl and the rugged appearances of the orcs also yelled experience and expertise! It was a sight for sore eyes to watch lighting and shadows work hand in hand. My only qualm? Yui's hair could've been done better.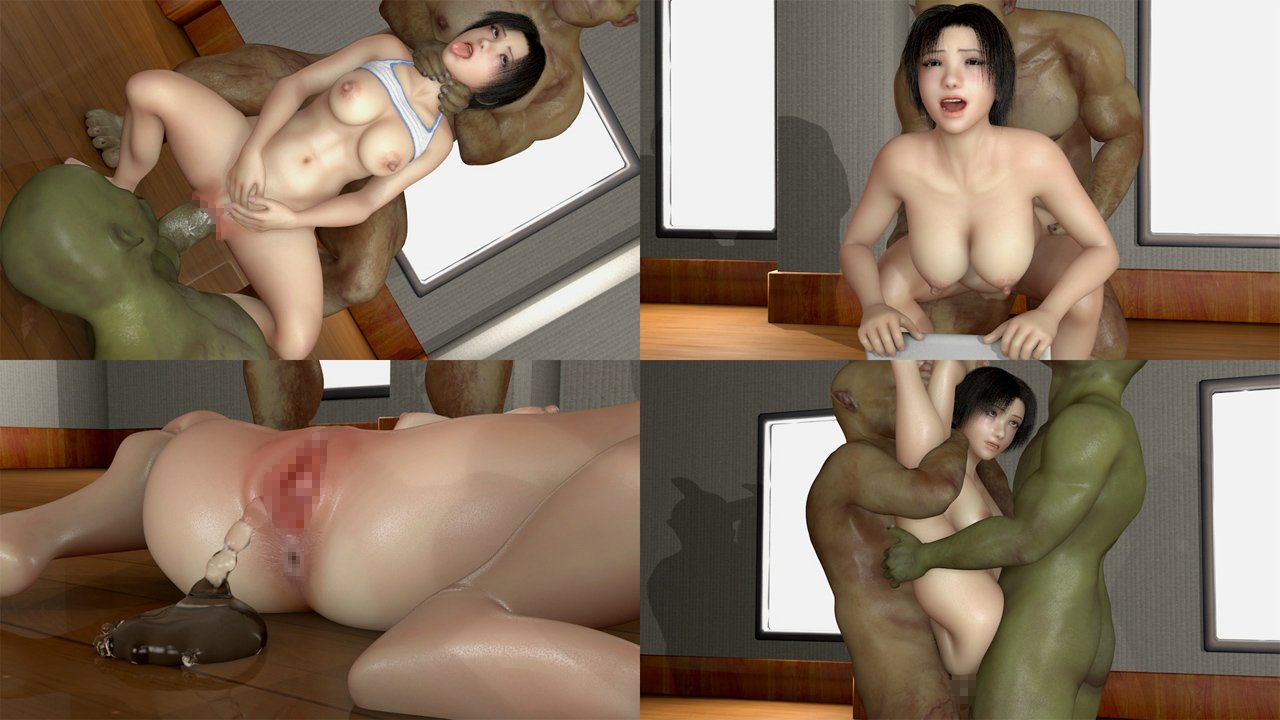 Sounds and Voices
Due to the distinct lack of story and dialogue, one might not expect very much from this segment. However, DemoDemon did not leave us wanting. While Yui sure enough has only a handful of Japanese lines that amount to classics such as, "What?" and "Oh My God!", her moans and squeals are a dime a dozen. Not to imply that these sound effects are in any way inferior. Just like the variety in movement, poses and sex, the sounds also change in accordance with what's going on right then. Furthermore, there's a bonus non-sexual scene that comes in both 30fps and 60fps where Yui goes through a lengthy aerobic routine and calls out movement changes in rhythm to pump up music.
Conclusion
DemoDemon's works are an embodiment of how not to appear repetitive. Every scene is fresh and feels new, giving a wholesome look at DemoDemon's capabilities at creating top notch 3DX. While a lot of us look for "plot" in our erotica, there's none in Erobitch Yui, but a whole different kind of plot keeps us glued to the screen. In addition, the sex scenes and the sounds go hand in hand to complement the realistic experience put forward by the amazing animation!
Don't hesitate to check out Erobitch Yui on DLsite!