The year is 20XX and civilization has collapsed. Savage bandits and vulgar creatures run rampant on cute girls. It's an age ruled completely by violence and sex. One hope glimmers, a fighter known as the G Warrior who derives strength from pleasure. Can Kyoko, the G Warrior, save this world?!
Available now at DLSite, Etching Edge's newest erotic title, KYOKO to the MAX, continues the classic side-scrolling action trend in this post-apocalyptic beat-em-up game!
Graphics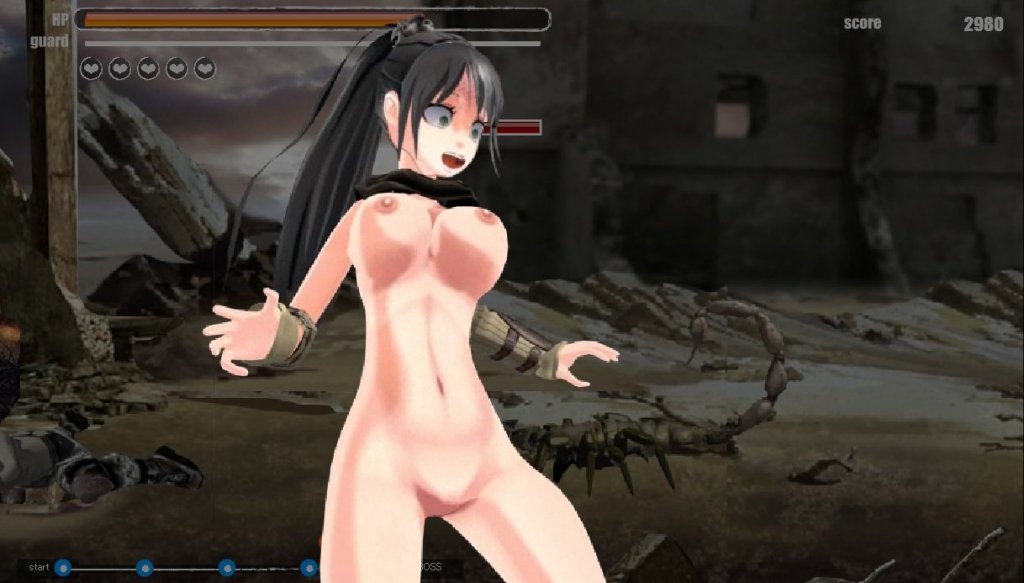 KYOKO to the MAX features a motley crew of enemies for our bikini warrior to face. Giant scorpions, sex-crazed bandits, lizardmen, even semen spewing phallic tentacles. As Kyoko, everything in the badlands wants to kill you or fuck you. Or both, but that's what makes this game interesting!
Etching Edge's graphics creates a world gone truly mad. The amount of detail put into making the desolate wastes in the background really give off that "Judgement Day" feeling. As for the characters themselves, they're cel-shaded 3D renders so they're bound to please 3D and anime fans alike. In fact, this group displays their talent as artists by showing distinction between the main characters. This ranges from them being strikingly attractive like Kyoko or horrendously grotesque like the mutants she faces. While the minions spawning tends to get repetitive, it makes reaching the boss rewarding for a good ol' fashioned sex battle.
On another note, this game's UI is easy to figure out. Etching Edge is kind enough to provide instructions in the main menu, but it has all the HUDs you'd see in your usual fighting side-scroller. The only fun additions would be the sensitivity gauge below your guard level—and the option to run around as a bikini hero or kick some bandit ass stark naked. I personally prefer the latter out of sheer appreciation for this game's "jiggle physics."
Sex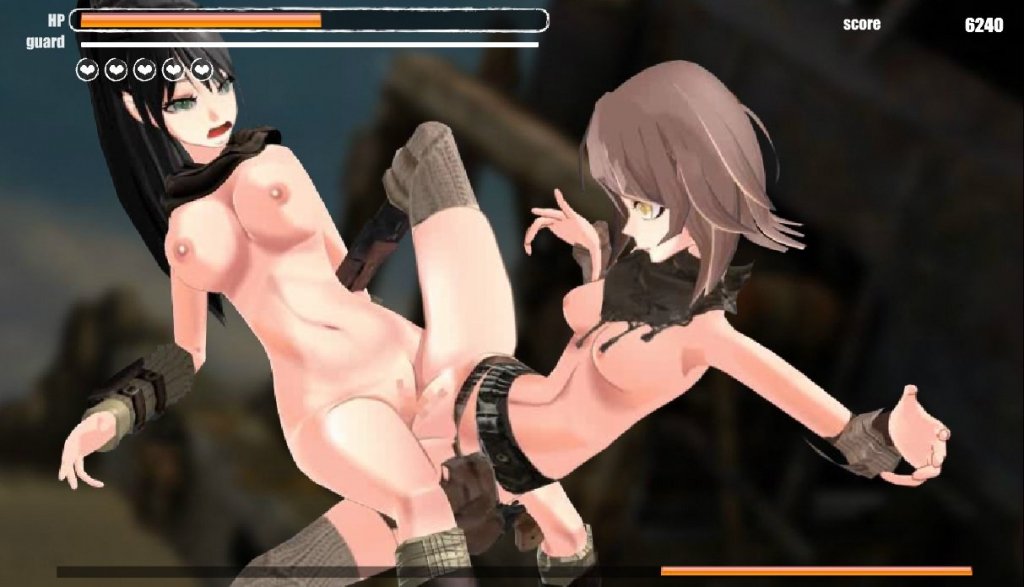 Sex is this title's main selling point. Sure it's fun running around mashing combos against some baddies, but it gets tedious rather quickly. To combat this inevitable sense of repetition that is sure to hit players after clearing the first wave, Etching Edge adds sex into the combat system. In Kyoko's case, pleasure is power. Given enough sensitivity in her gauge, Kyoko will masturbate for brief duration of time to create a climax powerful enough to send shockwaves to insta-kill any low level opposition. This gives players something fun to watch as she "powers up" to destroy the opposition instead of succumbing to the void of button mashing.
Losing isn't so bad once you face off against a boss too! Usually it sucks to lose when you're close to victory, but each loss against a boss creates an animation or CG of the busty Kyoko succumbing to the unrelenting lust of her adversaries. If you do manage to succeed without triggering the defeat event, you can still watch it in gallery mode so don't fret!
Sound
The music for KYOKO is reminiscent to some old school arcade games. The kind of soundtrack that gets stuck in your head in a good way. It's catchy and gets you ready for a fight, but there's no change from the soundtrack except the main menu.
There's little dialogue in this title, but the voice acting is still great. With only three voice actors in the booth, the fact that they were able to distinguish between several different characters without a hint of sounding similar to their roles is impressive. The moans of Kyoko were the ones I enjoyed the most. Whether she was fucking herself or getting fucked, her voice was just plain alluring.
The only drawback I found is the lack of sexual sound effects. There's no sound of wet flesh-on-flesh action. It's not enough to completely draw the player away from the fantasy of the game, but I felt it's something worth noting.
Control and Gameplay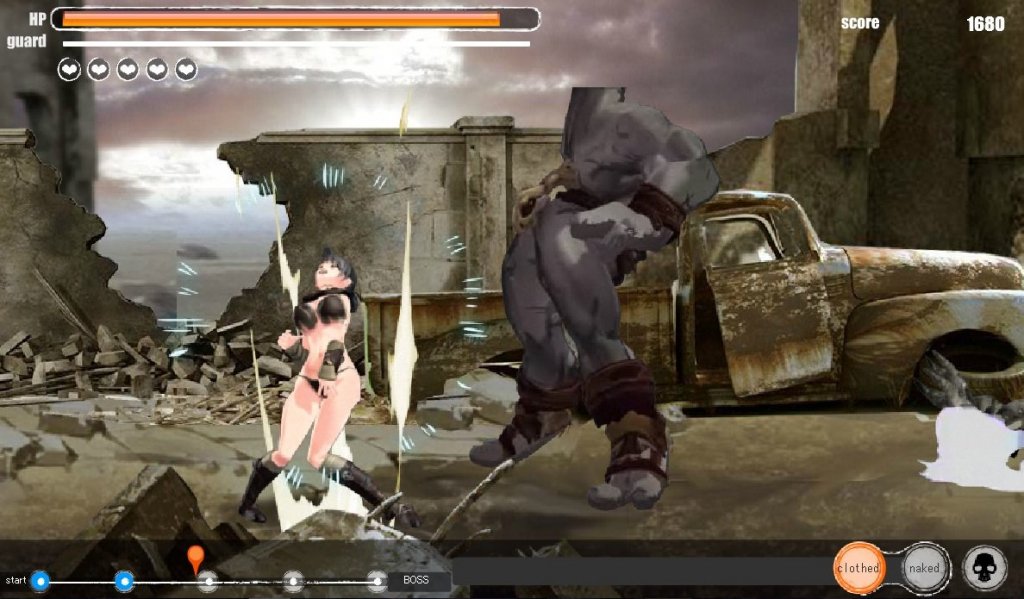 KYOKO to the MAX is as easy it looks to play. You move via the arrow keys and perform basic attacks with the Z key. The X key uses the orgasm attack. It's almost as if this game features the concepts of Final Fight and Double Dragon but for adults only! But instead of making enemies blow to bits with her bare hands, Kyoko makes them explode with her climax. It's pretty hot.
Despite the game's simplicity, I do like the fact that it forces you to strategize at times. While you can normally combo your way through the stage, sometimes the odds against you call for Kyoko's special attack. Charging up for a blast attack leaves you wide open so it's not something that you should do recklessly. This adds a little challenge for players.
Conclusion
Before I conclude this review, there's one thing I would like to address before you buy this product.
This game is from Japan so there's mild censorship involved, but not enough to cover up all the juicy details.
KYOKO to the MAX is a game that brings together classic gaming and erotica. While some fights tend to get tedious, it makes up with the challenge that only bosses can provide. It also takes away the sting of defeat by giving the player a full view of the game's hero getting a good pounding. If you're into monsters and babes, then check this game out!