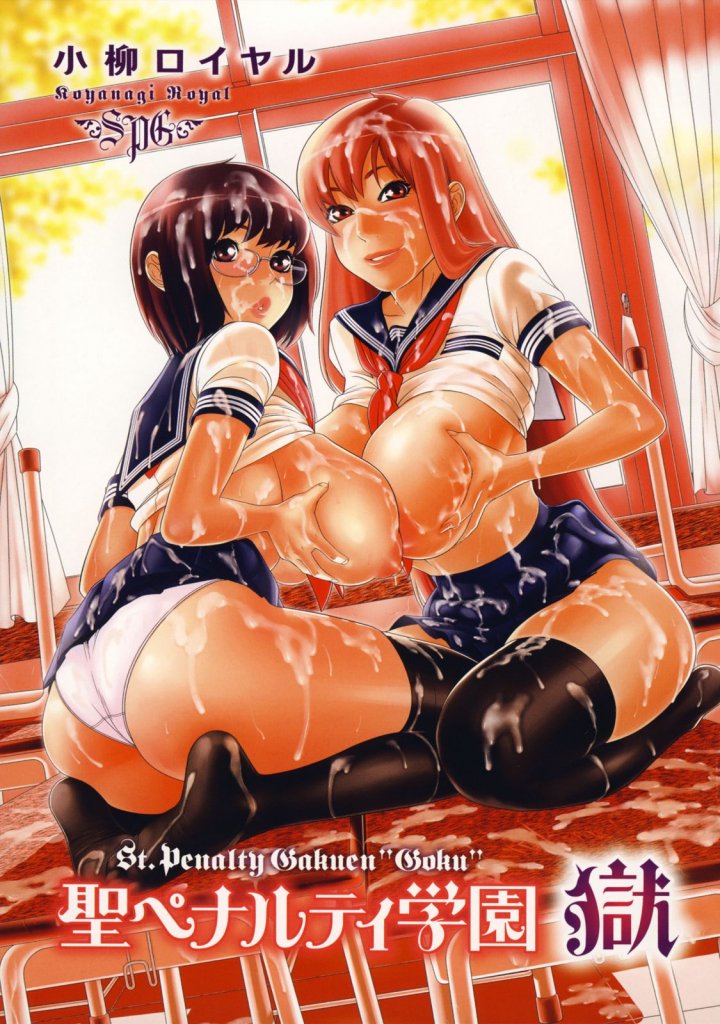 Synopsis
Who says uniforms are only a feminine fetish? I can definitely recall more than a handful of euphoric moments enjoying some well drawn uniformed women, not least of which are moments from St. Penalty Academy!
With a clear knack for the wet and steamy, one of Royal Koyanagi's flagship works, St. Penalty Academy is a 200+ page tribute to those kinky catholic schoolgirls of our dreams. This one of a kind Academy takes it upon itself to discipline their female students into the mold of an outstanding cum-loving student. In their dreaded "punishment room" misbehaving schoolgirls are taken to be taught what it means to be subservient little sluts at the hands of the male honor students.
Introduction to the Hidden St. Penalty
With so few naughty girls on campus and so many cocks to please, the Punishment Room is always a place full of high spirits and cumshots shooting around even higher! Some of the girls -having been exposed to the pleasures of a good pussy pounding- deliberately break the rules to be sent there regularly.
Our protagonist, Himesaki Anzu is a well behaved virgin girl who gets entrapped by a fellow classmate and sent to the Punishment Room for the first time. As she tries to overcome the shock of seeing so many dicks for the first time, shes quickly commanded to give up her body to do the honor students' carnal bidding.
The Disciplinarian -as all good disciplinarians must- mentor the freshly deflowered Anzu to be the cumdumpster she had never known she was meant to be.
Koyanagi draws some of the best bukkake scenes in the business and it is a transcendental sight to behold as these girls get drenched in a hot, creamy shower of their peers' semen.
Spoiling the Few Angels in School
Meanwhile, school prefect, Satoru is hot on the trails of this rumored organisation that arranges such "disciplinarian actions" but when she stumbles upon a wild orgy, she is quickly taken hostage and made to switch over to the "dark side" through a trial by gangbang. It goes without saying that before long the overwhelming musk of sperm and perspiration coupled with the throbbing cocks thrusting into all her holes simultaneously causes her to change her mind about the organisation altogether.
Next up is the story of a student, Fujimaki during his part time minimum wage job. Feeling slave driven by his hulk of an uncle, he grudgingly goes to the last delivery of the day. However, the uncle seems to be not such a bad guy after all as the delivery turns out to be a harem treat just for him!
What's more, his classmate happens to be a whore in maid's costume at this harem. Before long, his uncle and his biker buddies join in on the fun and Fujimaki watches as they violate his high school crush in every lewd way he'd fantasized he would.
Once again Koyanagi's characters are at the peak of sexual pleasure and his artistic prowess really shows in the expressions and flexibility of the sluts he creates. Covered in juices of all manner Koyanagi's girls gyrate from one position to the next till his readers' balls are well spent from multiple ejaculations.
What's a Good Orgy Without Some Scandals?
Further building upon the scandalous setting of St. Penalty Academy, the next story revolves around Izumi, the Chief of the Photography Club, who in cahoots with the Newspaper Club plan to expose the underground sex ring within their school.
However, the plot twist being that the Photography Club is actually paying both sides, shooting lewd photos of sexual activity and selling the pornographic content for a hefty sum, while pretending to be angels trying to uproot the gangbangers. Izumi herself going as far as to let herself be violated by two boys in the restrooms to meet her quota of lewd pictures.
A master of anatomy, Koyanagi easily incorporates several imaginative positions and angles into his art.
He throws the contemporary out of the window and gives his readers intimate looks into the sensual act of a throbbing dick ramming a tight teen pussy. All the while making sure the expressions on his characters also reflect their state of intense pleasure.
Never let it be said that Koyanagi is a heartless pervert. Hidden deep inside his saga of wild orgies, creamy cumshots, and moaning maidens is a budding romance between Izumi and her subordinate, Keita.
Amidst all the mindless sex, Keita finally pops the question to Izumi, throwing her lustful emotions into chaos. To set things back to the way they were, Izumi recruits the Chief of the Newspaper Club to seduce Keita and make him realise once and for all, his feelings for Izumi are just lust and not love.
Keita gives in to his dick over his heart but meanwhile it is Izumi that becomes overcome with jealousy and rushes in to claim her man. Of course, the chief isn't just about to leave. Enter a few more young hot-blooded males and a typical Koyanagi style wild orgy ensues.
Koyanagi can only be said to have a great work ethic, while other mangakas exploit the hormones and perversions of their readers and fans, Koyanagi goes above and beyond to add plot, drama and romance to his stories.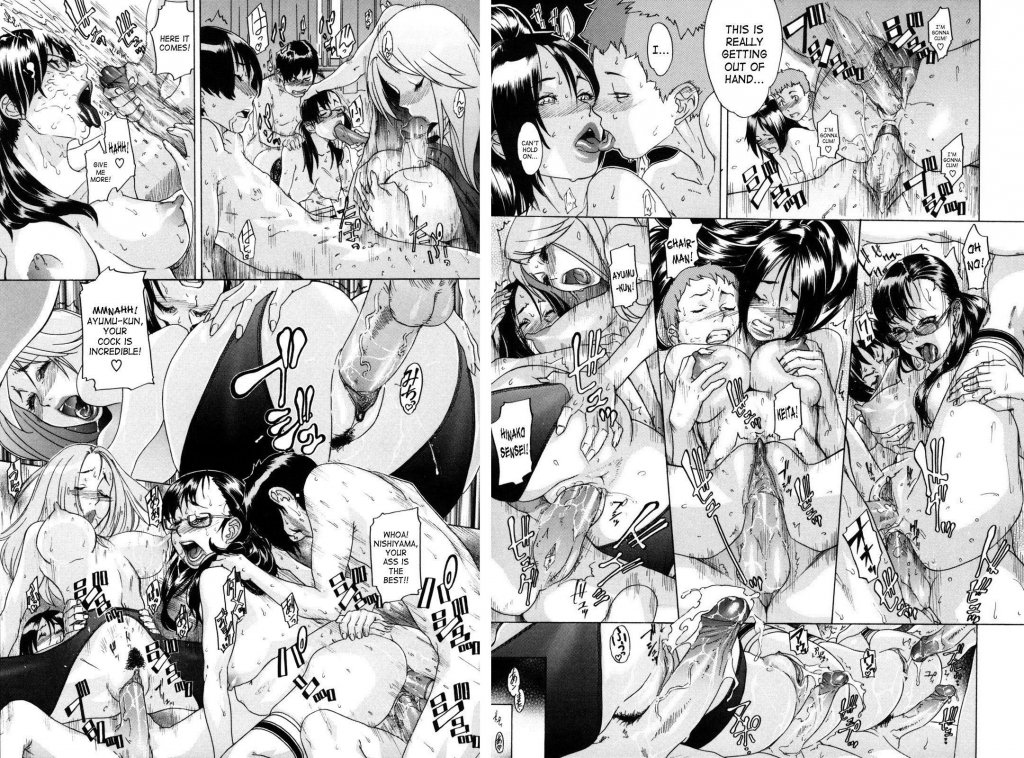 A Fresh Take on Old Cliques
In the next story, Koyanagi put a spin on the popular but cliched scenario of forbidden love (read: mindless incessant sex) between teacher and student. Where the female students in class plot to retaliate against their teacher who is tiring out their boyfriends so much that they have no cum left to shower on their girlfriends.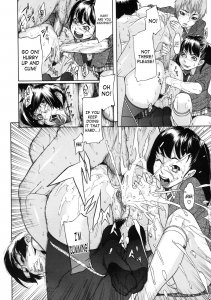 To sate the teacher's thirst for sex, the students kidnap her to be a part of a mass bondage gangbang featuring the entire male student body. When gangbang fails, the bewildered students resort to double penetration and full-armed fisting, much to the pleasure and satisfaction of their teacher who thoroughly revels the entire 'ordeal'.
The tables are turned when all the males are spent but the teacher still moans for more. To keep the males hard, the female body pitch in to suck off their boyfriends and keep them aroused. Once again, wild orgy seems to have saved the day.
A few more stories come to pass to close up the tankabon, and Koyanagi delivers his best on every single page.
A hardcore fan of erotic fiction and classy artwork will be amiss to not experience this series with their own eyes, hands and dicks.

All in all Koyanagi's St. Penalty Academy leaves nothing more to be desired, a perfect compilation of sex, romance and drama with no definitive end, perhaps hinting at the possibility of a sequel.