Sensual Adventures: Episode 5, The Vacation is now available!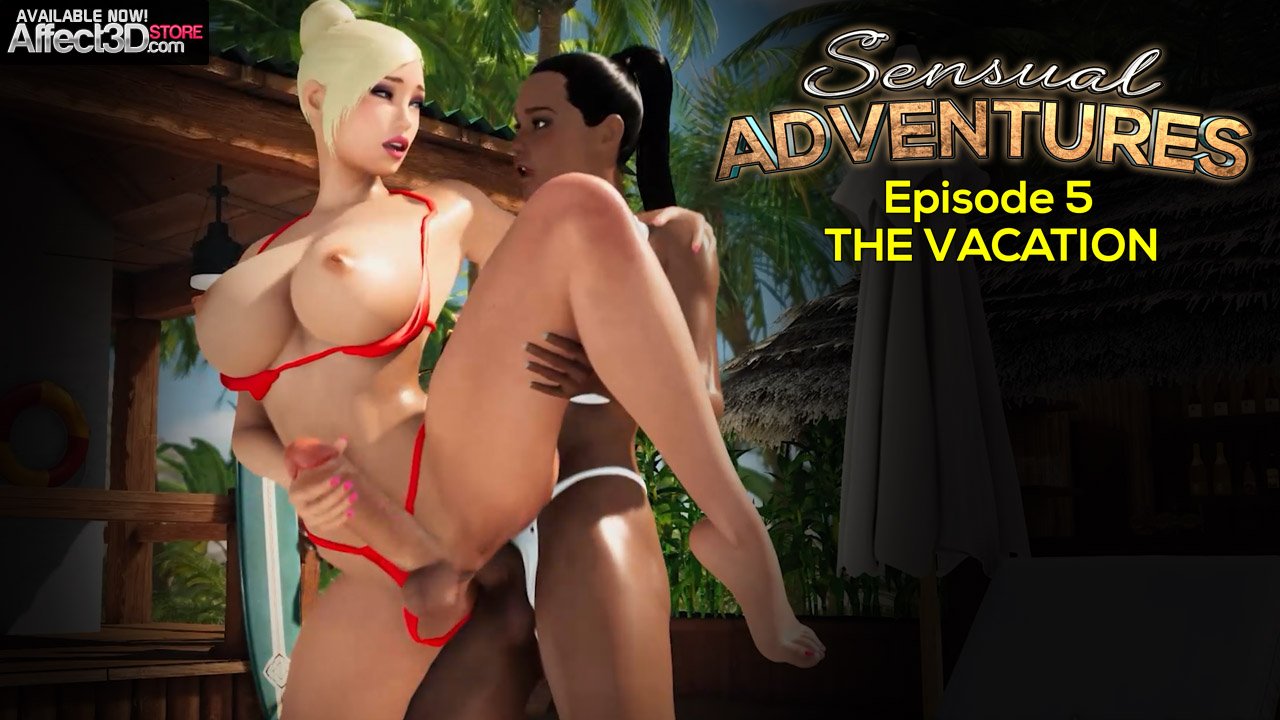 If you missed the trailer/all the hype, Puppetmaster is back with Sensual Adventures: Ep. 5, The Vacation! And boy do we all need a vacation! It's available now in the Affect3D Store!
Brittany and Trinity are back at it folks. Yep, that's right, our two favorite dickgirls still can't get enough of their huge cocks. And this time they've decided to book a beach-side, island villa just to themselves, with five-star service.
This fun, interactive, and insanely hot vacation is just the right mix of sunshine and busty sensuality. It features a whole variety of new positions, building on the previous four episodes! What I really love, however, is the fact that we also get to see the girls have some fun with one very horny and hot waitress. Indeed, as she is bringing refreshments over to the two lovers, she catches them fucking (hard not to really). Naturally, she begins touching herself, unable to resist the sight, and is rapidly drawn into the pair's fuckfest.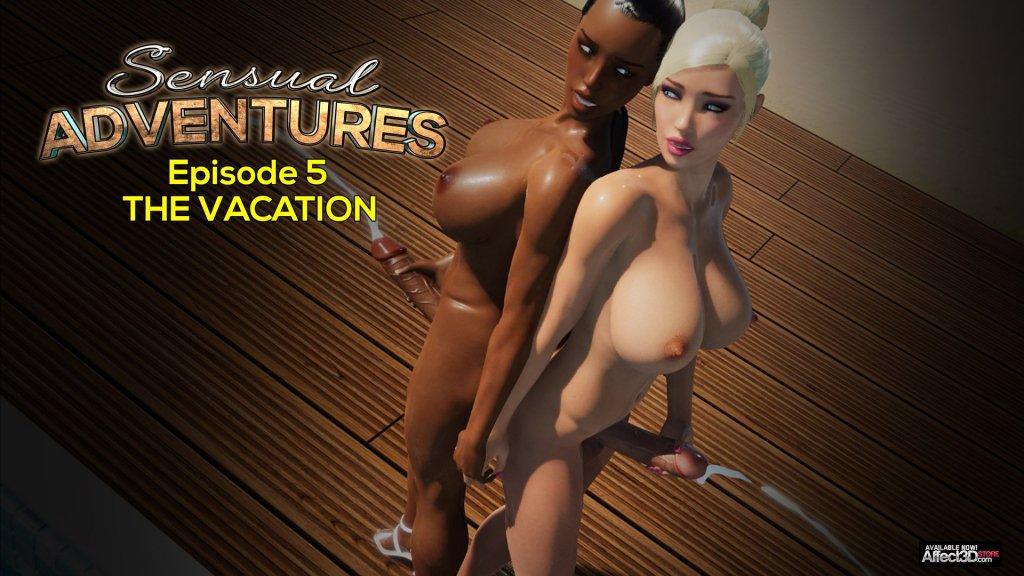 Sensual Adventures: Episode 5, The Vacation comes in two versions, an ordinary mp4 version and an interactive software version for Windows. The software includes customization settings so you can switch between day and night, vary the ambiance, adjust the bloom, and change the girls' appearance (hair and skin color, makeup, and more)!
There's also some other features being added next month, according to Puppetmaster, like a movie maker and extra poses. Anyway, all this can be yours for a mere $24.00, so be sure to grab the next installment of this master's epic saga!

Watch the trailer for Puppetmaster's Sensual Adventures: Episode 5, The Vacation!
The trailer for Sensual Adventures: Episode 5, The Vacation is here and it looks like paradise! 😍 Trinity and Brittany certainly know how to get some R&R! What do you think? Are you hyped? Do you like the positions? Let us know what you think!
Release day is a week away now, which means the time to pre-order is running out. If you don't already know, pre-ordering will get you $4 off the release day retail price, so don't miss your chance to save a few bucks. You have until 4:00am GMT on the 31st to get your order in, so don't delay! Also, be sure to sign up for Puppetmaster's mailing list using the field below and you'll be entered in our product giveaway. (And don't worry, if you win after pre-ordering we'll refund you!)
On that note, Puppetmaster sent us an update earlier this week that the movie maker feature for the Interactive version needs a tiny bit more work before it's ready, so it will not be available on release day. It will be patched in as soon as it's ready, along with some additional positions(woot!) We've updated the product info, to clarify that. Character customization and visual options will still be available on release, however. Check out a preview of the interactive interface below (and again if you don't have a PC, there are multiple mp4 movie versions packaged with the release to enjoy some of the different options.)

Download the free Sensual Adventures: Episode 5 benchmark demo!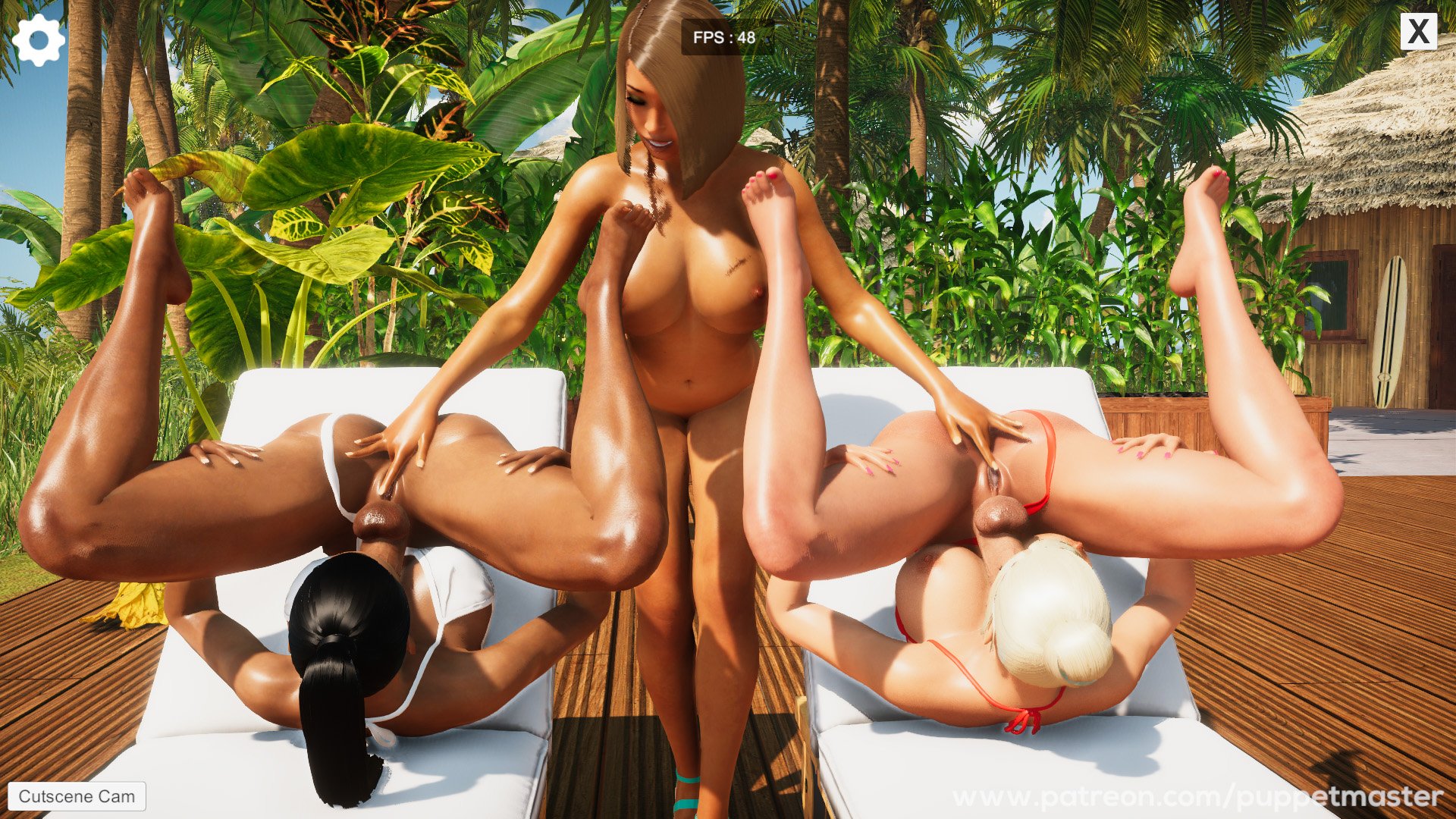 Hey futanari fans, we've got some more goodies for you today from Puppetmaster's upcoming release! Today's preview is a benchmark for Sensual Adventures: Episode 5. If you're not familiar with the term benchmark, it's a software demo that allows you to test the performance of your system. In this case, the benchmark will show you the interactive version of Sensual Adventures: Episode 5 will run on your computer. It's only compatible with Windows devices, but we've heard reports that even older machines are running the benchmark just fine. Also heads up, 1g file as this is software.
FYI, if you're one of Puppetmaster's patrons, you were provided the benchmark files a while back so you can skip downloading another 1g file =)
Now if you don't have a windows device, don't fret. As we've mentioned before, Sensual Adventures: Episode 5 will come packed with both the interactive version and a cinematic mp4 version for those of you watching on mobile devices or Macs. And so you don't miss out today, we've also included a video version of the benchmark for you to enjoy. It's a larger file, so we recommend right click>save as to download. Link is here.
And while you're here, be sure to sign up for Puppetmaster's mailing list so you can be entered into his episode 5 giveaway! Good luck and see you in two weeks for the official trailer reveal! And don't forget to pre-order Sensual Adventures: Episode 5 before release day to get $4 off!