Watch Puppetmaster's Sensual Adventures Episode 6 – The Revelation now!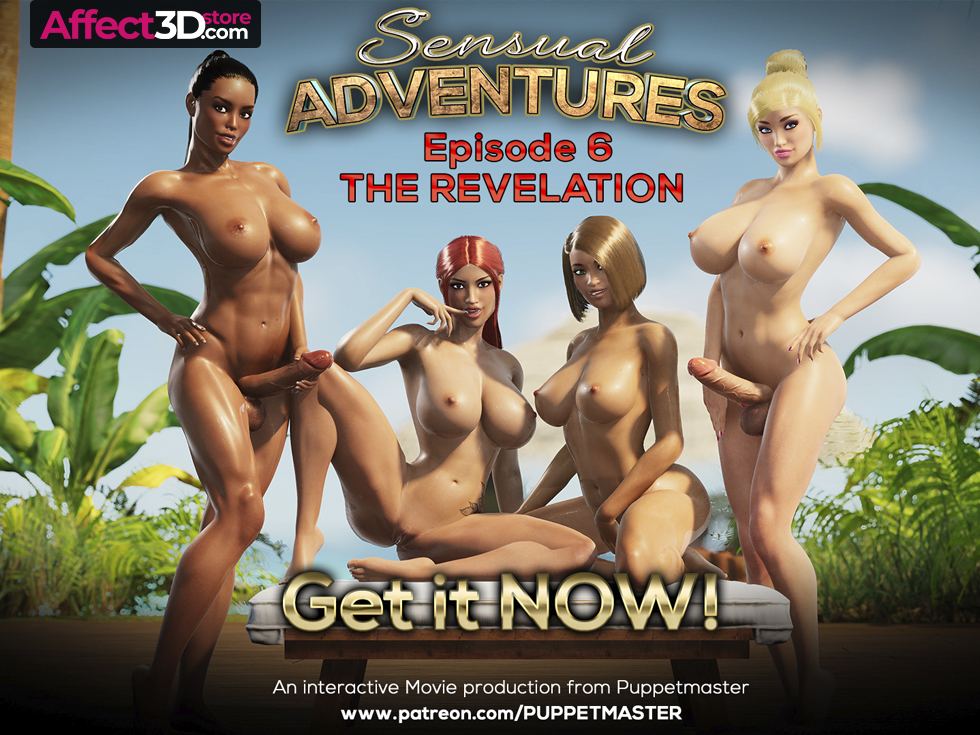 Finally, it's here! Sensual Adventures Episode 6 – The Revelation is available now, and Puppetmaster really has outdone himself! You can grab this new, futanari animation in the Affect3D Store now!
After her epic fuck with Brittany and Jasmine, Trinity decides to go for a well-deserved massage at one of the resort's spa rooms. Unfortunately for her, however, the usual masseuse isn't available and Trinity finds herself confronted by a very hot replacement. Luckily, this newcomer is a very willing substitute. I guess this new girl will just have to do as she happens to be the long-promised Marcia. And what an epic entrance as we also re-unite with the series' other three characters to create a sultry and hot AF foursome! Watch as Brittany and Trinity fuck the brains out of both Jasmine and Marcia. And enjoy a uniquely hot and original sex train with all four characters!  Sensual Adventures: Episode 6, The Revelation will get your blood up with a plethora of positions, hot teasing, and cumming galore!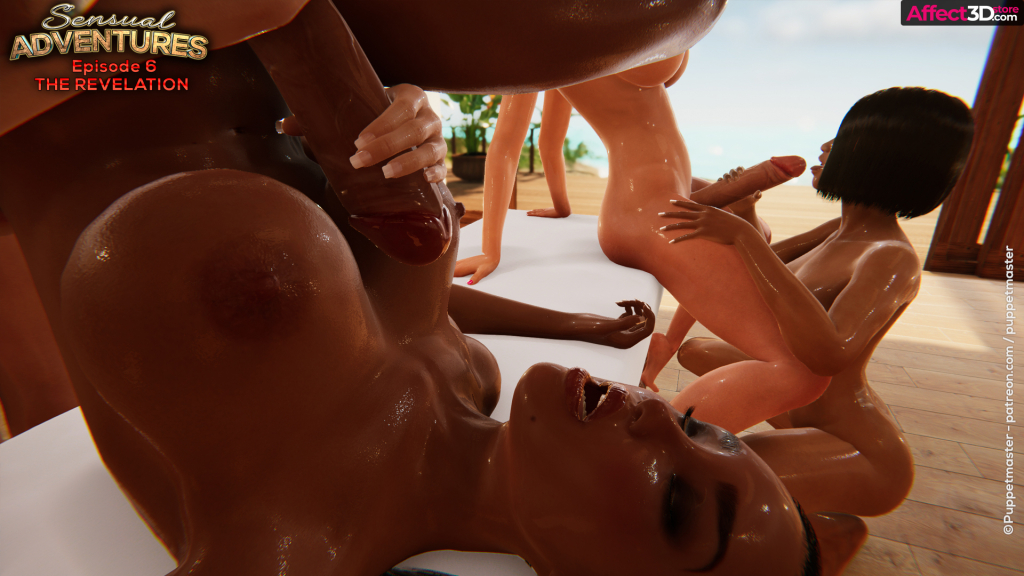 You can grab Sensual Adventures Episode 6 for $24!
What's Included:
Cinematic version:

A 26 minutes 51 seconds  HD, fully animated video from Puppetmaster

Interactive version:

The Windows only Episode 6 – The Revelation PC game
Customizable positions – choose between pussy or anal, night or day, and music or no music.
Allows for all the view options of the cinematic version but change whenever you like.
Character customization to change hair, skin, wetness, balls, and other features.
8 sex positions and 4 Cumshots!
Movie-Maker feature:

10 new poses to choose from
Utterly free camera control
Auto-Camera mode, for an immersive, movie-like experience
Character switching for poses
Choose Anal or Pussy penetration (not all poses supported)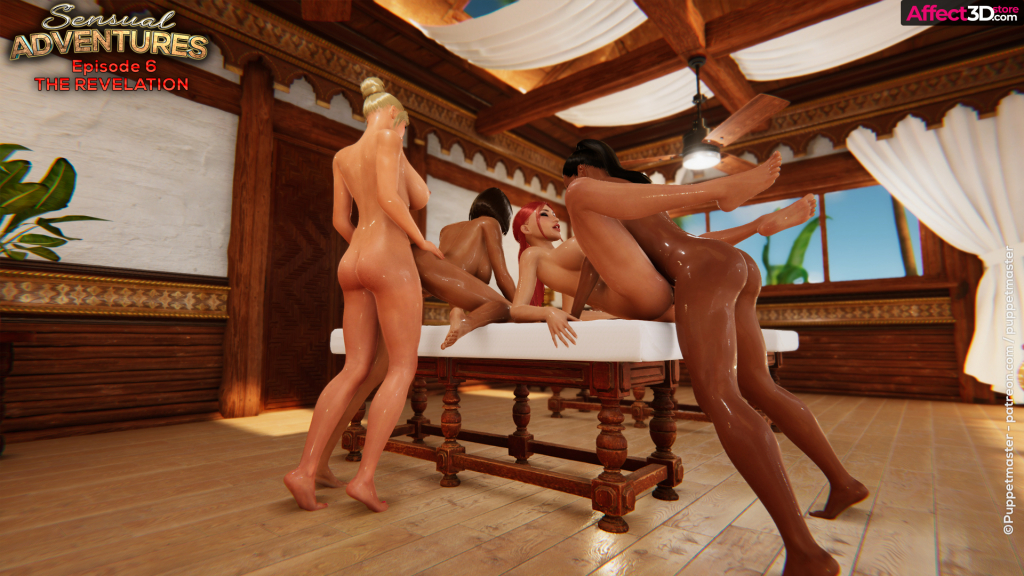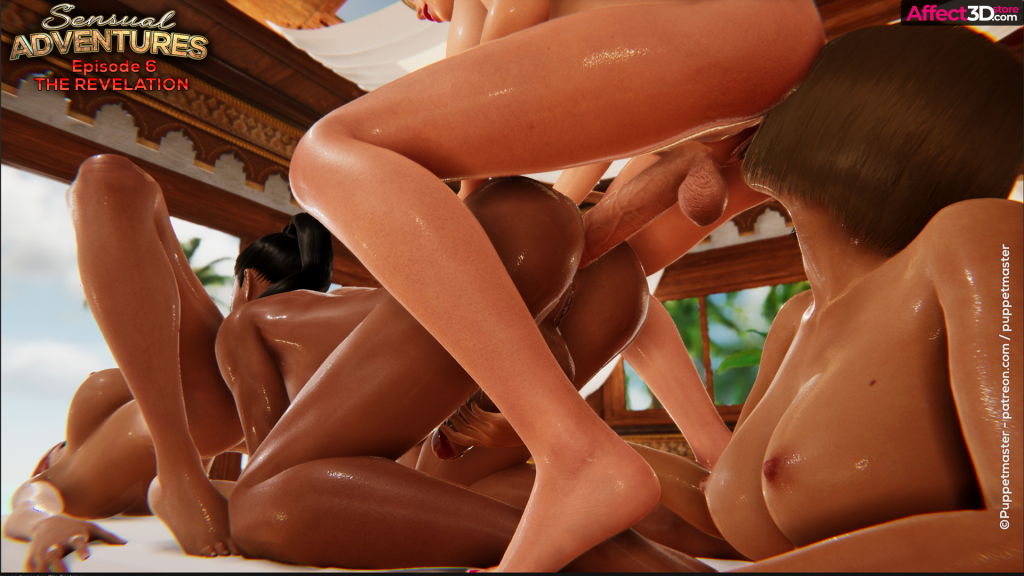 Interview with Puppetmaster, the creator of the Sensual Adventures: Episode 6!
Ahead of Puppetmaster's Sensual Adventure Episode 6 – the Revelation release, we had the chance to ask the artist some questions about what we can expect and the behind-the-scenes! If you care about spoilers, be sure to watch episode 6 first!
Franaus: So, it's coming up, the date we've all been looking forward to, Sensual Adventures Episode 6 is almost here! Firstly, can you tell me what you set out to do with this episode, and how you feel about the final product?
Puppetmaster: Yes, finally! 🙂 It's been quite a ride with Covid, Lock-Downs, etc. But I am glad we finally got it all done. Episode 6 is called "The Revelation" because we finally reveal Marcia. She was mentioned quite a few times and caused a lot of confusion and excitement. "Who is she?", "Will we ever see her?", "Is she hot???!" were just some of the questions people asked. So yeah, finally we see her! She definitely turned out to be very hot and naughty 😉 Marie was in charge of the script (as usual, she is an amazing voice artist and writer), and gave her a great character. My team and I are very proud of the result. Of course, there is always room for improvement, but we know that and we already work on that for future titles. We will for example switch to Unreal Engine because it's just so much better in so many ways than Unity (which was used for all previous real-time productions).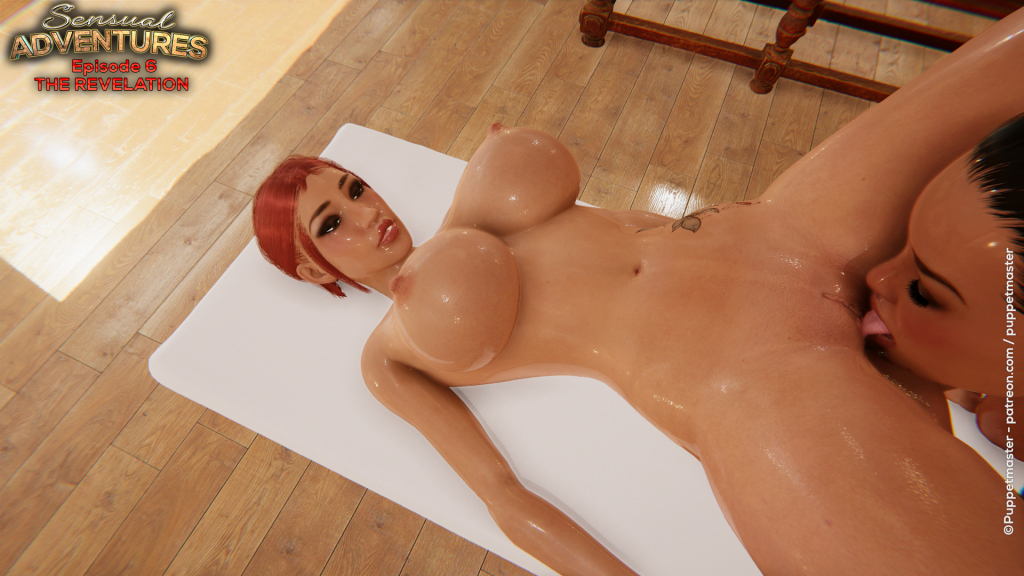 Franaus: You used mocap for this if I'm not mistaken, can you explain the process a little so the viewers can get an overall understanding? Has this method made a big difference in how you go about creating the Sensual Adventure games?
Puppetmaster: We did use motion capture for all the story animations. It was done with a Vicon Motion Capture System from a Friend and his Partner. They are currently working on their own Motion-Capture Studio and we were allowed to test it. They won't do any Sex-Animations, but those animations are key-framed anyway. So it was fine, especially for the Dialogue sequences to use their Motion Capture System. And I have to say: it's amazing! Such a timesaver! And it's so freaking accurate! That system is also used in big Hollywood Studios and also for medical research and locomotion analysis of professional Athletes. Very impressive what can be done with that. And I can tell you: from an animator's point of view it's super boring and tedious to animate a regular dialogue scene for 1.5 minutes straight… So we were very happy to be able to use their system for those shots. What made it even better is that we created one long shot for those sequences and not a lot of individual ones. That not only creates a more natural performance but also makes it easier to change camera angles after the animation is done. Because usually you animate "to the camera" and ignore everything else. That of course restricts you a lot if you figure out that the camera should be placed somewhere else because all of a sudden you would see that the other characters (or body parts) are not animated for example. So yeah, we love it 🙂
Oh, and once my friends are done with the final setup and webshop and all that other stuff, they will offer motion capture also as a service! No explicit stuff, but there are so many situations (Story dialogues!) where you can save so much time with mocap. I don't know when they are ready but I promised to spread the word 🙂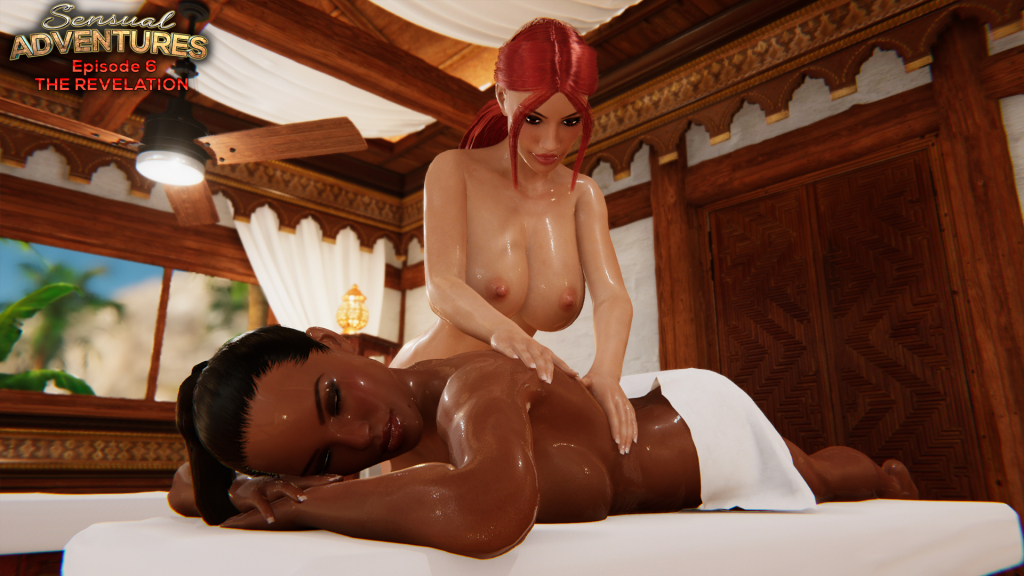 Franaus: Naturally, I think a lot of people are excited about Marcia. You've been teasing us for a while and she looks hot as hell! Can you give us a little insight into her role? Like Jasmine, is she as stunned and turned on at the sight of our two futa heroines?
Puppetmaster: Oh Marcia is a super-naughty one 🙂 And she loves to tease Trinity. She knew who Trinity was before Trinity knew who Marcia was (if you followed the Episodes). So the moment Trinity entered the Massage Room, Marcia knew who she was and played with that knowledge. I really love the dialogue of the two of them at the very beginning. Little hints like "don't wanna "stiffen up" right?" Even though we don't see Trinity's dick, Marcia knows what's underneath that Towel. And she can't wait to finally get her hands (and the rest of her body) on it 😉 And yes, she is totally turned on by our two futa heroines. But she is also very much into Girls & Guys. So you can expect more hot scenes with her in the future.
Franaus: It's probably impossible to pick, but if you had to, who would you say your favorite character is so far?
Puppetmaster: Very tough question. I think if I had to pick it's still Brittany. She was my very first character and we went through so many things together. That was the ultimate bonding 😉 But I do love all the characters I create, don't get me wrong!