Eroge! was originally an erotic visual novel developed by Clock Up team Anise. Due to the game's popularity, in 2011 it became a five episode hentai series. True to the original story, the animated adaptation of Eroge! follows the life of Tomoya Mochizuki, the textbook example of a teenage otaku. Mochizuki loves erotic gaming more than anything and after becoming a college grad, he wants to break into the eroge industry and produce a game of his own. Tomoya's only problem is that he lacks creativity. He doesn't have the talent to draw, or the imagination to write a scenario, and he certainly can't edit graphics, but that doesn't deter our protagonist from his ambition.
Mochizuki's luck turns for the better when he sees a help wanted ad for the local studio Flower, and after meeting with the company president, he manages to get a job as an administrator of the company's website. However his elation at being part of the eroge industry is short-lived as soon as he discovers that Flower is threatened to shut down if they don't produce a popular title to compensate for their previous failure.
After playing through Flower's first game, Tomoya realizes that his colleagues know nothing about eroge and lack the insight and understanding required to create a good game. Our protagonist takes it upon himself to save Flower from its peril by sharing his extensive knowledge of erotic gaming with his female co-workers and of course, stimulate their creativity with a few "real life" examples. If you haven't seen this series yet, you're in for a real treat!
THE GIRLS/CHARACTERS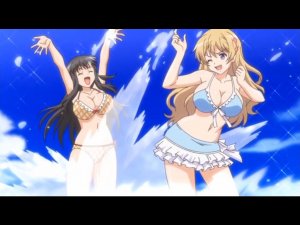 Mochizuki's line of work puts him in quite the fortunate position as the only male on the team. He's quite the lucky guy to be used as a tool for "research" to spark his colleagues' creativity. Each episode is comparable to a player route very much like the visual novel, allowing viewers to fully explore the individuality of each heroine. Nowadays you usually get the boy-meets-girl interactions in both print and in animations, but in this tale, there's actually a plot relevant to the story (I know it's hard to believe, but I also watch hentai for the plot). Even though the heroines' personalities are derived from popular "moe" traits, the way their voices (moans especially) are portrayed by their actresses makes them really enticing.
Our first female character is Kisara Himeno, Flower's main illustrator. She's a classic tsundere who isn't too happy about a perverted male being among an all female group. Her wariness of Tomoya only intensified after his "first impression." She grudgingly accepts his help into making her drawings appear more erotic by experimenting with various forms of foreplay with him. After having nonstop sex with Tomoya, Kisara's art has improved along with her confidence as she gave examples to her coworkers to help them improve. It could be implied that she is the main heroine due to the fact of being in a relationship with Tomoya at the end of her route.
The second girl is a personal favorite of mine, Momoka Fujiwara, the scenario writer. She's a true beauty in both looks and personality. Momoka carries herself with nobility and treats our protagonist as the scum of the earth. She's revealed to be a sadist and decides to improve her writing with roleplay by using Tomoya as her pet. In this route I find Momoka to be especially sexy, her constant denial of the waves of pleasure she receives from "this pig of a man" despite shaking her hips uncontrollably makes her stand out above the rest of the cast. If you ask me, it's quite the turn on to see a dignified lady unmask her wildly perverted side.
Two more characters also get to experience the joy of sex and game with our eager protagonist, but just a heads up, the heroine Iori Kousaka has some unique fetishes. I wouldn't say her preferences are a bonerkiller, but if watersports or scat isn't your thing, be wary nearing the end of episode 5. Despite all that, after watching these heroines explore their true talents and my sheer curiosity for the full story, I even took upon myself to play the actual game! The storyline and love scenes are that good if you ask me.
VOICE/SOUND/MUSIC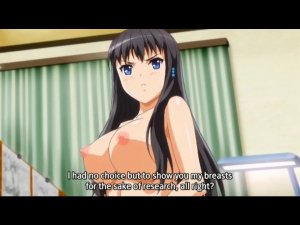 If you really want to make an animated hentai arousing the components of sound effects, voices, and music are a necessary contribution. The studio at Clock Up team Anise expertly crafted the essential ingredients that separate great hentai from subpar ones.
The voice acting plays a crucial role when it comes to hentai. I doubt anyone can stomach watching a series listening to characters with little to no emotion. It's insufferable, especially when the sex scenes have no passion. That's not the case with Eroge! a prime example of this is our heroine Momoka. When we first meet her, everything about her commands you to treat her like royalty, but when she's in the mood; she's a dominating mistress with a sultry tone that will have you begging for her approval. She even has a sweet side that's shown in her route that contrasts her sadism, but that's what makes her character more appealing. It's the actress's vocal range.
Sound is just as important. Even though hentai is a fantasy, viewers want the sounds to be real. The sounds of copulation, expulsion of love juices, even the creaking sounds of a bed knocking against the wall during sex. Eroge! does a great job putting its sound effects to use, it even has a well timed few comedic moments that result in Tomoya's punishment for his lewd thoughts despite his staff position. There's also a certain level of eroticism that should be appreciated in this anime. It really goes into detail with the characters' first times. The sounds were reproduced with excellent quality that will guarantee a satisfying reaction.
Lastly, the music of Clock Up's production is a simple soundtrack. It's not like it isn't spectacular, but the catchy tunes it provides really makes it a mood setter. It's enjoyable enough that you might get a few songs stuck in your head like me.
ANIMATION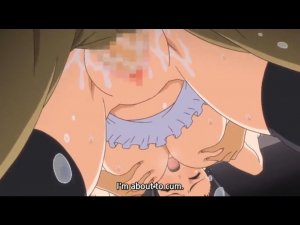 The art, color, and animation are all replications based on the original visual novel. It truly is an animated adaptation brought to life. It's not a simple copy-and-paste job because everything involving movement from thrusting to expressions has proven to be fluid. The studio may have condensed the content of a 10+ hour game, but it's plain to see how much detail was put into each route.
LONG-TERM VALUE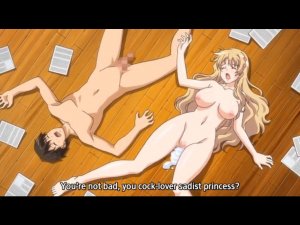 I definitely recommend watching it. It's an underrated gem full of well timed humor, steamy love scenes, and an actual plot that's enjoyable.