Nosewasure, is a go to collection for any fan of lust filled, funny and at times even emotional hentai short stories. Through the sex filled adventures of women that have yet to tap into their inner nymphomaniac to women seeking to become futas to youths with infinite libidos, the renowned author of the Pisu Hame series once again brings his characters to life to please his readers.
Miss Ayano's Sexual Woes
The first and main story of the tome, narrates the story of a lesbian high school professor, Ms. Ayano Chuzenji as she prepares her body -literally- to please her student and lover, Yui Wada on her 18th birthday. She stumbles across some evidence that leads her to a shady high-schooler who ensures her that she can turn into a futanari (shemale) with the help of his black magic.
The catch being that he would have to climax into her virgin lesbian pussy and/or watering, juicy mouth a hundred times to provide sustenance for his magic to grow a dick in her. Reluctantly Ayano agrees and so begins her sexcapades all around high school as she tries to keep her loud and steaming affair under wraps from other students, especially Yui.
In the following chapters, Shiwasu no Okina proceeds to fulfill fantasies that send every guy back to the days when they dreamed of banging their high school teachers. Be it oral, anal, roleplay or just teasing, Okina incorporates them all into his narrative while still staying true to the constant atmosphere of sneaking around and fear of getting caught, which adds even more excitement as readers start wishing that Ayano get caught pussy-dripping in the midst of her shameful acts, resulting in probably even more lewdness.
After a hundred smashes, Shiwasu puts in a surprising twist that'll leave the even the most fapped-dry reader wanting more; while the story of Ms. Ayano Chuzenji does come to an end, Okina doesn't disappoint his fans by following up with more stories of intense lust and no holds barred sex!
Bust the Upskirt Shooters
The next story is about a young policewoman, Mina Ishihara who journeys into the depths of her shady neighborhood to apprehend a group of gangbangers and pornographers called the Upskirt Shooters, but instead discovers the nymphomaniac in the depths of her own starved pussy.
Shiwasu spends considerable time portraying Mina's character with softcore and ecchi pages at first, something other artists hesitate to do, but in this case it pays off! Just as readers begin to relate to the shy and uptight young virgin, she leaps into the world of gangbanging and exhibitionism. There's just something so sexy about a virgin experiencing the pleasures of cock for the first time and being watched while doing so!
But fear not, the bad guys meet their fitting end when the chief of police barges into their orgy with his troops. What's more, he rewards the policewoman that made this apprehension all possible by catering to her new-found love for dick while the troops video her orgasm as she rides her boss' meat in the crime scene itself. Leave it to Okina to somehow make an ending both poetic and kinky!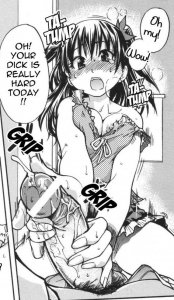 The Cure and Other Shorts
If these stories were somehow unable to leave the reader spent, Shiwasu next appeals to his fans with a classic story of a young girl and older man. The following story is about Yuri and her brother's pervy tutor that frequently teases her slyly until she submits to satisfy him.
They sneak around but eventually get their freak on in her brother's own bedroom. As the innocent Yuri confesses to fingering herself to her fantasies with this elder experienced senpai, he teaches her what it is like to have a real cum-pumping cock in her tight virgin pussy.
Shiwasu again brings his signature atmosphere of secrecy and forbidden love, making readers hope for the couple to get caught and then proceed into a taboo incestuous threeway Yuri, her brother and the tutor. But alas it isn' t to be as the tutor singlehandedly teaches this busty virgin girl what to do when she's got her lover's throbbing dick infront of her.
Suffice it to say, she is never the same again.
After leaving some of us wanting in the previous stories Okina-san expertly weaves all his fans' taboo fetishes into The Cure. The aptly titled short story, features Shiki, a youth with a herculean libido. We readers get to witness first hand as he fucks his way through the day, from his Stepmother, stepsister, classmates and acquaintances. The incest, exhibitionism and voyeurism featured in the next twenty-odd pages more than effectively lures any cum the reader may have been holding back!
Final Thoughts
Contrary to what one may think, Okina's works aren't simply mindless sex scenes for  quick fap. Relentless and minute work goes into his detailing, be it the semen dripping from the girl's lower lip as her eyes turn up and back in pure ecstasy or simply the curves of the women's hips as they gyrate their pussies on the salivating mouths of their entranced lovers, Okina puts in his best effort for the viewing pleasures of his readers.
Coupled with great artwork, Okina also has a great sense of humor that keeps us entertained through the softcore pages and helps make the absurdly fantastic scenarios seem more realistic; somewhere in the deep excesses of our mind, we can imagine ourselves in the shoes of the protagonists, be it providing unstoppable loads of love juices or getting pounded from all fronts while onlookers touch themselves in envy.
The 200+ pages of this collection is also graced by three other shorts that are by no means any lesser than the ones covered, but for the purposes of this review, the stories briefly described already are enough to establish why Okina's works are a must-read!
All in all, in Nosewasure, Okina delivers the same standard we have come to expect from him since Pisu Hame.