Over the past few years, Nova has been consistently releasing titles that have been crowd-pleasers. From his fantasy titles featuring the sexy blue-skinned Vanya to his futanari titles that features hot futa action, Nova has really shown off some of the best in 3DX. Now with his newest release "The Naughty Neighbors" releasing tomorrow, we thought we'd take the time to speak with Nova about his works and what we expect with his upcoming works.
Tell us about yourself. Where did the name Nova come from? Where are you located at?
Not a lot to say about me, really. I'm a fairly normal person, depending on who you ask. I've had a lot of nicknames online over the years, but Nova is a name that I've regularly been referred to in real life for a long time, so when the time came to put a name on my work, it seemed fitting. I wanted to use something simple … straight forward, that people could remember easily.  I am nestled right smack in the American mid west, for the time being.
How did you get started in 3DX? What was your journey to becoming an artist in the genre?
This was quite the adventure, to be honest. I had toyed with 3D art in general for about year but never shared a single piece with anyone. Then, life being what it is, circumstances left me at a cross roads of sorts and I had a choice … to stay in the main stream with a "normal" 9-5 office job, or to take a step in another direction and really commit to doing something with art. I'm very glad I did.
Let's talk about one of your most popular girls, Vanya. She's appeared in three titles (including your very first one) and has been a favorite for many. So how did she come to be? What do you feel draws you and your fans to her? Will we be seeing more of her in the months to come?
Vanya. I do love Vanya. When I started planning that very first set, I wanted a character that was fantasy based, yet something a bit different. She actually had several incarnations before landing on that blue skin … at which point, it just clicked. I think her appeal is her personality. She's very expressive and obviously confident in her sexuality … she's very playful, yet that belies an underlying sensuality that I think people really enjoy.  There will always be more Vanya! We'll definitely be seeing more of her soon.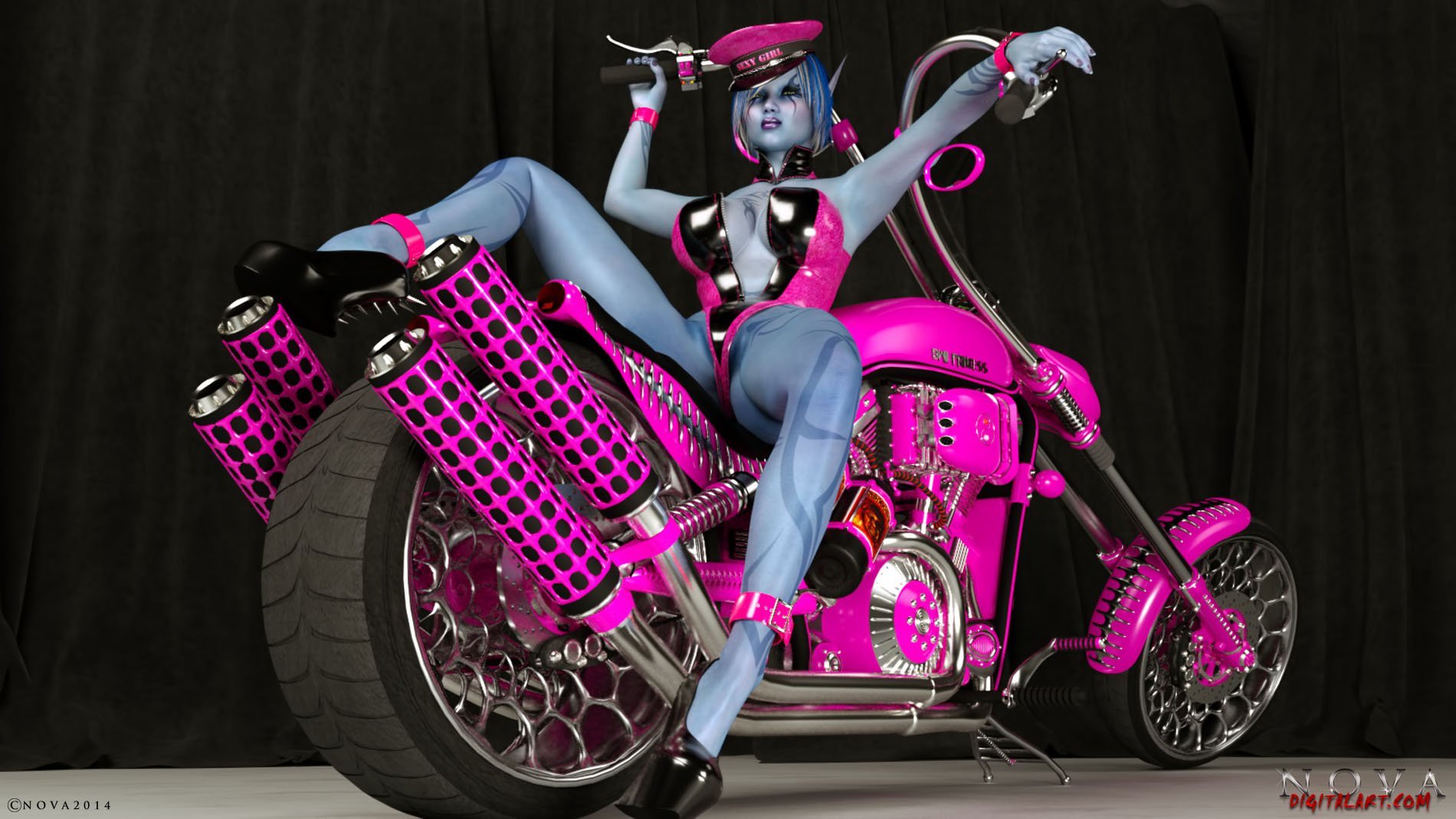 You've also have other girls in your catalog. Which among those are also your favorites? What is the story behind them?
That's a really tough question! I do have a lot of characters … and, surprise, there are many more that we haven't met yet! Nyx is, of course, very high on the list but I love all of my characters … and they all have their stories. When I put the current roster on my site, I wanted to include an introduction for each of the girls … and, luckily for me, my dear friend DireLilith (a simply incredible author) was kind enough to turn my simple biographies into fantastic little stories for each of them … so people can get a really great sense of the girls' personalities when they visit the site. All of my characters have a place in the overall scheme of things … which will start to become more clear very soon as projects roll on.
You've created a few futanari/dickgirl titles that have been big hits in the 3DX community. What about the genre interests you?
The futa/dickgirl genre is intriguing. I think the appeal of it for many people, myself included, is the possibility it holds. Seeing generally accepted roles of human sexuality being turned and twisted a little can spark a great sense of attraction for people without forcing them to really question what they're seeing, or themselves. Watching the beauty of the female form pairing with another is already incredibly alluring to many people … and seeing that, while still holding the attraction
of traditional male/female coupling can arouse people on an entirely different level, that they may not even realize.
Let's talk about your newest series: The Naughty Neighbors. This one is very different than your previous titles as it's realism-based and features a scenario that's very personal to you. Tell us what is the series about and what should people be expecting?
The Naughty Neighbors is very personal, yes .. because, well … it's me. It's a peek into my world offline. I've been incredibly fortunate to meet and spend time with
someone who is not only beautiful and exciting, but also excited by what I do and wants to be a part of it. I think artists, by and large, always seek ways to interject
themselves into their work … I just took a much more literal approach. The series is about real life people having real life sex. Plain and simple. As for what people
can expect … they can look forward to some really great scenarios and know that what they're seeing really happened. The characters are real … they exist in the real
world. Fans, as well as myself, are fortunate in that the real Cassidy (aka Skittles), is very adventurous so there will be some great stuff coming in the series.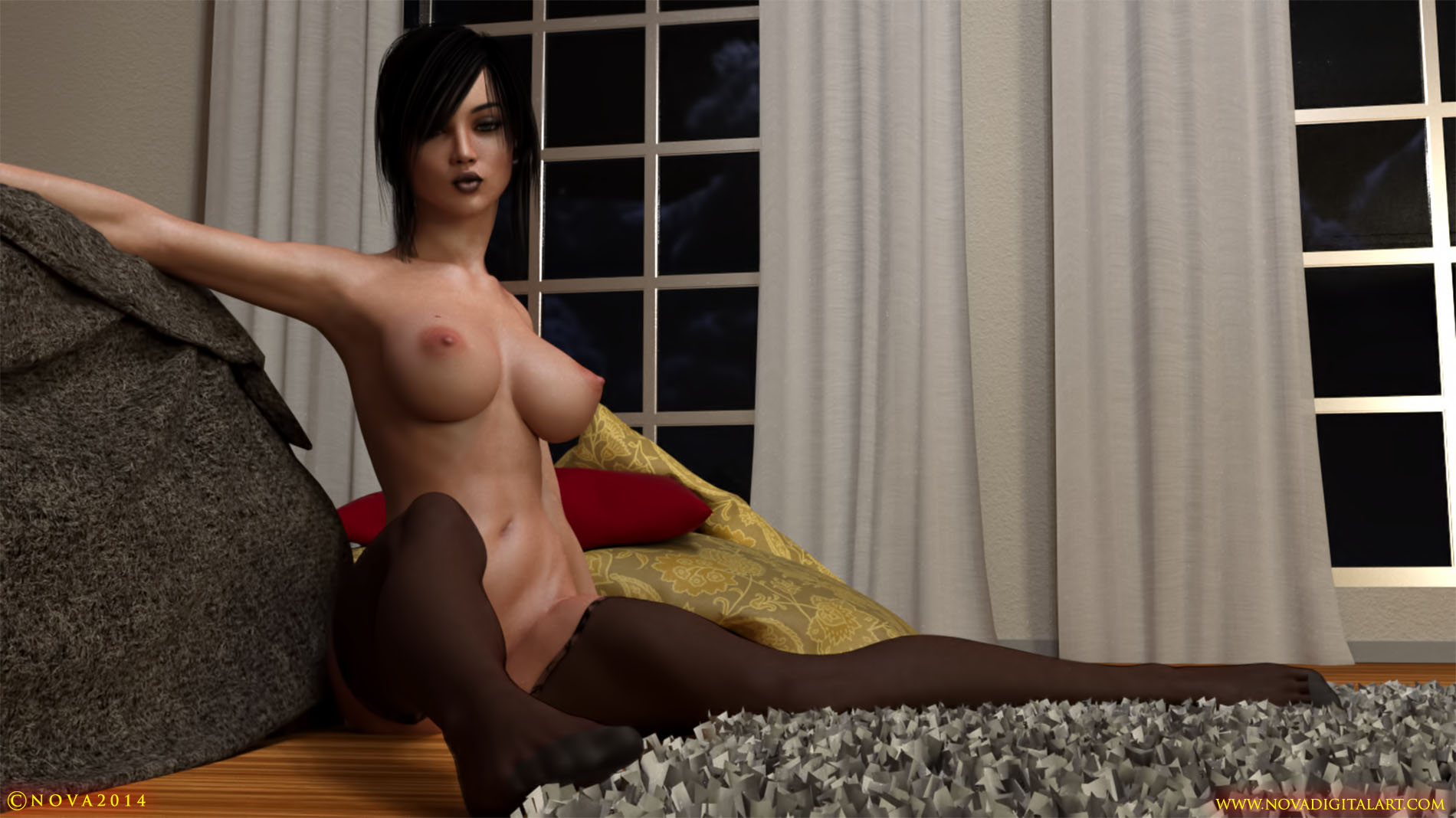 There also seems to be a broad range to your style. With Blind Faith you went somewhat controversial in terms of the style and also religious undertones. Tell us about your idea behind the project. And will you continue this type of theme and also the latex wear? On a personal note if you did continue the series would you have one of the girls not wear a mask so we can see her expressions? 🙂
Blind Faith was really born from a single image done well over a year ago as a simple material test. Much later, while developing some project ideas, I had the
almost obligatory "naughty nun" idea and just happened to stumble across that image while cleaning out test renders. As things got shuffled around, the nun idea kept
getting pushed back as being too cliche … but the idea stayed in my head. So, for many months, it kind of fermented there until I looked at it again with more
experience and knowledge. At that point, I decided I wanted to use it as a vehicle to say something different; to touch on several conventional viewpoints of sex and
sexuality but to do it in a way that wasn't a simple slap in the face. The project itself evolved many times, right up to the end. In fact, the idea to make the
protagonist a dickgirl came after the scenes were already started, so they had to be redone. I do have some other projects planned that will include more rather
esoteric subjects as well as the fetish wear because, honestly, I love the way latex/rubber renders in Lux. And not to worry, there are no plans to keep faces hidden. 🙂
With the 3DX community growing every year with more and more people entering the field, where do you think 3DX will be in 5 years from now? 10 years? What technology do you think will have the biggest impact?
It's really hard to say where things will be in 5 or 10 years … or even 3 years, really. If you look at 3DX along side it's real life counterpart, you could say that
there won't be much change at all. But given the limitations of real life porn that don't exist in 3DX, it becomes much harder to predict. Stories and production quality
will grow, of course, but when you're dealing the exponential advancement of technology paired with the expanse of human imagination, the potential is staggering. It's easy to say that technologies like increasing computing power or graphics advancement will have the biggest impact, but, personally, I believe the largest impact will come from networking.  Advancements in things like network speeds and cloud-based computing will open doors to collaborative efforts on a massive scale that will provide artists with the means to work together like never before. I think it's at that point that we'll see far more interactive work being produced and wouldn't be surprised to see full length "films" come to life. The 3DX community, as a whole, has everything we need for it now. We have the technology … and we have some of the most talented artists/writers you could hope for … what we lack, currently, is the connectivity to bring those all together.
You mentioned on occasion that you live off what you do? How do you find being able to set your own schedule and do what you enjoy? What are the positives and also challenges that you face?
I do make my living with this … and it's incredibly fulfilling. I've been so very fortunate to have the support of family and friends and most importantly, the fans. It's not a glamorous life, but I knew that getting into it, so I'm very happy.  I think I had an advantage coming into this that some don't in that I worked from home for the better part of a decade before starting this … so I'm quite adept at the psychology of it and what it entails. The biggest positive about it is actually also the greatest challenge … doing what you enjoy.  It makes it very easy to go overboard and throw yourself into it with reckless abandon … which will invariably lead to burning out. It's surprisingly easy to become addicted to your work.
We've seen some great improvement over the years. How do you come up with new ideas and  keep your style fresh? What are some of the challenges you've set yourself? How are you progressing your style?
Thanks! I do like to think that I've kept a pretty constant increase in the quality of my work. Coming up with new ideas is probably my favorite part of the creative process, to be honest. Letting even a relatively mundane notion bounce around my imagination and take shape is wonderful. As it develops, each new little facet of it becomes like a tiny epiphany. I think it's that process that also helps keep things fresh, because I don't constrain myself to any set expectations of how things should look and having a wonderfully vivid imagination lets me visualize things in great detail.  I also don't take those ideas and try to shoe horn them into any sort of preset "style" … I adapt my work to fit my vision, which I think is a crucial difference for me. Otherwise, I'd probably never be happy with anything I do! I think my style is most progressed by experimentation. I don't hold to any convention that things have to be done a certain way. I am endlessly tweaking and tinkering with things for no other purpose than to see what happens. Sometimes, the results are amazing … like discovering a way to render an effect that was previously only achievable with real film or in post processing. Other times … the results are just .. disturbing. 🙂  But regardless of the outcome, it provides me with a new way of looking at things that I can apply later.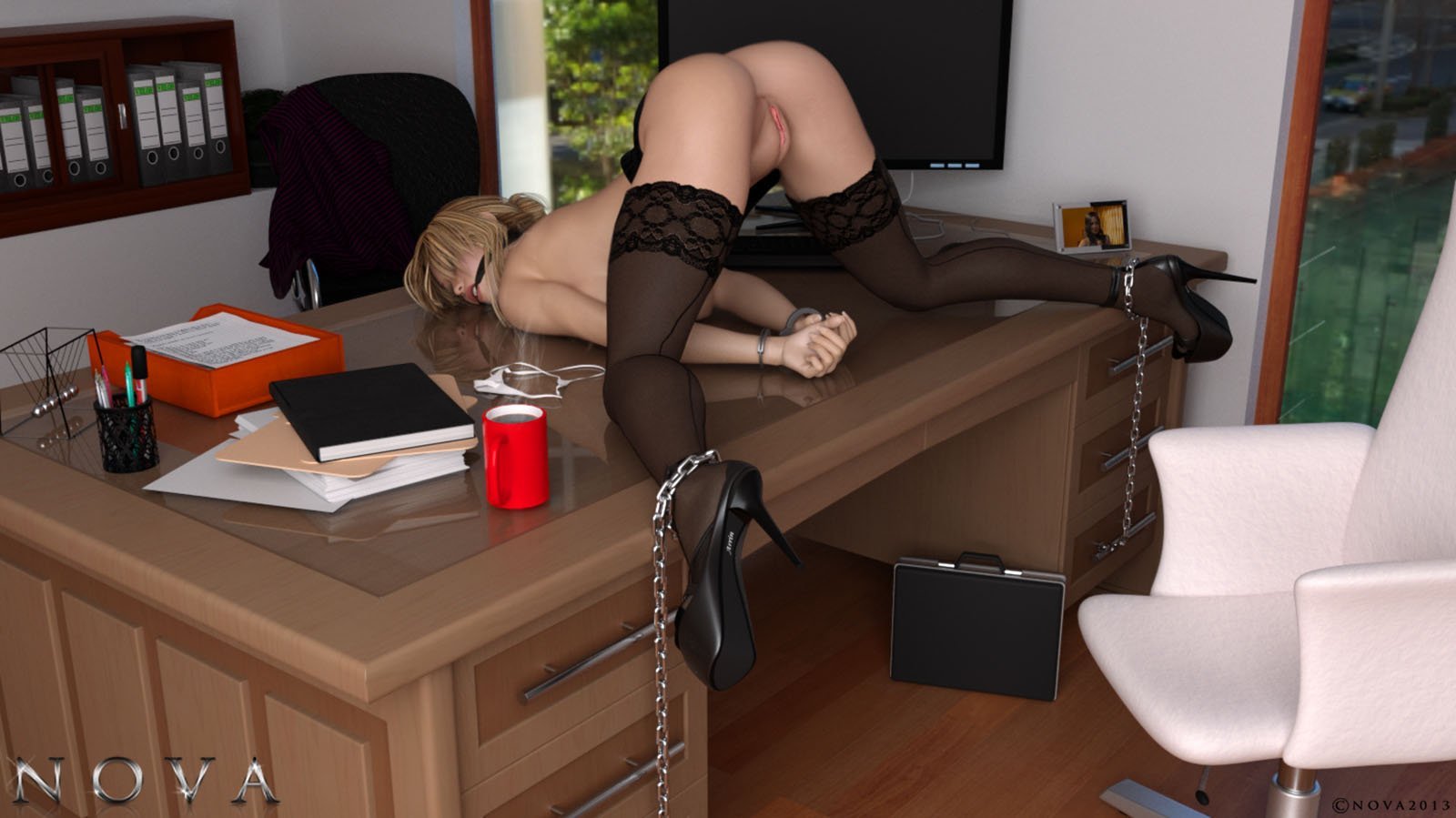 Who are your biggest inspirations?
Now that's a tough question! There are so so many amazing artists out there it's just impossible to mention them all. Every day, I find myself humbled by new talent. Of course, there are 3D artists like BlackAdder, Mongo, DireLilith, Erogenisis, Epoch, Supro and Miro who's work never ceases to amaze me. Then there are 2D artists like Brom, Frazetti, Frank Miller, John Romita Jr, Steve Dillon, Amy Reader and Masamune Shirow. These are all great inspirations, but I would have to say that the single greatest inspiration is simply the world around me. Looking at people, places and things in my own unique way has always provided me with countless ideas.
Tell us the process that goes into your works of art. What are your tools of the trade? How do you take an idea to the final render?
That is, or can be, a very convoluted and perilous journey at times! My general tools of the trade are Daz Studio, Luxrender (via the Reality plug in) and Photoshop CS6. But that's not to say they are my only tools. I generally hold to the notion of using whatever tools I need to create what I see. Things like Poser, Zbrush, Hexagon, Particle Illusion, After Effects, LightRoom … have all been involved at one point or another. Most of my ideas start life on paper as sketches, doodles, story boards or a few random sentences and are fleshed out accordingly. Other times, I'll simply have an idea while playing around or testing something and it will just click.  No matter what the image is, though, before rendering, I try to imagine the piece as a part of something bigger, because after all, everything has a story and even a single image is part of a story. So I ask myself .. why? Why is this particular moment being captured and under what conditions? That really helps to set the tone of any piece because then I can think of things like lighting and textures with that in mind.
Do you have any advice you'd like to give to any aspiring artists?
Don't limit yourself. Your imagination is the single greatest tool you have … listen to it. The rest is just details. You can be as knowledgeable of the software as you want, but if you don't have the imagination to use it, then it will do you no good. No matter your medium … pencil, paint, clay, words, digital or crayons … remember that every act of creation, is first an act of destruction.
Do you prefer V4 or V5, Poser or Daz3D? What genital props do you work with/ recommend for both males/ females?
This is interesting for me because I just started working with genesis 1/2 beyond the fantastic creature morphs. I am drawn to the ease with which the Gen 5/6 platform can be worked … and for the female characters there are some great genital figures from Poison, Tigerfish and 3feetwolf. However, I'm still a die hard fan of V4 simply because of Lali's Bits. Erogenesis' work was a game changer for a lot of artists, I think. It's an incredible piece of ultimately infuriating and head scratching work … but it's awesome. As for manly bits, I generally stick with the UlfGens with the expansion pack. It has great geometry and wide selection of materials to fit with nearly any character with little or no modification.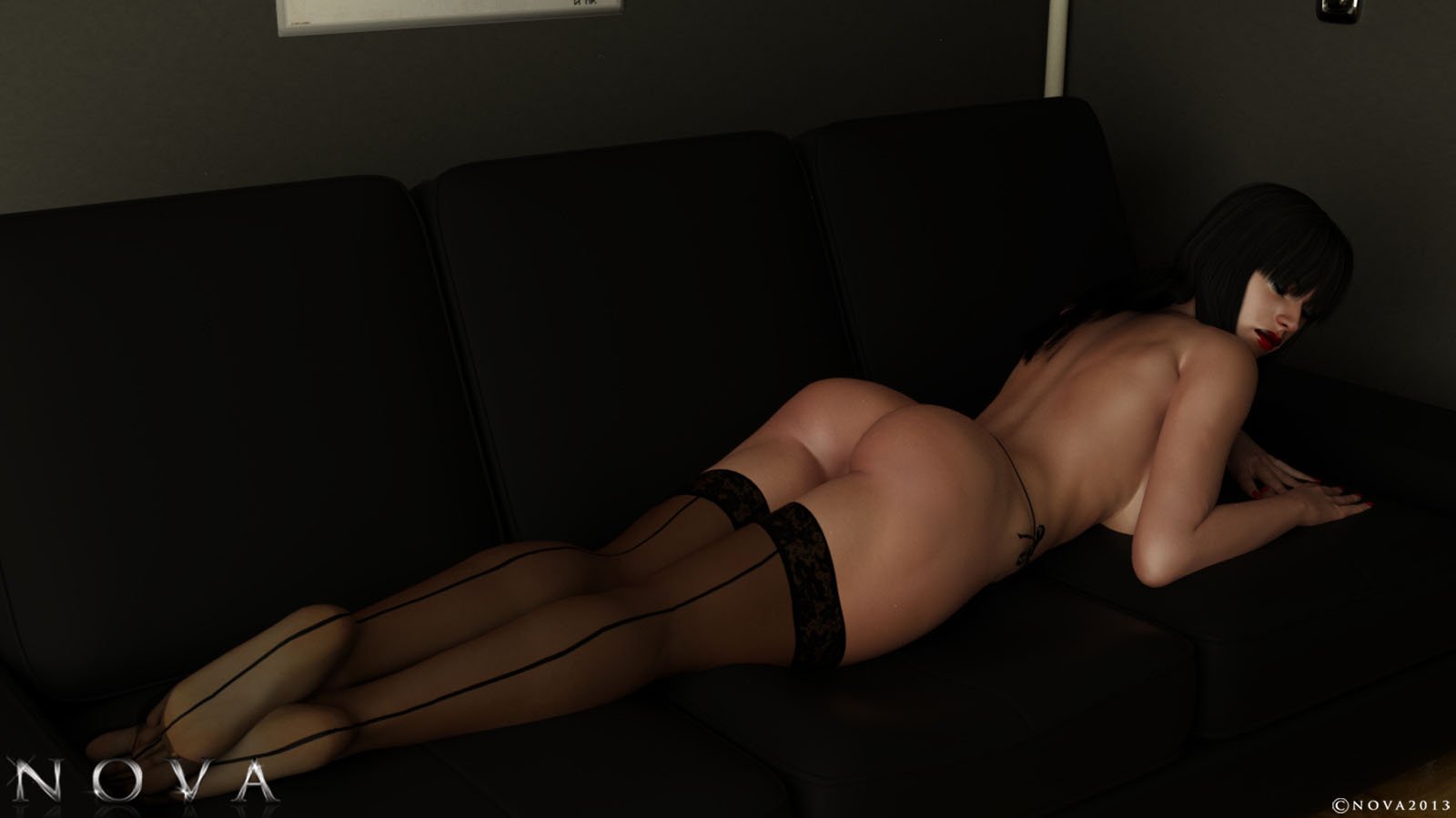 What do you have coming up in the near future?
Oh, so many things! I have so many ideas that it gets difficult to know where to go next, at times. I'm very close to getting the initial issues of my comic universe rolling, so that's going to be very exciting. I'm kind of working in a triple layer flow right now … along with the comic, I have a big project for Nyx starting which I'll be posting about this week as well as some great support series that are just going to be a lot of fun. We'll see a few of the girls getting their first features as well as a couple of welcome returns from others.
Where can we find you online at?
I am always available at my site or you can visit my deviantart page.
Any last words for our dear Affect3D readers?
Last words … sounds to final! 🙂  The biggest thing I'd like to say is .. thank you! If it weren't for them, I wouldn't be here. Everyone at Affect3D, readers, staff and customers, have been really supportive and welcoming of my work. I'm humbled that people enjoy it as much as they do and I look forward to giving them bigger and better things as time goes on.