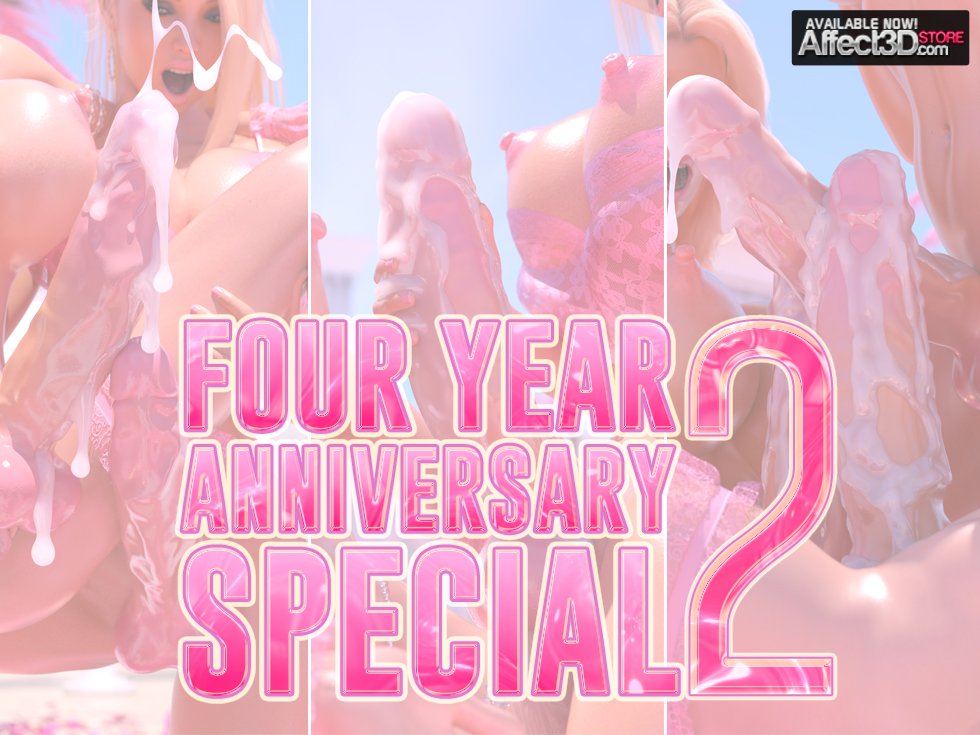 You may know him from such titles as Lust Unleashed, All Our Secrets, and other epic 3DX pieces that have marked this genre. Well, today, under the autumnal October sky, The Dude graces us with another futanari affair in part 2 of his Four Year Anniversary Special!
Today's piece is obviously a sequel to the Four Year Anniversary Special released in July. A gaggle of his all-time favorite characters comes together to celebrate this jolly month of hot tea and crisp red leaves by… well fucking of course. These busty blonde divas take turns fucking one of their own, both standing and sitting. To the point to be honest, where it becomes difficult to tell who's who, and who's fifteen-inch pulsing cock is attached to which bimbo.
And even better, the Dude introduces us to one his character's transformations! Indeed, Taylor has undergone a lengthy but rewarding set of procedures to radically change her body and appearance. She has gone from cute brunette to blonde Glam-Punk Goddess! That's what I love about this talented artist's work – not only does he showcase incredibly original and hot 3DX, he brings us an entire universe behind each character. Every futa and bimbo here has an origin story.
It's everything you can expect from the master of futas, with cum and tits galore! But it also gives us more insight into The Dude's world and characters. So make sure you grab that candy you're saving up for the end of the month and take a seat! (Or whichever preferred position).
The pink palm trees, oily soft skin, and perfect giant tits will have you craving some of that Fall sugar folks!
Be sure to grab your copy of this Fall's special from the one and only The Dude, for a mere $9.95! It contains an epic set of eighty renders and an additional transformation brochure about Taylor! As well as a bonus set!