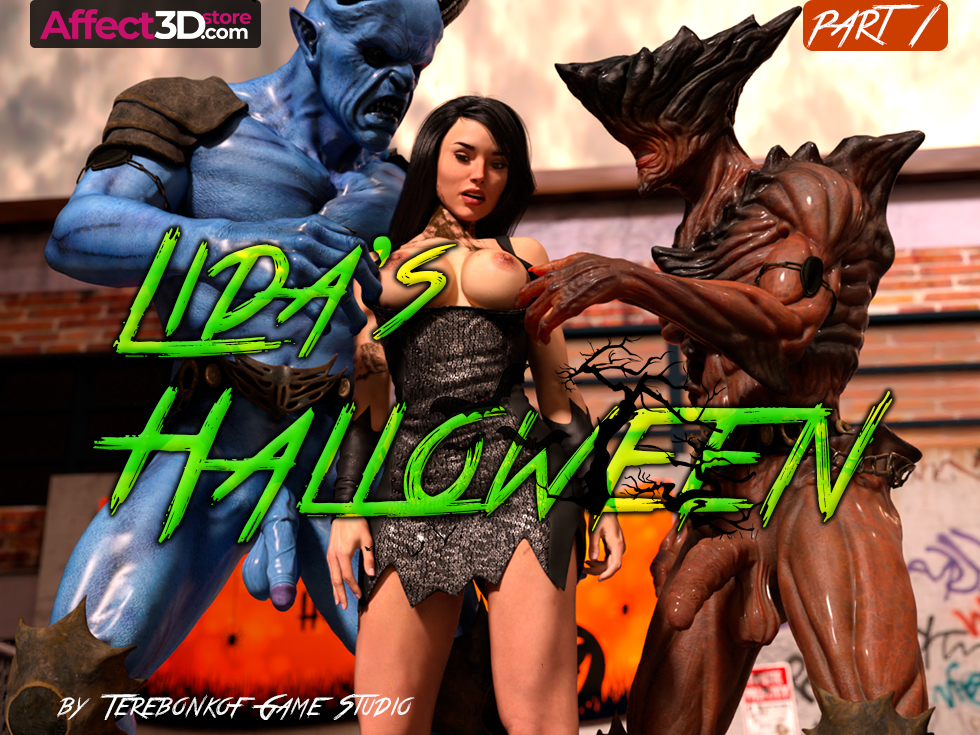 Halloween is my favorite holiday ever. Everything gets a little more spooky and Halloween parties are always a blast. In the debut release from TerebokoffGame Studio, Lida's Halloween Part 1 (now available in the Affect3D Store), Lida volunteers to set up a party for her firm but things take a weird turn at the venue.
Throwing on the dress her director gave her for the Halloween party, Lida heads off to finish decorating the area. She's a bit nervous and remembers the berry tincture that she was given. Told that it will calm her nerves immediately after a few sips Lida does just that but something is wrong. Everything starts to spin and two demons emerge from the ground and grab her. Telling her that she will obey their every command they pull down her dress and reveal her big tits.
She begins jerking the two demons off before bending over and taking one massive cock from behind while the other in her mouth. Double penetration ensues shortly after and Lida is failing at resisting these demons. I would imagine especially with such huge members deep inside her! She notices that someone is watching her from outside a window and she snaps out of her trance. Embarrassed of what's going on she can't get away from these demons and someone who was supposed to help with the party arrives. Not sure what's real and what isn't Lida doesn't know what to do. A crowd has formed but are these people really there or is she just imagining the entire thing?
Lida's Halloween Part 1 spans across 102 images and also contains a 1:02 minute animation and is available now for $8.00!