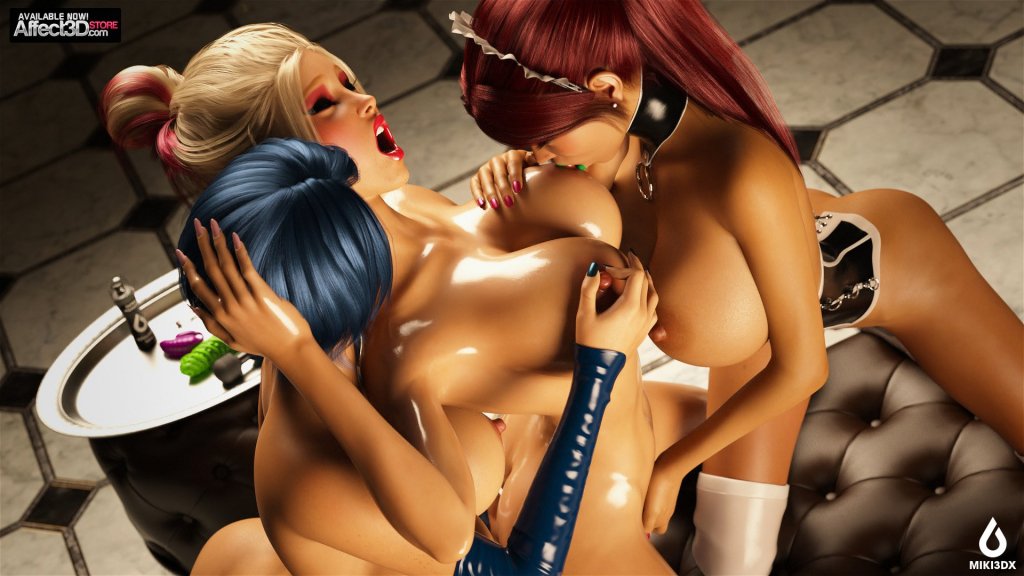 What better way to enjoy the weekend with a release from Miki3DX? Yup, our favorite bimbo-in-training is back in Bimbo Training Session Three! This girl on girls piece is available now in the Affect3D Store!
We pick up with Mistress Janine and her two sex slaves – Maid Denise and Miss Faith. Faith has arrived at the final session of her training course. And in order to pass, she must demonstrate utter control. However, this proves a lot tougher than one could initially imagine. Indeed, Janine has one hell of a session in mind. It's both a physical and mind fuck!
Maid Denise, on the other hand, has proven less than capable in previous training sessions. She can't get her libido under control. I guess you just can't find good help these days aye… As Mistress Janine orders her to prep and then stimulate faith with an aphrodisiac lube that makes anyone it comes in contact with go nearly insane from the pleasure, she can't help going a little lust mad herself.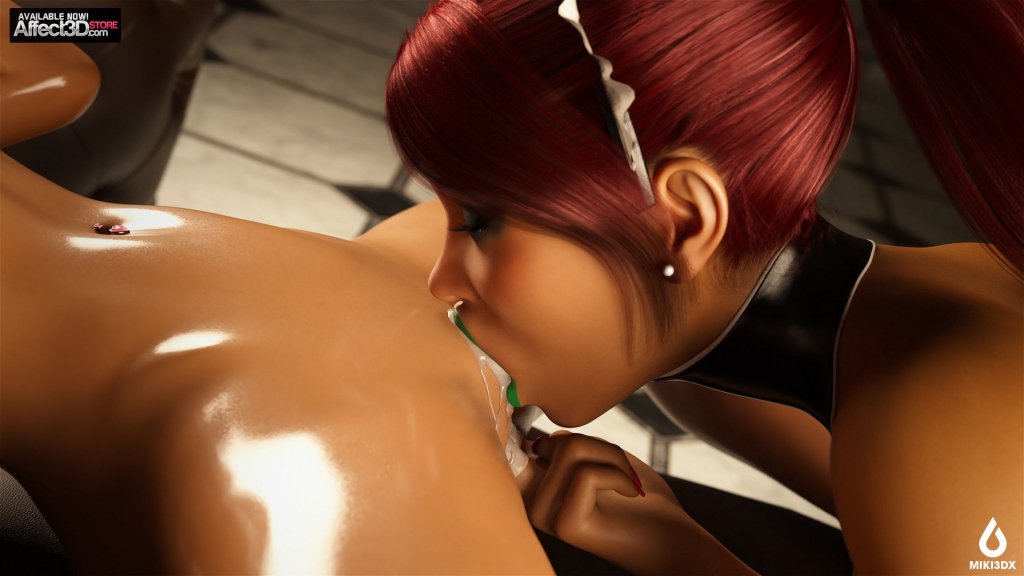 Faith and Denise, under the watchful eye of their mistress, get down to business. And by this I mean they start by a little finger play and then kissing. This simple foreplay leads to some serious stimulation and pussy licking during which Faith has an even tougher time retaining any semblance of control. As for Denise, it's at this point that the lube starts getting to her too and she can't help but cum. Naturally, as this occurred without her blessing, Janine is not happy. She has a very special punishment in mind for her naughty maid. But I'll let you find out just what…
Now, of course, no bimbo training session is complete without its batch of toys. And so, from an anal vibrator synched to Denise's heartbeat, to a double dildo, Janine really puts her sex slaves through their paces! Will Faith pass and finally achieve her dream of becoming a sex bimbo? Find out and purchase Bimbo Training Session Three for $10! The set includes an over 90-page comic as well as a text free version! Alternatively, you can grab Bimbo Training Sessions Bundle, which includes 5 episodes with Miki3dx's sexy girls, for just $25.00! For more info about the bundle keep scrolling down. 😉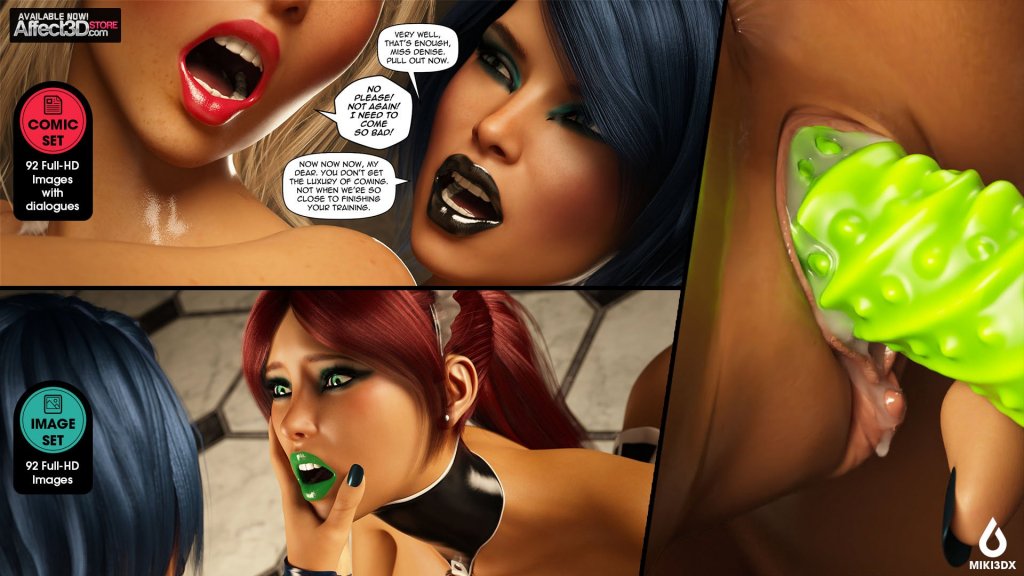 Bimbo Training Sessions Bundle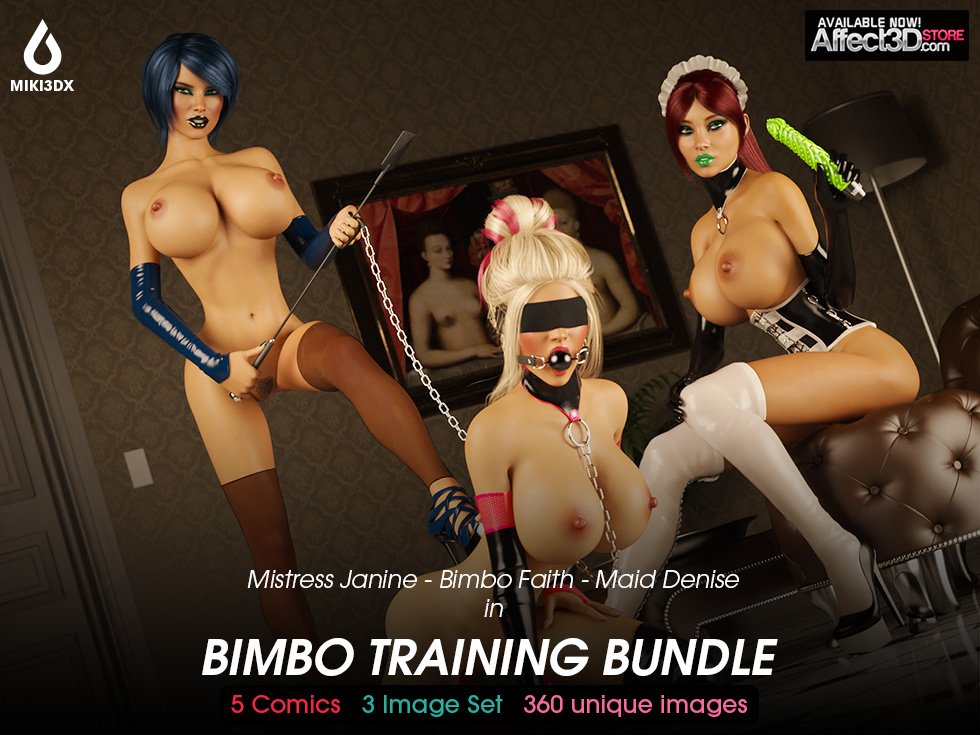 Just to celebrate how epic a series this is, we've decided to create a bundle, so you can fully enjoy the Bimbo Training experience! Indeed, Miki3DX and Affect3D have combined every training session and character set to provide you with everything you need to train your own bimbo.
What's Included:
Bimbo Training: In this introductory piece, we discover Faith, a girl who desires only to become Mistress Janine's sex plaything. She opens a gift containing a dildo, lube, and instructions. And in order to deserve this gift, she must complete the very explicit list of actions detailed in the note. Hence, Faith drives herself to near ecstasy before the arrival of the infamous Mistress Janine
Bimbo Training Session 1: We pick up right where the introduction left us – with Faith being guided by her new mistress. This time round, Faith gives her trainer some well-deserved pleasure, whilst receiving some herself. Indeed, both ladies indulge with a double dildo and a game of dominated/dominator.
Denise Latex Maid: Any devilish sex mistress has a little sub sex maid right? And so we meet the divine and naughty Denise. This 49 HD render series just how naughty and horny Denise can get before she is "punished" by her mistress for having fun without her. Oh Denise, when will you learn?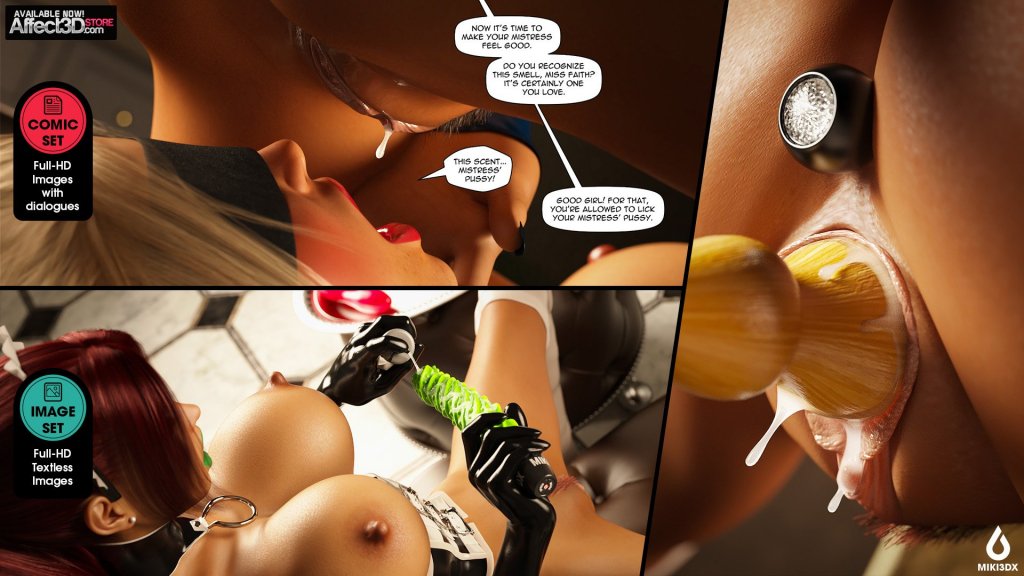 Bimbo Training Session 2: Things get serious in Faith's second training session as even Denise is called in to assist. The Mistress and her two subs experiment with pain and pleasure, using a variety of tools and toys for maximum effect.
Bimbo Training Session 3: In her last training session, Faith must undergo a series of tests to really push her self control. Once again, Denise is called in to help. Things don't go quite to plan however, as Denise's naughty side quickly gets the upper hand again…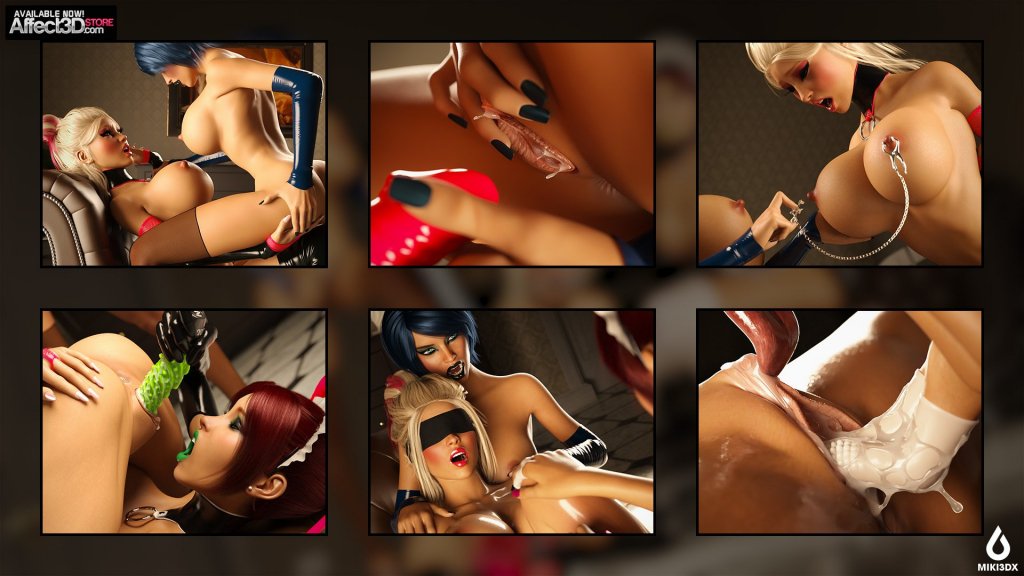 All in all that's one epic bundle guys, I gotta say! For the small price of $25 — Miki3DX you really spoil us! The bundle is available now in the Affect3D Store!