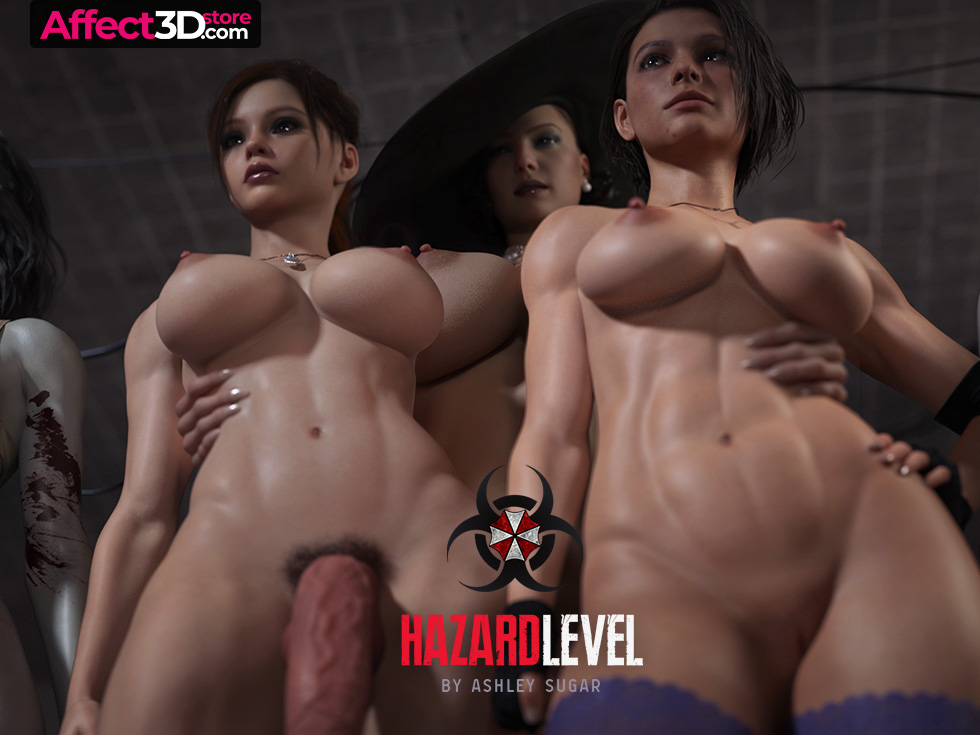 Today is a good day because one of our favorite 3DX artists is back with a brand new release! Ashley Sugar has an all-new image set that puts a hot spin on the zombie genre! Titled Hazard Level, this 111-image comic has futanari, kissing, a zombie orgy, and more.
Ever wondered if zombies have a sex drive? Well, turns out they do. And two, lovely survivors of the zombie apocalypse, Jill and Claire, are about to find out just how much because these ladies are walking straight into a trap! Luckily for them, however, the zombies aren't intent on devouring our heroines. Rather, they have something else in mind… What's more, the horde happens to be made up of hot, busty zombie females dressed in lacy lingerie.
As the two girls are overwhelmed by the zombies and quickly infected with lust, they let themselves go with the flow, allowing desire to take over. The pair are fucked repeatedly by the undead as well as showing each other some love, with Jill jumping on Claire's cock! Plus, it turns out all the zombies are controlled by the Mistress, a vampiric force with her own massive cock! Naturally, the vampire lady is intent on sampling the two lovers' asses.
You can pick up Ashley Sugar's Hazard Level for $9 in the Affect3D Store now! With 111 images, it's quite the deal and the vertical orientation means it's great for viewing on mobile! Check it out!