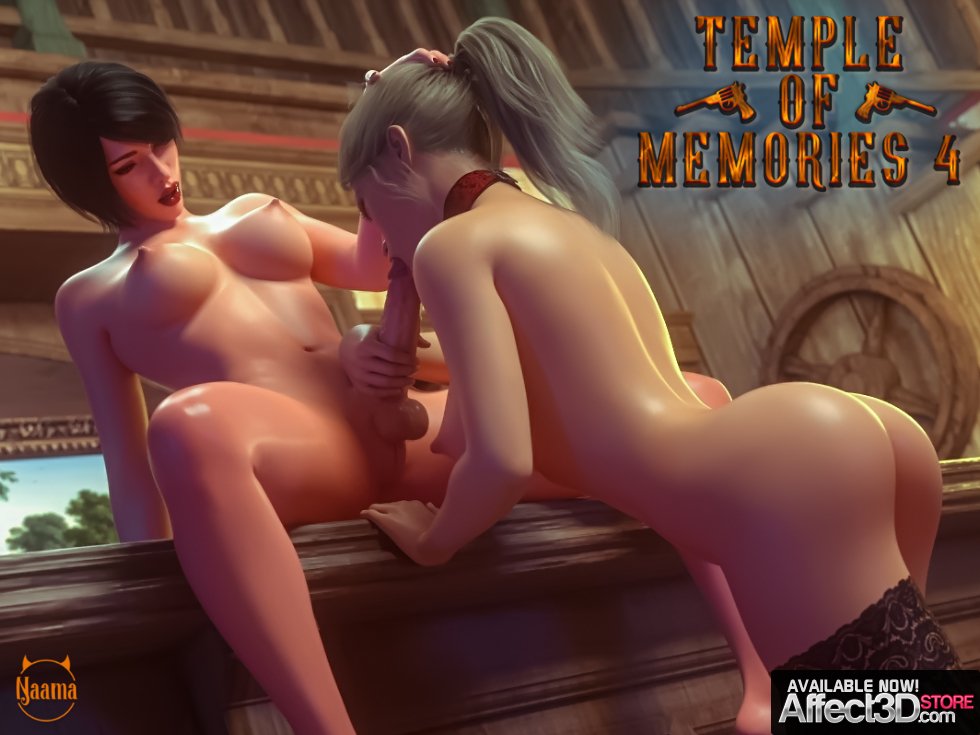 It's here guys! No not that commercial romantic holiday, no I mean Temple of Memories 4 by Naama! Indeed, this epic new installment in an already epic series takes a whole new turn and explores another era! So make sure you grab a copy from the Affect3D Store!
This time Naama takes us to what appears to be the Moscow subway where a beautiful blonde is boarding a train. As she sits, she feels a strange sensation in her hand and removes her glove. Her hand begins to glow bright blue. Naturally, she rushes to a friend only to find the phenomenon repeats itself! The pair are then thrust back in time to the far west.
The blonde's beautiful brunette friend finds her distraught companion in a saloon, scantily clad and beset by a ring of hooligans. The pair easily get the upper hand and banish the bad guys from the bar. Of course, as a means of thanking her friend, the blonde invites her over to the bar and begins undoing her trousers. It's at this point that she reveals a massive cock.
She starts by jerking off the brunette futa before taking the massive member in her mouth and fingering her. All this excitement obviously has the brunette on edge, as she cums almost immediately. But, being a good futa, this by no means hampers her performance.
The futa proceeds to fuck her lover's ass on a stool, switching between doggy and missionary. They then go to the bar, this time the blonde get's fucked missionary in her pussy. The lovers switch between various positions before the futa cums deep inside the blonde. Naama gives us a stunning new installment in the Temple of Memories series! Episode four, with its 78 HD renders could be yours now for a mere $…!