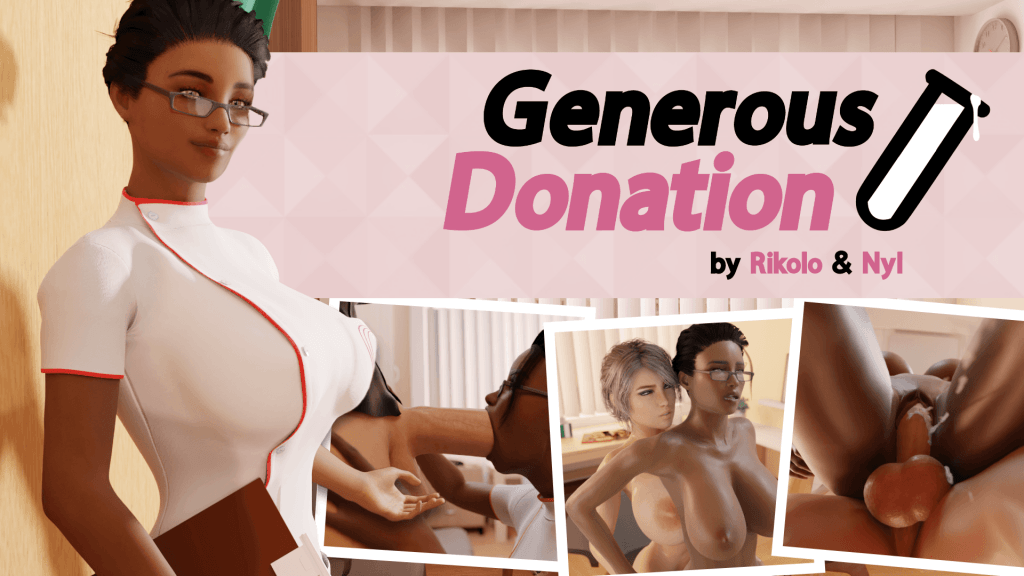 Today's post is a brand new, collaborative piece by Rikolo and Nyl! Generous Donation is a fifteen-minute long futanari animation that will have you rushing to the sperm bank, trust me!
It's only normal to assume that in a world where insanely hot chicks walk around with massive cocks and balls, sperm banks are taking full advantage of this unique situation. And today's post release (no pun intended) with just this resourcefulness. You see, Sarah has decided to make her fair contribution by heading down to her local sperm bank. And whatya know, the staff here happens to be extremely helpful! Yep, in fact, you could really say they're… hands-on.
Sarah finds herself assisted by a lovely, huge-titted nurse. Indeed, she's so dedicated she can't resist her patient's call for help when she shows her to her room. Sarah convinces the nurse to lend a helping hand – well hands in this case. The nurse gets on her knees and begins jerking the brunette off against the wall. She then bravely starts sucking on the massive cock whilst Sarah thrusts it deeper down her throat. What service!
Sarah rightly points out that it would be a shame to pass up on such a magnificent pair of tits, thus convincing her nurse to let her tit fuck her. The two then switch to standing, Sarah behind the nurse, her cock rubbing between her thighs. This it seems is too much for the latter, finally ripping off her thong and pushing her patient inside her tight pussy. Sarah now fucks the nurse until she cums inside her – wasting the sample. Oh well, guess that just means they'll have to have another go!
This stunning animation will really appeal to your generous side – who knows, perhaps you'll make a donation of your own?
Generous Donation contains over 15 minutes of full HD, 50 FPS animation. The production is fully animated with both story scenes and various sex positions which includes a handjob, blowjob, titjob (paizuri), thighjob, and — after all that — some very anticipated penetration. The whole thing wraps up with a delectably drippy creampie to the sexy moans of voice actresses Lexxi Lovelli and Aero_Buddy. Don't miss this awesome new animation from Rikolo and Nyl, it's available now for just $18!