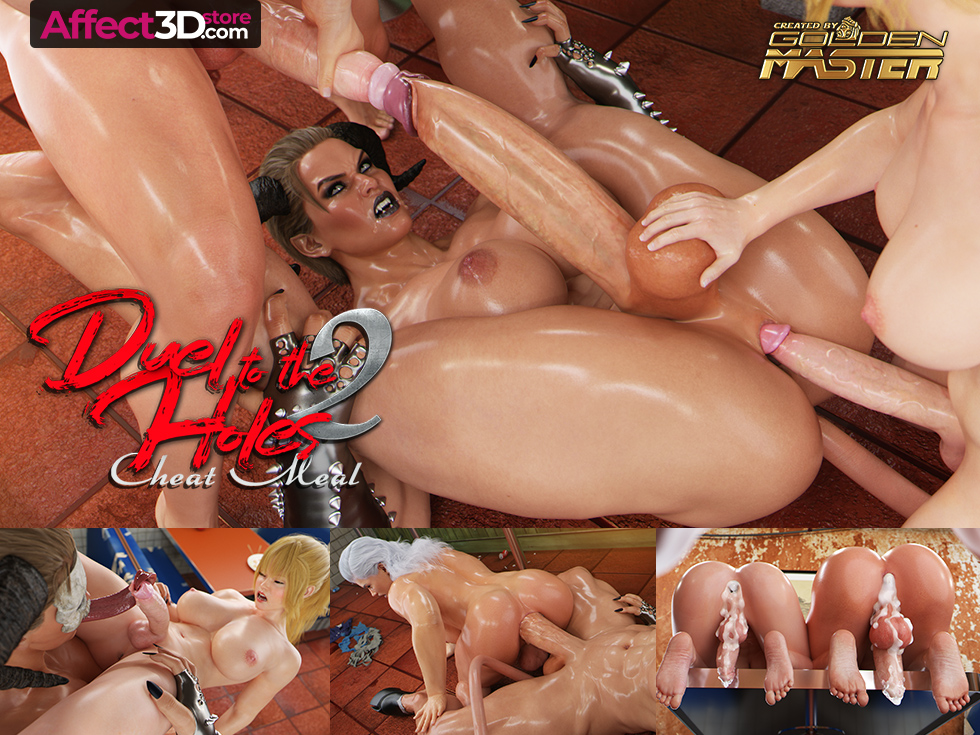 Noi and Nikaido are wanting to sit down and eat after their 'fight'. Nikaido surprises Noi by showing off her cooking skills. In the latest from GoldenMaster, Duel to the Holes 2 – Cheat Meal (now available in the Affect3D Store), they're met with Chidaruma, a demon of sorts who is after Noi.
By not defeating the threat she was tasked with doing (in this case, Nikaido), Chidaruma is here to finish the job. Before she does that she sends Noi flying while having her way with Nikaido. Using her long tongue to taste her cock, ass and tits, she sees why Noi ended up fucking her. Once she slides her massive cock inside Nikaido, Noi comes back but doesn't fight – instead she gets on her knees and starts sucking Chidaruma's balls whilst fisting her.
What ensues is a wild threesome between the three. From Noi and Nikaido double penetrating the massive futa demon to them being penetrated with that monster of a cock. Bending them over on one of the diner tables, Chidaruma fills both of their asses to the brim resulting in quite a mess. Between what Noi was supposed to originally do versus what just took place, there's no telling what else Chidaruma has in store for these two.
Duel to the Holes 2 – Cheat Meal spans across 240 images and is available now in the Affect3D Store for $10.00!