Release Day! Buy Bloodlust: Cerene – Royal Descent now!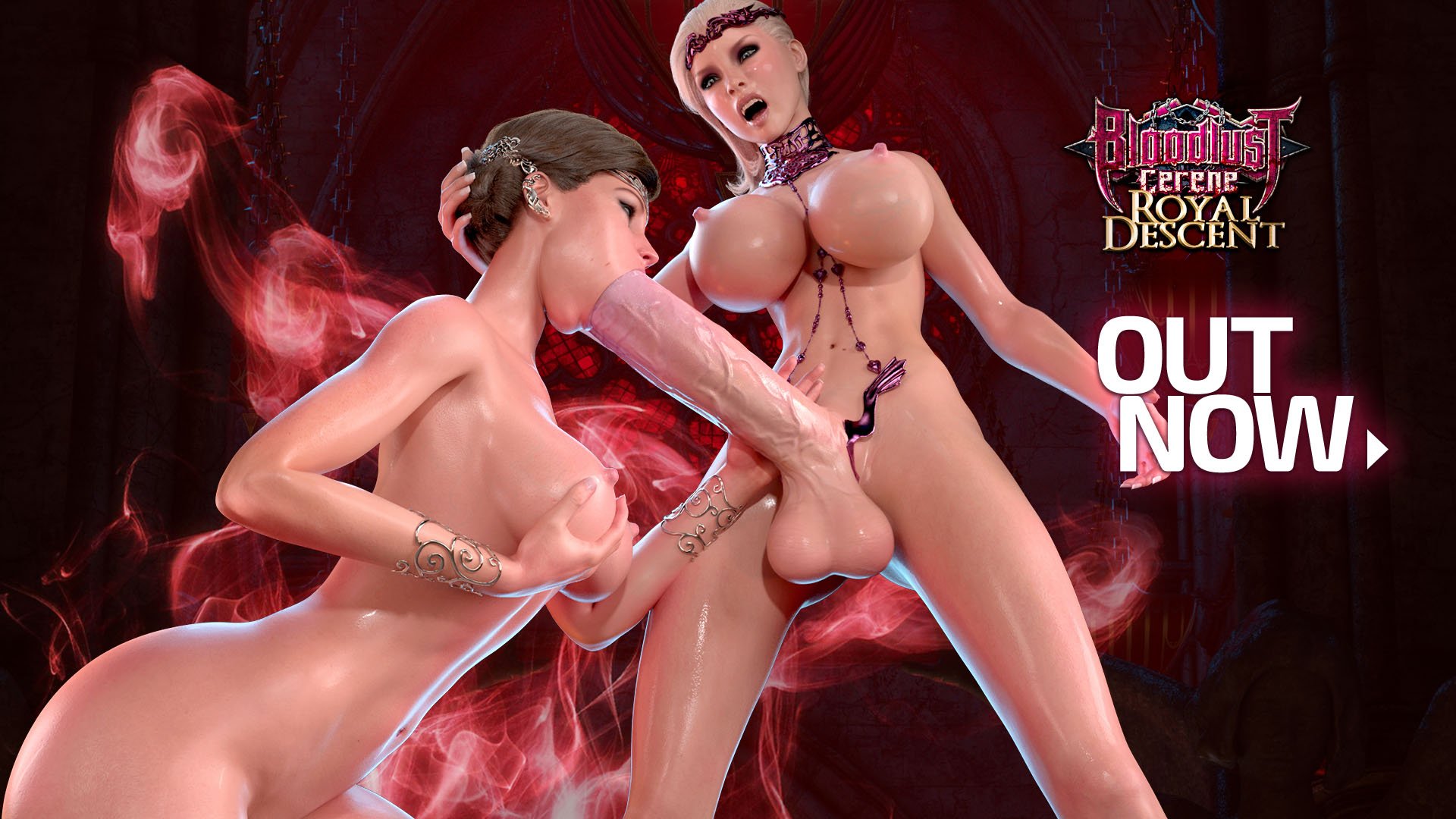 We know you're here to get your mitts on Bloodlust: Cerene – Royal Descent 😀 So, let me keep this short. First, the summary:
Bloodlust: Cerene – Royal Descent features our favorite blonde vampire of ample boobage, Cerene, and the beautiful Duchess in her clutches, Sophia. The vampiric siren is said to have the tightest ass in the land, but it's the svelte body of Veridian's noblest lady that will take the pounding this time.
This episode continues where the original Bloodlust: Cerene left off, but the vampire has decided three's a crowd. Swatting Tristan out of the picture, Cerene introduces Sophia to her other moniker: the thickest cock in Veridian. Sophia blushes at first, but our distinguished Duchess can't resist taking 14.9 inches of dickgirl cock down her throat. From there this cute pair start a little sexual adventure together to discover which of Sophia's other holes Cerene's futanari cock will fit in. 😀
I'd like thank all who've participated in creating Bloodlust: Cerene – Royal Descent. It is our most polished release to date, thanks to you! Now that we've honed our team-based workflows, we're ready delve deeper into the intense world of 3DX. To our fans, thank you for joining and supporting us, and if you're inclined, please check out our brand new Patreon for a closer look at the new character joining Cerene and Sophia, as well as future Bloodlust: Cerene and Girlfriends 4 Ever updates.
Now for the products… Just like with Girlfriends 4 Ever, we're bringing back the bundles, so if you're a newcomer to Affect3D you can short cut your way to a specific selection or even our entire catalogue with the "Affect3D Collection 2018." As usual, there's an early bird discount for those of you who purchase by October 20th, 2018.
With that said: I hope you enjoy Bloodlust: Cerene – Royal Descent as much as we've enjoyed making it! 😀
Bloodlust: Cerene – Royal Descent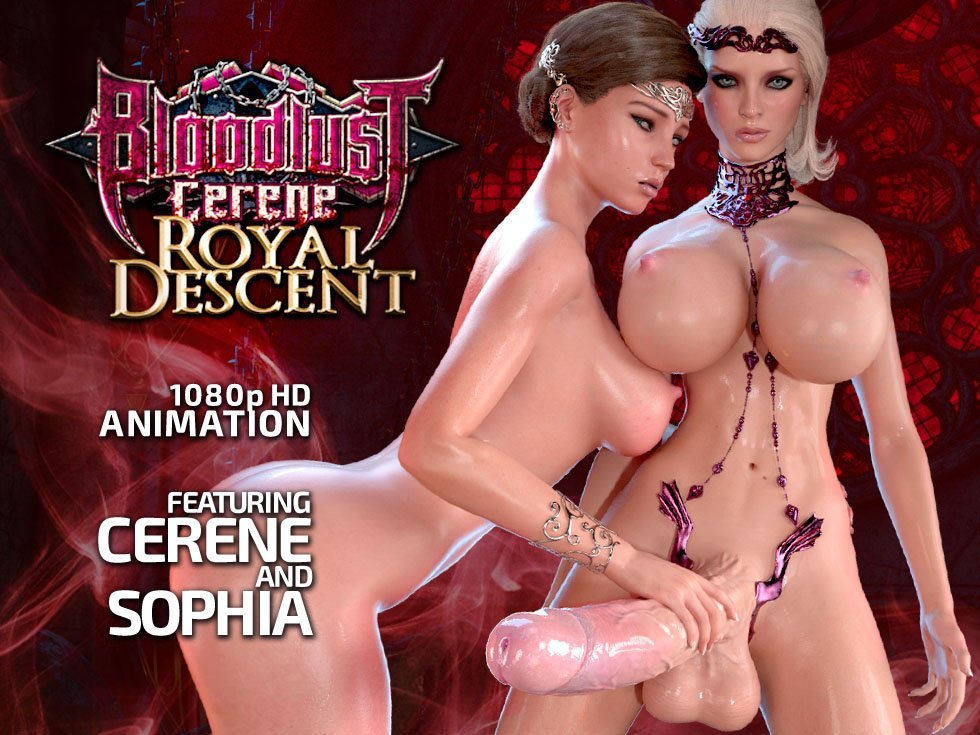 WHAT'S INCLUDED
Total Content: playtime at default settings, approx. 53:17 mins

Main & Cut scenes: approx. 13:53 mins
Sex scenes Vampire Lair: 10 x sex scenes @ 4-6 short looped angles, 47 angles total
Main story play length incl. main & cut scenes approx. 35:49 mins
Fun Stuff Sex scenes: 15 x sex scenes @ 1-4 short looped angles, 40 angles total
Fun stuff play length approx. 17:28 mins

Positions include: slow blowjob, fast blowjob, foward blowjob, hands-free pussy-cock balance, pussy-cock balance deeper, missionary pussy, anal 1, anal 2, anal 3, anal 4, insertions, cum shots
Fun Stuff Positions include: piledriver (anal), piledriver (pussy), Cerenes making out, autofellatio, deepthroat 14.9 inch, deepthroat 20 inch, Sophia BJ POV, Sophia big boobs 1, Sophia big boobs 2, Cerene huge boobs, missionary X-ray, anal X-ray, Sayako stroking cock, Sayako grinding, Cerene grinding
Format: 1080p HD video @ 30 FPS, viewable as either MP4 video or PC/Mac software
Bloodlust Collection 2018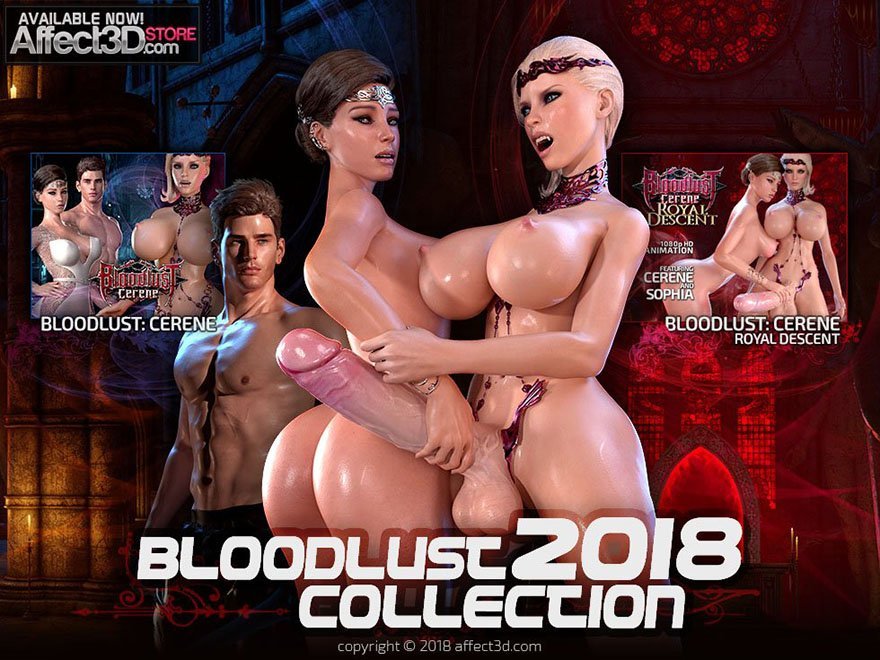 WHAT'S INCLUDED
The Bloodlust Collection 2018 contains the following products:
Bloodlust: Cerene
Bloodlust: Cerene – Royal Descent
Affect3D Dick Girl Collection 2018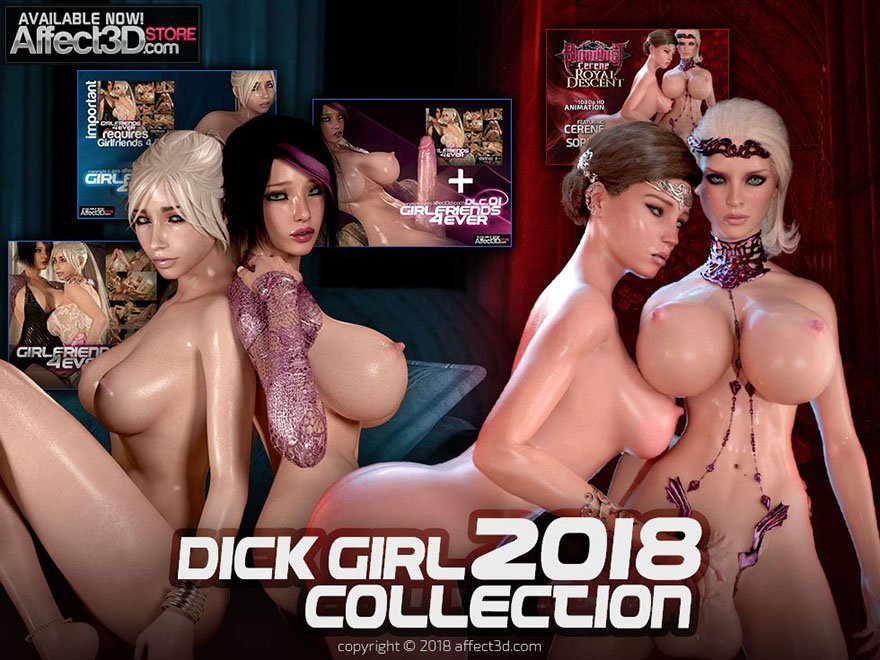 WHAT'S INCLUDED
The Affect3D Dick Girl Collection 2018 contains the following products:
Bloodlust: Cerene – Royal Descent
Girlfriends 4 Ever – Original Version
Girlfriends 4 Ever – DLC 1 & DLC 2
Tara's Second Assignment
Affect3D Collection 2018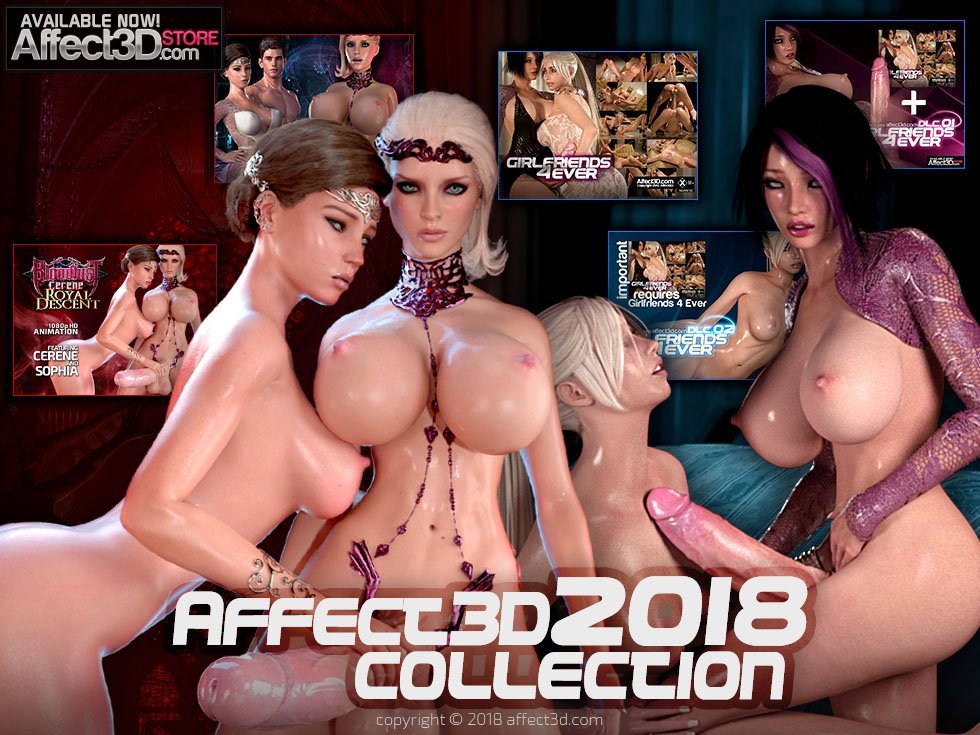 WHAT'S INCLUDED
The Affect3D Collection 2018 contains the following products:
Bloodlust: Cerene – Royal Descent
Bloodlust: Cerene
Girlfriends 4 Ever – Original Version
Girlfriends 4 Ever – DLC 1 & DLC 2
Tara's First Assignment
Tara's Second Assignment
Ayako: Sex Addiction
Ayako – The Blowjob