Did you watch the trailer for Cockwork Industries yet? If not, check it out above. This new PC game is available today and if you ask me, it looks awesome. If you're like me and wanted a bit more info on the game than what's in the trailer, then you're in luck: earlier this week, I had a chance to interview one of the game's creators, Astaroth, to get just that. Check it out below!
Marie: Hi Astaroth! Thanks for chatting with me. Before we start, could you just introduce yourself to the readers incase they're not familiar with your other work?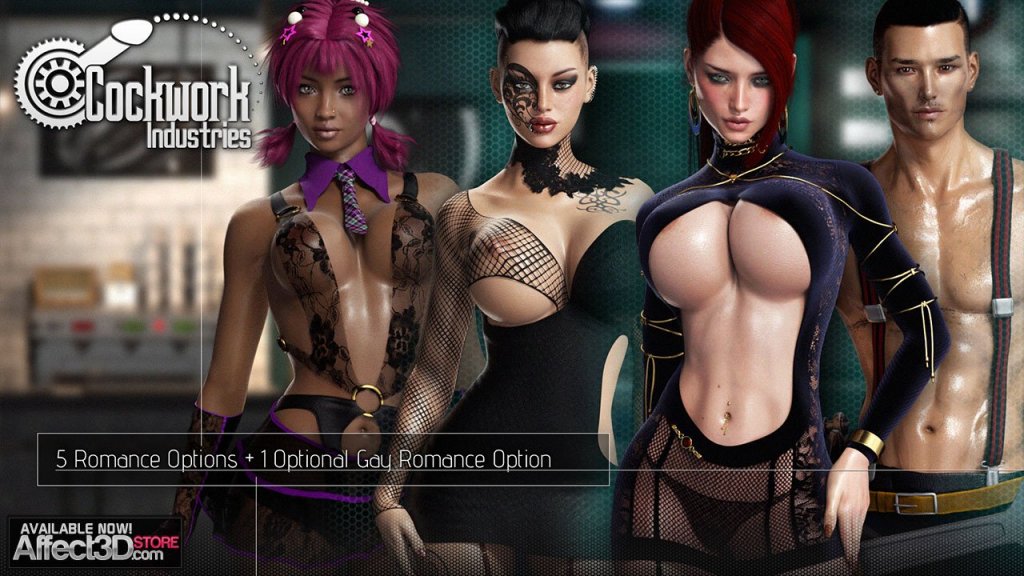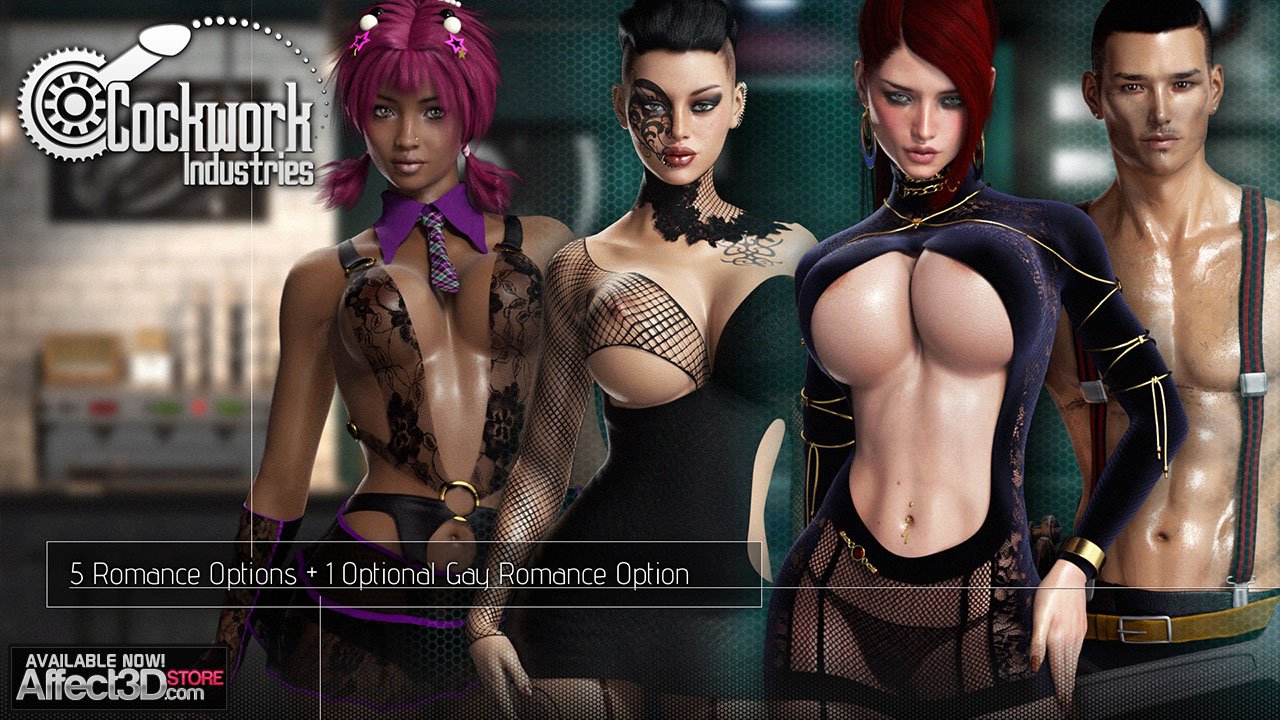 Astaroth: Hi all! I'm Astaroth, half of the Digital Seductions team (the other half being my friend Tokage). We've mostly been known in the 3DX community for running World of Peach, Sodom Sluts, and Tales of Pleasure, websites containing 3DX images and comics with each website having their own theme and covering different fetishes. Most recently we switched to making adult games and our first game, Cockwork Industries, which is releasing week. If you want to learn more about us and see what we're currently working on, visit The Digital Seductions Blog.
Marie: Great, thanks! So can you tell me about the origin of Cockwork Industries? Where did the idea come from?
Astaroth: The game is actually inspired by a comic I made a while back titled, surprise, surprise, Cockwork Industries 😉
The comic had a diesel-punk theme, which I really enjoy and it received positive feedback as well. I already started working on a second part of the comic (first several pages have been published) when we made the decision to switch to making games instead of image sets and graphics, since game development has a lot more potential overall. I took the ideas I had for the comic, expanded them and over a few months converted into the game narrative. That's how the Cockwork Industries game started.
Marie: That's a big jump to go straight from comics to games. What's the scale of your team? Is it just you or a few others?
Astaroth: The team and its scale is the same as it's always been, that means me and my friend Tokage 🙂 While I had been preparing the script and graphical assets for the game, he took the responsibility of finding the appropriate engine and coding the game upon himself.  (Note from Marie: During our chat, I also learned Tokage is responsible for the game's sound design.)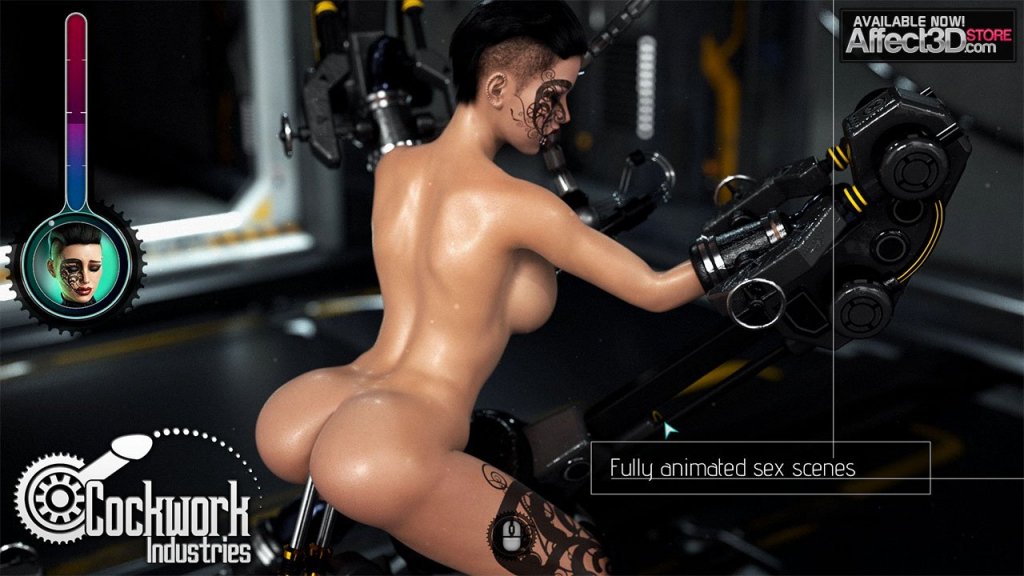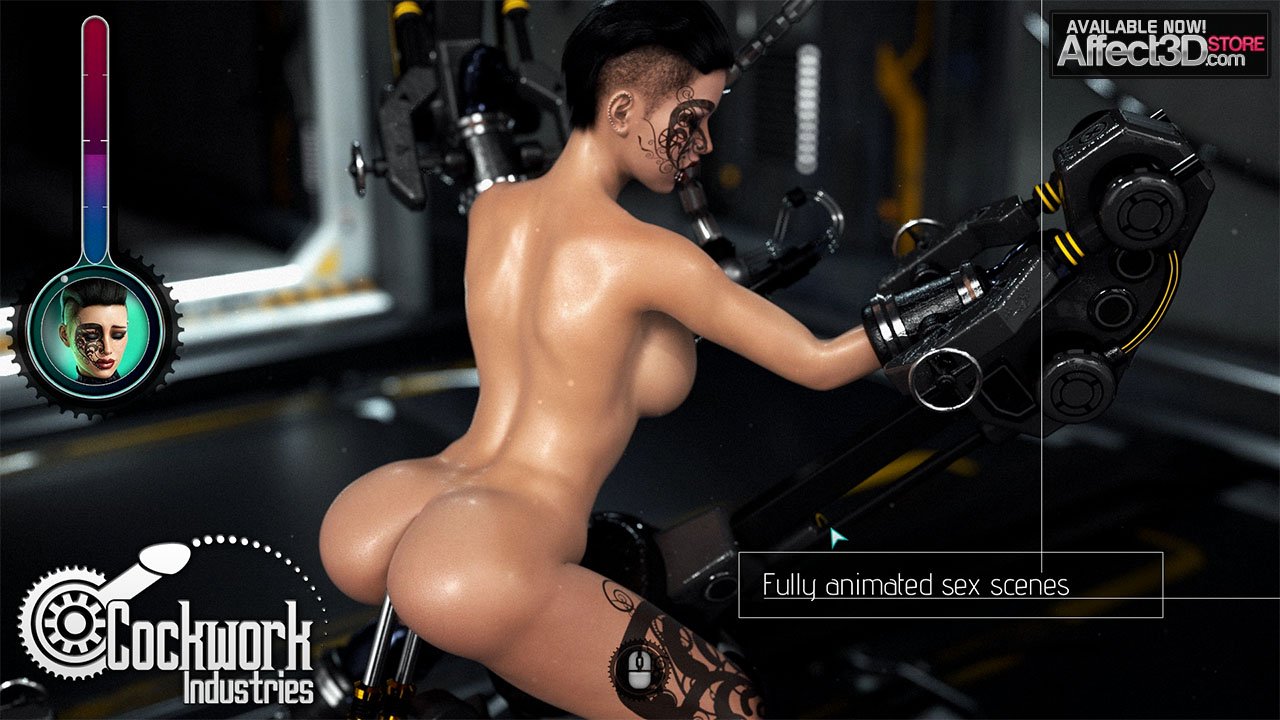 Marie: Okay, next question. Our readers will be able to draw some information about what the game is like from the trailer and what you said above, but can you tell them a bit more about it? Like the basic plot setup and what they'll be doing. Maybe you can compare it to a mainstream game they might know?
Astaroth: In Cockwork Industries you play as Dwayne – a regular guy who (to his own surprise) won an online competition to be a guest of honor for an event held at Cockwork Industries, a renowned, yet very mysterious body-alteration facility. Throughout the game, you gradually learn what the big event is about, get to meet and (potentially) romance the Cockwork Industries staff, learn their goals and motivations.
Gameplay-wise, I'd say it's a mix between a dating sim and classic point-and-click adventure game (although, of course, much simpler and shorter than the classics of the genre like The Secret of Monkey Island). We strived to diversify the gameplay as much as we could (for a two-man team), so apart from branching dialogue, you also have item usage, minigames and interactive sex scenes.
In the future, we also plan to release at least 2 DLCs that introduce new characters (and therefore more romance options), locations and gameplay elements.
Marie: And where would you say Cockwork Industries falls as far as porn genre? Is there any favorite subject matter your audience can look forward to? Threesomes, lesbian, group, futa, monsters, dominance/submission, etc? That kinda thing.
Astaroth: Because making games takes a lot of time and because this is our first game, we wanted to have something for everyone to enjoy. We wanted each sex encounter to be unique and our cast of characters diverse. Essentially, Cockwork Industries contains a mix of vanilla and fetish sex. There's group sex, lesbian, femdom, machines, defloration, and even optional gay sex, if that's what you're looking for. Futanari plays a part in Cockwork Industries, but only story-wise and not as an interactive event, though we'll certainly expand on that in the future. We will probably include some monster encounters in future games, but there are none in this one, since it doesn't really fit the theme.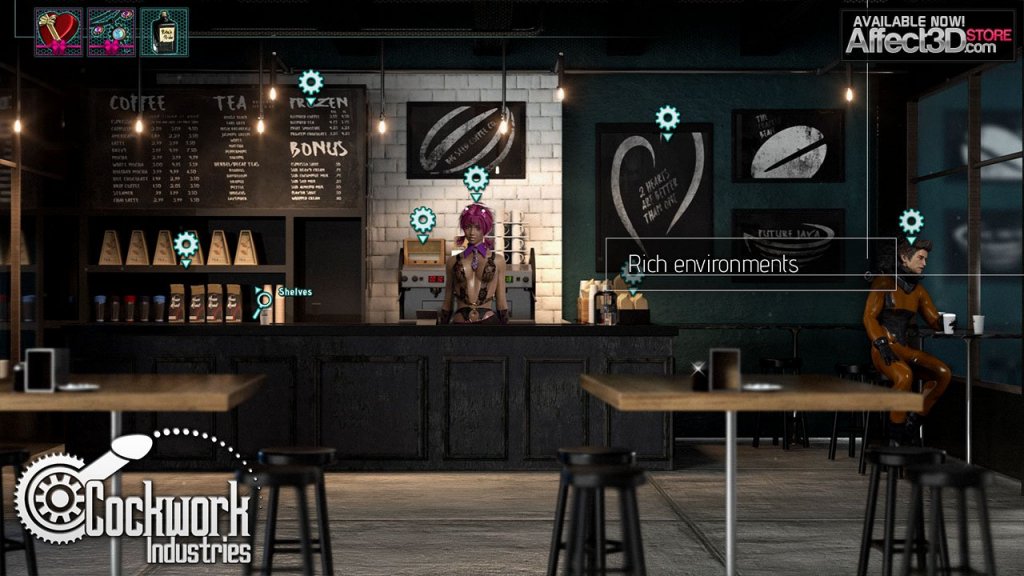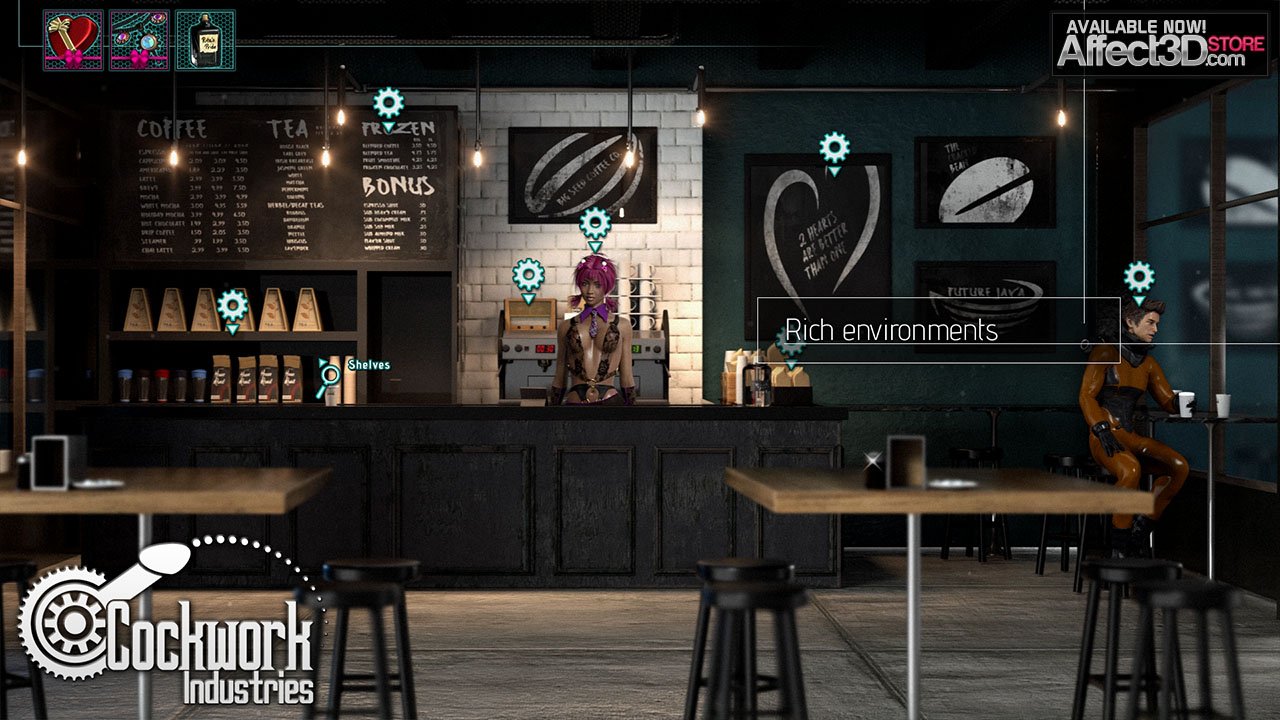 Marie: That's a great mix for a start, I'd say, and very fitting for the diesel-punk setting. Okay, one more then I'll stop bugging you. 🙂 What are you most happy with or proud of, or just generally excited for players to see?
Astaroth: I'm really happy with how the game turned out overall. I think animated and interactive sex scenes are a highlight of our game and will be most memorable for our players. What I'm personally excited to see is if players will be able to pick up all of the pop-culture references we included in the game. I had a lot of fun writing those.
Marie: All right, we'll wrap it up with that. Thanks so much and good luck with your release! 🙂
Astaroth: Thanks! It's been a pleasure.
So I actually lied and asked Astaroth one other question after that last one, which was about the OS requirements to play the game. He said it's currently only available for PC, but they're considering a Mac port as well. Sorry Mac users, you'll just have to boot over to Windows to play this one. For the exact system requirements you need to run the game at optimal settings, check out the game's product page. Speaking of which, because of the magic of the Internet and the passage of time, Cockwork Industries is actually already available for purchase now! You can buy it using the link below.