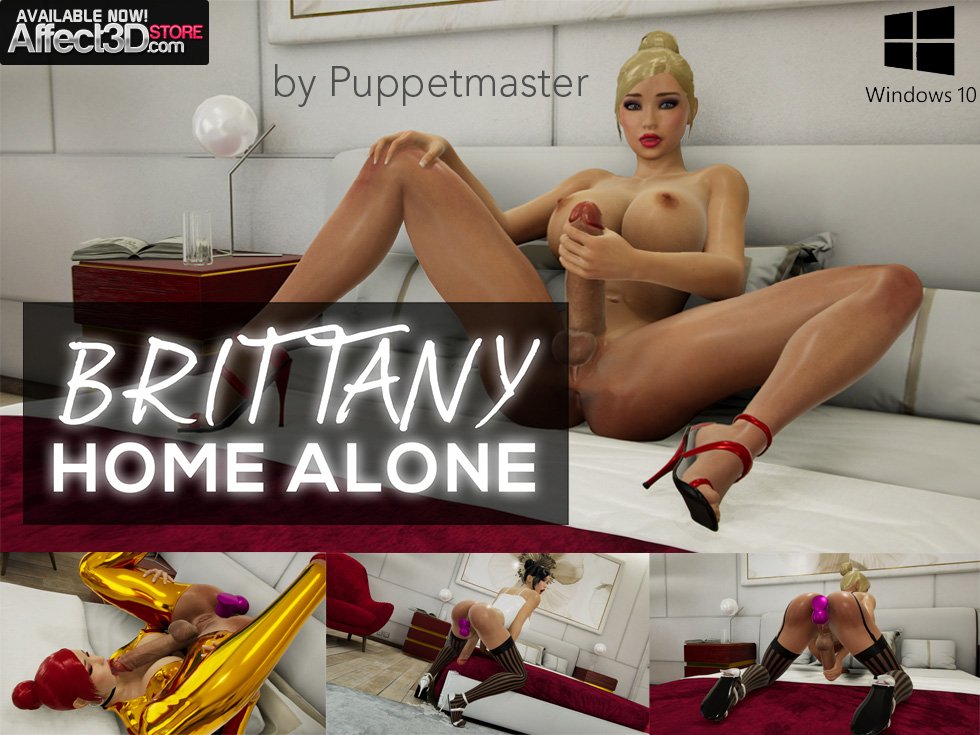 In need of a fun game to take the edge off? Well, you're in luck! Puppetmaster has just re-released Brittany Home Alone for PC! This PC only game will let you take charge of one hot futa's satisfaction! If you missed the trailer, check it out cos' it's available now in the Affect3D Store!
With an eighties vibe and a very horny futa, I already knew I was getting myself into trouble here. Well, it didn't disappoint. Yup, Puppetmaster's latest release is perfect!
I love everything about this game: from the customization options to the positions and setup. For example, you can choose to have Brittany sit on a dildo butt naked or dressed in a tight corset and stockings with a collar and cute cat ears to match! Or, you could choose to have her suck off her own cock whilst you thrust a massive dildo in her ass! Other possibilities include removing her balls to keep her cock and pussy, making her fitter or wetter and much, much more.
And what a set of positions! From self sucking, to being sandwiched between two dildos, or even being fucked hard by her lover Trinity, we got it all!
As for the game itself, the goal is to make Brittany climax. Indeed, there's a satisfaction bar on the right of the screen that lets us know just how happy our naughty futa is. Alternatively, you can also just skip to her cumming… whichever you prefer.
Brittany Home Alone for PC is both a fun and insanely hot game available on PC. Furthermore, it cums straight from the genius mind of one of our most famed artists – Puppetmaster! But be warned, this could prove fatal for any other activities you had planned this weekend! So what are you waiting for? It's available now for $21.99! And good news, our current stay at home coupon codes are valid on this product, so if you're grabbing this game use "stayhome20" at checkout to get 20% off OR if you want to purchae a couple more items to bring your cart above $40, you can use the stayhome40 code to get 40% off. Quite the deal, but it's only until Tuesday night so act fast!