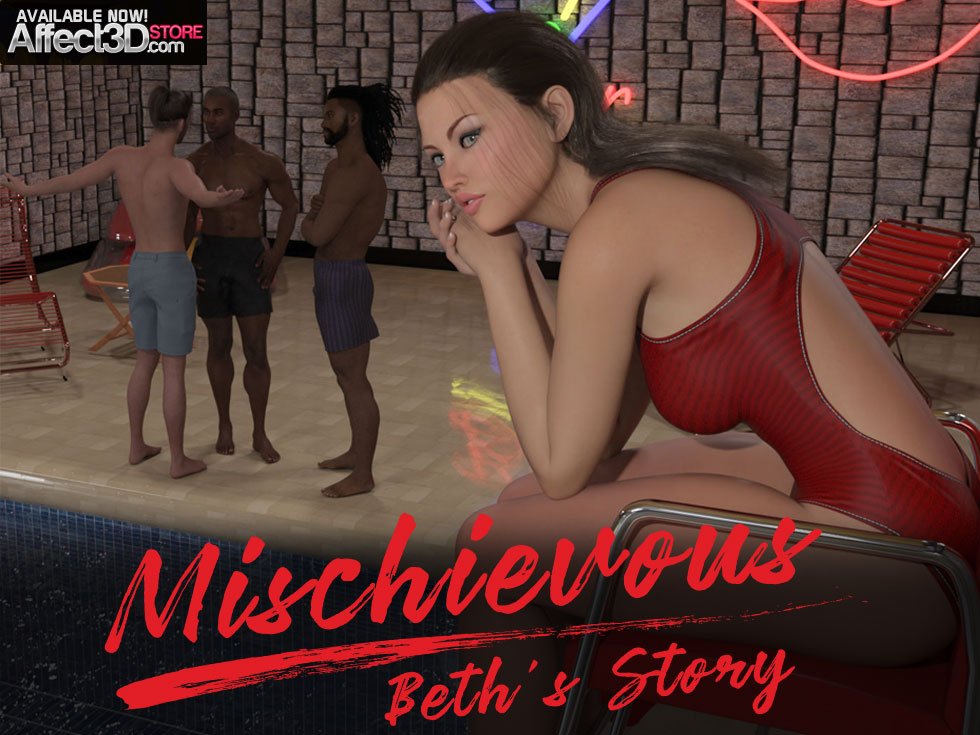 Sexy3DComics adds to their new Mischevious series of sexy, short one-shots – which gives some really fun options for them to experiment with without committing to them. In this one, Beth's Story, Sexy3DComics gives the protagonist a potentially-impregnating creampie gangbang (one of their specialties, really) after some fetish geared femdom. Hot.
Fucking her husband, Beth tells him about her fantasy of being fucked by other men. Humiliating him is, of course, a fun time for both of them, and he also gets off on the cucking fantasy.
Her narration of fantasy goes on for quite awhile, actually, and unbeknownst to her while she enjoys hot fucking, her husband's coworker overhears her entire monologue.
I hope you can guess what happens next.
At her work as a lifeguard, a private party of only three guys arrives – and they're there to fulfill her fantasy. The fear, surprise, and forbidden nature of all the unprotected sex makes it as hot or hotter than she imagined. Beth's orgasms rock her as they fuck and cum inside her cunt.
And you'll just have to buy the set to learn the rest. 😉 The 68-page set of gangbang creampie impreg fantasy fucking is only $6.99. So check out Sexy3DComics' Mischevious: Beth's Story now!