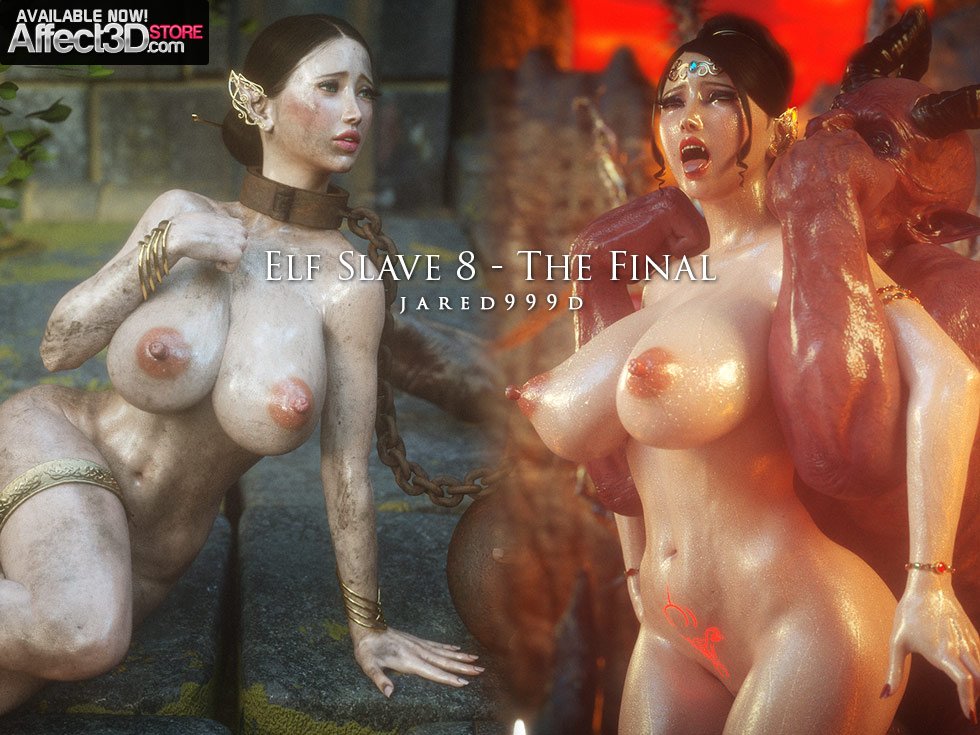 It's finally time folks: the last episode of Jared999D's Elf Slave series is here! Elf Slave 8 marks the final installment in this superb and unique series by Jared with a 464-image finale!
After a quick drop in on Jenna and Vics, the story picks up with Suzi — and she's still in a bit of a pickle. The dark-haired elf cannot escape the monstrous troll holding her captive, and after a deep fucking, she's wakes to find her ass being toyed with by the human man from before! When the troll returns and discovers Suzi's ass full of cum, he's naturally not too happy. Before he can punish her for good, however, a group of enemy orcs ambush the troll and a fight ensues. The random man, suddenly finding some courage, emerges to save Suzi, and both run off to find Karen.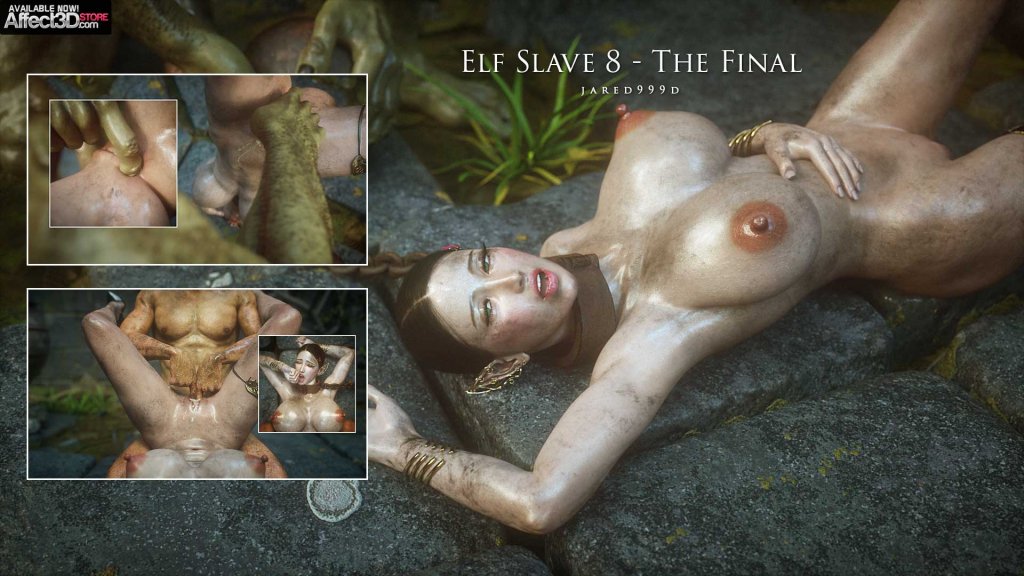 Finally we learn where Karen has ended up: she's been left chained on a mountain top for days, penetrated by axes (the handles, that is), and fucked by some random goblins. When the orcs who chained her there return, she's freed of that ordeal but seems it won't be her last.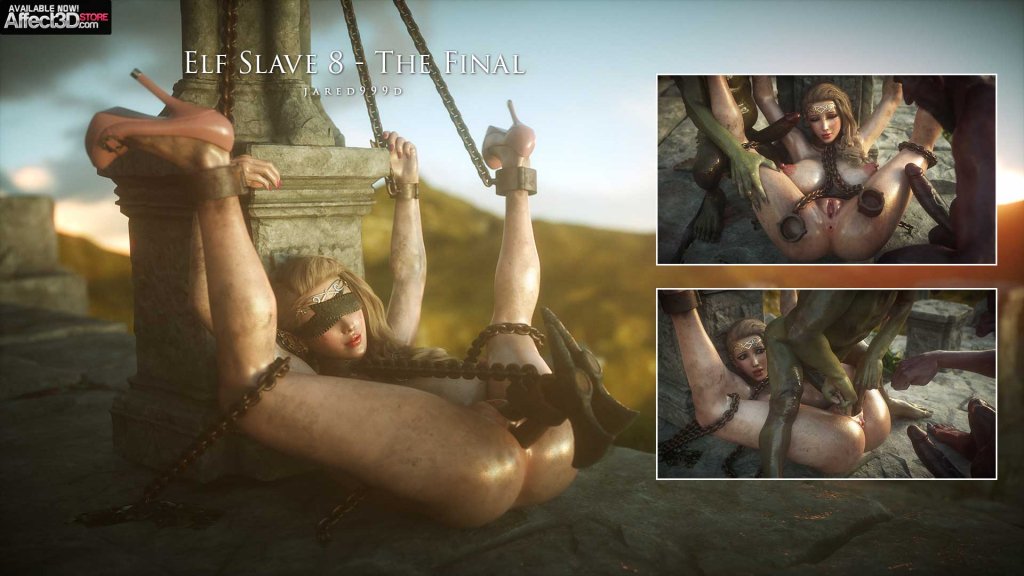 Karen is taken to an ancient temple set in the side of a mountain, cleaned up, andmade to ride the massive cock of a statue. This happens to be a sleeping orc demon who wakes with the touch of her pussy, transforms her into a demonic pawn, and opens a portal to some sort of hell.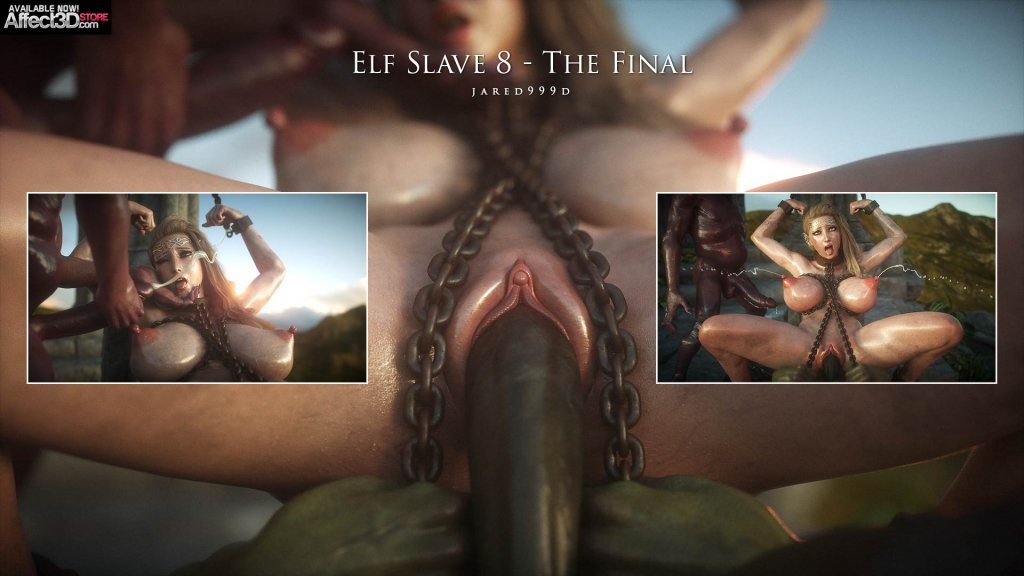 Suzi and the man arrive to try and free Karen but the demon uses his powers to capture Suzi too. Just as the three are about to enter the portal, Jenna and Vics arrive but they're is easily brushed aside by the massive orc. He takes Suzi and Karen into the portal wherein one hell of a fuck-fest awaits. But I'll let you discover this particularly spicy ending for yourself!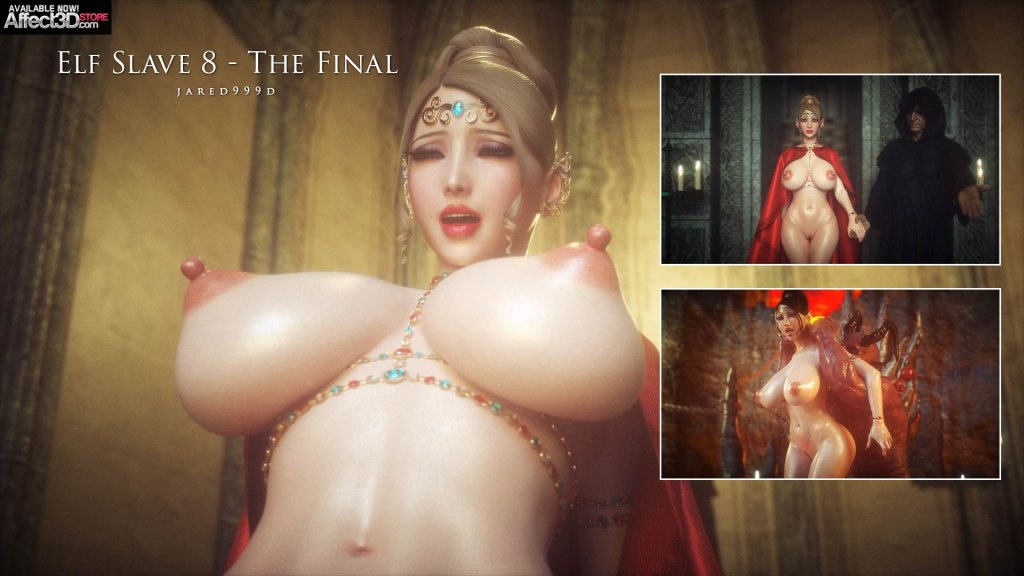 So make sure you get the series finale in the Affect3D Store now for $10.95! Trust me, you need to find out how Jared999D finishes off his unique saga. And at 450+ images, Elf Slave 8 is well worth the price! Bravo Jared, can't wait for the next one!
Elf Slave Bundle 7!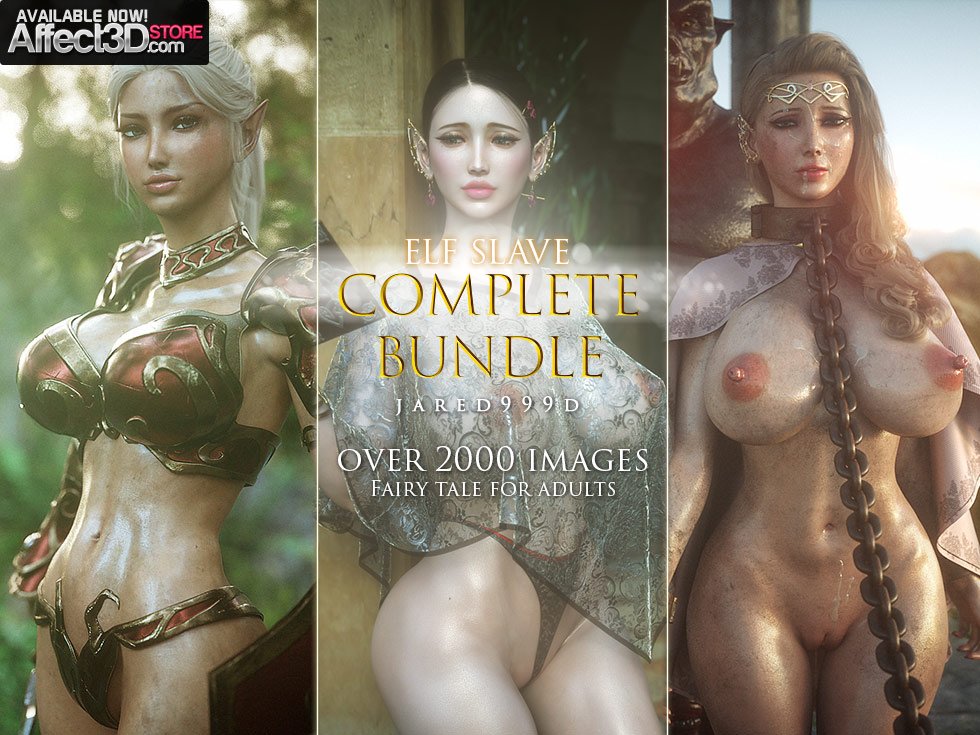 The bundle to end all bundles is here! With the end of the series comes this epic package to make sure you have all the episodes in the saga! Elf Slave Bundle 7 contains every title in the series.
Elf Slave: Volunteer One elf, Karen, heard a rumor about sex slaves. Some orcs are trading female humans and elves… Especially if the elf slave is rare and expensive.
Jenna's Revenge Elf Slave Story It has been several days since Karen disappeared. The rest of the elves don't know where she went, nor that she volunteered to become a sex slave. One of her fellow elves, Jenna, decides to head out and look for Karen.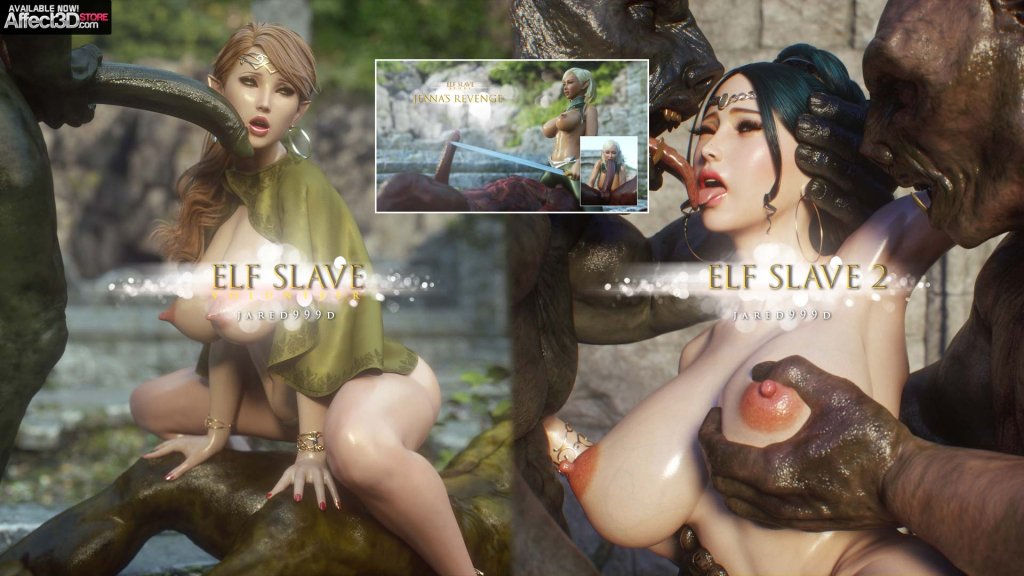 Elf Slave 2 The pure elf Suzi is still looking for her missing colleague, Karen. Suzi had been searching in the forbidden forest for a long time. Finally, she runs into and old little goblin. But can the goblin help her?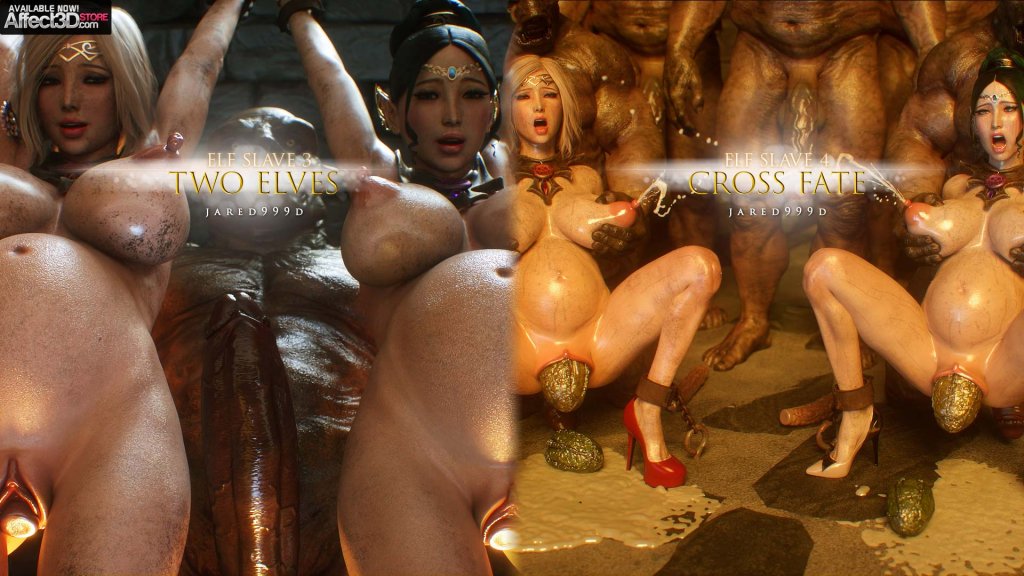 Elf Slave 3: Two Elves Karen was imprisoned in the dungeon cell for several weeks. She seems to enjoy her life now, although many things have changed.
Elf Slave 4: Cross Fate Two elves Karen and Suzi constantly had sex with Boer Orcs. They had to accept their demands always. They did not know how many Orcs' eggs they had. Karen was afraid that she could not escape forever with this extreme pleasure. Also, Suzi wished this was a dream. During their life, a goblin sneaks into the prison cell. He was a goblin who looked at Suzi until the end when Boer Orcs took her. Can they get out of here now?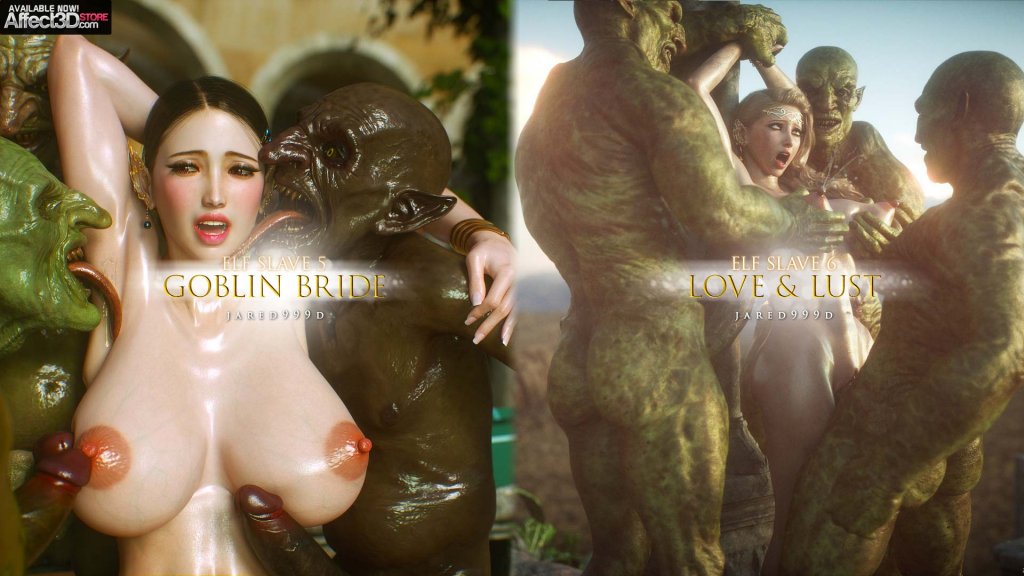 Elf Slave 5: Goblin Bride The Boer Orcs think Karen is no longer useful and decide to sell her. On the way, they meet various humans and monsters, each time Karen had to give her body to them at cheap coins. They meet the Spiky Orcs and decide to stay there overnight. Suzi accepted the proposal of Vics (the goblin who saved her from the Orc's cell). Vics' friends wanted to share Suzi, but Vics did not allow it. But other wicked goblins have an evil plan. One peaceful day, the goblins visited the Suzi couple.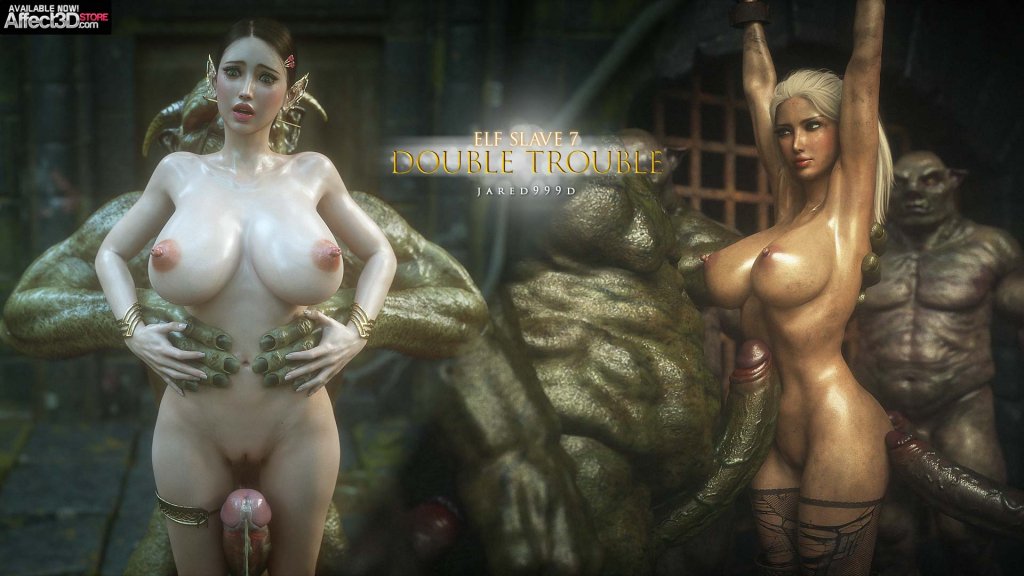 Elf Slave 6: Love and Lust Suzi and Karen continue on their wild journey of enslavement. But they seem to be developing a Stockholm syndrome and are really enjoying themselves. On the one hand Suzi has found a secret goblin lover that fucks her in tandem with her owner and on the other, Karen gets kinky with her pimp orcs.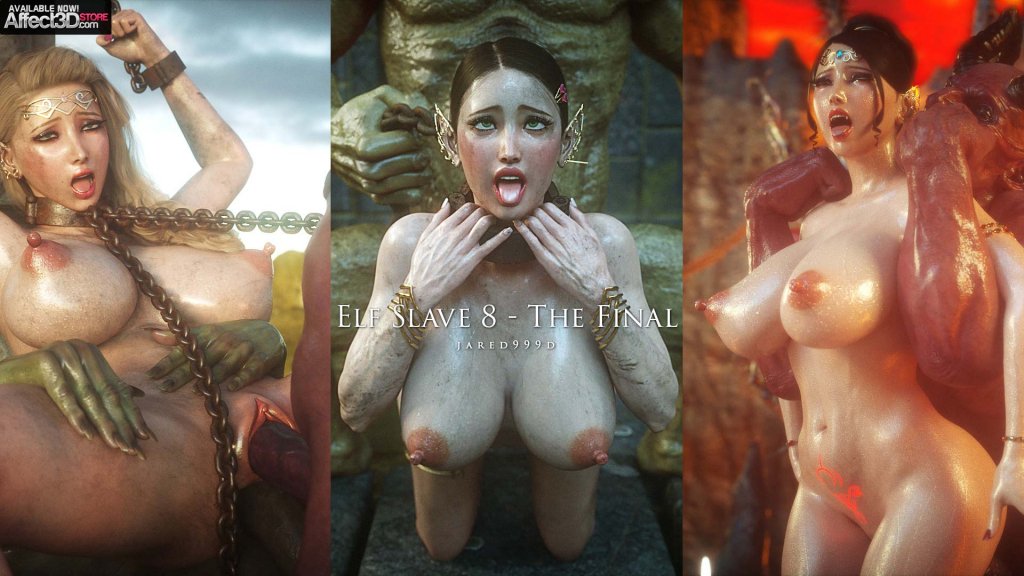 Elf Slave Bundle 7 is the only way to really enjoy Jared999D's Elf Slave series in one go. It's available at the Affect3D Store now for $00, and with the entire bundle adding up to over 2000 images, it's well worth the price!