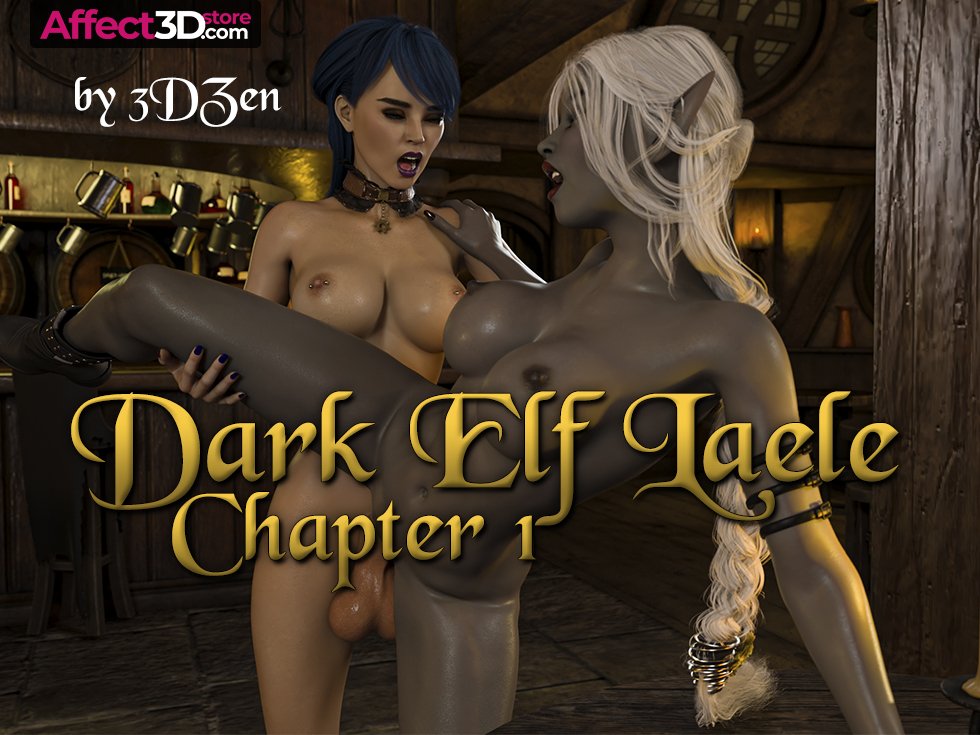 Looking for sacred items can be a bit daunting. Especially if you're within unknown land and don't know who you can ask for help. In the latest from 3DZen, Dark Elf Laele – Chapter 1 (now available in the Affect3D Store), Laele asks a cute bartender where she can find this armor but it'll come with a price.
The bartender just so happens to know the location of the sacred armor Laele is searching for but for such treasure comes a price. First, Laele was instructed to kiss the bartender. Unsure how this helps with her search, she obliges. Overcome with how soft Laele's lips are, she requests more. Pulling up her skirt she reveals her fat cock – it's been awhile since she's had release and Laele is the perfect candidate. Laele drops to her knees and gets to work. Before she could really get started she's ordered to take off her clothing – she abides and continues to suck the bartender off. Filling Laele's mouth with cum, she's far from done.
She bends Laele over and returns the favor before thrusting her cock inside her dripping wet pussy. It's not enough however, her cock is still erect and won't budge from giving Laele the information that she needs. Determined to get answers, she asks what can she do to give her the release she desires. The bartender tells her to ride her cock until she can't anymore and Laele happily agrees to do just that.
Lo and behold it works and the bartender tells her how to get to the sacred armor. However, she warns her that this armor isn't for the weak minded. If the wrong person comes across it, it can cause severe consequences.
Dark Elf Laele – Chapter 1 spans across 84 images and is available now in the Affect3D Store for $11.99!