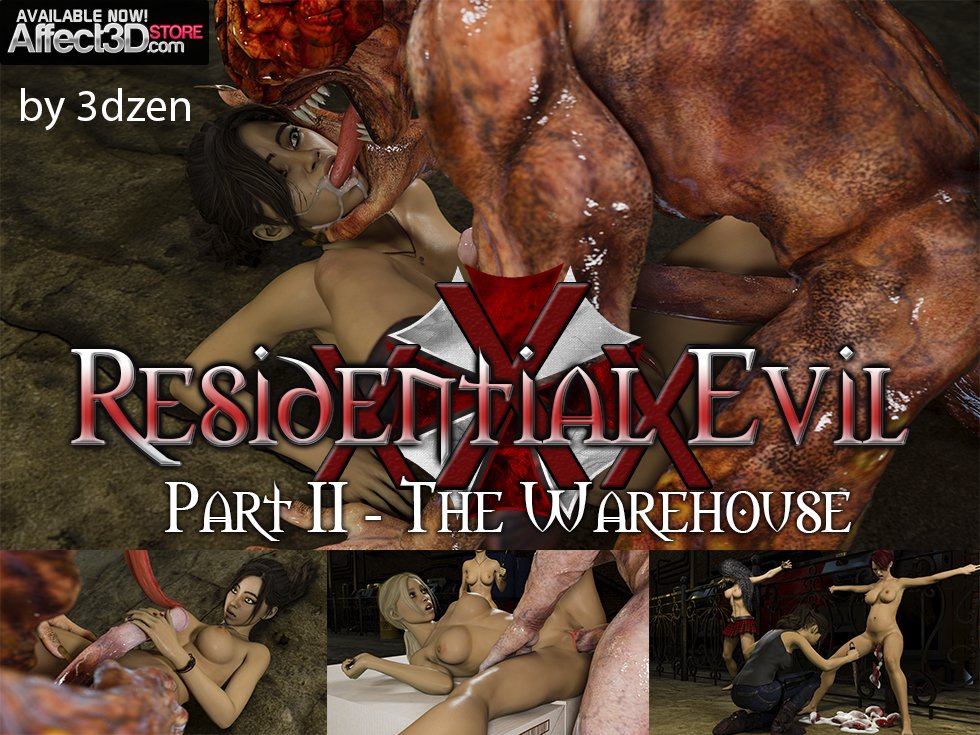 3DZen is releasing part two of his 3D erotic horror parody series, and I gotta say, this episode lives up to the first installment! Residential Evil XXX – The Warehouse is available now in Store!
Clair and Jill are on a mission to save two hot young babes in a giant mansion with mutant zombies. The only difference with mainstream zombies? Well, this particular variety wants to fuck and impregnate women rather than eat them.
As Jill approaches the room where the two girls wait at the mercy of the mutants, a cock serpent mutant called a Slith ambushes her. It overpowers her and thrusts its head deep down her throat before cumming profusely. Fortunately for her, as the creature tears off her suit, Clair is just in time to save the blonde.
However, by now it's too late – the mutant's cum is a powerful aphrodisiac and she is unable to concentrate, forced to touch herself as Clair continues to save the girls. She finds these tied to a wall and one is giving birth to baby mutant Sliths. Clair quickly kills off the larvae which have already slithered out of her pussy. Clair goes to free the pair, but another mutant with a long tongue attacks her. He knocks her back and begins fucking her mouth, the rest of his cock rubbing between Clair's tits. Naturally, Clair is having none of this and manages to free herself by killing the mutant with a knife.
By this point, Jill is still heavily sedated and horny with mutant cum and is on a table taking a mutant cock missionary. As Clair watches on, she feels the cum aphrodisiac beginning to take hold of her and touches herself. After all, Jill and Clair have wanted to fuck each other for a while now, the author tells us. Clair is joined by another mutant and, unresisting, let's it touch her pussy. The two couples then decide to turn this would-be rescue into an orgy.
The mutants fuck Clair and Jill missionary and doggy style, whilst the girls also please each other. The monsters cum multiple times in their pussies and throats. The orgy finally ends when their backup agent – Ana, arrives to « save » them.
As usual, 3DZen doesn't disappoint! This is one artist who has truly mastered the monster genre. Residential Evil Part 2 – The Warehouse includes over 100 HD renders and a bio of each character! It's available now for $11.99! And if you missed Part 1, we've got a bundle especially for you! You can grab parts 1 and 2 for $14.99 in the Affect3D Store now!