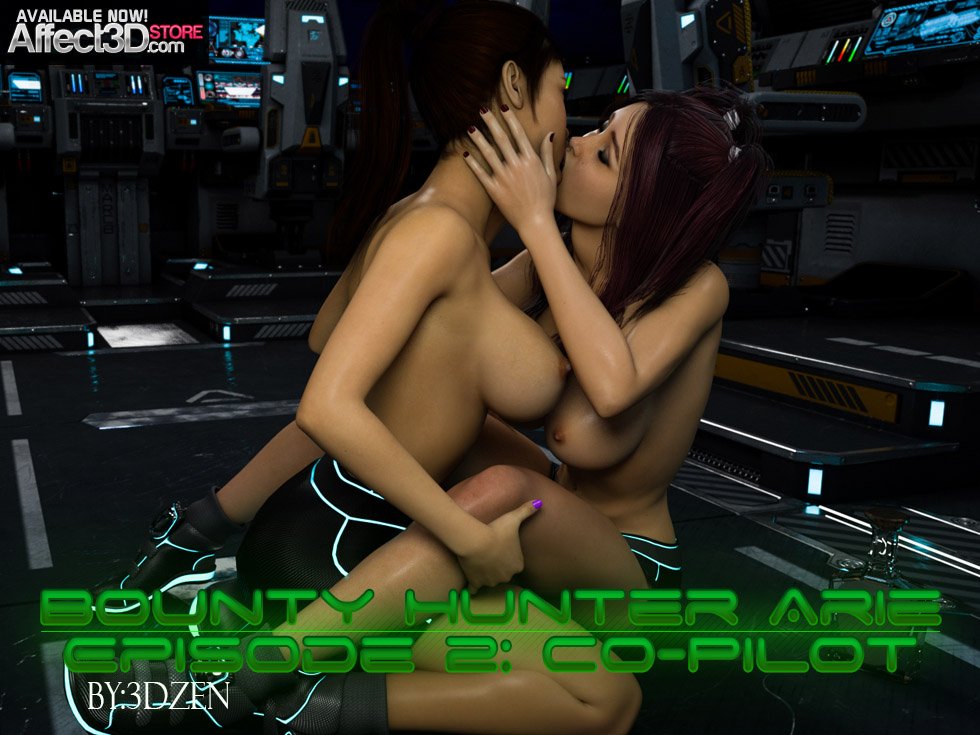 Today's release continues on with the cheeky Arie and her promiscuous, out-of-this-world adventures! Indeed, Bounty Hunter Arie Episode 2: Co-Pilot gives us another insight into this deep space traveler's rather unique hunting style! It's available in the Affect3D Store now!
In the previous episode, we saw Arie get a little too cocky (pun intended) with one of her bounties. Naturally, as any experienced bounty hunter knows, such actions have consequences. And Arie had to learn that the hard (again, pun intended) way.
Well, in today's episode, we meet back up with Arie, who has evidently managed to get out of her previous pre-dick-ament (last one, I promise) and is cruising on her way to her next mission. Except, once more, the hunter is not alone. Yup, she's joined by her co-pilot Olivia (wonder where she was last time… watching?)
The pair decide to share a drink to relax after a long day's (or night's) work. Naturally, one thing leads to another and they're soon making out. Olivia takes control of the situation and undresses Arie. She then goes down on her partner before slipping out a… giant cock. Well, who would have thought? Dick girls in space!
This is obviously the couple's first time as Arie seems a little surprised by the arrival of said member. However, she quickly reassures her new-found lover and begins stroking Olivia's hardening cock. It seems Olivia has spent some time in space and without a lover in sight. Yup, only a few of Arie's tugs suffice to bring forth an eruption of cum. But, unrelenting, the now unleashed dick-space-girl doesn't even take a break.
The brunette co-pilot has her partner on her back with her cock between her lips. And it's not long before she cums a second time! Again, far from finished she then fucks Arie on her back before flipping the bounty hunter onto her stomach and cumming all over her ass after some amazing doggy.
Just like Episode one, this installment of Bounty Hunter Arie will have you craving more. It's everything Alien lacked folks! Yup, I'm basically saying 3DZen shows us what would have happened if Sigourney Weaver had had more company than just a cat. So make sure you grab a copy for the bedazzling price of $10.99 in the Store now!