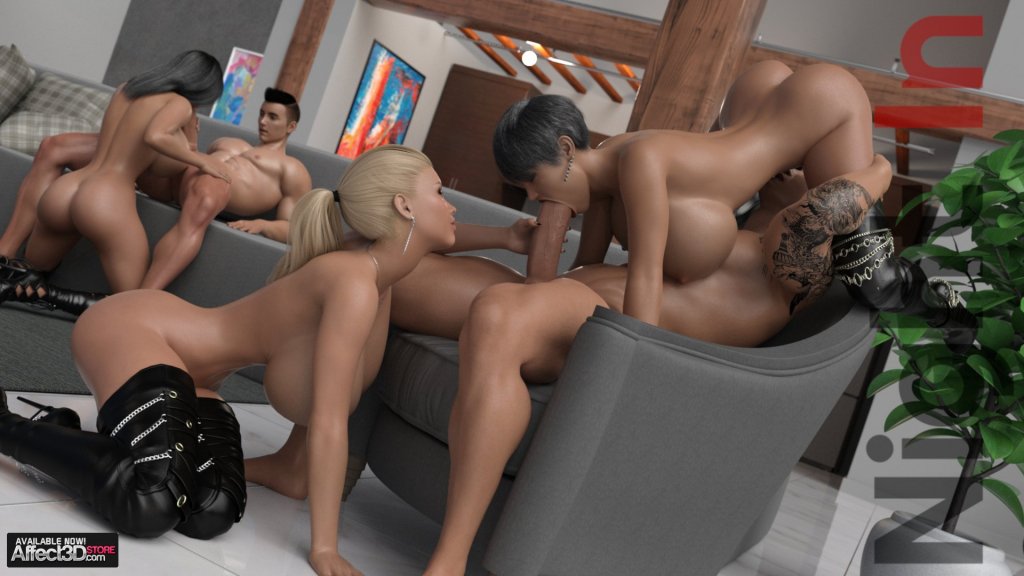 If you're set on having a quiet night in or maybe you're just horny, this release if for you! Night In by Taziota is a fun and seriously hot new set bound to grab your attention!
Ivy is getting ready for a fun night in with the girls. But little does she know just how fun things will be when Robyn and Abigail arrive. As Ivy is making drinks, her friends turn on the tv to find one hot porn flic on pause.  The pair start making out on the couch and Ivy doesn't hesitate to join. Naturally, clothes are rapidly discarded and the trio begins going down on each other. Of course, it's at this point that Ivy receives a dick-pic from a friend of hers – Aaron.
Aaron rocks up with a friend and the happy group gets about fucking each other's brains out. Yup, from missionary to doggy, anal and double penetration, this unique group of friends really knows how to make a night in one hell of a party.
Indeed, the girls don't hesitate to show their guy friends every attention. And by that I mean they let themselves be fucked in every hole all over the apartment. Whilst, of course, showing each other some girly love.
The scene ends with a stunning cumshot from both studs on their lovers' tits before they collapse, utterly exhausted. Naturally, the girls head off to another room to seemingly continue the fun amongst themselves! This HD set of over a hundred renders really hits that swinger spot, continuing on with Taziota's previous work. And Night In is available for a fun $9.95 in the Affect3D Store now!