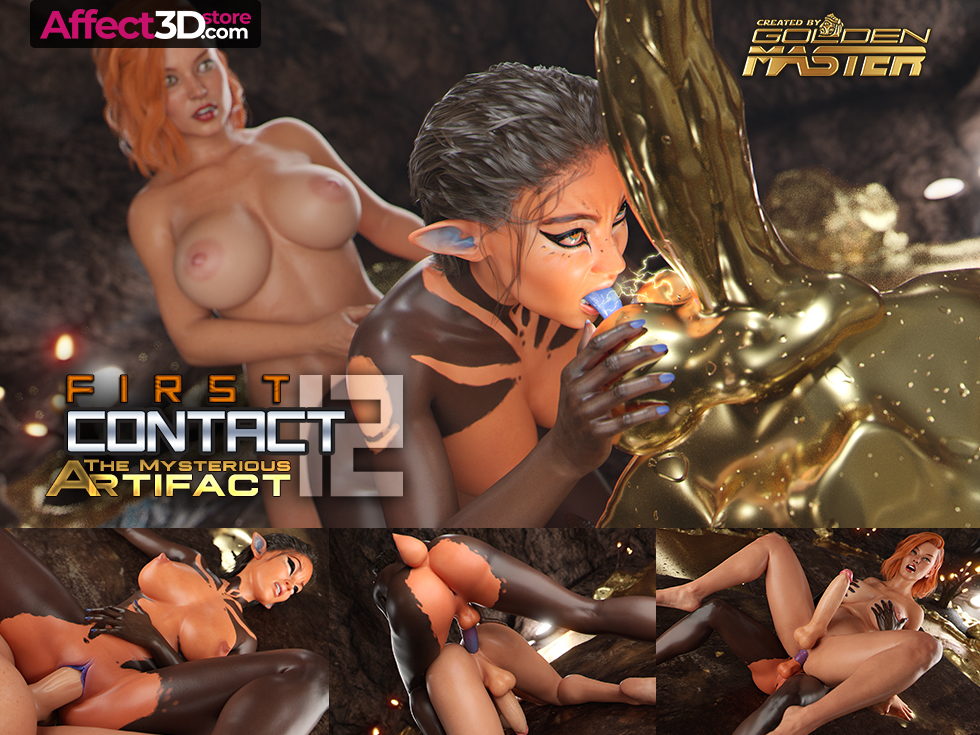 It's gonna be a good weekend, you know why? Because Goldenmaster is back with First Contact 12! This is one of my favorite comic series and I'm sure you'll love the latest episode. It features more futanari sex, with a surprise transformation after Katy and her latest ally encounter a huge, golden cock.
Episode 12 picks up where the last part left us. After fleeing from the perverted aliens, Katy (fully naked of course) sees a cute alien girl in need of saving. She swerves her hovercraft into the monster assailing her and both then hide in a cave to avoid its terrible jaws. Once in the cave, however, they realize they must go deeper as the entrance is blocked. It's within the depths of this improvised sanctuary that they discover a room with an unusual artifact in the form of a huge dick. What they don't know, is the power this object has.
Upon touching it, Katy is thrown backward. As she comes to, her new friend by her side, she realizes that she has a new addition to her body – a pair of balls that have replaced her pussy. It seems her futa transformation is complete! Eager to try them out, she makes out with the alien girl. The pair quickly undress and the alien begins blowing her cock. Katy then licks and fucks her pussy before switching to her ass. 
Naturally, things get a little more interesting when the cute alien decides to lick the statue's golden balls. This of course immediately replaces her own pussy with a cock and balls. Katy, being generous, lets her try it out on her mouth and ass before cumming on her new, newly minted futanari friend. Said friend then decides to sit on the massive cock dildo which in turn makes her cum. The pair are then pulled back into some kind of warp transporter!
You can grab all 178 comic images of First Contact 12 in the Affect3D Store now for just $10! While you're there, be sure to check out the rest of the futanari series on Goldenmaster's store page.