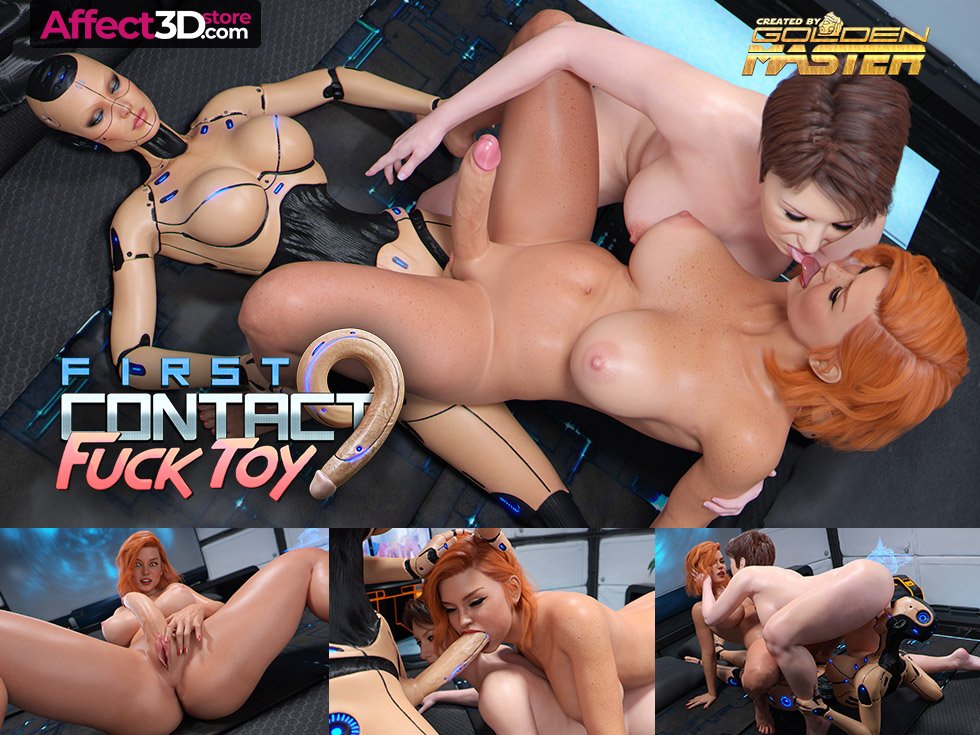 Katy can't seem to keep herself out of trouble when it comes to aliens. In the latest from GoldenMaster, First Contact 9 – Fuck Toy (now available in the Affect3D Store), Katy has been recaptured but she's rescued by someone she never thought she'd see again.
Captured once more, Katy and her girlfriend are thrown into capsules for more experiments when they're interrupted by two mysterious soldiers. Weapons aimed and ready, they take out the aliens and rescue Katy. Unfortunately, they don't have time to save her girlfriend but promise they'll come back for her later. They hop back onto their ship and show Katy a room she can relax in. She sits down and notices that her hair has changed, her tits are bigger and while she still has her cock, she has her pussy back. Quite the transformation if you ask me. 😉
One of her rescuers reveals herself and it's the woman who gave her a ride to the motel before being fucked by aliens. Seeing Katy with her new assets, her lost lover was wanting to get a taste. Things heat up quickly as Katy makes sure every inch of her cock is felt deep inside her lovers pussy. Imagine finally fucking another human after all this time, I'd go crazy myself with lust. But the fun doesn't stop there, in the corner of the room an android comes to life and wants in on the action. Immediately turning into a threesome, the two fill every orifice possible leaving them all in eternal bliss.
Katy's lover asks her to put on a collar and explains that before she takes her back to Earth, there's one more place they're going to go where Katy will be of good use. So much getting a break! First Contact 9 – Fuck Toy spans across 193 images and is available now in the Affect3D Store for $10.00!