Bloodlust: Lanessa Intro Preview and Production Update
In late December we released an intro preview for Bloodlust: Lanessa – Blood Crown on our Patreon, and now that everyone's back from vacation and into the swing of things we wanted to release it on A3D, too. Once you've had a watch, let's talk about Bloodlust.
In our December post, miro estimated Bloodlust: Lanessa – Blood Crown Part 1 to be around 70% done. All the key and most of the in-between animation is done, but the biggest hurdle of the remaining 30% is miro needing to now go through every frame with a fine tooth comb to get it looking just right. But "looking just right" isn't a matter of miro being a perfectionist (though he kind of is) it's a matter of if we stopped working and just released part 1 in its current state you'd be able to watch almost all of it, but in many areas it would lack the polish and fantasy A3D aims to deliver.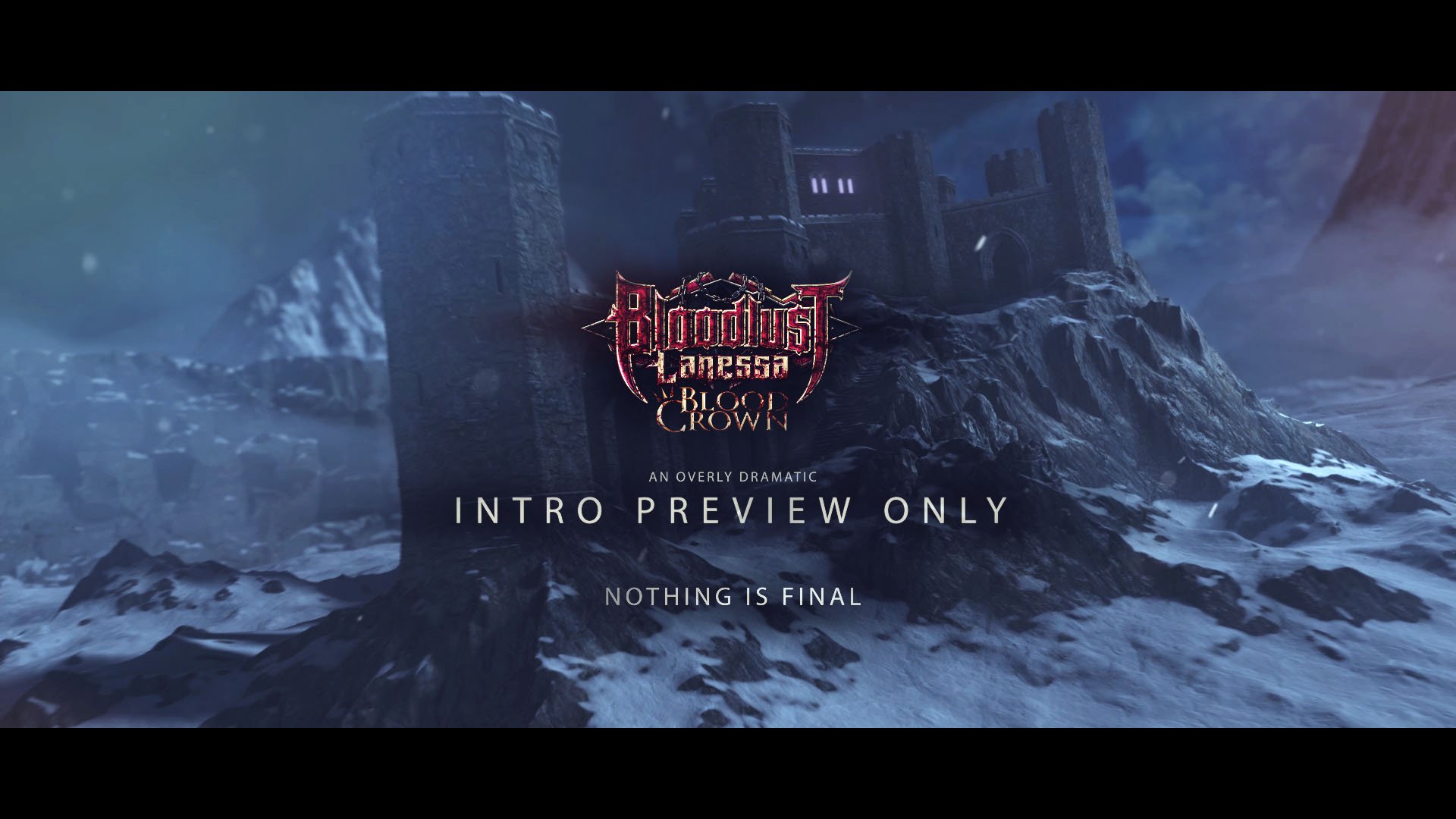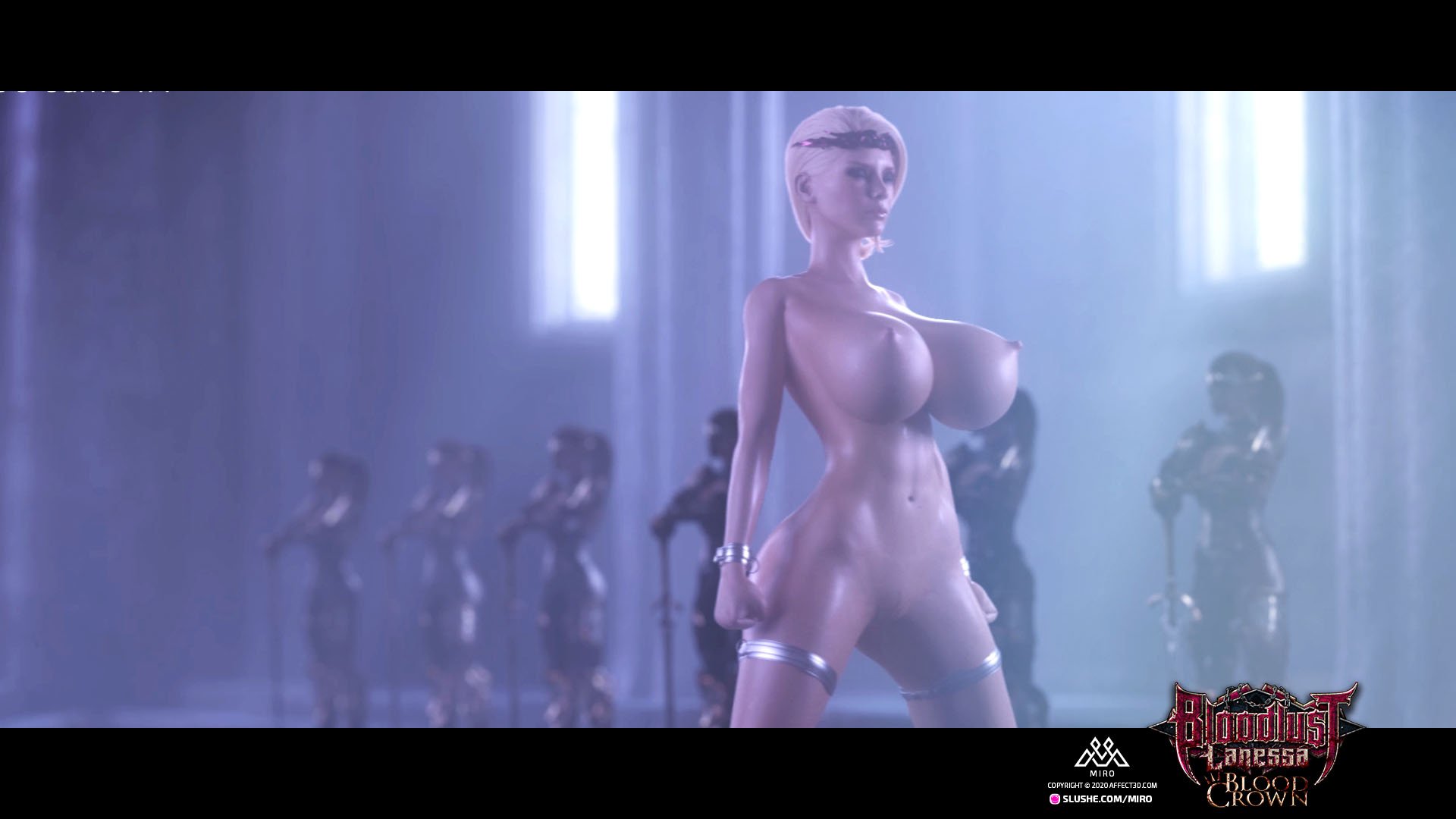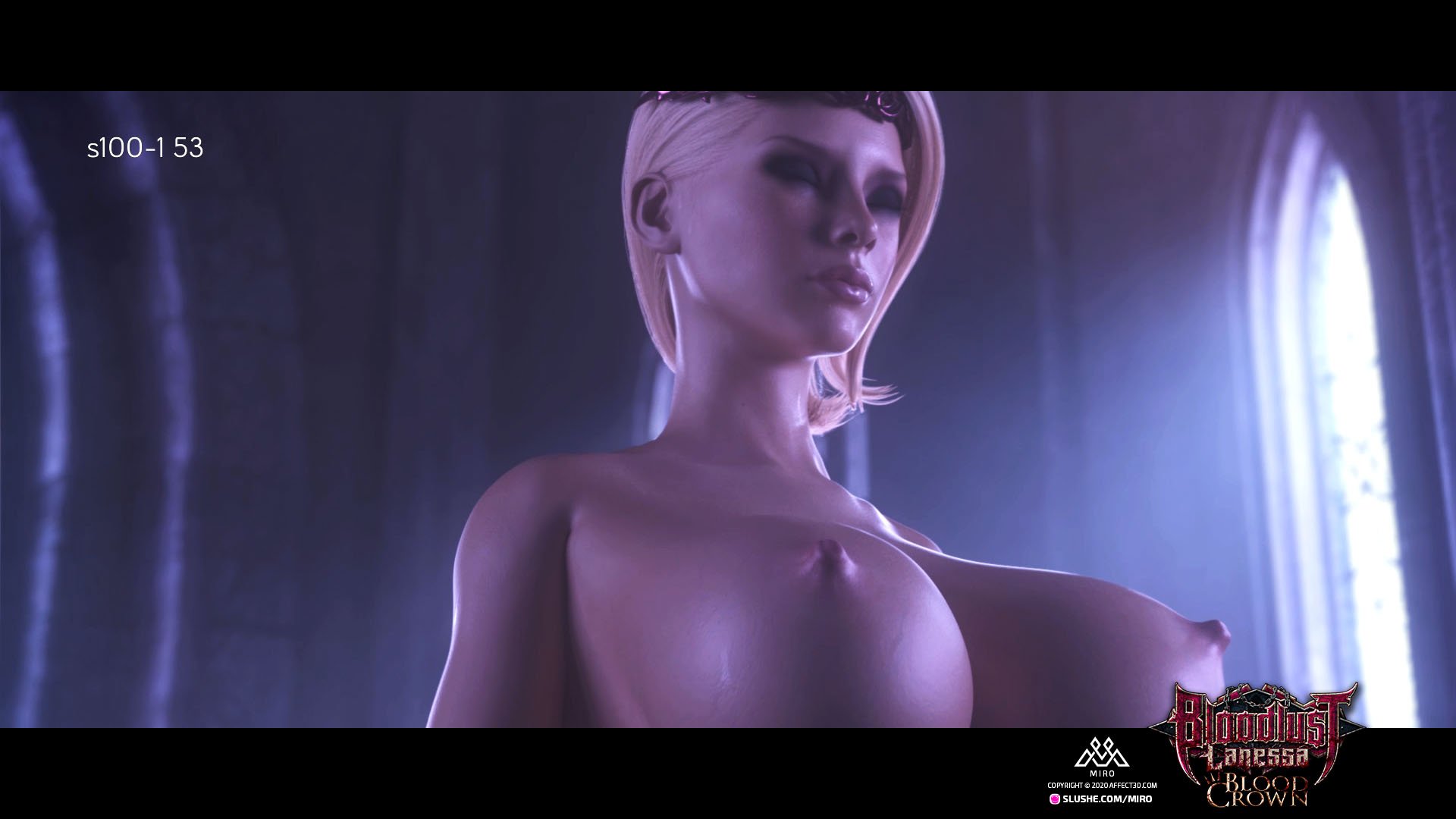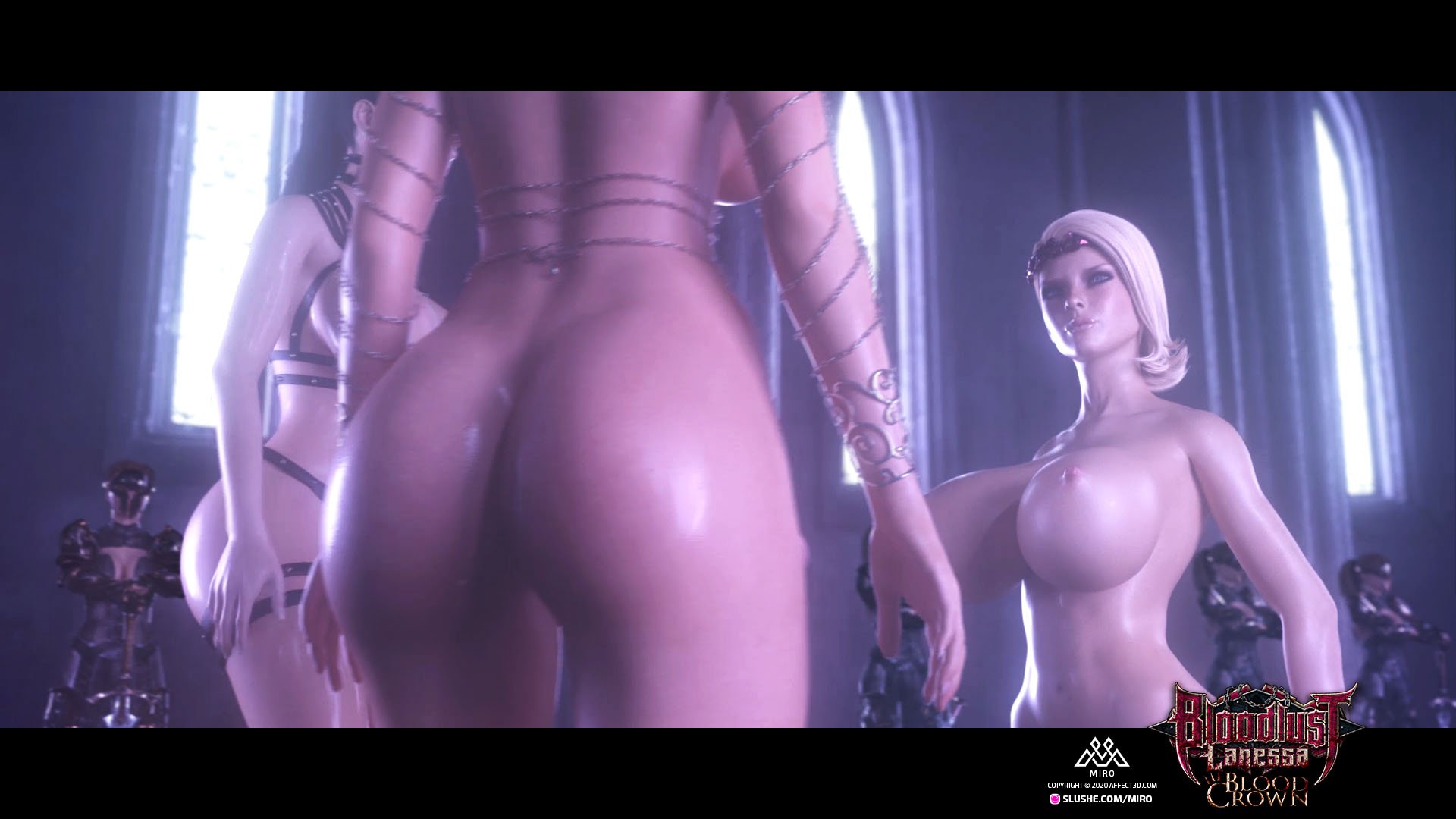 To finish up this last 30% miro just needs to strap in and give it his undivided attention for a bit. To help facilitate this, the month of January was dedicated to wrapping up some outstanding projects and creating a new production schedule to more efficiently organize miro's remaining work. In this stage of production, other demands and distractions will be the biggest culprit for delays, so the A3D staff are working to clear as much off miro's plate as possible. There will always be some things he needs to handle outside of the main production, such as overseeing Patreon content production, but we're hoping to keep everything else to a minimum.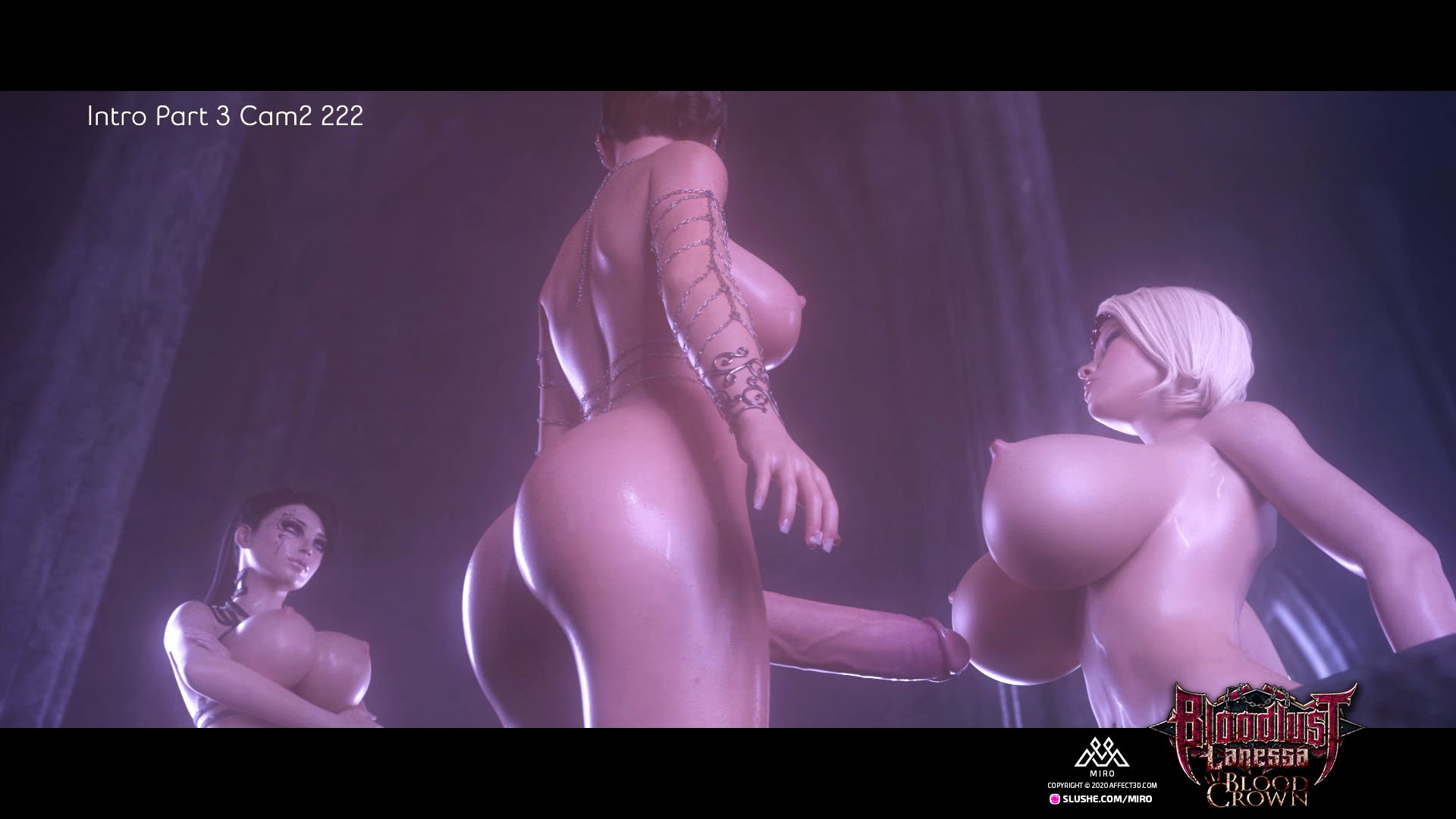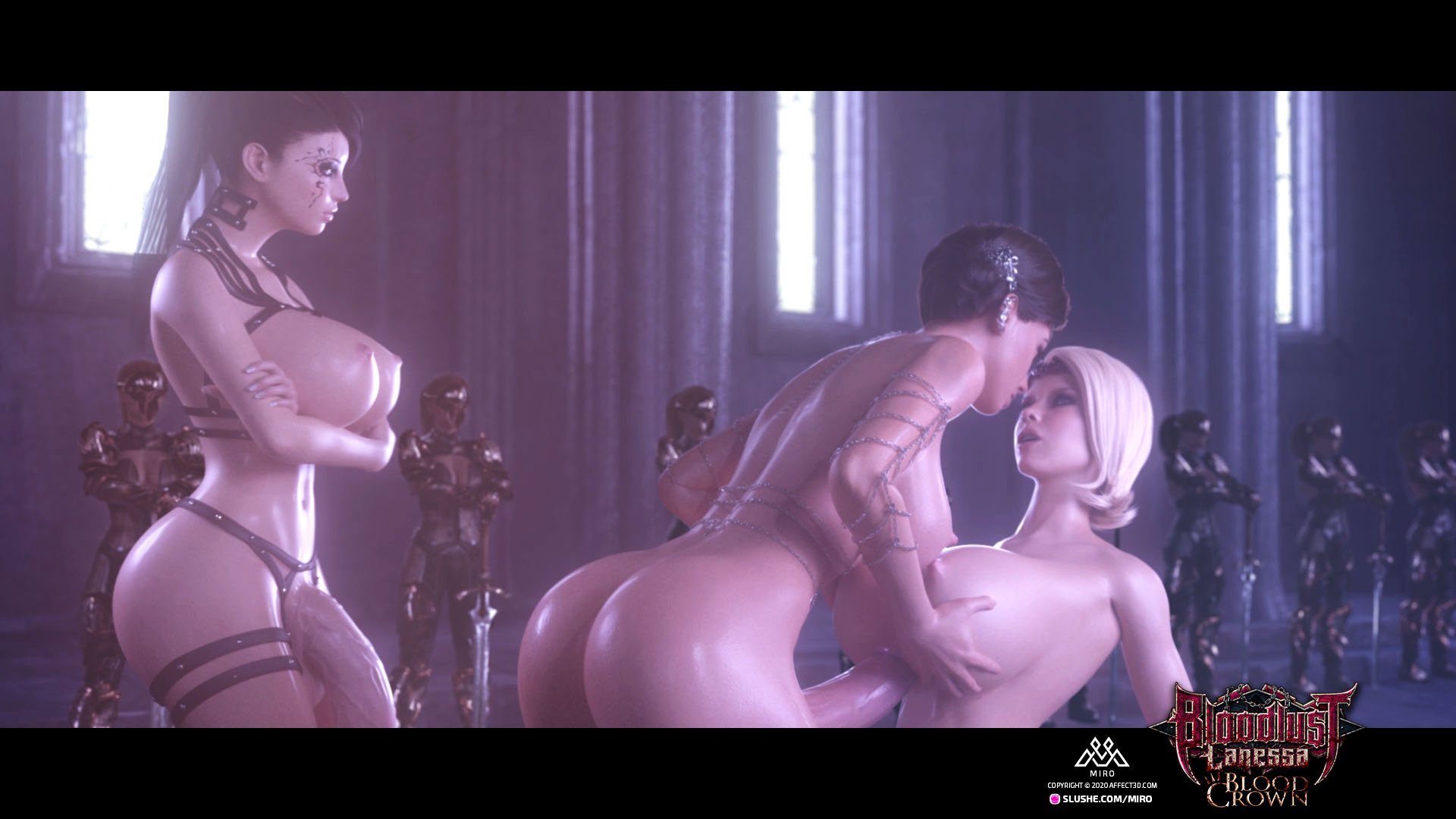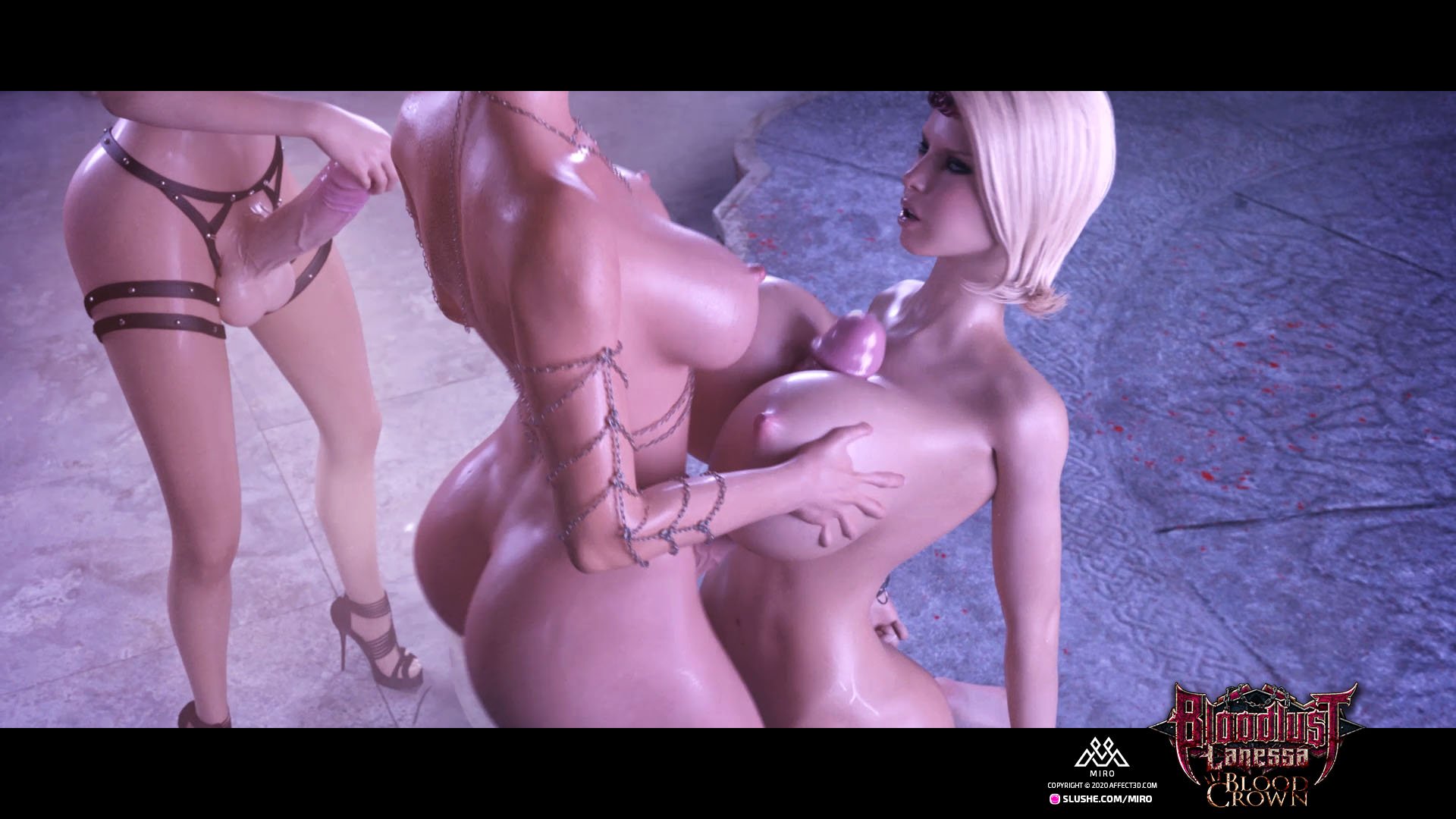 Anyway, at this stage we can't say how long it will take to wrap Bloodlust: Lanessa – Blood Crown, but we'll be providing short updates on our Patreon each month. Because these updates won't necessarily contain visual content, we will likely wait until there are enough of them to make a substantial post before sharing them on Affect3D.com.
Before we sign off, we also wanted to mention that Bloodlust: Lanessa – Blood Crown Part 2 is probably around 40% done. As many of you speculated, we have been working on both parts simultaneously from the beginning, but part 2 is mostly just sex animation at present. The ending story scene needs to be storyboarded, and the degree to which mo-cap will be involved is still undecided (we're yet to finalize an efficient process for integrating it into our productions). We will update on the progress of part 2 as we're able.
Flying High – Current Patreon Image Set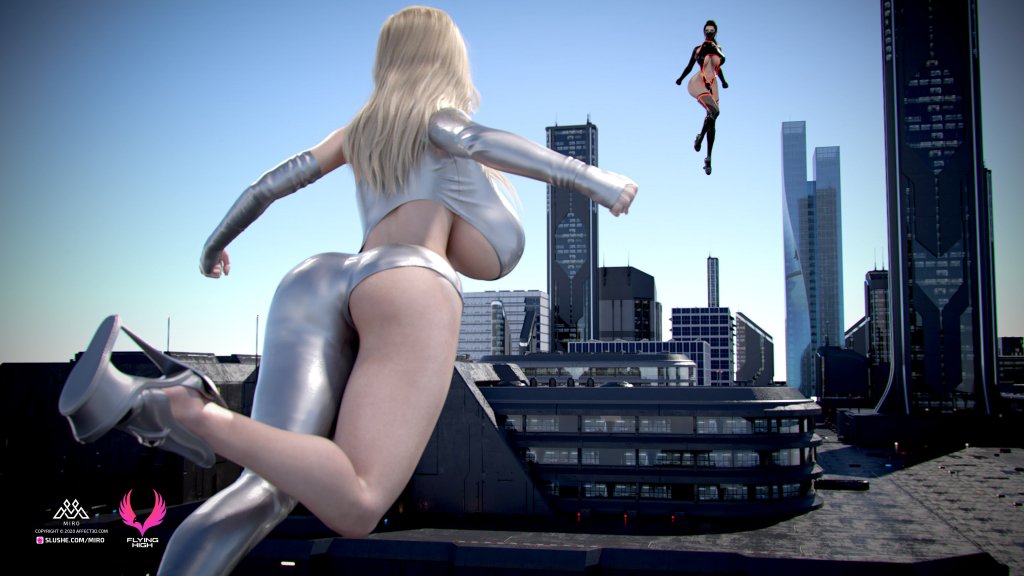 Here's a glimpse at our current Patreon image set: Flying High. This alternate take on Cerene and Lanessa has the two girls zipping around a shining metropolis and battling it out, this time as super hero and villain.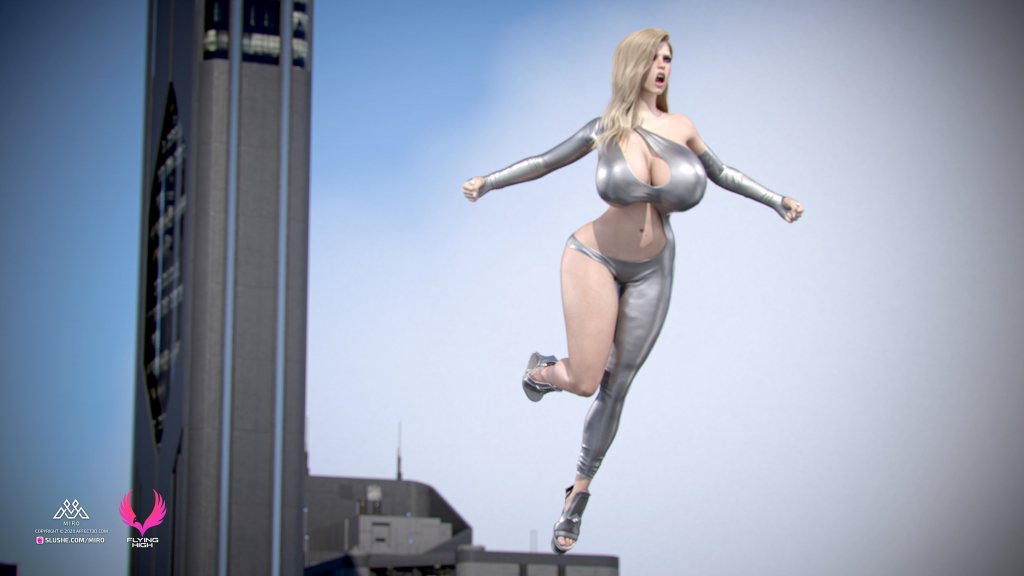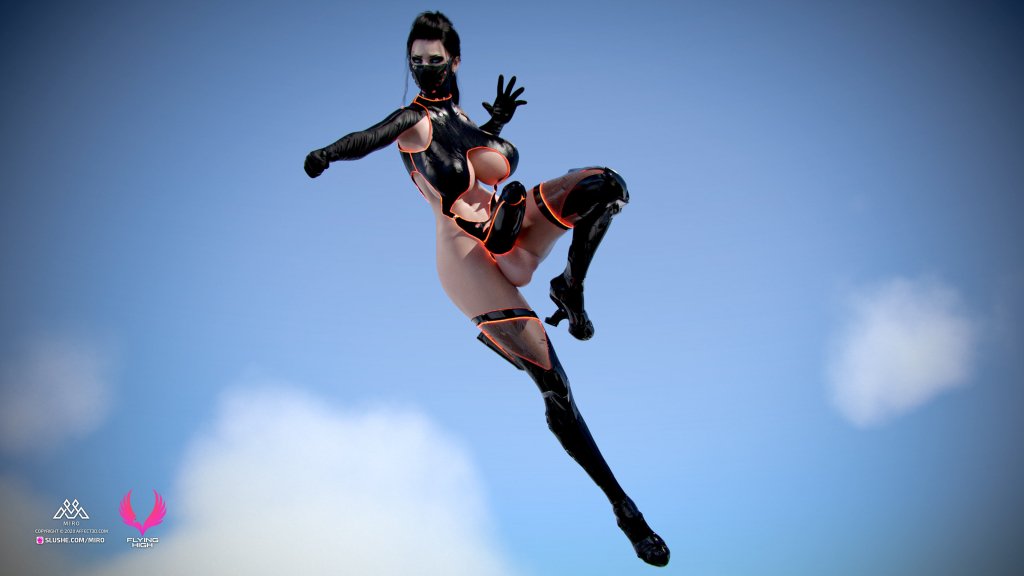 Part 1 was only just released to patrons last month, with part 2 on the way soon. If you'd like to follow along with this set as it's released, you just need to subscribe as a tier 1 or tier 2 patron.
The Seed of Rebirth – Image Set – Affect3D Store Release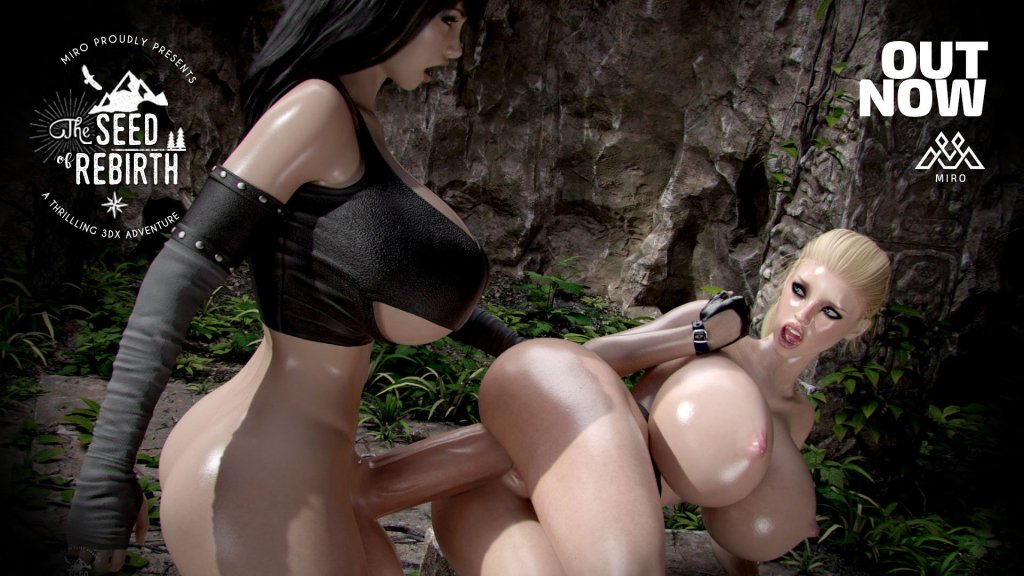 You may have already seen (and hopefully enjoyed) our most recently completed image set, but in case you missed it here's the scoop! The Seed of Rebirth is a new, non-canon image set from A3D which takes us deep into the jungle where two hot babes, Cerene and Raven, are in for a big futanari surprise! It's A3D's longest image set yet, totaling in at over 200 images. It can be purchased on the Affect3D Store for $10, or accessed on Patreon if you sign up to be a tier 1 or tier 2 patron.
Storyline
Ready for some adventure? Well, maybe "misadventure" is a better way to describe it. Not long ago, Cerene caught wind of a rumor that her old rival, Raven, was getting close to tracking down an ancient artifact known as Aya's Amphora. Cerene knows that if Raven gets her hands on that artifact it will disappear into the black market before week's end, so it's up to her to intervene!
Cerene takes a trek through the jungle before coming upon an ancient ruin; this must be it! Unfortunately for her, Raven's already there and just about to grab the artifact! What Raven and Cerene don't know yet, however, is the Aya's Amphora is no mere trinket… The vessel is imbued with the power of a goddess, and whoever holds it will be blessed with a COCK fit for a goddess.
What's Included
230 final images (including 9 cum shot images)
57 outtakes
16 variations
Important for Miro's patrons: if you are an active (Founders) tier 1 or 2 subscriber of miro's Patreon, you already have access to this image set via Patreon!
The Seed of Rebirth – Preview Images
The Seed of Rebirth – Full Preview
Miro's Slushe Gallery
If you'd like to get more more updates from miro and Affect3D, you can follow miro for free on Slushe. On miro's Slushe gallery we share full-size previews of his current and older projects. You can currently see more from The Seed of Rebirth, as well as other sets like Pure As Sin. Follow the link below to check it out.
Miro's Patreon
Become a Patron!
If you'd like to support miro and Affect3D's creations, we invite you to become a patron. All financial contributions received through Patreon are used to fund the production of our ongoing projects. This includes image sets, sex animation loops, and Bloodlust: Lanessa – Blood Crown.
There are 5 memberships to choose from, ranging from $1 to $10 per month. In return for your pledge, you'll receive early access to a variety of A3D content, ranging from image sets, sex animation loops, poll, and production updates. Recently, patrons saw the first version of an animated loop that depicts this scene from the Circle of Love image set.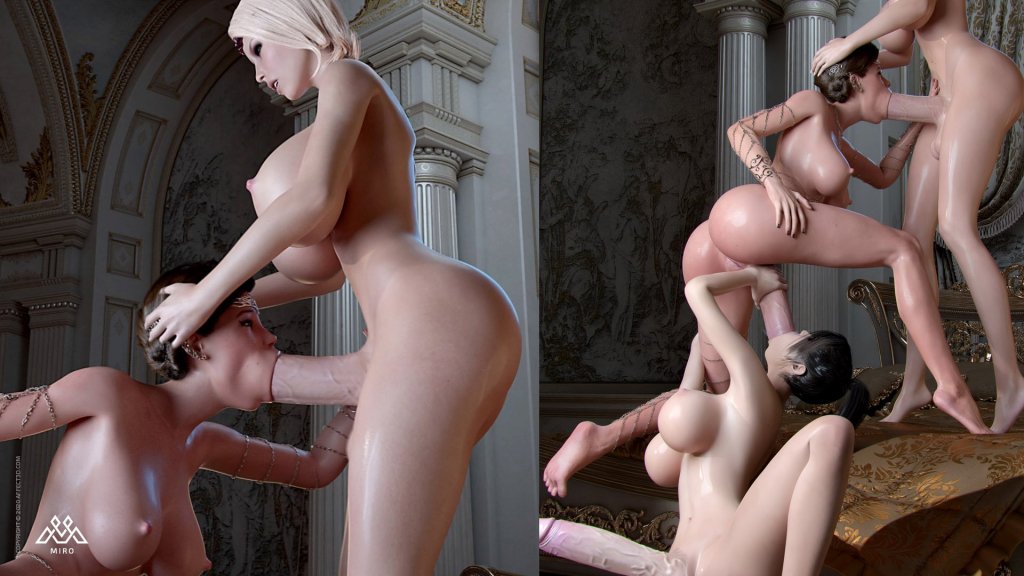 And soon they'll be voting on outfits for a new image set called Fan Service, which will star Sayako and a new character named Anette.
This week our patron exclusive content includes The Seed of Rebirth Epilogue, an additional part to our latest completed image set. Here's a couple previews from the epilogue.
The epilogue won't be added to the A3D Store version of The Seed of Rebirth until next month, so if you want to see it now, check out miro's Patreon page to find out which membership suits you best!