Simulat3D's exotic dancer is a raven-haired, tattooed vixen. In this image, she looks like she's waiting on an audience to start her show. Now that we've arrived, she could easily lean into the pole and dance for us.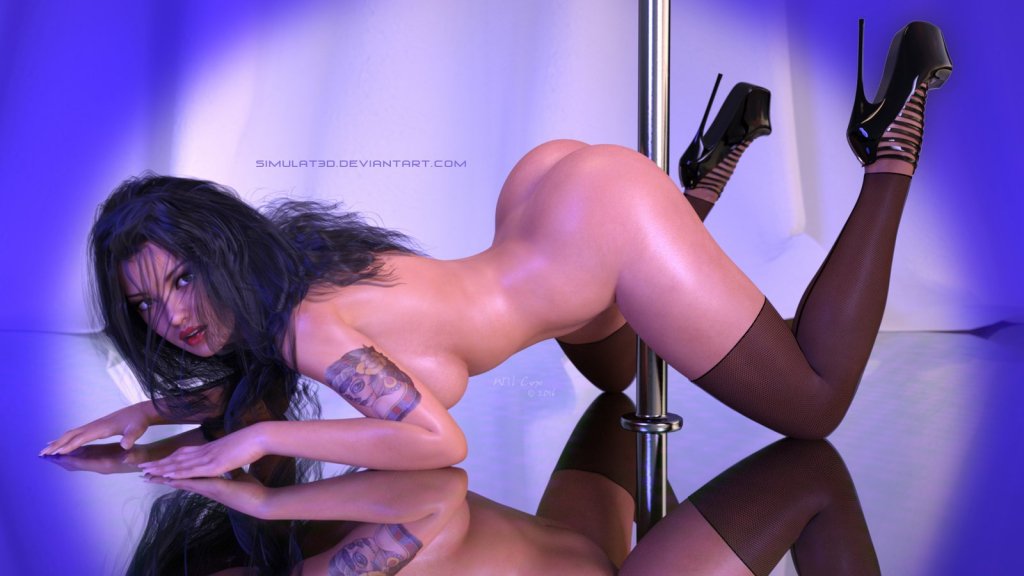 Her hair is mid-motion and almost hides a face that's as exotic as her dancing. Her tattoo of a Mexican Calaca Pin-Up only adds possibilities to a mysterious backstory. A slide up the pole from her prone and open position would start with a seductive crawl forward and those sexy black heels pressed into the floor. Using their leverage, her warm pussy would meet that cold steel in shocking and stimulating contact that could shock her. Wanting more, she could reach up and slide her body up the pole, pressing against it. When she moves to grind against the pole everything in her is alive with the desires that her pole, her dance partner, brings out. The desire to be on display and to use that pole to heighten every possible pleasure.
The only thing more erotic than the act of having sex is imitating the act of having sex. Simulat3D's Pole Position is a stimulating rendition of a pole dancer at her finest. With her legs spread open towards the pole, it's easy to imagine replacing it with an eager to please man. But I think it's even sexier to imagine her hanging from it, the picture of strength and flexibility.
Check out more of Simulat3D's sexy ladies on DeviantArt!