One of the central questions of erotica has always been whether a woman is more exciting with her clothes on or her clothes off. Never mind access to genitalia, that can always be arranged. But do we want to see her curves enhanced by the outfit she's wearing, or do we enjoy the raw sexuality of nudity? Lingerie strikes a perfect balance in terms of amount skin versus clothing, but imposes its own restrictions. Let's take a look at some of the ways I usually tackle lingerie in porn.
What does lingerie mean?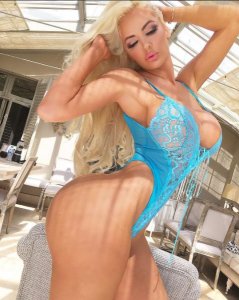 It may be a weird question to ask, but think about it: What does lingerie broadcast? What does it say about the person wearing it? Given that it comes in so many different varieties, what kinds of sexuality does lingerie imply? For me, lingerie presents three essential kinds of girls: sultry, innocent, and dominant.
The sultry girl is someone who is in charge of her femininity, someone who knows exactly what weapons of seduction are in herself, and someone who isn't afraid to use them. She contains both dominant and submissive elements, and dynamically bounces between either role depending on what the situation calls for. For her, we reserve stockings, garterbelts, corsets, teddies, and robes. Any color and any material is great for what she wears. She's adaptable.
The innocent girl is the opposite of the dominant girl. She's sweet, maybe blonde, but with a cum-hungry inner slut that only awakes if she's treated the right the way. She likes her babydolls and chemises, her leg garters, and frilly things that exude fragility like ribbons and bows. Her favorite colors are pink and white. Her materials are sheer, silk, and satin.
The dominant girl is the one we all know. The archetype. Her outfits are often leather, but don't have to be. She adores crotchless panties, cupless corsets and bras, elbow-length gloves and thigh high boots. She'll prefer items with lace elements, and preferably as many things in black as possible. That said, she's not afraid of using red, particularly as an accent color.
Color-coded erotica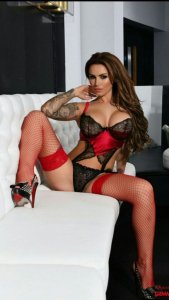 I categorize because tropes exist for a reason. It's very easy for lingerie to become a-tonal to the setting. The innocent, submissive girls in my release almost always wear white or bright colors. The dominant ones are more often donned in black. "But what about some other colors?" you may ask. "Surely there's also red, pink, tan, blue, etc?".
Yes, there are. But this brings us to another tonally sensitive issue with lingerie, namely color tone. Human skin is a color by itself, and depending on which race of character you're working with, some colors may either look horrible or strike exactly the right erotic chord.
For example, I find red a jarring color for white girls, but I think it looks amazing on a black woman. Pastel tints of pink, blue, and yellow a great way to exude softness and frailty on a girl, but their erotic value diminishes when contrasted with darker skin. Then you'll just want to use white for a bridal tone. As a rule, darker girls work extremely well with brighter, highly saturated colors. Green, purple, orange, I see them as a neon effect to a dark backdrop, which always looks stunning.

Tan tones, or "nude" tones as some lingerie brands refer to them, are a particularly great mix with darker shades of brown skin as well. A chocolate/mocha blend that can invite an amazingly sultry feeling. With lighter shades of brown skin, I would advise a darker contrast color like black. Colors have to match. You can't just put any color on anyone and assume it'll work. As an example: tan/nude tones on a white girl to me are unattractive. You almost can't see the lingerie, which makes wearing it moot.
The physics of 3DX
Even in a lingerie-themed set, there comes a point where you have to choose functionality over form. Where clothes do have to come off. Because as 3DX artists, we have do have some physical restrictions to mind. Morphs may not allow for simulations that we're after, or mesh smoothing may not function quite as we had hoped. So when you have to sacrifice items, which ones do you sacrifice? Which ones do you leave on?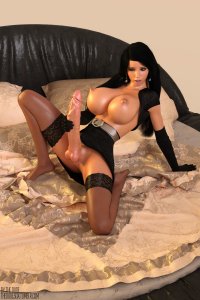 The real killer in any lingerie shoot is the robe. While easily one of the most appealing items for conveying a sultry girl, in terms of geometry and morphs they're a problem. If you're running a dynamic clothing setup? Then sure, everything will drape just fine. Configure which objects you want items to collide with and off you go. But beyond that, as super-conforming items, robes have to go past the first few pinup shots.
Next thing is the babydoll. Here the problem is the bending around the hip area. Super-conforming items have a habit to follow the shape of the glutes. So when a character is on all fours, the babydoll will lengthen and stretch past the curve of the butt, when realistically it would gather in the lower back.
Another notorious culprit here are the straps that run from the garter belt to the stockings. They will follow the shape of the butt no matter what, when in reality they would run along the side and stretch straight. Whether that bothers you is up to you. In some shots it is a more grating effect than others.
Stockings, heels, corsets, bras, these technically don't ever have to come off. But do mind their mesh smoothing and morphs. Some stocking solutions are actually a texture overlay, not an independent item. But when they are a mesh, like OOT's Superhose, be aware of overlapping meshes in the knee bend area. Lower mesh smoothing accordingly, until you find the right balance. With bras, undress morphs are usually designed with specific poses in mind. Either mimic those poses, or customise morphs with an external application ZBrush. Alternatively, postwork in Photoshop may do the trick.
All laced up
So that's it. These are my lingerie guidelines, the rules I try to obey myself whenever I work with lingerie. A good eye for color and an ability to settle for what's practical will go a long way to help your girls look right in lingerie. Of course, these are just the ways I go about it. Every artist develops their own feeling for what works. So don't be afraid to explore the boundaries yourself! Next month we're getting back to the main course of the 3DX Tutorial Series, and we'll be talking about male genitalia!
Check back Wednesday for a Video Tutorial on Adding Female Genitalia!