I'm not the most qualified person to give tips on performing oral sex. The first reason for this is that I haven't actually eaten any pussy in my life. The second, and this might be the more surprising, is that I don't usually get that much out of oral sex. To quickly summarize how I feel about it, I'll provide you with an excerpt from a conversation I had with Signor Destino.
"Do you like getting oral?"
"I'm so-so about it. I really just prefer to get pounded, honestly. Most guys think a pussy is some delicate object they can only suck and kiss gently. I've never had a guy successfully keep me interested in oral… it's like grinding on a warm slice of cantaloupe."
My melon analogy is the best way I've found to describe the sensation of oral sex. I like the idea of a guy going down on me but in actual execution I'm always let down. Either the guy can't apply enough pressure to keep it interesting or he can't find the right spot to focus on. If you're a pretentious sort, you're probably asking "well why don't you just communicate what you want to the guy, Marie? How could he know if you don't?" Well, the answer is that I do communicate, but communication doesn't go as far outside of a committed relationship. In the world of casual sex, too much direction will often annoy the other person.
Thus my inclination is to avoid oral sex as much as possible. I'll go along with it if a guy is particularly eager to try it (I'll even communicate about how he's doing) but I'd usually rather just take his cock from behind and leave it at that.
So what kind of tips can I provide when I feel this way? Well, I've still had a few good experiences and plenty of fleeting moments where something was good for a moment. I'll describe some of them and hopefully that will help you piece together some technique.
Fingers are a must for me. Don't think of fingering a girl and performing oral on a girl as two separate activities… You can and should finger her pussy and suck or lick her clit at the same time.
Make sure a girl is wet before you slide your fingers into her. It is very painful if you try to insert them in without proper lubrication. To check if a girl is wet without hurting her, cup your hand around her pussy, palm against her mound and fingers down over her labia. Gently tap the soft fleshy pad of one of your fingers against the slit of her labia then run it up and down her slit without applying pressure. You're checking for a slippery wetness. She will be wet to some degree (a pussy is a mucus membrane) but if it's not slippery enough that your finger can slide between her labia without resistance then she's not lubricated enough to be fingered. Kiss and grope her more until she's aroused. (I personally love it when a guy firmly presses his palm or flattened fingers just above my mound.) Don't substitute spit for lubrication when using fingers!
For fingering technique, remember that repeating the come hither gesture inside a girl is more effective than just sliding your fingers in and out like you would your cock. I prefer two fingers, but I've heard some girls only like one. When in doubt, start with one then see how she reacts to more.
You can occasionally withdraw your fingers and penetrate a girl with your tongue instead, just keep in mind that it's not very affective as anything more than offering a variety of sensations. That said, don't just try to stick your tongue as far as you can inside her and think that the penetration alone is stimulating though. Your tongue isn't big enough, firm enough, or textured enough to create a response just stuck in her. Instead, hold her labia back and tongue the opening of her vagina with circular or probing motions. Use the firmest pressure you can, making your tongue as rigid as you can.
Moving onto the actual oral, you'll be most effective if you focus on a girl's clit. You can tease her early on by playing with other parts of her pussy but you'll be most likely to bring her to orgasm by focusing on her clit. You can do this primarily with two motions, sucking and tonguing.
Sucking doesn't have much variety in form, only intensity. The strength of suction you apply to a girl's clit is going to have various effects and you'll need to figure out what works for her without giving yourself a headache.
Tonguing can take on many different forms. Licking, for example, could be done with just the tip of your tongue or by dragging the large flat surface of your tongue over her clit over and over. As I mentioned in the fingering section you can also probe with your tongue, or move it in circular motions. Experiment with moving your tongue in different patterns, whether it be left and right, up and down, or in the shape of infinity. Repeated tonguing is likely what you will need to do to make the girl cum.
Strategically switching between sucking and tonguing will be to your advantage. Sucking on a girl's clit draws blood to the area (just like sucking on a cock can make it harder) so if you switch to rubbing her clit with your tongue right after sucking on it really hard, you should get a positive response.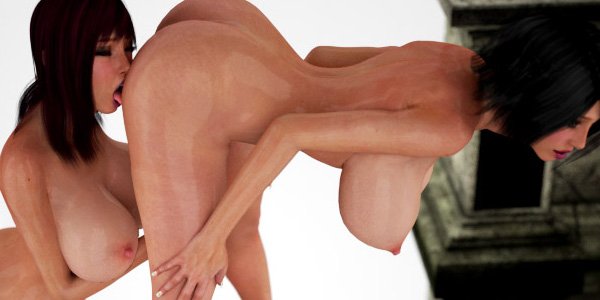 That about sums up technique of what you can do. Now I need to explain some more general things you need to know.
First, though I can't speak for everyone, I become less sensitive to touch as I become more aroused. Gentle kisses and soft licking is good at the start, but after a while the intensity needs to ramp out for me to keep feeling it.
Second, if you can't figure out what kind of stimulation a girl likes after experimenting for a while, you should ask her to masturbate for you. Watch what she does and then try to repeat that with your mouth and fingers. Be sure to take note of how rough she is with herself. As I've already said, guys often make the mistake of thinking a pussy must be treated very delicately when it can actually take quite a bit of abuse.
Finally, with all oral play, I find there are two stages. The first stage is when you're playing with and teasing your partner, possibly experimenting with techniques to find out what she likes. Then there is the final stage where you go in for the coup de grâce. This is when you know how to get the person off and all you need to do is repeat what works long enough for her to come to orgasm. When you get to this stage I can't stress enough how important repetition and constancy are. Girls are a lot more finicky than men though, so while a girl might be able to briefly switch between jerking you off and sucking on your cock to make you cum, you can't do the same with a girl. Stopping to rest, or changing what you're doing is often like hitting the reset button on a girl and you'll end up having to start over if your goal is to get her to orgasm. It's will be tiring and straining after a while, but that's the price of hearing her scream and moan, seeing her body shake, and feeling her pussy tighten around your fingers.