Bring up Resident Evil with someone and they've more than likely at least heard of it. Those who aren't too familiar with the games have probably seen one of the live-action films under the same title. Resident Evil continues to uphold its popularity and remains a franchise of interest to both old and new fans.
Birth of a New Genre
Resident Evil made its debut on March 22, 1996. It was the first game to be dubbed a "survival horror", a term coined for the new genre it created. Since then we see a new release, spin-off or remake almost yearly with the latest addition, Resident Evil 7: Biohazard debuting January 24 of this year. Contrary to what some people may think, Resident Evil has quite the following in 3DX. Shooting zombies, being in unfamiliar territory, it could make for some very interesting 3DX. It's not everyday you're thrown into a game of survival. With that being the premise, why not throw some sex into the mix?
While Resident Evil has a following in 3DX, there are characters from the franchise who appear more often than the rest. Jill Valentine and Sheva Alomar take center stage in Resident Evil 3DX. Jill Valentine made her first appearance in 1996 as being one of the two main protagonists in the original Resident Evil. Sheva Alomar made her first appearance in 2009 as the new partner for the series' veteran Chris Redfield in Resident Evil 5.
Resident Evil's game director, Shinji Mikami, deliberately designed Jill to make her "beautiful for everybody" and appeal to both male and female gamers. Males would find her physically attractive and females would see her as a strong and tough role model. Jill is featured in numerous top character lists and is also widely regarded as one of the most attractive female protagonists in video games.  Although Sheva hasn't returned to any further installments, she was also largely acclaimed. In 2009, GameDaily featured her in several Babe of the Week galleries, "Girl Power", "Brunettes" (describing her as both gorgeous and tough) and "Babes We're Thankful For."
Resident Evil's Finest
Jill and Sheva both have a no-nonsense approach to tasks given to them which can play into the Dom persona. With both women being Dom we could see multiple scenarios coming from this. Jill and Sheva could tag team and have the same submissive girl or guy. They've also had the same partner, Chris Redfield – and it would make for a steamy threesome. Or have some girl on girl action between Jill and Sheva.
When you look up 3DX for Jill or Sheva you get a number of videos. One of the first results you see for Jill is "Resident Evil Jill Valentine Hot Fuck" and it consists of 3 parts. The focus is solely on her and the various sex positions she's in throughout these 3 videos. From blow jobs, cowgirl, reverse cowgirl, doggy style among others, Jill seems to be the one in control and will get off by any means necessary.
Sheva is a bit different as videos of her are more tittyfucks and deepthroating. She is well-endowed and she uses that to her advantage. Sheva is brains and beauty within Resident Evil; however, fans want to see what's underneath the tough exterior. From getting on her knees giving blowjobs to completely letting go and filling her pussy to her heart's content – Sheva isn't solely all business. Playtime is always on the table as long as it's under her rules.
While these two may be popular picks in 3DX, that doesn't mean they're the only ones getting action. Leon Kennedy, Claire Redfield and Jill partake in a threesome. Jill and Claire take turns riding on Leon's throbbing cock. We also see supporting characters Ada Wong and Rebecca Chambers in 3DX either riding Leon or Chris Redfield. All your favorite women are getting some pleasure from the two most well-known men in the franchise.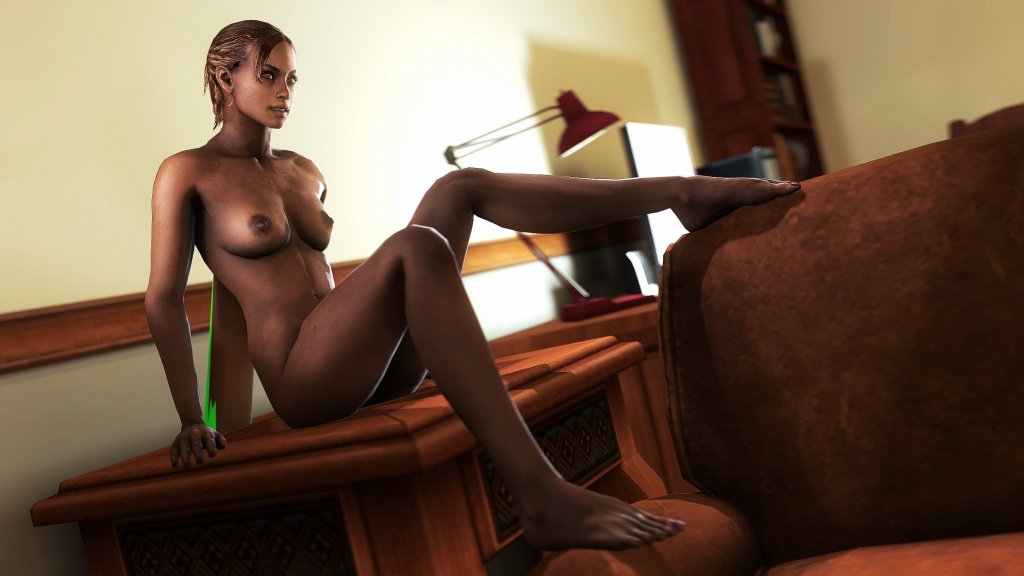 Source
New 3DX Elements
There is a lot of 3DX that plays on different video games; however, Resident Evil brings a different genre into the mix. It's a survival/horror game. You're always in unknown territory. People are infected, and there are zombies and weird mutated creatures. It may not appeal to everyone; however, you wouldn't know what to expect with Resident Evil 3DX. It would bring the element of suspense. For example – after Chris subdues a monster and saves Sheva from immediate danger all becomes quiet. Sheva wants to thank Chris and begins to get on her knees, but Chris wants to switch things up a bit. Nothing is ever certain in Resident Evil, so why should it in 3DX? It's a way of keeping the viewer interested and to make for a better viewing experience.
Resident Evil and Beyond
As we noted earlier, Resident Evil 7: Biohazard came out last month. And while it has received generally favorable reviews, the real question is whether or not it has potential in the 3DX world. I feel it does. Resident Evil 7 introduces many new characters. There is the protagonist Ethan, who is trying to find his wife Mia after receiving a video message 3 years after her disappearance. They could easily be playing a game of hide and seek in a more extreme fashion. Traveling hundreds of miles to find the other person. Maybe Mia has known them for quite some time and wanted them to participate in her little game with Ethan. They have some "fun" unaware of the trouble that lurks among them. The possibilities are endless and why it can make for some great 3DX material.
Conclusion
Resident Evil as a whole has been around for over two decades. It continues to uphold its popularity and keep the interest of both old and new fans. Along the years it has also gained a following in the 3DX community. As a survival/horror franchise, it has brought a new genre into the 3DX scene by bringing an element of suspense and mystery. The latest installment of the franchise, Resident Evil 7: Biohazard, has potential to add onto Resident Evil 3DX by introducing new characters as well as a brand new environment. The steady growth of its fanbase both on the gaming and 3DX side, we will see more of Resident Evil for years to come.