Earlier today I had the opportunity to speak with Puppetmaster, the artist behind our latest animated release, Brittany's Joy Ride. I used this chance to ask him about his future plans as a 3DX artist, and also to learn more about his artistic origins and process. If you haven't seen Brittany's Joy Ride already, I highly recommend you checkout the trailer on the release page to see what you're missing.
Puppetmaster's 3DX origin story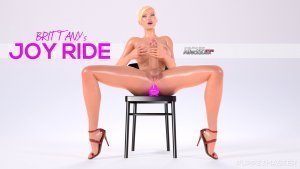 Like so many 3DX fans and artists, Puppetmaster was inspired to delve deep into the 3DX world when he first saw Girlfriends 4 Ever.
"I thought, 'Wow, that looks amazing!'" he said, when describing his first experience viewing Affect3D's flagship title. "It was the first [pornographic animation] I had seen that was amazing quality. I thought 'I want to do that [too],' so I wrote Miro."
At the time, Puppetmaster had already been working as a professional 3D artist in the games industry, so naturally Miro was interested. After over a year of organization on Miro's part, Puppetmaster took the role of Lead Animator on the project that would eventually become Bloodlust: Cerene. Not long after starting, Puppetmaster said he was able to quit his day job and focus solely on 3DX under the employment of Affect3D. "For that, I'm very thankful," he said.
Recently, Puppetmaster has also started a Patreon so he can focus more of his time on Brittany and other independent projects.
I also asked Puppetmaster how he got started in 3D animation, to which he laughed and responded: "As a young boy I watched Jurassic Park and I decided then I was either going to become a genetic engineer, create robots, or become an animator."
Future Plans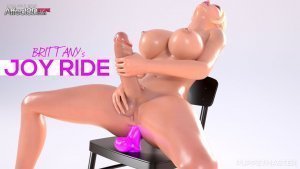 With this past weekend's release of Brittany's Joy Ride, Puppetmaster is now shifting his focus to the next installment: an interactive Brittany game. Having already been a part of the production of numerous games, Puppetmaster was determined to create an adult game that was both interesting and high-quality. To keep things interesting, Puppetmaster has built Brittany to keep her eyes on you as you touch her or shift the camera. To keep the quality high, he has created a model built for sex, with more deformations than you'll find in the characters of many AAA game titles. (Deformations are a framework that allow a character to bend and move without distortions.) The model Puppetmaster created is also compatible with any game engine so he can assure compatibility with multiple mobile and desktop operating systems, as well as a browser version.
(I had the opportunity to demo the Brittany game not too long ago, and it's the best adult touch game I've seen so far. The biggest selling point for me about it is that Brittany's model is ready to be moved into entirely different positions and locations… Meaning the game can easily grow over time, instead of getting old.)
Puppetmaster also plans to work on an animated sequel to Brittany's Joy Ride. "There's that nice little cliffhanger at the end," he said, and shared a few ideas about what could happen next. But first he says he wants to hear from the community. Puppetmaster likes that Patreon allows his supporters to give him feedback, and is looking forward to working with those supporters to create content they both enjoy. "I'll be the creative leader, but I want to hear from the community because they're supporting me, and it's fun for me either way." He followed up saying he's happy to do either dickgirl x dickgirl first, or dickgirl x girl, depending on how the polls and feedback go.
In the long term, with more support from sales and Patreon, Puppetmaster said he'd like to build his own small team. For now, he's currently doing everything himself, save for assistance with the cumshots from fellow 3DX artist, Morfium. Puppetmaster's current goal is to achieve a continuous production cycle where he's releasing a new movie or game every 3-4 months with the same scope as Brittany's Joy Ride (1-2 characters in a simple setting).
On preference and inspiration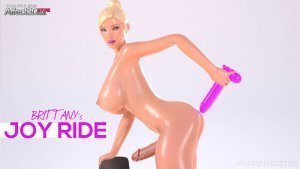 Finally I asked Puppetmaster what he liked personally, where he drew inspiration from, and if we could expect to see any of it in future releases.
"For inspiration the best thing to do is go out and watch the world," he said. "If you're walking on the street and see a girl in a pose and think 'wow!' that [serves as inspiration]." He said the world also inspires him in reverse, allowing him to observe people who might be hunched or otherwise posed in a way that is unpleasant to the eye. Knowing what you don't like is just as important when refining your art, after all.
Puppetmaster adds that obviously porn inspires him too, and has a similar approach to it as he does the world around him. When he watches pornography and finds something particularly appealing, he makes a note of it. He also notices other details, and keeps them in mind when creating content; things like nice lighting, good camera work, makeup and hair, and even clean fingernails, are all important to the final look.
In the future, Puppetmaster says you won't find any non-consent or coercive content in his titles, as he prefers content where the girl is an equal participant that gets to cum. That's not to say he won't do intense sex scenes, though, just that he wants his work to convey a positive picture of sex where everyone is having fun.
As for Brittany, Puppetmaster ensures we'll see "lots of cumshots and creampies, both ass and pussy." Overall he's looking forward to working on a double dickgirl title, since that dynamic allows for the active participant to change more readily. He adds, "it can create more tension and action, and that's always exciting."
Be sure to checkout Brittany's Joy Ride, and if you like what you see, consider supporting Puppetmaster on Patreon!